Low Carb Snack Attack!
We all know fat is more filling than carbs, but every now and then you get a hankering for something to snack on and you NEED some low carb snacks. Whether it's salty, sweet or frosty, we all need a moment to enjoy something in between meals. Being on a diet shouldn't mean all snacks are thrown out the window, being on a diet means learning what your body needs and how to best provide for it. If your body is craving something salty, there are ways of indulging without setting yourself back. There are ways of eating even brownies and cakes that won't undo all your progress.
An easy way of making sure you stay on track on your low carb diet is keeping a variety of low carb snacks around! One of our favorite ways of doing so is getting KetoKrate delivered to our house every month. You get new, low carb-friendly, full-sized snacks right to your door! Check them out!

Subscribe for a FREE copy of our
4-Week Keto Meal Plan
4 Weeks of Delicious Keto Recipes!
Leftovers and Bulk Preps Included
Maximize Your Keto Diet's Success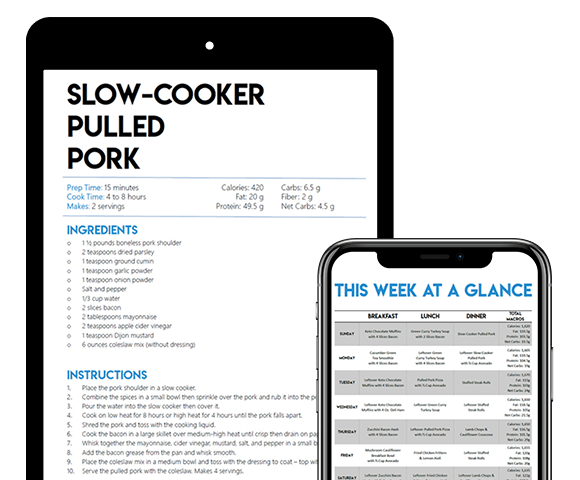 In the meantime, here's a list of lots of low carb, keto snacks that you can easily make and enjoy!
Snacks That Require No Prep
Pork Rinds
great with just about any dip you can think of!

Seeds
sunflower, pumpkin, chia, flax, etc.

Laughing Cow Cheese
full fat only!

Hummus
dip pork rinds, carrots, celery, peppers or your favorite low carb vegetable!

Dark Chocolate
or any Stevia sweetened chocolate (like Lily's or ChocoPerfection)

Seaweed
comes in a variety of flavors and makes for a great chip alternative.

String Cheese
packable and super fun to eat for both kids and adults.

CocoKeto
this sugar-free hazelnut spread is even better than the original!

Omega Power Creamer
it's a bulletproof/butter coffee in a bottle!

Moon Cheese
it's just cheese! Crispy, puffy and so perfect for road trips.

Jerky
the flavors are endless but choose a sugar-free one!

Cocoa Nibs
a great, quick, sugarless alternative to chocolate bars.

Nuts
walnuts, pecans, brazil nuts, macadamias, etc.

Cherry Tomatoes
relatively lower in carbs and pair well with fresh mozzarella, basil and olive oil

Avocados
all you need is a sprinkle of sea salt for a great
high-fiber snack.

Sugar-free Jello
preps quickly and pairs well with whipped cream.

Quest Bars
with a variety of flavors and low net carbs, you can choose your favorite guilt-free treat.

Pickles
some people prefer their pickles fried. However you like them, they're perfectly keto!

Nut Butters
peanut, almond, cashew, coconut are all delicious options.

Sardines
sprinkle some Old Bay seasoning and chow down!
Snacks That Need A Little Prep
Roll-Ups
try salami/pepperoni wrapped around any deli cheese.

Bulletproof or Butter Coffee
take your coffee to a new keto level!

Chocolate Avocado Pudding
you won't believe the texture avocado gives to this keto and paleo treat.

Green Bean Fries
crispy and tender, you won't even miss potatoes!

Hard Boiled Eggs
does this even need an explanation? These babies are delicious!

Jalapeno Poppers
these are so fun to make! If you love some heat and creamy goodness, you gotta try them!

Guacamole
the perfect pairing for pork rinds. Thank us later!

Keto Lava Cake
our famously delicious, sugar-free dessert is still a fan favorite.

Bacon
the quintessential keto snacks – 0-carb, high fat bacon! YUM!

Cream Cheese Celery
simply stuff some celery with cream cheese and snack away!
Throw in some herbs or nuts for extra flavor.

Frozen Berries
berries are naturally lower in sugar than most other fruits.

Kale Chips
you can make chips from just about any veggie! Our favorite is kale though.

Chocolate Bark
a variety of mix-ins can be added to create new flavors.

Cucumber Boats
scoop the seeds out of cucumbers and stuff them with cheese and deli meats!

Protein Shakes
pick your favorite no-sugar-added protein powder and throw your
favorite ingredients into the blender.

Keto Ice Cream
it's one of the easiest sugar-free desserts you can make!
If you've got more time and are really craving something sweet, check out all our low carb desserts! Enjoy your indulgence guilt-free knowing exactly how many carbs you're eating.
What's your favorite keto snack? Let us know in the comments and we might add it to our ever-growing list!
NUTRITIONAL DISCLAIMER
The content on this website should not be taken as medical advice and you should ALWAYS consult with your doctor before starting any diet or exercise program. We provide nutritional data for our recipes as a courtesy to our readers. We use Total Keto Diet app software to calculate the nutrition and we remove fiber and sugar alcohols, like erythritol, from the total carbohydrate count to get to the net carb count, as they do not affect your blood glucose levels. You should independently calculate nutritional information on your own and not rely on our data. The website or content herein is not intended to cure, prevent, diagnose or treat any disease. This website shall not be liable for adverse reactions or any other outcome resulting from the use of recipes or recommendations on the Website or actions you take as a result. Any action you take is strictly at your own risk.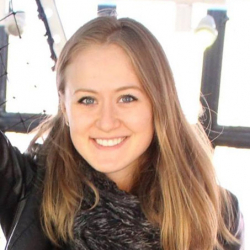 Latest posts by Vicky Abrams
(see all)
Check Out These Roundups: