For that salty craving!
Keto kale chips are a miracle! From a tough, bitter leaf, kale turns into a delicate and crunchy chip before your very eyes. They're simple to make (just like all our quick bites!). We used a few spices and parmesan cheese to "crust" these bad boys, but you can choose anything you want! Other variations include coating them in onion powder, paprika, nutritional yeast, chili powder, tequila salt, etc. You can customize these any way you want!
A few points to mention before we begin!
Water: after washing your kale, make sure to dry them very well. If the kale is too wet with water when going into the oven, it will steam instead of bake.
Size: your chips should be ripped slightly larger than you'd normally like them to be. They tend to shrink a bit in the oven. You can also choose to include the stem or to rip the leaves off and discard the stem. Rami likes the stem; I don't. So we do half and half.
Spacing: leave enough room between your chips so air can circulate around them and get them crispy on all sides. You should be able to still see the cookie sheet! If you overcrowd them, the chips will likely come out soggy :(. If you need to, make these in two batches! Or invest in a few cookie sheets and throw in two batches at once!
Cook time: Until you test these out for yourself, you might want to keep an eye on your kale chips. All ovens are different and your altitude plays a big part in baking. We started our kale chips at 350°F at 8 minutes and reached in and gently poked some chips. If they're still soft, let them bake for another 2 minutes. Repeat this process until they're slightly brown and hard to the touch. You'll know you've over-baked them if they start turning a lighter brown (funnily enough) and start to wilt and flatten down to the cookie sheet. The kale chips should retain their curliness throughout the bake.
Once you make a batch of kale chips once, you will see how easy they are to prepare and you will likely start craving them all the time- that crunch is addictive! One thing to note is that kale chips are best (ad crunchiest) when enjoyed within a day or two of baking. The kale tends to soften after a few days. However, don't worry, if your chips get soft, just spread them back out on a baking sheet and pop them back into the oven for about 5 minutes. They will crisp right up!
Subscribe for a FREE copy of our
4-Week Keto Meal Plan
4 Weeks of Delicious Keto Recipes!
Leftovers and Bulk Preps Included
Maximize Your Keto Diet's Success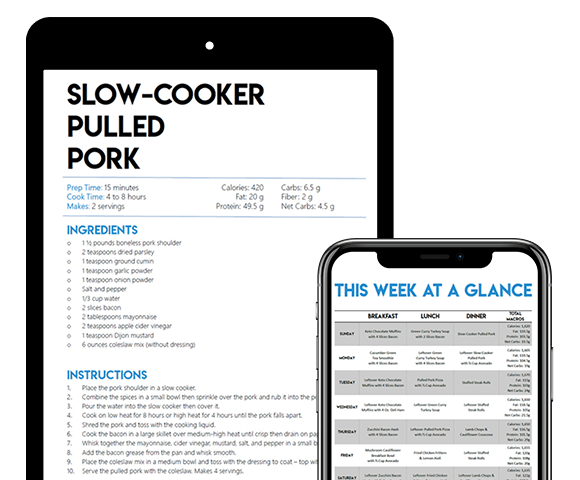 Let's make some kale chips!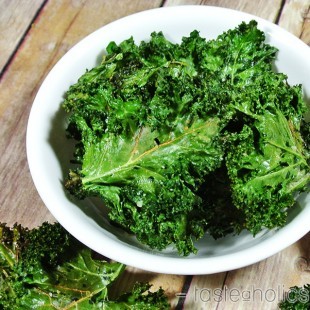 Kale Chips
Macros per serving:
• 180 Calories
• 16g of Fat
• 4g of Protein
• 3g of Carbs

Kale Chips

Macros per serving:
• 180 Calories
• 16g of Fat
• 4g of Protein
• 3g of Carbs

Start by washing and drying your bunch of kale. Make sure to dry them really well between some paper towels. If the kale is too wet with water when going in to the oven, it will steam instead of bake.

Rip into your desired pieces. Stem in or out, your preference.

Pour in your oil of choice; we used olive oil. And add in your seasoning.

Using your hands, gently massage and combine all the ingredients and make sure both sides of every leaf are shiny with oil.

Next, lay and space them out on a cookie sheet. We didn't grease ours as our chips were oily enough.

Throw them into the oven at 350°F. After 8 minutes, check in on them. If they're still soft, keep baking for 2 minute intervals. We ended up baking ours for about 12 minutes.

When they're sufficiently crunchy, take them out and tip them over into a deep bowl. They're ready to snack on! Enjoy!
Tasteaholics, Inc. is a participant in the Amazon Services LLC Associates Program, an affiliate advertising program designed to provide a means for sites to earn advertising fees by advertising and linking to Amazon.com.
Loved this recipe? Let us know! Something didn't quite turn out right? Ask us in the comments below or contact us– we respond to comments every day and would love to hear from you and help you out! And check out all our keto recipes to learn to make more delicious and healthy meals that take no time to prepare!
NUTRITIONAL DISCLAIMER
The content on this website should not be taken as medical advice and you should ALWAYS consult with your doctor before starting any diet or exercise program. We provide nutritional data for our recipes as a courtesy to our readers. We use Total Keto Diet app software to calculate the nutrition and we remove fiber and sugar alcohols, like erythritol, from the total carbohydrate count to get to the net carb count, as they do not affect your blood glucose levels. You should independently calculate nutritional information on your own and not rely on our data. The website or content herein is not intended to cure, prevent, diagnose or treat any disease. This website shall not be liable for adverse reactions or any other outcome resulting from the use of recipes or recommendations on the Website or actions you take as a result. Any action you take is strictly at your own risk.
Latest posts by Vicky Abrams
(see all)
Have You Tried These Delicious Recipes?
Missing anything? Get it on