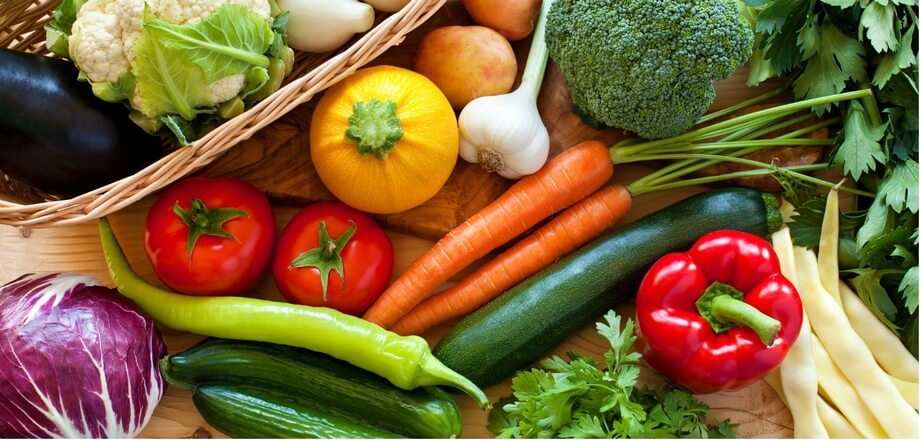 Low Carb Vegetables
Vegetables are extremely important for our diet and provide plenty of nutrition through macro and micronutrients. On a low carb diet, you should aim to eat dark, leafy greens instead of starchy vegetables. Some examples of starchy vegetables are potatoes, corn, peas, garlic and yams.
Subtract Dietary Fiber
Please keep in mind that although on nutrition labels in the US, fiber is counted toward the total carbohydrates in foods, it is indigestible by the human body and therefore should not be counted toward your daily carb limit. (Source)
Here's how you count how many carbs you are eating that contribute toward your daily intake:
Carbs – Fiber = Net Carbs
Net carbs (on the far right of the table below) contribute toward your maximum daily carb intake.
Look up your favorite veggies below to see if they're low carb friendly!
Please note, this data is per 100 grams of each veggie.
Search for a specific vegetable:
| Name | Image | Total Carbs (g) | Fiber (g) | Net Carbs (g) |
| --- | --- | --- | --- | --- |
| Alfalfa seeds, sprouted | | 2.1 | 1.9 | 0.2 |
| Amaranth leaves | | 4.02 | 0 | 4.02 |
| Arrowhead | | 20.23 | 0 | 20.23 |
| Arrowroot | | 13.39 | 1.3 | 12.09 |
| Artichokes, (globe or french) | | 10.51 | 5.4 | 5.11 |
| Arugula | | 3.65 | 1.6 | 2.05 |
| Asparagus | | 3.88 | 2.1 | 1.78 |
| Balsam-pear (bitter gourd), leafy tips | | 3.29 | 0 | 3.29 |
| Bamboo shoots | | 5.2 | 2.2 | 3 |
| Beans, fava, in pod | | 17.63 | 7.5 | 10.13 |
| Beans, kidney, mature seeds, sprouted | | 60 | 25 | 35 |
| Beans, navy, mature seeds, sprouted | | 13.05 | 0 | 13.05 |
| Beans, pinto, mature seeds, sprouted | | 4.1 | 0 | 4.1 |
| Beans, snap, green | | 7 | 3.4 | 3.6 |
| Beet greens | | 4.33 | 3.7 | 0.63 |
| Beets | | 9.56 | 2.8 | 6.76 |
| Broadbeans, immature seeds | | 11.7 | 4.2 | 7.5 |
| Broccoli | | 6.64 | 2.6 | 4.04 |
| Broccoli raab | | 2.85 | 2.7 | 0.15 |
| Burdock root | | 17.34 | 3.3 | 14.04 |
| Butterbur, (fuki) | | 3.61 | 0 | 3.61 |
| Cabbage | | 5.8 | 2.5 | 3.3 |
| Cabbage, chinese (pak-choi) | | 2.18 | 1 | 1.18 |
| Cabbage, chinese (pe-tsai) | | 3.23 | 1.2 | 2.03 |
| Cabbage, red | | 7.37 | 2.1 | 5.27 |
| Cabbage, savoy | | 6.1 | 3.1 | 3 |
| Cardoon | | 4.07 | 1.6 | 2.47 |
| Carrots | | 9.58 | 2.8 | 6.78 |
| Carrots, baby | | 8.24 | 2.9 | 5.34 |
| Cassava | | 38.06 | 1.8 | 36.26 |
| Cauliflower | | 4.97 | 2 | 2.97 |
| Celeriac | | 9.2 | 1.8 | 7.4 |
| Celery | | 2.97 | 1.6 | 1.37 |
| Celtuce | | 3.65 | 1.7 | 1.95 |
| Chanterelle mushrooms | | 6.86 | 3.8 | 3.06 |
| Chard, swiss | | 3.74 | 1.6 | 2.14 |
| Chayote, fruit | | 4.51 | 1.7 | 2.81 |
| Chicory greens | | 4.7 | 4 | 0.7 |
| Chicory, witloof | | 4 | 3.1 | 0.9 |
| Chives | | 4.35 | 2.5 | 1.85 |
| Collards | | 5.42 | 4 | 1.42 |
| Coriander (cilantro) leaves | | 3.67 | 2.8 | 0.87 |
| Corn, sweet, white | | 19.02 | 2.7 | 16.32 |
| Corn, sweet, yellow | | 18.7 | 2 | 16.7 |
| Cowpeas (blackeyes), immature seeds | | 18.83 | 5 | 13.83 |
| Cress, garden | | 5.5 | 1.1 | 4.4 |
| Cucumber, with peel | | 3.63 | 0.5 | 3.13 |
| Dandelion greens | | 9.2 | 3.5 | 5.7 |
| Eggplant | | 5.88 | 3 | 2.88 |
| Endive | | 3.35 | 3.1 | 0.25 |
| Enoki mushrooms | | 7.81 | 2.7 | 5.11 |
| Epazote | | 7.44 | 3.8 | 3.64 |
| Fennel, bulb | | 7.3 | 3.1 | 4.2 |
| Fiddlehead ferns | | 5.54 | 0 | 5.54 |
| Fireweed, leaves | | 19.22 | 10.6 | 8.62 |
| Garlic | | 33.06 | 2.1 | 30.96 |
| Ginger root | | 17.77 | 2 | 15.77 |
| Gourd, white-flowered (calabash) | | 3.39 | 0.5 | 2.89 |
| Grape leaves | | 17.31 | 11 | 6.31 |
| Hyacinth-beans, immature seeds | | 9.19 | 3.3 | 5.89 |
| Jerusalem-artichokes | | 17.44 | 1.6 | 15.84 |
| Kale | | 8.75 | 3.6 | 5.15 |
| Kohlrabi | | 6.2 | 3.6 | 2.6 |
| Leeks, (bulb and lower leaf-portion) | | 14.15 | 1.8 | 12.35 |
| Lemon grass (citronella) | | 25.31 | 0 | 25.31 |
| Lentils, sprouted | | 22.14 | 0 | 22.14 |
| Lettuce, butterhead (includes boston and bibb types) | | 2.23 | 1.1 | 1.13 |
| Lettuce, cos or romaine | | 3.29 | 2.1 | 1.19 |
| Lettuce, green leaf | | 2.87 | 1.3 | 1.57 |
| Lettuce, iceberg (includes crisphead types) | | 2.97 | 1.2 | 1.77 |
| Lettuce, red leaf | | 2.26 | 0.9 | 1.36 |
| Lima beans, immature seeds | | 20.17 | 4.9 | 15.27 |
| Lotus root | | 17.23 | 4.9 | 12.33 |
| Maitake mushrooms | | 6.97 | 2.7 | 4.27 |
| Morel mushrooms | | 5.1 | 2.8 | 2.3 |
| Mountain yam, hawaii | | 16.3 | 2.5 | 13.8 |
| Mung beans, mature seeds, sprouted | | 5.94 | 1.8 | 4.14 |
| Mushrooms, brown, italian, or crimini | | 4.3 | 0.6 | 3.7 |
| Mustard greens | | 4.67 | 3.2 | 1.47 |
| Nopales | | 3.33 | 2.2 | 1.13 |
| Okra | | 7.45 | 3.2 | 4.25 |
| Onions | | 9.34 | 1.7 | 7.64 |
| Onions, spring or scallions (includes tops and bulb) | | 7.34 | 2.6 | 4.74 |
| Onions, sweet | | 7.55 | 0.9 | 6.65 |
| Oyster mushrooms | | 6.09 | 2.3 | 3.79 |
| Palm hearts | | 25.61 | 1.5 | 24.11 |
| Parsnips | | 17.99 | 4.9 | 13.09 |
| Peas, green | | 14.45 | 5.1 | 9.35 |
| Pepper, banana | | 5.35 | 3.4 | 1.95 |
| Peppers, hot chili, red | | 8.81 | 1.5 | 7.31 |
| Peppers, jalapeno | | 6.5 | 2.8 | 3.7 |
| Peppers, serrano | | 6.7 | 3.7 | 3 |
| Peppers, sweet, green | | 4.64 | 1.7 | 2.94 |
| Peppers, sweet, red | | 6.03 | 2.1 | 3.93 |
| Peppers, sweet, yellow | | 6.32 | 0.9 | 5.42 |
| Pigeonpeas, immature seeds | | 23.88 | 5.1 | 18.78 |
| Portabella mushrooms | | 3.87 | 1.3 | 2.57 |
| Potatoes, red, flesh and skin | | 15.9 | 1.7 | 14.2 |
| Potatoes, russet, flesh and skin | | 18.07 | 1.3 | 16.77 |
| Potatoes, white, flesh and skin | | 15.71 | 2.4 | 13.31 |
| Pumpkin | | 6.5 | 0.5 | 6 |
| Pumpkin leaves | | 2.33 | 0 | 2.33 |
| Purslane | | 3.39 | 0 | 3.39 |
| Radicchio | | 4.48 | 0.9 | 3.58 |
| Radish seeds, sprouted | | 3.6 | 0 | 3.6 |
| Radishes | | 3.4 | 1.6 | 1.8 |
| Radishes, oriental | | 4.1 | 1.6 | 2.5 |
| Radishes, white icicle | | 2.63 | 1.4 | 1.23 |
| Rutabagas | | 8.62 | 2.3 | 6.32 |
| Salsify, (vegetable oyster) | | 18.6 | 3.3 | 15.3 |
| Seaweed, kelp | | 9.57 | 1.3 | 8.27 |
| Seaweed, spirulina | | 2.42 | 0.4 | 2.02 |
| Seaweed, wakame | | 9.14 | 0.5 | 8.64 |
| Sesbania flower | | 6.73 | 0 | 6.73 |
| Shallots | | 16.8 | 3.2 | 13.6 |
| Shiitake mushrooms | | 6.79 | 2.5 | 4.29 |
| Soybeans, green | | 11.05 | 4.2 | 6.85 |
| Soybeans, mature seeds, sprouted | | 9.57 | 1.1 | 8.47 |
| Spinach | | 3.63 | 2.2 | 1.43 |
| Squash, summer, crookneck and straightneck | | 3.88 | 1 | 2.88 |
| Squash, summer, scallop | | 3.84 | 1.2 | 2.64 |
| Squash, summer, zucchini, includes skin | | 3.11 | 1 | 2.11 |
| Squash, winter, acorn | | 10.42 | 1.5 | 8.92 |
| Squash, winter, butternut | | 11.69 | 2 | 9.69 |
| Squash, winter, hubbard | | 8.7 | 3.9 | 4.8 |
| Squash, winter, spaghetti | | 6.91 | 1.5 | 5.41 |
| Succotash, (corn and limas) | | 19.59 | 3.8 | 15.79 |
| Sweet potato leaves | | 8.82 | 5.3 | 3.52 |
| Taro | | 26.46 | 4.1 | 22.36 |
| Tomatillos | | 5.84 | 1.9 | 3.94 |
| Tomatoes, red, ripe, year round average | | 3.89 | 1.2 | 2.69 |
| Turnip greens | | 7.13 | 3.2 | 3.93 |
| Turnips | | 6.43 | 1.8 | 4.63 |
| Wasabi, root | | 23.54 | 7.8 | 15.74 |
| Waterchestnuts, chinese, (matai) | | 23.94 | 3 | 20.94 |
| Watercress | | 1.29 | 0.5 | 0.79 |
| Waxgourd, (chinese preserving melon) | | 3 | 2.9 | 0.1 |
| White mushrooms | | 3.26 | 1 | 2.26 |
| Winged bean tuber | | 28.1 | 0 | 28.1 |
| Yam | | 27.88 | 4.1 | 23.78 |
| Yambean (jicama) | | 8.82 | 4.9 | 3.92 |
| Yardlong bean | | 8.35 | 0 | 8.35 |
| Yautia (tannier) | | 23.63 | 1.5 | 22.13 |