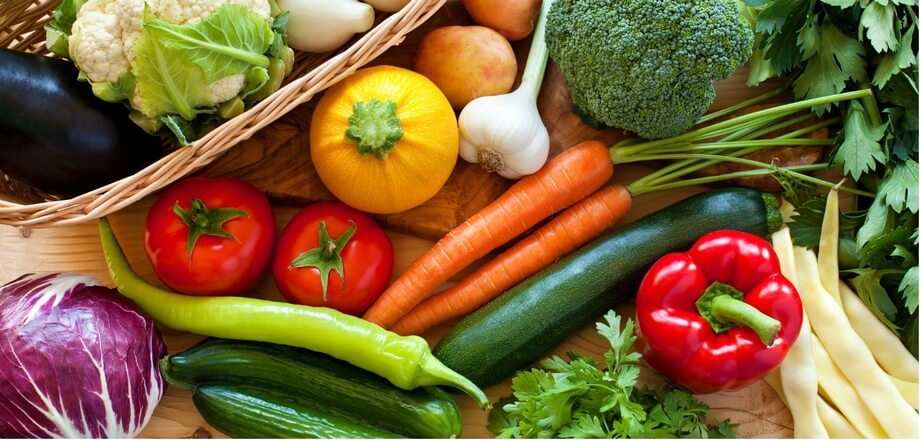 From the time we are young, our parents, teachers, pediatricians and other influential adults instruct us to eat fruits and vegetables as a way to stay healthy. "An apple a day keeps the doctor away," or so we are told. While a diet high in fruits and vegetables is certainly better than eating potato chips and fast food hamburgers, the ketogenic diet asks us to stay away from a wide variety of fruits and vegetables, including staples like apples, bananas, oranges, and potatoes.
Why Does the Keto Diet Prohibit Certain Fruits and Vegetables?
The most important aim of the keto diet is to limit the consumption of carbohydrates. Carbohydrates are broken down into glucose, which then becomes the main source of energy the body uses throughout the day. Insulin is thus also produced to help the body process the excess glucose.
By starving the body of carbohydrates, the body will naturally enter into a state known as ketosis, wherein ketones (instead of glucose), become the main energy source the body uses. Optimum ketone levels in the body offer several health benefits, including weight loss, controlled insulin levels (and thus prevention of diabetes), increased mental focus, among others.
While limiting carbohydrate intake is your main task with the keto diet, the limited amount of carbohydrates you are allowed to have should come from fruits and vegetables.
What is Not Allowed?
Starchy vegetables, such as potatoes, yams, and asparagus are prohibited in the keto diet because they are extremely high in carbs while offering little else nutritionally. Furthermore, sweet fruits, such as apples, oranges, bananas and others are also on the do-not-eat list because of the high sugar and carb content.
Most people on a keto diet aim to keep their carbohydrate intake under 30 grams per day and the USDA estimates1 that one large apple alone has over 30 grams of carbs. It is preferable to get the limited number of carbs from other fruit and vegetable sources that are lower in carbs per weight while also offering other nutritional benefits for the overall diet.
What Fruits and Vegetables You Can Eat
Instead of the more traditional tree fruits, berries are a much better fruit option for the keto diet. One cup of strawberries only contains 8 grams of carbs while a cup of blueberries, which are also high in antioxidants, contains only 17 grams of carbs.
In addition, avocados are generally accepted as a positive fruit to include in your keto diet. One half of an avocado contains less than 2 grams of carbs while also being high in beneficial fats like Alpha-linolenic acid (an omega-3 fatty acid) and oleic acid.
Leafy green vegetables, like spinach and kale, are usually considered good vegetables for the keto diet when consumed in moderation. Both of these vegetables are extremely low in carbohydrates while constituting an excellent source of fiber, folate, carotenoids, and other essential vitamins and minerals2 that your body needs.
Subtract Dietary Fiber
Please keep in mind that although on nutrition labels in the US, fiber is counted toward the total carbohydrates in foods, it is indigestible by the human body and therefore should not be counted toward your daily carb limit. (Source)
Here's how you count how many carbs you are eating that contribute toward your daily intake:
Carbs – Fiber = Net Carbs
Net carbs (on the far right of the table below) contribute toward your maximum daily carb intake.
Look up your favorite veggies below to see if they're low carb friendly!
Please note, this data is per 100 grams of each veggie.
Search for a specific vegetable:
| Name | Image | Total Carbs (g) | Fiber (g) | Net Carbs (g) |
| --- | --- | --- | --- | --- |
| Alfalfa seeds, sprouted | | 2.1 | 1.9 | 0.2 |
| Amaranth leaves | | 4.02 | 0 | 4.02 |
| Arrowhead | | 20.23 | 0 | 20.23 |
| Arrowroot | | 13.39 | 1.3 | 12.09 |
| Artichokes, (globe or french) | | 10.51 | 5.4 | 5.11 |
| Arugula | | 3.65 | 1.6 | 2.05 |
| Asparagus | | 3.88 | 2.1 | 1.78 |
| Balsam-pear (bitter gourd), leafy tips | | 3.29 | 0 | 3.29 |
| Bamboo shoots | | 5.2 | 2.2 | 3 |
| Beans, fava, in pod | | 17.63 | 7.5 | 10.13 |
| Beans, kidney, mature seeds, sprouted | | 60 | 25 | 35 |
| Beans, navy, mature seeds, sprouted | | 13.05 | 0 | 13.05 |
| Beans, pinto, mature seeds, sprouted | | 4.1 | 0 | 4.1 |
| Beans, snap, green | | 7 | 3.4 | 3.6 |
| Beet greens | | 4.33 | 3.7 | 0.63 |
| Beets | | 9.56 | 2.8 | 6.76 |
| Broadbeans, immature seeds | | 11.7 | 4.2 | 7.5 |
| Broccoli | | 6.64 | 2.6 | 4.04 |
| Broccoli raab | | 2.85 | 2.7 | 0.15 |
| Burdock root | | 17.34 | 3.3 | 14.04 |
| Butterbur, (fuki) | | 3.61 | 0 | 3.61 |
| Cabbage | | 5.8 | 2.5 | 3.3 |
| Cabbage, chinese (pak-choi) | | 2.18 | 1 | 1.18 |
| Cabbage, chinese (pe-tsai) | | 3.23 | 1.2 | 2.03 |
| Cabbage, red | | 7.37 | 2.1 | 5.27 |
| Cabbage, savoy | | 6.1 | 3.1 | 3 |
| Cardoon | | 4.07 | 1.6 | 2.47 |
| Carrots | | 9.58 | 2.8 | 6.78 |
| Carrots, baby | | 8.24 | 2.9 | 5.34 |
| Cassava | | 38.06 | 1.8 | 36.26 |
| Cauliflower | | 4.97 | 2 | 2.97 |
| Celeriac | | 9.2 | 1.8 | 7.4 |
| Celery | | 2.97 | 1.6 | 1.37 |
| Celtuce | | 3.65 | 1.7 | 1.95 |
| Chanterelle mushrooms | | 6.86 | 3.8 | 3.06 |
| Chard, swiss | | 3.74 | 1.6 | 2.14 |
| Chayote, fruit | | 4.51 | 1.7 | 2.81 |
| Chicory greens | | 4.7 | 4 | 0.7 |
| Chicory, witloof | | 4 | 3.1 | 0.9 |
| Chives | | 4.35 | 2.5 | 1.85 |
| Collards | | 5.42 | 4 | 1.42 |
| Coriander (cilantro) leaves | | 3.67 | 2.8 | 0.87 |
| Corn, sweet, white | | 19.02 | 2.7 | 16.32 |
| Corn, sweet, yellow | | 18.7 | 2 | 16.7 |
| Cowpeas (blackeyes), immature seeds | | 18.83 | 5 | 13.83 |
| Cress, garden | | 5.5 | 1.1 | 4.4 |
| Cucumber, with peel | | 3.63 | 0.5 | 3.13 |
| Dandelion greens | | 9.2 | 3.5 | 5.7 |
| Eggplant | | 5.88 | 3 | 2.88 |
| Endive | | 3.35 | 3.1 | 0.25 |
| Enoki mushrooms | | 7.81 | 2.7 | 5.11 |
| Epazote | | 7.44 | 3.8 | 3.64 |
| Fennel, bulb | | 7.3 | 3.1 | 4.2 |
| Fiddlehead ferns | | 5.54 | 0 | 5.54 |
| Fireweed, leaves | | 19.22 | 10.6 | 8.62 |
| Garlic | | 33.06 | 2.1 | 30.96 |
| Ginger root | | 17.77 | 2 | 15.77 |
| Gourd, white-flowered (calabash) | | 3.39 | 0.5 | 2.89 |
| Grape leaves | | 17.31 | 11 | 6.31 |
| Hyacinth-beans, immature seeds | | 9.19 | 3.3 | 5.89 |
| Jerusalem-artichokes | | 17.44 | 1.6 | 15.84 |
| Kale | | 8.75 | 3.6 | 5.15 |
| Kohlrabi | | 6.2 | 3.6 | 2.6 |
| Leeks, (bulb and lower leaf-portion) | | 14.15 | 1.8 | 12.35 |
| Lemon grass (citronella) | | 25.31 | 0 | 25.31 |
| Lentils, sprouted | | 22.14 | 0 | 22.14 |
| Lettuce, butterhead (includes boston and bibb types) | | 2.23 | 1.1 | 1.13 |
| Lettuce, cos or romaine | | 3.29 | 2.1 | 1.19 |
| Lettuce, green leaf | | 2.87 | 1.3 | 1.57 |
| Lettuce, iceberg (includes crisphead types) | | 2.97 | 1.2 | 1.77 |
| Lettuce, red leaf | | 2.26 | 0.9 | 1.36 |
| Lima beans, immature seeds | | 20.17 | 4.9 | 15.27 |
| Lotus root | | 17.23 | 4.9 | 12.33 |
| Maitake mushrooms | | 6.97 | 2.7 | 4.27 |
| Morel mushrooms | | 5.1 | 2.8 | 2.3 |
| Mountain yam, hawaii | | 16.3 | 2.5 | 13.8 |
| Mung beans, mature seeds, sprouted | | 5.94 | 1.8 | 4.14 |
| Mushrooms, brown, italian, or crimini | | 4.3 | 0.6 | 3.7 |
| Mustard greens | | 4.67 | 3.2 | 1.47 |
| Nopales | | 3.33 | 2.2 | 1.13 |
| Okra | | 7.45 | 3.2 | 4.25 |
| Onions | | 9.34 | 1.7 | 7.64 |
| Onions, spring or scallions (includes tops and bulb) | | 7.34 | 2.6 | 4.74 |
| Onions, sweet | | 7.55 | 0.9 | 6.65 |
| Oyster mushrooms | | 6.09 | 2.3 | 3.79 |
| Palm hearts | | 25.61 | 1.5 | 24.11 |
| Parsnips | | 17.99 | 4.9 | 13.09 |
| Peas, green | | 14.45 | 5.1 | 9.35 |
| Pepper, banana | | 5.35 | 3.4 | 1.95 |
| Peppers, hot chili, red | | 8.81 | 1.5 | 7.31 |
| Peppers, jalapeno | | 6.5 | 2.8 | 3.7 |
| Peppers, serrano | | 6.7 | 3.7 | 3 |
| Peppers, sweet, green | | 4.64 | 1.7 | 2.94 |
| Peppers, sweet, red | | 6.03 | 2.1 | 3.93 |
| Peppers, sweet, yellow | | 6.32 | 0.9 | 5.42 |
| Pigeonpeas, immature seeds | | 23.88 | 5.1 | 18.78 |
| Portabella mushrooms | | 3.87 | 1.3 | 2.57 |
| Potatoes, red, flesh and skin | | 15.9 | 1.7 | 14.2 |
| Potatoes, russet, flesh and skin | | 18.07 | 1.3 | 16.77 |
| Potatoes, white, flesh and skin | | 15.71 | 2.4 | 13.31 |
| Pumpkin | | 6.5 | 0.5 | 6 |
| Pumpkin leaves | | 2.33 | 0 | 2.33 |
| Purslane | | 3.39 | 0 | 3.39 |
| Radicchio | | 4.48 | 0.9 | 3.58 |
| Radish seeds, sprouted | | 3.6 | 0 | 3.6 |
| Radishes | | 3.4 | 1.6 | 1.8 |
| Radishes, oriental | | 4.1 | 1.6 | 2.5 |
| Radishes, white icicle | | 2.63 | 1.4 | 1.23 |
| Rutabagas | | 8.62 | 2.3 | 6.32 |
| Salsify, (vegetable oyster) | | 18.6 | 3.3 | 15.3 |
| Seaweed, kelp | | 9.57 | 1.3 | 8.27 |
| Seaweed, spirulina | | 2.42 | 0.4 | 2.02 |
| Seaweed, wakame | | 9.14 | 0.5 | 8.64 |
| Sesbania flower | | 6.73 | 0 | 6.73 |
| Shallots | | 16.8 | 3.2 | 13.6 |
| Shiitake mushrooms | | 6.79 | 2.5 | 4.29 |
| Soybeans, green | | 11.05 | 4.2 | 6.85 |
| Soybeans, mature seeds, sprouted | | 9.57 | 1.1 | 8.47 |
| Spinach | | 3.63 | 2.2 | 1.43 |
| Squash, summer, crookneck and straightneck | | 3.88 | 1 | 2.88 |
| Squash, summer, scallop | | 3.84 | 1.2 | 2.64 |
| Squash, summer, zucchini, includes skin | | 3.11 | 1 | 2.11 |
| Squash, winter, acorn | | 10.42 | 1.5 | 8.92 |
| Squash, winter, butternut | | 11.69 | 2 | 9.69 |
| Squash, winter, hubbard | | 8.7 | 3.9 | 4.8 |
| Squash, winter, spaghetti | | 6.91 | 1.5 | 5.41 |
| Succotash, (corn and limas) | | 19.59 | 3.8 | 15.79 |
| Sweet potato leaves | | 8.82 | 5.3 | 3.52 |
| Taro | | 26.46 | 4.1 | 22.36 |
| Tomatillos | | 5.84 | 1.9 | 3.94 |
| Tomatoes, red, ripe, year round average | | 3.89 | 1.2 | 2.69 |
| Turnip greens | | 7.13 | 3.2 | 3.93 |
| Turnips | | 6.43 | 1.8 | 4.63 |
| Wasabi, root | | 23.54 | 7.8 | 15.74 |
| Waterchestnuts, chinese, (matai) | | 23.94 | 3 | 20.94 |
| Watercress | | 1.29 | 0.5 | 0.79 |
| Waxgourd, (chinese preserving melon) | | 3 | 2.9 | 0.1 |
| White mushrooms | | 3.26 | 1 | 2.26 |
| Winged bean tuber | | 28.1 | 0 | 28.1 |
| Yam | | 27.88 | 4.1 | 23.78 |
| Yambean (jicama) | | 8.82 | 4.9 | 3.92 |
| Yardlong bean | | 8.35 | 0 | 8.35 |
| Yautia (tannier) | | 23.63 | 1.5 | 22.13 |