Playing With Our Food!
Growing up, I never paid green beans any attention, except when they were forced upon me, which was rare! I was lucky (or unlucky) enough to have been given some degree of freedom when it came to food. Either that or I made such a fuss about eating certain things that eventually, my mother just gave up and settled on whatever she could convince me to eat. Unfortunately, this meant I basically grew up without veggies. The ones I was told to eat every now and then were overcooked and bland. Cold, unsalted, boiled broccoli? It haunts me still. Fortunately, us keto-ers have the luxury of salting and buttering our food to our hearts' desires.
Ever since giving up carbs and learning how to prepare my veggies the right way, all I do is eat veggies! Since I pretty much have most meats and preparations under my belt, most nights I'm wondering how to prepare my veggies in an interesting and new way. I particularly love roasting them – it brings out more flavor and gives them a nice crisp on the outside. A huge part of cooking and eating is texture!
So for yesterday's dinner, Rami and I decided to dress up some green beans and bake them in a delicious Parmesan crust to create Green Bean Fries! Our first thought was to coat them in pork rinds or almond meal but we agreed Parmesan cheese would bring not only crunchy texture but also some serious flavor. Parmesan cheese it was.
Subscribe for a FREE copy of our
14-Day Keto Meal Plan
2 Full Weeks of Delicious Recipes!
Leftovers and Bulk Preps Included
Maximize Your Keto Diet's Success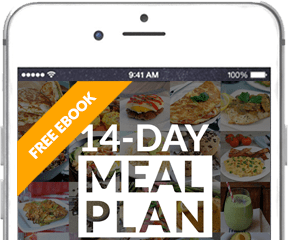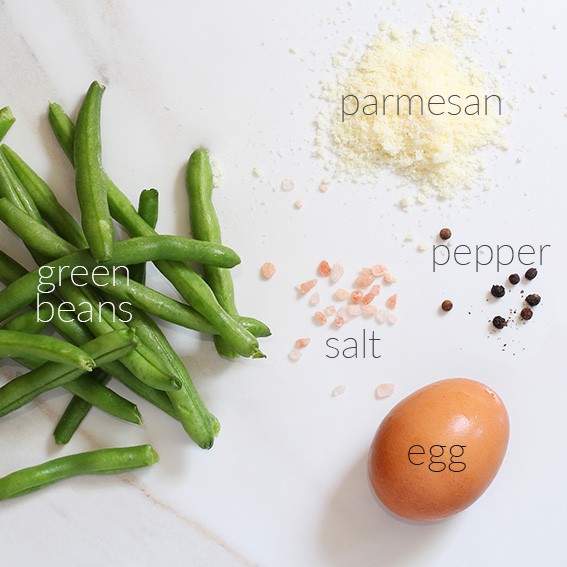 We've been trying to use freshly grated Parmesan cheese for most of our recipes and we recommend you do the same. Believe us, you will notice the difference! Freshly grated Parmesan cheese, off the block, is light-years better than the stuff you'll find in the big, green can. We recommend splurging for a brand of Parmesan cheese that's trustworthy – we went with Trader Joe's! Of course, any grated Parmesan cheese you have will work for this recipe.
Preheat the oven to 400°F and make sure your green beans are dry and snipped (the fibrous end cut off).

Combine the grated Parmesan cheese with the seasonings on a shallow plate and mix to evenly disperse everything.

Whisk an egg in a bowl large enough to drench the green beans in. Drench a handful of green beans in the beaten egg and let the excess drop off for a few seconds.

Gently press the green beans in the Parmesan cheese mixture and sprinkle some cheese over. Toss gently with your hands.

Place the green beans on your largest, greased baking sheet making sure they have room on all sides to crisp up in the oven. Bake for about 10 minutes, checking to see that the cheese has become slightly golden.

Let the green beans cool until they can be handled. Serve with some spicy mayo or ranch and enjoy!
We provide nutritional information for our recipes as a courtesy to our readers. The data is calculated using the MyFitnessPal app. We remove fiber and sugar alcohols, including erythritol, from the final carbohydrate count since they do not affect blood glucose levels in most individuals. We try to be as accurate as possible but we encourage you to calculate nutritional information on your own.
Loved this recipe? Let us know! Something didn't quite turn out right? Ask us in the comments below or contact us– we respond to comments every day and would love to hear from you and help you out! And check out all our low carb recipes to learn to make more delicious and healthy meals!
Have You Tried These Delicious Recipes?
LOW CARB
WEEKLY
MEAL PLANS
delivered straight to your inbox!
Easy & Delicious Low Carb Recipes
Shopping Lists
All Macros Calculated
Leftovers & Keto Snack Ideas
Missing anything? Get it on
Disclosure of Material Connection: The products above are linking to Amazon as "affiliate links" because we're affiliates! When you click on a product, it'll take you to its Amazon page where the price stays the same for you and Amazon pays us a small percentage. This helps us continue to provide quality recipes and pay for operating costs.