Our Seal of Approval!
When Rami and I first started blogging in February of 2015, we contacted tons of blogging mavens to allow us to guest post on their site in order to get our name out there. Martina from KetoDietApp was one of the first to agree! We ended up making a Low Carb Avgolemono for her blog without the orzo but instead: trusty cauliflower rice. The inspiration came from eating at Elia's, a traditional Greek place in Brooklyn, NY when we lived in the area.
We're grateful to have maintained a relationship with Martina and have happily offered our ebook, Dinner in Five, as a prize in one of her many Keto Diet Challenges. If you haven't signed up for one, you should! Her challenges are fun and a great way to stay motivated.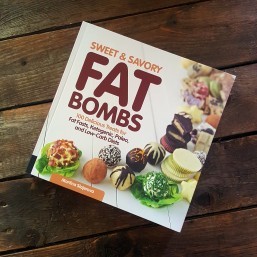 We've reviewed one of Martina's recipes in the past and were impressed with how it turned out (see her gorgeous Low Carb Lemon Meringue Tartlets we made!). She asked if we'd be interested in trying out another and in a few days, a package was at our door bearing a whole cookbook of fat bombs! Sweet and Savory Fat Bombs is full of recipes we had never thought to make – including liquid fat bombs and even savory ones. We're continually impressed with the quality of the books she publishes. Each recipe in the book has a photo of what the end result should look like. It's not a bad way to initially judge how delicious something might be. Besides, we eat with our eyes too!
Subscribe for a FREE copy of our
14-Day Keto Meal Plan
2 Full Weeks of Delicious Recipes!
Leftovers and Bulk Preps Included
Maximize Your Keto Diet's Success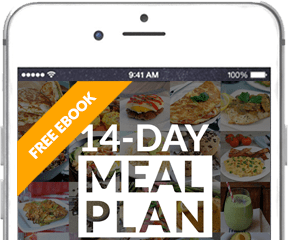 We finally decided to try out a bark recipe. We've never made one before and it seemed easy enough. Plus the variations are endless, though Martina chose a delightful sounding Salted Almond and Coconut Bark.
Yes please!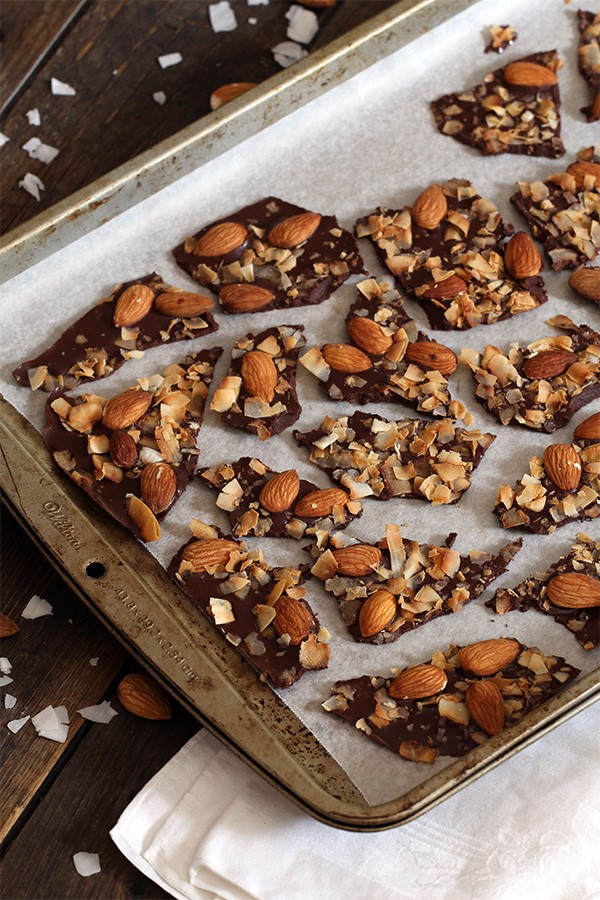 Our attempt turned out amazing! It goes without saying, anything born from sweetness doesn't last very long at our house but the short amount of time we did spend with these delicious fat bombs, we thoroughly enjoyed. Martina used a homemade chocolate recipe (included in the cookbook) but we tweaked that a little and used our favorite Trader Joe's 85% Dark Chocolate.
A huge thank you to Martina for a most delicious recipe! Give these fat bombs a try and let us know how you like them. What other flavors would you want to see on a chocolate bark?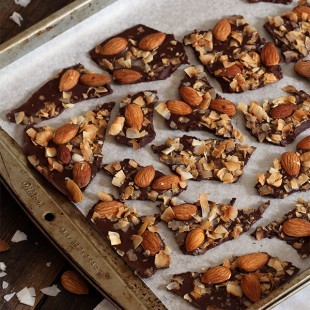 Salted Almond and Coconut Bark
Macros per 1 fat bomb:
• 173 Calories
• 16g of Fat
• 3g of Protein
• 3.5g of Net Carbs

Salted Almond and Coconut Bark

Macros per 1 fat bomb:
• 173 Calories
• 16g of Fat
• 3g of Protein
• 3.5g of Net Carbs

Preheat the oven to 350°F. Spread the almonds and coconut onto a foil-lined baking sheet. Place it in the preheated oven and toast for 5-8 minutes. Stir once or twice to prevent burning. Once everything is toasted, set the baking sheet off to the side to cool.

In a double boiler, melt the dark chocolate and stir in the coconut butter once it has melted a bit. Add in the almond extract and liquid stevia (optional). Mix well and set aside.

Line a baking sheet with parchment or wax paper and pour the chocolate mixture in. Spread it out evenly using the back of a spoon or silicone spatula.

Scatter the toasted almond and coconut flakes over the top and press gently with your hands so that everything is touching the chocolate. Sprinkle lightly with sea salt and let it set in the refrigerator for at least an hour.

Once it has set, slice with a knife or a pizza roller. We opted to break/rip it into shards and enjoy their imperfect shapes!
We used Trader Joe's 85% Dark Chocolate. In Martina's book, she uses her own homemade dark chocolate which decreases the carb count of her fat bombs. Feel free to use a homemade chocolate recipe or the darkest chocolate you can find!
Here are Martina's nutrition facts using her chocolate: 161 Calories, 15.3g of Fat, 2.6g of Protein, 1.9g of Net Carbs.
We provide nutritional information for our recipes as a courtesy to our readers. The data is calculated using the MyFitnessPal app. We remove fiber and sugar alcohols, including erythritol, from the final carbohydrate count since they do not affect blood glucose levels in most individuals. We try to be as accurate as possible but we encourage you to calculate nutritional information on your own.
Loved this recipe? Let us know! Something didn't quite turn out right? Ask us in the comments below or contact us– we respond to comments every day and would love to hear from you and help you out! And check out all our low carb desserts to learn to make more delicious and healthy meals!
Have You Tried These Delicious Recipes?
LOW CARB
WEEKLY
MEAL PLANS
delivered straight to your inbox!
Easy & Delicious Low Carb Recipes
Shopping Lists
All Macros Calculated
Leftovers & Keto Snack Ideas
Disclosure of Material Connection: The products above are linking to Amazon as "affiliate links" because we're affiliates! When you click on a product, it'll take you to its Amazon page where the price stays the same for you and Amazon pays us a small percentage. This helps us continue to provide quality recipes and pay for operating costs.