Keto Snacks DELIVERED!
We've been long time subscribers of Keto Krate – we believe in making keto easy, which is why having keto snacks delivered right to your door is a no-brainer for us!
We're avid snackers. We know people say it's bad to snack, but we just don't agree with that. Everything in moderation, right? We believe that if you find something that makes your keto diet transition easier – then, by all means, go for it! The more enjoyable you make the transition and this new way of life, the more likely it is that you'll stick to it.
With snacks like these, we don't know how anyone can consider keto hard or boring!
Subscribe for a FREE copy of our
4-Week Keto Meal Plan
4 Weeks of Delicious Keto Recipes!
Leftovers and Bulk Preps Included
Maximize Your Keto Diet's Success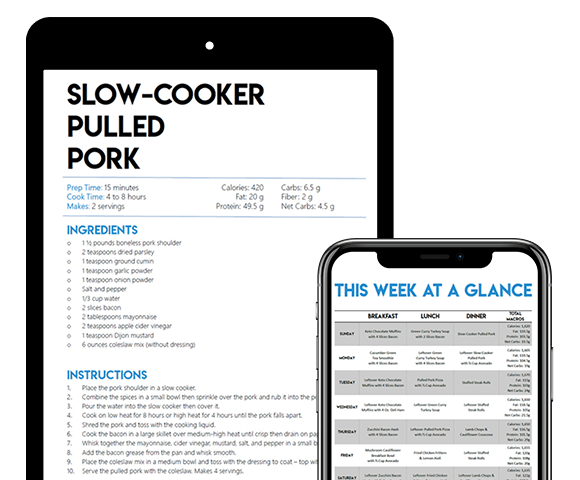 ---
Let's Break it Down
This month's Krate was especially overflowing with goodies. Some of our old favorites were in there in addition to some new brands we've never heard of! We admit we get some pleasure being "in the know". Most of our friends only know the current brands offered at big box stores and supermarkets. We get a sneak peek at smaller brands and new releases! It's the tastiest newsletter I could think of!
Have you been eyeing Keto Krate but haven't given it a chance? Use the code "TASTEAHOLICS" at checkout to get $10 off your first box! Try it out and see what you've been missing!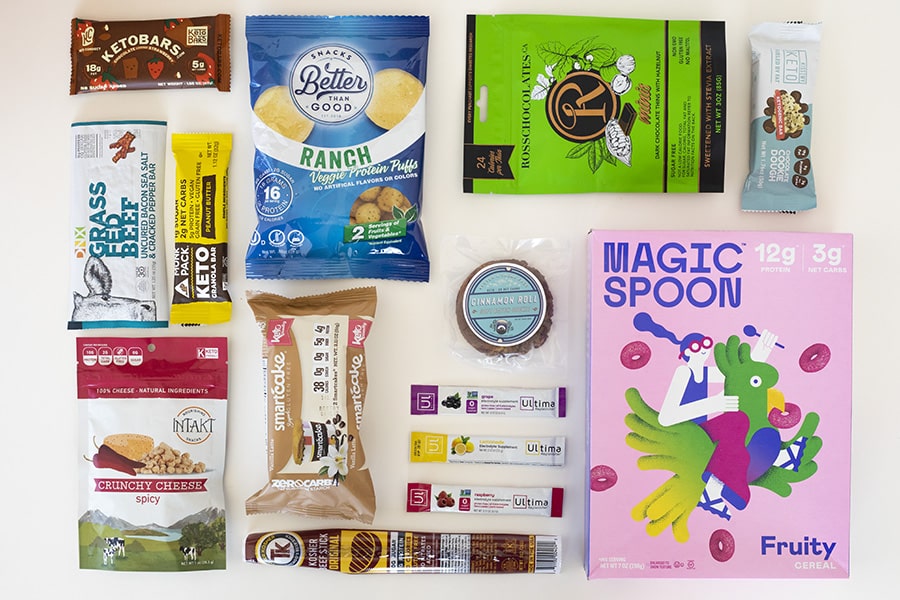 Magic Spoon Fruity Cereal
We've actually purchased Magic Spoon cereal ourselves in the past and we love it! It's not as dry as other cereal mixes and doesn't shred the insides of our mouth like others! This flavor, in particular, was really fun to eat – but we fish our milk absorbed some of that tasty flavor.
Munk Pack Keto Granola Bar
In our opinion, the best of the 3 bars offered in this Krate. We LOVED the perfect potion, the flavor was perfectly peanut buttery and it wasn't too sweet at all! We would bring a suitcase of these the next time we went hiking if we could.
Ultima Electrolytes
When you feel that keto flu starting to strike, reach for these super convenient Ultima electrolyte packets. They're sugar-free and have none of the nasty chemicals you'll find in the conventional electrolyte powders. We loved all 3 flavors! They made staying hydrated in while working out fun 🙂
SmartCakes
We've always been impressed by the size of these cakes! It's a generous serving with a surprisingly low calorie count. For this reason, we'd love to see what else SmartCakes has in store for us. We smeared some peanut butter on our cakes and it was the perfect pairing to a cup of tea!
Ross Chocolates
These weren't our favorite keto chocolates. Chocolate is inherently pretty keto as it is – so it doesn't take much to make it more keto-friendly. We've seen brands simply sweeten theirs with erythritol and stevia and churn out wonderful results. We found these chocolates a bit watery in texture.
Kiss My Keto Chocolate Cookie Dough Bar
While the dark chocolate coating was a yummy addition to this bar, the inner filling was a bit bland and dry. It didn't taste much like cookie dough, just a sweet, doughy mix. Cookie dough is a difficult flavor to mimic and definitely requires real chocolate chips to help break it up while chewing.
Explorado Market Cinnamon Roll Cookie
The cinnamon flavor was the perfect finisher to a soft, sweet cookie but the texture did falter in the end, crumbling just a bit. Explorado Market is super close to perfecting that texture though! We'd also reduce the sweetness by a bit – each cookie contains 11 grams of sugar alcohols.
Better Than Good Ranch Protein Puffs
WOW! These are addictive! We reminisced about the days we ate nothing but those orange cheesy poofs in the giant canisters. These Better Than Good puffs were eerily similar in texture but had even more flavor! With a hint of spice and perfect portioning, they'd be perfect to sneak into the movie theater ;).
KetoBars Chocolate Covered Strawberries Bar
Initially, the sweet and tart flavor of strawberry really hits your palate pleasantly! However, the bitter chocolate followed by the bitter stevia quickly overpower any pleasantness experienced. This bar was quite dry and overpowering – though it's a great idea overall. Chocolate covered strawberry is not a flavor we see often in a keto bar.
DNX Grass-Fed Beef Bar
We can't get into all the benefits of eating grass-fed beef vs. grain-fed beef – there's just no question grass-fed is the way to go! Pair that with uncured bacon and you've got a double whammy of flavor and protein. We loved this flavor and can't wait to try DNX's others!
Intakt Spicy Crunchy Cheese Snacks
A yummy snack to bring with you on a road trip, hike or movie theater! These go great on their own or can be used to dip, top or blend into a fine coating for chicken. We're huge fans of cheese puffs and these are no exception. Great, deep flavor with each ingredient really shining through. The texture is hearty and crunchy. Everything a puff should be!
TK Kosher Beef Stick
What's not to love about a kosher beef stick with no added sugar? These are the perfect on-the-go, protein-packed snack that just about anyone could enjoy. No Gluten, No Flour, No Dairy, No Soy. Just beef!
Haven't tried Keto Krate yet? What are you waiting for?!
Get keto snacks delivered right to your door monthly.
Get $10 off your first Krate by using the code "TASTEAHOLICS" at checkout!
NUTRITIONAL DISCLAIMER
The content on this website should not be taken as medical advice and you should ALWAYS consult with your doctor before starting any diet or exercise program. We provide nutritional data for our recipes as a courtesy to our readers. We use Total Keto Diet app software to calculate the nutrition and we remove fiber and sugar alcohols, like erythritol, from the total carbohydrate count to get to the net carb count, as they do not affect your blood glucose levels. You should independently calculate nutritional information on your own and not rely on our data. The website or content herein is not intended to cure, prevent, diagnose or treat any disease. This website shall not be liable for adverse reactions or any other outcome resulting from the use of recipes or recommendations on the Website or actions you take as a result. Any action you take is strictly at your own risk.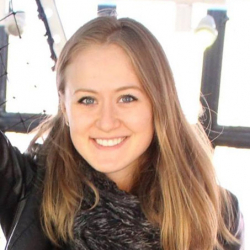 Latest posts by Vicky Abrams
(see all)
Check Out More Product Reviews: