Keto Friendly Food List – What You Can Eat & Drink on Keto
Eating on a keto or low carb diet may feel limited at first but as most long-term low carb-ers would agree, it gets better! You get more creative and discover a new world of interesting and delicious foods. A diet full of bacon and butter is a diet you can easily adapt to!
Every Day Basics
At A Glance: You want to make sure to eat the following on a daily and weekly basis: healthy fats and oils, meat, fish, veggies, eggs and unsweetened dairy. Definitely avoid: sugar, grains, vegetable oils, trans fats, fast foods, margarine, low-fat/diet products and processed foods in general.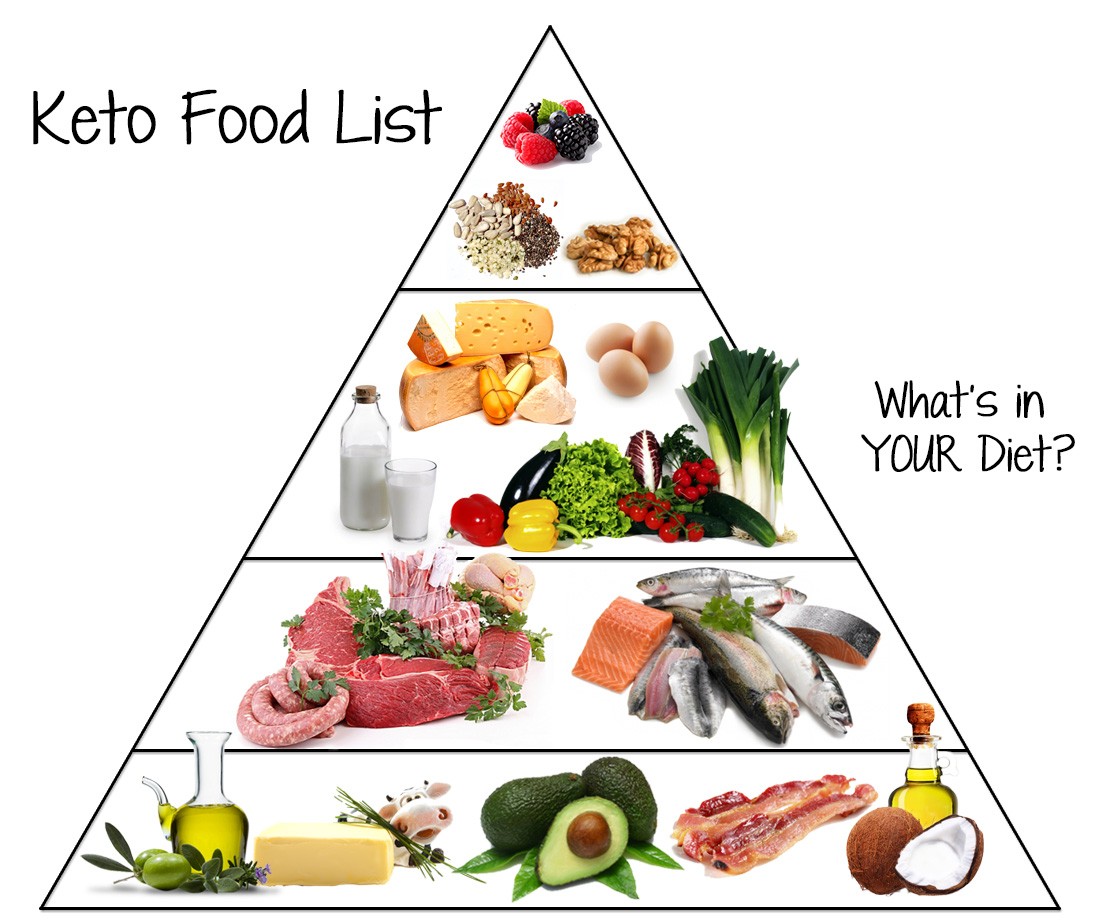 Subscribe for a FREE copy of our
4-Week Keto Meal Plan
4 Weeks of Delicious Keto Recipes!
Leftovers and Bulk Preps Included
Maximize Your Keto Diet's Success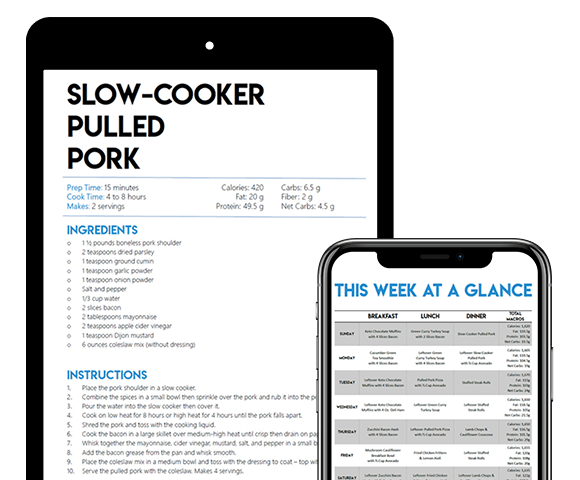 Low Carb Food List – An In-depth Breakdown
Healthy Fats & Oils: Coconut oil, butter, lard & bacon fat, olive oil, avocados, fish oil, flaxseed, chia seed. Stay away from bad fats like vegetable oils. Read more about good fats and bad fats.
Meats: All are fine. Chicken, beef, lamb, pork, venison, etc. Grass-fed is the healthiest.
Fish & Seafood: All are fine. Salmon, cod, shrimp, octopus, tuna, tilapia, bass and others. Wild-caught is the healthiest.
Vegetables: All non-starchy veggies are fine. Spinach, zucchini, yellow squash, broccoli, mushrooms, cucumbers, onion, garlic, cherry tomatoes, spaghetti squash, etc. Vegetables other than potatoes, corn and large tomatoes are low in carbs and should be consumed multiple times daily.
Eggs: Omega-3 enriched, pasture-raised organic are best. Check out our full Egg Buying Guide!
Full-fat Dairy: Cheeses, unsweetened almond milk, heavy cream, yogurt, butter. Any dairy low in carbs and high in saturated and/or monounsaturated is generally good.
Nuts and Seeds (in small amounts): Almonds, walnuts, macadamia nuts, cashews, sunflower seeds.
Flour Replacements: Almond flour, almond meal and coconut flour.
Berries (in small amounts): Blueberries, raspberries, blackberries, strawberries, lemons, limes.
Sweeteners & Sugar Alcohols: Erythritol, stevia, Truvia, xylitol. It's recommended to consume sweeteners with minimal calories, no carbs and a low Glycemix Index (GI) because they won't count toward your net carbs or spike your blood sugar levels. Every body is different though, so try these sweeteners and see how you feel!
* Berries, nuts and seeds should be eaten in small quantities. Berries do contain sugar and can easily take you over your carb limit if you don't track your portion sizes; however, they are packed with vitamins and can be a good treat from time to time. Nuts are calorie dense and the serving size is generally extremely small.
Low Carb Indulgence Food List
Now that you have your low carb food list of safe and delicious low carb foods, you're probably asking: "What about treats? Can I cheat a little but still be somewhat healthy?" Great question! We know what that's like and it's important to be flexible. Here's a few foods you can indulge in from time to time:
Dark Chocolate: 70% cocoa or higher has about 10 carbs per ounce. Check out some awesome benefits and a recipe for Chocolate Truffles!
Low Carb Ice Cream: Breyers CarbSmart is only 4 net carbs per 1/2 cup and tastes great! Enlightened is also a great brand that is sweetened with erythritol!
Sugar-free Jello w/ Whipped Cream: Simple but sweet and keeps you low in carbs.
Quest Bars: These aren't too high in carbs but may spike blood sugar according to some people. Try putting them in a toaster oven for a few minutes on each side (until lightly browned). You'll love them!
Peanut Butter: Always good but in small doses. Buy an all-natural brand with only two ingredients: peanuts, salt.
Pizza (toppings only): If you can't live without pizza (and don't want to make a keto pizza), just eat the toppings and sauce. Those are the best parts anyway! Or make your own Low Carb Pizza!
Breaded foods: Calamari, mozzarella sticks, chicken wings and anything else breaded is okay in small doses.
Pork rinds: Zero carbs with fat and protein, exactly the kind of keto snack you're looking for.
Jerky: A great source of protein, just be careful with sweeter flavors that can be loaded with sugar.
Need more ideas? Check out 30 Low Carb Snacks that require little to no prep time!
Low Carb Drinks (non-alcoholic)
Water, water, water! You need to drink more water on keto, or any healthy lifestyle, for that matter. Staying hydrated is extremely important. Here are a few options you can enjoy while keeping your carbs and sugar in check:
Water
Coffee
Tea
Protein shakes
Vegetable Juices (fresh squeezed and unsweetened)
Carbonated water or soda
Bai5 or other erythritol/stevia sweetened beverages
Low Carb Alcoholic Drinks
You can have alcohol on keto! The stronger liquors are 0 carbs. They will add to your caloric intake but keep your carb count low. Below is a list of liquors and lower carb beers and wines for easy reference when picking your poison! Check out our full Guide to Keto Alcohol to learn how and why alcohol affects us and more so on a low carb diet!
Vodka
Whiskey
Tequila
Rum
Scotch
Brandy
Cognac
Gin
Select beers

Rolling Rock Green Light (2.4 carbs)
Miller 64 (2.4 carbs)
Michelob Ultra (2.6 carbs)
Bud Select (3.1 carbs)
Miller Lite (3.2 carbs)
Busch Light (3.2 carbs)
Natural Light (3.2 carbs)
Beck's Premier Light (3.8 carbs)
Coors Light (5 carbs)
Amstel Light (5 carbs)

Wine

Reds (per glass on average)

Merlot (3.7 carbs)
Pinot Noir (3.4 carbs)
Cabernet (3.5 carbs)
Syrah (3.8 carbs)

Whites

Chardonnay (3.7 carbs)
Pinot Blanc (3.0 carbs)
Pinot Grigio (3.2 carbs)
Riesling (5.5 carbs)
Champagne (1.5 carbs)
Losing Weight or Simply Eating Right
Regardless of the reason you switched to a low carb diet, it's important to be mindful of your daily macros and caloric intake. Watch alcohol intake because it is additional, and empty, calories and will hinder you reaching your goals. Alcohol metabolization stalls fat burning until it's out of your system. Something we expand on further in our Guide to Keto Alcohol.
Being healthy is all about getting the right nutrients and vitamins from your food so always include variety in your diet. Have plenty of meat (or fish), dairy and veggies on a daily basis based on this low carb food list. Use coconut oil and olive oil when you cook and in your salads (respectively) and have a handful of nuts or berries from time to time.
Going Shopping? Take Our Keto Foods List With You!
We've developed a printable list of keto foods that you can take with you on your grocery shopping trips.
Got any more questions or thought of something we missed? Let us know in the comments below!
NUTRITIONAL DISCLAIMER
The content on this website should not be taken as medical advice and you should ALWAYS consult with your doctor before starting any diet or exercise program. We provide nutritional data for our recipes as a courtesy to our readers. We use Total Keto Diet app software to calculate the nutrition and we remove fiber and sugar alcohols, like erythritol, from the total carbohydrate count to get to the net carb count, as they do not affect your blood glucose levels. You should independently calculate nutritional information on your own and not rely on our data. The website or content herein is not intended to cure, prevent, diagnose or treat any disease. This website shall not be liable for adverse reactions or any other outcome resulting from the use of recipes or recommendations on the Website or actions you take as a result. Any action you take is strictly at your own risk.
Latest posts by Rami Abrams
(see all)
Check Out More Articles: