Two flavors, one fat bomb.
Yes, you read that right, white chocolate on a low carb diet!
After a recent purchase of cocoa butter, I was itching to play with it. It smelled amazing! But tasting it right out of the bag (it came delivered in block form in a plastic baggy) reminded me of tasteless wax. I was a little skeptical and wondered how much sweetener I'd have to add for it to taste like the low carb white chocolate I'd been reading it would. Turns out, not much! A little bit of erythritol is all it takes! After playing around with a basic recipe for low carb "white chocolate" I decided to mix in some flavors and make some fat bombs out of this new ingredient. Enter butter pecan. Who knew this ice cream flavor was so keto friendly? Minus the sugary ice cream, of course.
Fat bombs are popular in the keto community and are handy boosts of fat. They're usually sweet mixes of coconut oil, cream cheese, butter, sweetener and/or cocoa. Savory ones do exist though! Fat bombs are used throughout the day (if you're busy and didn't have time for lunch) and deliver the fat you may be missing. They are usually very high in fat (80-90% fat) with some protein and very little carbs. You can easily make some fat bombs using just coconut oil, peanut butter, cocoa powder and sweetener by melting them all together and freezing in ice cube trays or cupcake molds, or you can get a little fancier with Coconut Butter Cups! The varieties are endless and they're fun to eat!
Subscribe for a FREE copy of our
14-Day Keto Meal Plan
2 Full Weeks of Delicious Recipes!
Leftovers and Bulk Preps Included
Maximize Your Keto Diet's Success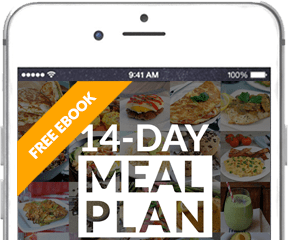 This variation is a little more complex, but the flavor you get is out of this world! I like to enjoy 1 or 2 with tea at the end of my day and a treat. Hope you enjoy them too!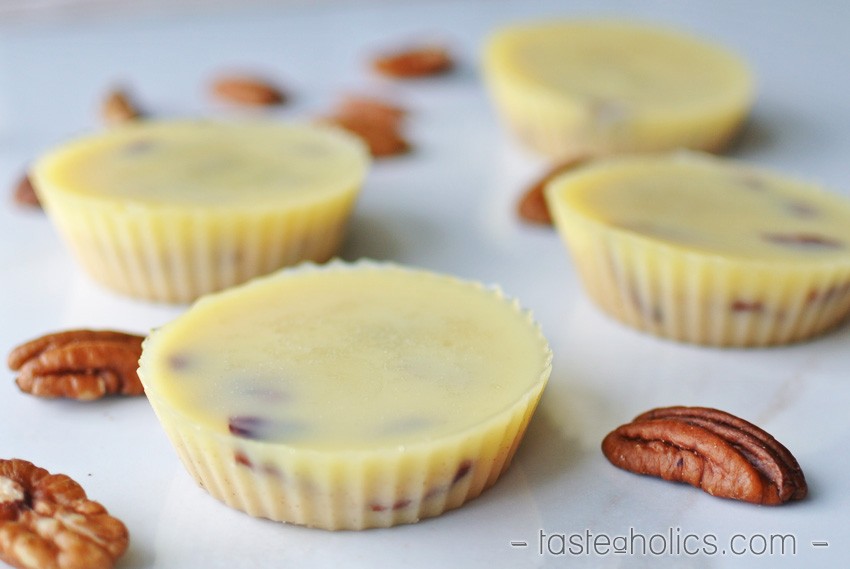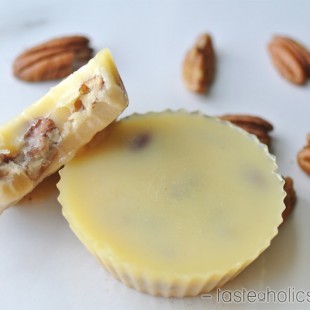 White Chocolate Butter Pecan Fat Bombs
Macros per fat bomb:
• 287 Calories
• 30g of Fat
• 0.5g of Protein
• 0.5g of Carbs

White Chocolate Butter Pecan Fat Bombs

Macros per fat bomb:
• 287 Calories
• 30g of Fat
• 0.5g of Protein
• 0.5g of Carbs

Melt coconut oil, cocoa butter and butter together in a small pan until melted. Then turn the heat off.

If you don't have powdered erythritol, you can easily make it. Place erythritol in a NutriBullet or small blender and pulse until powdery! Stir in 2 tablespoons of it into the butter mixture until combined.

Add a pinch of salt to bring out the sweetness.

Add in an optional pinch of Stevia. Some people say it counteracts the cooling effects of erythritol.

Into some silicone cupcake molds or candy molds, add a few chopped pecans. I added about 3-4 pecans total to each mold, but this can be altered. If you don't have pecans, walnuts and hazelnuts work well with white chocolate too!

Pour your white chocolate mix evenly into the molds over the nuts and place in freezer immediately.

Freeze for about 30 minutes. You want them to be nice and cool when eating as they melt easily.
We provide nutritional information for our recipes as a courtesy to our readers. The data is calculated using the MyFitnessPal app. We remove fiber and sugar alcohols, including erythritol, from the final carbohydrate count since they do not affect blood glucose levels in most individuals. We try to be as accurate as possible but we encourage you to calculate nutritional information on your own.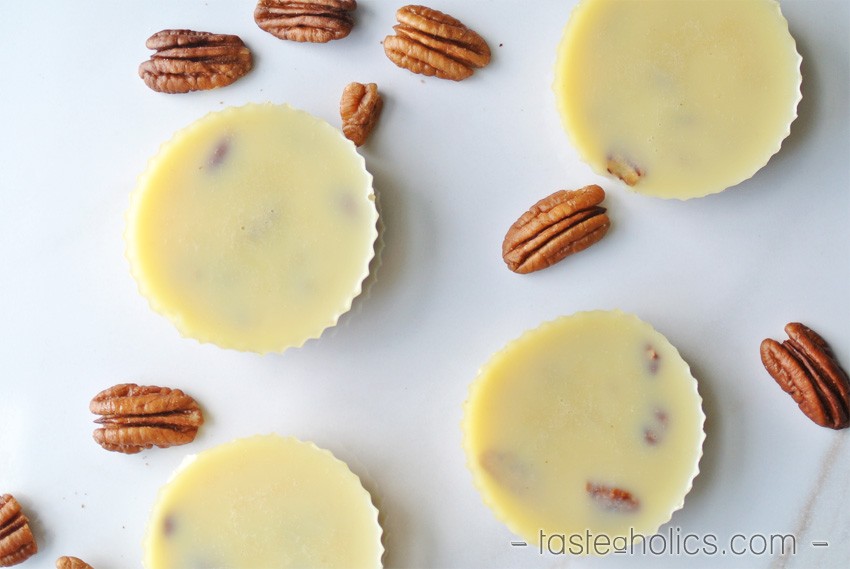 Loved this recipe? Let us know! Something didn't quite turn out right? Ask us in the comments below or contact us– we respond to comments every day and would love to hear from you and help you out! And check out all our low carb dessert recipes to learn to make more delicious and healthy meals!
Have You Tried These Delicious Recipes?
LOW CARB
WEEKLY
MEAL PLANS
delivered straight to your inbox!
Easy & Delicious Low Carb Recipes
Shopping Lists
All Macros Calculated
Leftovers & Keto Snack Ideas
Disclosure of Material Connection: The products above are linking to Amazon as "affiliate links" because we're affiliates! When you click on a product, it'll take you to its Amazon page where the price stays the same for you and Amazon pays us a small percentage. This helps us continue to provide quality recipes and pay for operating costs.
This recipe was made with love by our amazing readers!