A Little Almond Joy in your Day!
Almond Joys might have been named after the feeling of joy you got when you bit into one. They're sweet, covered in chocolate with sticky and chewy coconut in the center. You also get that addictive crunch from the almond nestled between the layers. It really is such an amazing flavor combination and a perfect little keto treat.
Coconut is high in saturated fat and is considered one of the world's healthiest foods. Coconuts are also super versatile and you can use almost every part of the coconut to make coconut flour, coconut oil, coconut milk….the list goes on! Both coconut and almonds are full of fat, fiber and electrolytes, making for a powerful, healthy duo. Add some natural cocoa powder and a low carb sweetener and you've got a healthy snack.
The Almond Joy candy bar itself is a pretty good contender for a high fat, high carb snack; it's the sugar content that'll ruin your diet! One Almond Joy candy bar will run you about 29 grams of carbs (along with 13 grams of fat and 2 grams of protein). That is due to the natural carbs in the coconut, the added sugars in the chocolate coating and also the extra sugar that is mixed into the filling- way, way too many carbs for anyone on a low carb diet.
Subscribe for a FREE copy of our
4-Week Keto Meal Plan
4 Weeks of Delicious Keto Recipes!
Leftovers and Bulk Preps Included
Maximize Your Keto Diet's Success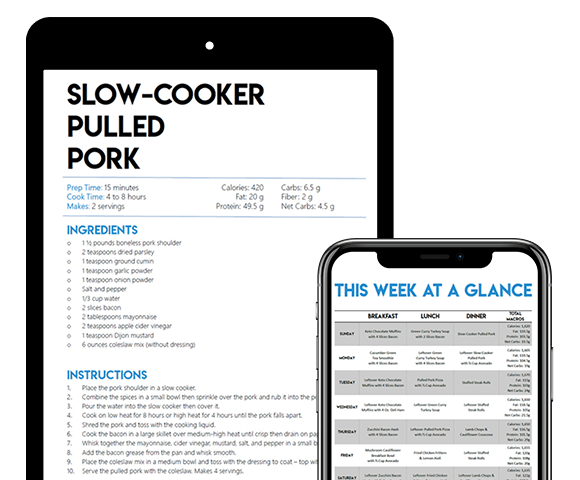 Don't worry though, we've fixed that carb problem! Our recipe makeover amounts to 15 little almond joys with only half a gram of carbs each! Ours taste just as good (if not better!).
They also have half a gram of protein and 4.7 grams of fat. And at only 50 calories each, you can easily enjoy a few of these at a time without worrying about overeating. I love these almond joy fat bombs as an afternoon pick-me-up but they are also a super dessert thanks to that natural coconut sweetness. I have also been known to have one or two as breakfast- sometimes you have to indulge in the morning!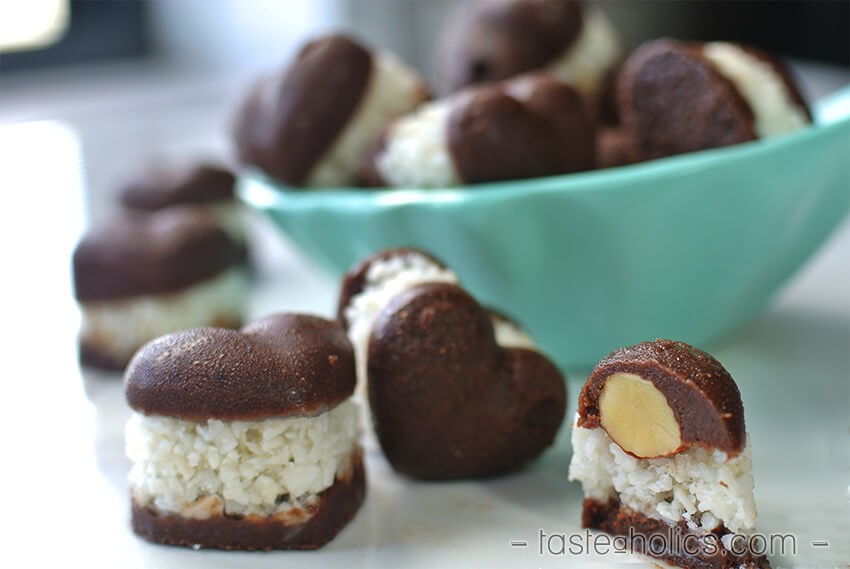 Our Low Carb Chocolate Bar recipe came in handy for these fat bombs. It's a great base for any chocolate fat bomb, really. Though you can always use the basic chocolate fat bomb portion of our Coconut Butter Cup Fat Bombs recipe (can you tell we like coconut?).
We decided to turn these treats into fat bombs as they were pretty close to fat bomb material to begin with! They're simple to make and store easily in the freezer for a pleasant treat during the day. This also gave us an opportunity to try out the new candy mold we got from Amazon! It's a heart-shaped, silicone mold for ice cubes and candies (dish-washer safe too!).
You can easily use an ice cube tray or even silicone cupcake liners to make this recipe.
If you love the ease of snacking on this recipe throughout the day, you should try this keto chocolate fudge from Cassidy's Craveable Creations. Just like our almond joy fat bombs, you can make an entire batch of these little fudge pieces and always have some on hand!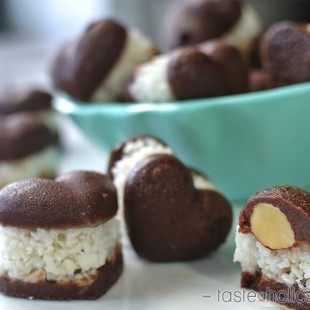 Almond Joy Fat Bombs
Macros per candy:
• 50 Calories
• 4.7g of Fat
• 0.5g of Protein
• 0.5g of Carbs

Almond Joy Fat Bombs

Macros per candy:
• 50 Calories
• 4.7g of Fat
• 0.5g of Protein
• 0.5g of Carbs

Begin by making half of our Low Carb Chocolate Bar recipe, but don't pour it into a chocolate bar mold, leave it melted! You can make the whole recipe if you'd like, and enjoy half a chocolate bar when you're done with this recipe!

Pour about half a teaspoon of chocolate mixture into your candy molds and add an almond to each candy.

Freeze while you're doing the next step.

Combine your shredded coconut with coconut oil so make a stickier mixture. Add the erythritol and combine.

Add about a teaspoon of coconut mixture to the candy molds and press gently to create a flat top layer.

Freeze for about 5 minutes just so the coconut oil solidifies.

Finish the candies off with the rest of the chocolate mixture and smooth out the top of the candy mold.

Freeze for as long as possible, but at least 1 hour.

Pop the candies out and enjoy! They can be stored in an airtight container in the freezer to enjoy all week long.
Tasteaholics, Inc. is a participant in the Amazon Services LLC Associates Program, an affiliate advertising program designed to provide a means for sites to earn advertising fees by advertising and linking to Amazon.com.
Loved this recipe? Let us know! Something didn't quite turn out right? Ask us in the comments below or contact us– we respond to comments every day and would love to hear from you and help you out! And check out all our low carb desserts to learn to make more delicious and healthy meals!
NUTRITIONAL DISCLAIMER
The content on this website should not be taken as medical advice and you should ALWAYS consult with your doctor before starting any diet or exercise program. We provide nutritional data for our recipes as a courtesy to our readers. We use Total Keto Diet app software to calculate the nutrition and we remove fiber and sugar alcohols, like erythritol, from the total carbohydrate count to get to the net carb count, as they do not affect your blood glucose levels. You should independently calculate nutritional information on your own and not rely on our data. The website or content herein is not intended to cure, prevent, diagnose or treat any disease. This website shall not be liable for adverse reactions or any other outcome resulting from the use of recipes or recommendations on the Website or actions you take as a result. Any action you take is strictly at your own risk.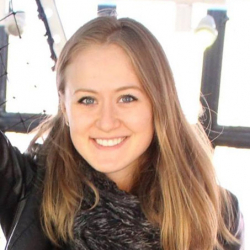 Latest posts by Vicky Abrams
(see all)
Have You Tried These Delicious Recipes?