Take A Break!
Eggs are great, but everyone gets tired of them at some point. Don't let that happen to you! Make sure you have a good variety of recipes for breakfast so that you never get tired of eggs.
Muffins are a great way to meal prep and get some quick food in you while heading out the door. While we never really meal prep ourselves, we always enjoy having a batch of food available for us. It's nice to get a break from cooking once in a while.
That's why we recently improved and expanded our FREE eBooks to include a 14-Day Keto Meal Plan, in which you'll find a variety of breakfast, lunch and dinner recipes that fit any lifestyle. Enjoy 14 days all planned out for you with calculated macros and photos of the finished products! We also include our Ultimate Guide to Keto for both beginners and experts to help you know exactly how to succeed and what to expect when going keto.
Make sure to send these free eBooks to your friends if you think they'll benefit from either – they'll thank you for it (and we will too)!
To get these muffins plus lots of other delicious, low carb recipes in our
14-Day Keto Meal Plan & Ultimate Guide to Keto, you can subscribe below! They'll be sent to you instantly!
These Peanut Butter Chocolate Chip Muffins were a big hit among our friends when we were testing recipes so we didn't actually get to eat these every morning like we planned on! They were amazing on their own but we imagine we'd enjoy them with butter and sugar-free maple syrup like we do most breakfasts that aren't eggs – like Blueberry Pancakes and Currant Flaxseed Muffins.
We call them chocolate chip muffins because you can totally make them with your favorite brand of sugar-free chocolate chips (ours is Lily's!) or do as we did and add in cacao nibs instead. On their own, cacao nibs are bitter for most tastes. Lots of people love them though! True chocoholics will appreciate their pure, chocolate-y goodness. They're naturally sugar-free making them a great addition to keto desserts when you want to avoid chemicals and artificial stuff. Plus, when you add cacao nibs to something super sweet like ice cream or muffins, you can't taste bitter and only get a good hint of chocolate! Anthony's Goods makes an awesome, organic bag of cacao nibs that'll last you a while. They're always fresh and super crunchy. Make sure to get a good whiff when you first open up the bag – it's absolute heaven!
This recipe makes 6 muffins, enough for the 3 days we plan to use them in our 14-Day Keto Meal Plan. Feel free to double up the recipe and make a bigger batch for the entire week if you love them as much as we do. Here's how we make them: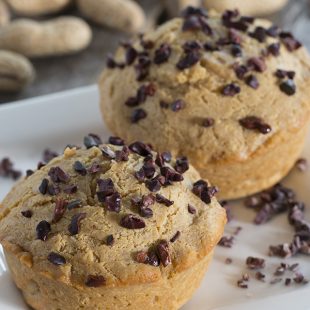 Chocolate Peanut Butter Muffins
Macros per 1 muffin:
• 265 Calories
• 20.5 g of Fat
• 7.5 g of Protein
• 2 g of Net Carbs

Chocolate Peanut Butter Muffins

Macros per 1 muffin:
• 265 Calories
• 20.5 g of Fat
• 7.5 g of Protein
• 2 g of Net Carbs

Preheat the oven to 350°F and combine all dry ingredients (except cacao nibs) in a large mixing bowl and stir.

Add the peanut butter and almond milk and stir to combine.

Add in 1 egg at a time, stirring until each is fully combined.

Spray a muffin tin with cooking oil spray and even distribute the batter to make 6 large muffins.

Bake for 20-30 minutes and let them cool completely. Enjoy with some butter or a drizzle of sugar-free maple syrup.
We provide nutritional information for our recipes as a courtesy to our readers. The data is calculated using the MyFitnessPal app. We remove fiber and sugar alcohols, including erythritol, from the final carbohydrate count since they do not affect blood glucose levels in most individuals. We try to be as accurate as possible but we encourage you to calculate nutritional information on your own.
Loved this recipe? Let us know! Something didn't quite turn out right? Ask us in the comments below or contact us– we respond to comments every day and would love to hear from you and help you out! And check out all our low carb breakfasts to learn to make more delicious and healthy meals!
Have You Tried These Delicious Recipes?
LOW CARB
WEEKLY
MEAL PLANS
delivered straight to your inbox!
Easy & Delicious Low Carb Recipes
Shopping Lists
All Macros Calculated
Leftovers & Keto Snack Ideas
Disclosure of Material Connection: The products above are linking to Amazon as "affiliate links" because we're affiliates! When you click on a product, it'll take you to its Amazon page where the price stays the same for you and Amazon pays us a small percentage. This helps us continue to provide quality recipes and pay for operating costs.
This recipe was made with love by our amazing readers!