Who Needs Cereal?
Working from home is great, but it wrecks havoc on your sleep schedule! With the freedom to wake up when you choose and working past normal hours, you start going to sleep later and later. Lately we've been trying to get our sleep schedules back on track to wake up earlier, and it's tough! What's tougher is waking up to a blasting alarm clock, having to make a good breakfast and run out the door to catch a train. We've done this for many years and we do not miss it.
Whether you work early or not, a good breakfast can set the tone for the rest of your day. And not having enough time to make it is an unfortunate thing that we love solving. Finding quick and easy breakfasts that are customizable to anyone's tastes are the best!
Smoothies bowl have become very popular on Tumblr, Pinterest and other social media. They're similar to a bowl of cereal but infinitely more nutritious.
Subscribe for a FREE copy of our
14-Day Keto Meal Plan
2 Full Weeks of Delicious Recipes!
Leftovers and Bulk Preps Included
Maximize Your Keto Diet's Success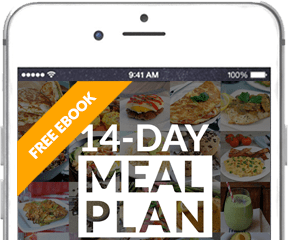 The base of a smoothie bowl is a smoothie- something creamy and thick enough to hold toppings. Most smoothie bowl bases are made with lots of fruits, but on a low carb diet, we want to monitor and limit the amount of sugar. That's not to say we're ruling fruit out completely, but we decided to make a more veggie and protein based smoothie.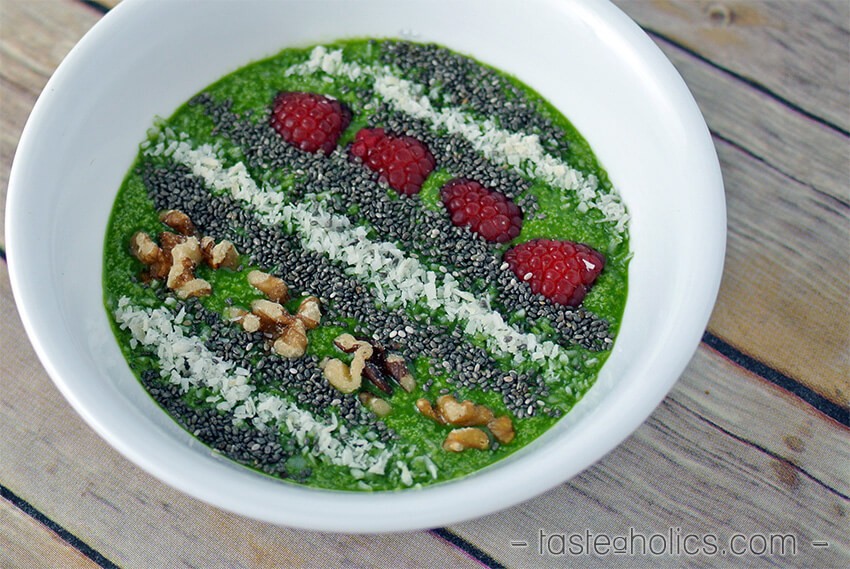 A mix of spinach, almond milk and cream makes for a great consistency and packs a vitamin and mineral punch. Add in a scoop of your favorite low carb protein powder and you've got a great tasting, high protein, low sugar, nutritious smoothie base that'll keep you full. Now, let's talk toppings.
Low carb means high fat! We chose the yummiest high fat toppings that pair beautifully together in this smoothie bowl. Fruits and nuts can be found in most smoothie bowls anyway! We chose raspberries and walnuts, our favorite! Along with that, some chewy, shredded coconut (unsweetened, of course). For some added thickness and fiber, we also added chia seeds!
Chia seeds are considered, by many, a super food. They're full of antioxidants, vitamins & minerals, fiber and omega-3's. They help regular blood sugar and make you feel fuller for longer!
Don't forget to add a splash of coconut oil for its amazing benefits and a boost of fat! The coconut oil also helps the smoothie bowl base blend up creamy and smooth.
You don't have to arrange your toppings in neat little rows. Blend your smoothie, throw in all your ingredients and eat with a spoon! You won't find a better cereal alternative!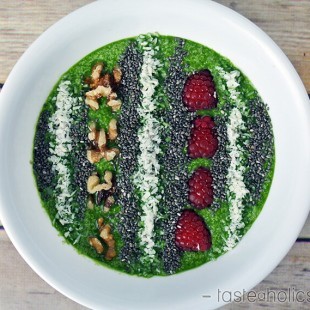 Low Carb Smoothie Bowl
Macros per serving:
• 570 Calories
• 35g of Fat
• 35g of Protein
• 4g of Carbs

Low Carb Smoothie Bowl

Macros per serving:
• 570 Calories
• 35g of Fat
• 35g of Protein
• 4g of Carbs

Begin by placing a cup of spinach into a Nutribullet and adding almond milk, cream, coconut oil and ice. Blend for a few seconds until everything is combined and an even consistency.

Pour the mixture into a bowl.

Begin arranging your toppings, or throwing them in and mixing it up.

For the sake of aesthetics, we added everything neatly to the top of the base. We used raspberries, walnuts and alternating stripes of shredded coconut and chia seeds.

Enjoy your quick and easy, low carb breakfast bowl!
We provide nutritional information for our recipes as a courtesy to our readers. The data is calculated using the MyFitnessPal app. We remove fiber and sugar alcohols, including erythritol, from the final carbohydrate count since they do not affect blood glucose levels in most individuals. We try to be as accurate as possible but we encourage you to calculate nutritional information on your own.
Loved this recipe? Let us know! Something didn't quite turn out right? Ask us in the comments below or contact us– we respond to comments every day and would love to hear from you and help you out! And check out all our low carb breakfast recipes to learn to make more delicious and healthy meals!
Have You Tried These Delicious Recipes?
LOW CARB
WEEKLY
MEAL PLANS
delivered straight to your inbox!
Easy & Delicious Low Carb Recipes
Shopping Lists
All Macros Calculated
Leftovers & Keto Snack Ideas
Disclosure of Material Connection: The products above are linking to Amazon as "affiliate links" because we're affiliates! When you click on a product, it'll take you to its Amazon page where the price stays the same for you and Amazon pays us a small percentage. This helps us continue to provide quality recipes and pay for operating costs.