For All Keto Dessert Lovers!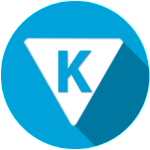 I'm a firm believer in enjoying the foods you love. If you've got a soft spot for desserts like I do, it's fun to adapt them to your healthier lifestyle. Even on a low carb diet, your choices for dessert are endless if you've got the right tools and some creativity! You can still indulge while being completely keto.
Some of my baking must-haves include
erythritol – a sugar alcohol naturally derived from plant sources, it is 70% as sweet as sugar and is 0 carb! It also doesn't cause an insulin spike, which is important for hormone balance and weight loss.
almond flour – made of 100% ground up almonds, it takes the place of regular flour, though not as good at rising. Still, it has about 10% of the carbs as regular flour, so it works for us!
coconut oil – a keto must-have. Full of medium chain triglycerides (MCTs) which are an excellent source for fuel for our bodies.
A combination of these plus butter, eggs, cocoa powder, vanilla and a few other already keto-friendly ingredients can result in some amazing treats!
Subscribe for a FREE copy of our
4-Week Keto Meal Plan
4 Weeks of Delicious Keto Recipes!
Leftovers and Bulk Preps Included
Maximize Your Keto Diet's Success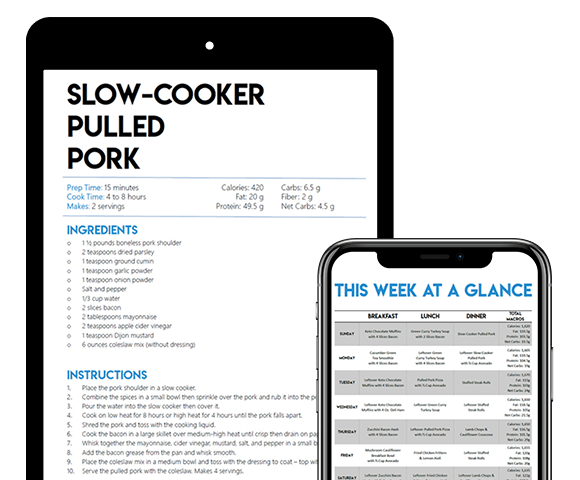 Low Carb Caramel
One thing I never thought I'd be enjoying when on a keto diet is caramel! Caramel is essentially cooked sugar which is definitely not keto-approved- no white sugar allowed! And while I had erythritol doing all my low carb sweetening for me, I wasn't sure if it could give me the same caramel results as table sugar. But it did!
The low carb caramel turned out so tasty! The flavor, it turns out comes mostly from the butter and how golden brown you let it turn. The deeper brown, the richer the flavor of the caramel. Careful, though, don't let it get too brown, it'll taste a little burned. So excited to use this low carb caramel on low carb ice cream or my favorite keto lava cake!
To take this caramel to the next level, consider adding an optional pump or two of Torani Sugar-free Caramel Syrup! It'll sweeten and add caramel flavor without adding any carbs.
Yum!
We're excited to introduce a new feature to our blog. We've signed up to Yummly, a recipe sharing and collecting platform where you can save recipes from all over the web into your own personal recipe box for future reference! It's an awesome site with amazing recipes from the best food bloggers as well as promising new ones! At the bottom of each of our recipes, you'll see the orange YUM button. One-click adds the recipe to your recipe box and you can find it again easily in the future! Here's our page with some of our favorite Tasteaholics recipes. Hopefully, you find this feature as useful as we do!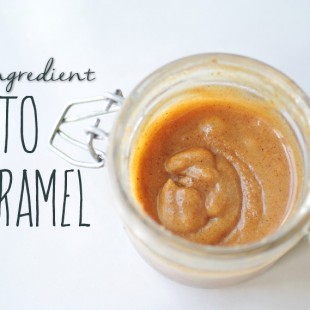 Low Carb Caramel
Macros per 2 tablespoons:
• 163 Calories
• 17g of Fat
• 0g of Protein
• 0.5g of Carbs

Low Carb Caramel

Macros per 2 tablespoons:
• 163 Calories
• 17g of Fat
• 0g of Protein
• 0.5g of Carbs

Melt the butter in a small pan and let it cook until golden brown. This will give the caramel deeper flavor.

Pour in heavy cream and stir until combined. Lower the heat and simmer for a minute.

Add in sweetener of choice, we used erythritol. Let that dissolve for a minute. Add a pinch of salt as well. If you'd like to make salted caramel, add more salt.

Let it cook until you see it getting thicker and stickier.

If you see your butter and cream are separating, you can pour the mixture into a Nutribullet and blend to help them combine.

Pour the caramel into a container, preferably glass, and continue to stir while it cools and thickens more to ensure your sauce is not two layered.

To use right away, pour over your dessert of choice! You may also refrigerate the caramel for later use, but it will harden and will need to be soften to be pourable/dippable.
Tasteaholics, Inc. is a participant in the Amazon Services LLC Associates Program, an affiliate advertising program designed to provide a means for sites to earn advertising fees by advertising and linking to Amazon.com.
Loved this recipe? Let us know! Something didn't quite turn out right? Ask us in the comments below or contact us– we respond to comments every day and would love to hear from you and help you out! And check out all our desserts to learn to make more delicious and healthy meals!
NUTRITIONAL DISCLAIMER
The content on this website should not be taken as medical advice and you should ALWAYS consult with your doctor before starting any diet or exercise program. We provide nutritional data for our recipes as a courtesy to our readers. We use Total Keto Diet app software to calculate the nutrition and we remove fiber and sugar alcohols, like erythritol, from the total carbohydrate count to get to the net carb count, as they do not affect your blood glucose levels. You should independently calculate nutritional information on your own and not rely on our data. The website or content herein is not intended to cure, prevent, diagnose or treat any disease. This website shall not be liable for adverse reactions or any other outcome resulting from the use of recipes or recommendations on the Website or actions you take as a result. Any action you take is strictly at your own risk.
Latest posts by Vicky Abrams
(see all)
Have You Tried These Delicious Recipes?
Missing anything? Get it on