Funny Story: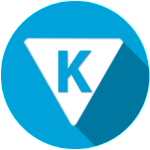 A long time ago when I worked in a corporate environment, my coworkers decided to order lunch from a Greek restaurant. Since I am a big Greek food fan, I quickly forgot about my packed lunch and joined them. The selection varied from moussaka, to gyro, to souvlaki (my favorite Greek dish) but I ended up ordered a salad.
Greek salads are the best, and the one that caught my eye had something called halloumi cheese in it. My coworker explained to me that it was similar to feta and was served warm. I was intrigued and placed an order for one halloumi salad with chicken. Twenty minutes later I have a delicious looking salad with arugula, cucumber, tomato, olives and a lemon vinaigrette. The only thing missing (to my knowledge) was the halloumi! I was pretty upset since the idea of warm cheese excites me more than it should, but I didn't complain. In fact, the salad was on one of the best I'd ever tried.
I told my coworkers how much I was enjoying the salad, especially the chicken, which was uncharacteristically soft, juicy and salty. One of them took a look at my salad and giggled, telling me that tasty chicken I was eating was actually halloumi cheese! This cheese had grill marks and everything! Looked and tasted just like chicken! No wonder I thought they forgot my "feta" cheese, I had no idea what it looked like! Turns out the restaurant forgot my order of chicken, not that I cared at that point. Halloumi is okay in my book and I finally bought some of my own.
Subscribe for a FREE copy of our
14-Day Keto Meal Plan
2 Full Weeks of Delicious Recipes!
Leftovers and Bulk Preps Included
Maximize Your Keto Diet's Success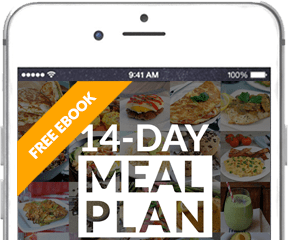 Since we live in an apartment, we were able to get our hands on a George Foreman grill to achieve those amazing grill marks. A panini press could do the same, or even a pan with grill ridges. The halloumi could also be grilled using a regular pan, you won't get any grill marks, but the cheese will be grilled just fine.
The halloumi turns out crisp and crunchy on the outside, and dense and warm on the inside. It does not ooze like you would expect mozzarella or pepper jack. Certain cheeses, like feta and halloumi, don't melt very well. It is for this reason, halloumi is nicknamed the "Grilling Cheese". We found it in Trader Joe's as well as a local supermarket that carries a variety of different cheeses, beyond your regular Swiss or American.
I was finally able to recreate that halloumi salad that made me forget about chicken! If you're a vegetarian and sticking to a low carb/keto diet, give halloumi a try in your next salad for some added fat and protein!
Of course, if you're not vegetarian, feel free to add chicken or lamb (both yummy in Greek dishes) to your halloumi salad. Some other great additions to this would be olives, capers or mint. Usually, I'd recommend some orange or pomegranate, but since we're keeping it low carb, we left those out.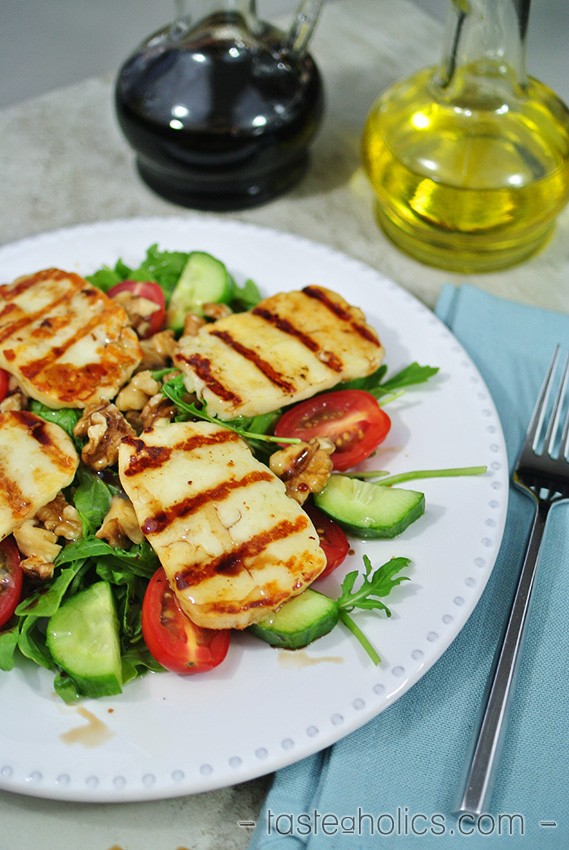 3

oz

halloumi cheese

1

persian cucumber

5

grape tomatoes

1

handful

baby arugula

.5

oz

chopped walnuts
Cut the halloumi cheese into 1/3 inch slices. You don't want to make them too thin since they will shrink a little in the grill.

Grill the halloumi for about 3-5 minutes on each side. You should see nice grill marks along the sides.

Prepare the salad by washing and cutting your veggies. Cucumbers into small slices and tomatoes in half. Chop your walnuts as well and combine in a salad bowl.

Wash the baby arugula and throw it in the bowl as well.

When the halloumi has grill marks on both sides, arrange it on top of your salad, sprinkle some salt and dress with olive oil and balsamic vinegar.
We provide nutritional information for our recipes as a courtesy to our readers. The data is calculated using the MyFitnessPal app. We remove fiber and sugar alcohols, including erythritol, from the final carbohydrate count since they do not affect blood glucose levels in most individuals. We try to be as accurate as possible but we encourage you to calculate nutritional information on your own.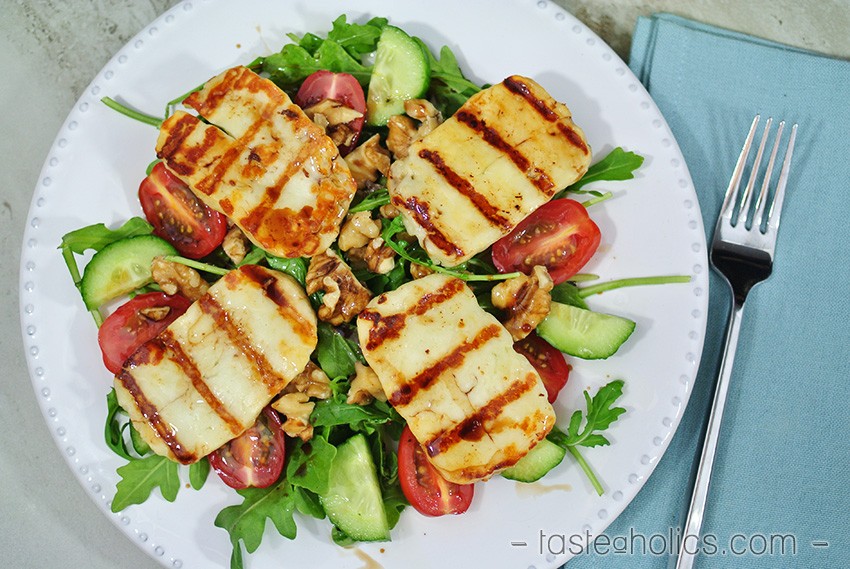 Loved this recipe? Let us know! Something didn't quite turn out right? Ask us in the comments below or contact us– we respond to comments every day and would love to hear from you and help you out! And check out all our low carb lunch recipes to learn to make more delicious and healthy meals!
Have You Tried These Delicious Recipes?
LOW CARB
WEEKLY
MEAL PLANS
delivered straight to your inbox!
Easy & Delicious Low Carb Recipes
Shopping Lists
All Macros Calculated
Leftovers & Keto Snack Ideas
Missing anything? Get it on
Disclosure of Material Connection: The products above are linking to Amazon as "affiliate links" because we're affiliates! When you click on a product, it'll take you to its Amazon page where the price stays the same for you and Amazon pays us a small percentage. This helps us continue to provide quality recipes and pay for operating costs.