A Little Bit of Russia!
It's so rare that we include a Russian recipe on the blog, you would never guess we're both of Russian descent!
Both of us were born overseas, Rami is Russian while I'm technically Belarussian, but we and our families all speak Russian, eat Russian food, live(d) in Russian communities, etc. The culture is rich but the food can be daunting for a newcomer. After all, a culture that "jellifies" its meat is probably not that easy to adapt to. Here's a Buzzfeed list of bizarre Russian foods that we got a kick out of, hopefully, it doesn't gross you out too much! 🙂
I'm not a huge fan of Russian food -I'll rarely eat it and never, ever make any. Maybe that explains why I was a matchstick growing up! One of the few foods I do enjoy is red caviar, or as we say in Russian, ikra (don't forget to roll that "r"). Caviar is simply, fish eggs. But when added on top of a smear of sour cream or butter on blini, (Russian style crepes), it's amazing! We buy our wild Alaskan salmon caviar in a Russian supermarket by our house, but it can also be found in other large supermarkets in the fish section. Whole Foods has red caviar, for sure.
Subscribe for a FREE copy of our
14-Day Keto Meal Plan
2 Full Weeks of Delicious Recipes!
Leftovers and Bulk Preps Included
Maximize Your Keto Diet's Success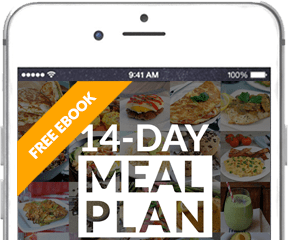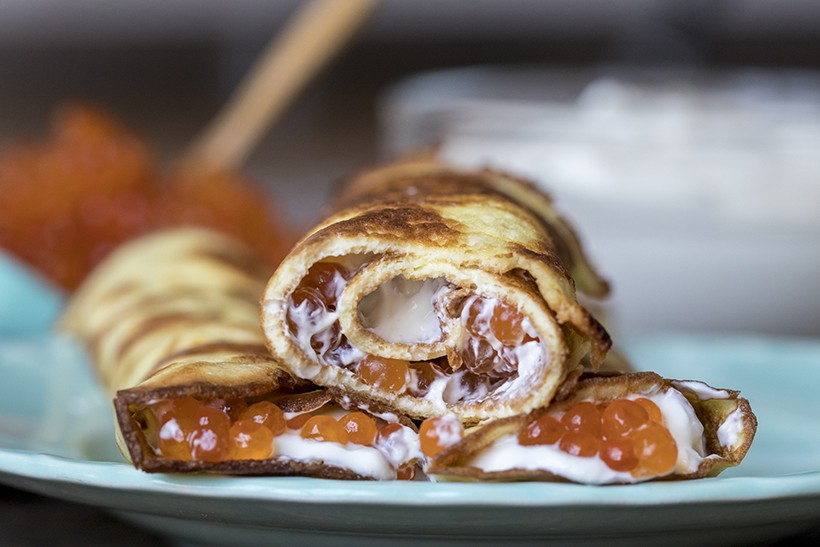 If you've never had caviar, it's quite good! The texture is great and the little eggs pop nicely in your mouth, releasing their lightly salty flavor. You may find a version of caviar atop some sushi rolls, though it'll be much smaller and milder in flavor. In this case, it may be called roe. Our favorite caviar is the larger red type. Black caviar is considered rarer and is incredibly expensive! When buying caviar, see if you can have a taste before buying. We like to sample a few types right in the store to test their freshness and saltiness.
We put sour cream and caviar on our basic crepes that we make with cream cheese and eggs, but another option that requires no cooking at all is simply arranging everything on a couple of cucumber slices! See our photo on Instagram for an example (and follow us while you're at it!) We prefer the blini though, it's the most delicious combo in our opinion! Give them a try 🙂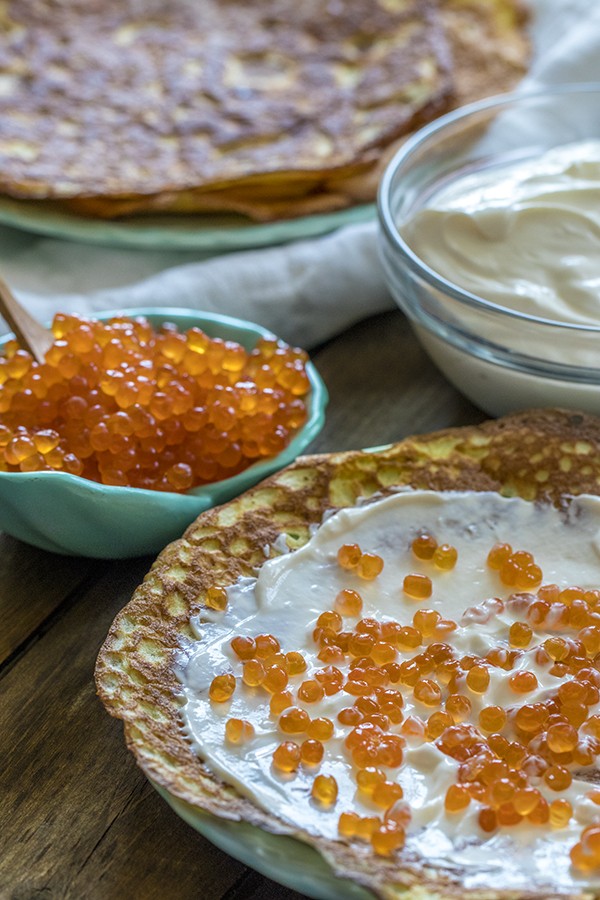 1/2

cup

sour cream

3/4

cup

wild Alaskan salmon caviar
Prepare the blini style crepes by combining all the ingredients in a food processor or blender and blending until smooth.

Heat up a small skillet with a bit of butter on medium heat. Let it heat up fully! Ladle a little less than 1/4 cup of batter in at a time and swirl the contents around to spread it evenly. Cook until the edges start to peel away from the skillet and bubbles have formed on top. This should take about 2-3 minutes per crepe. Flip and cook for another minute. Repeat with all the batter. This recipe should make 4 medium sized crepes.

Once the batter has cooked and the crepes are ready, spoon 2 tablespoons of sour cream onto each, followed by 2-3 tablespoons of wild Alaskan salmon caviar. Roll each up and enjoy!
We provide nutritional information for our recipes as a courtesy to our readers. The data is calculated using the MyFitnessPal app. We remove fiber and sugar alcohols, including erythritol, from the final carbohydrate count since they do not affect blood glucose levels in most individuals. We try to be as accurate as possible but we encourage you to calculate nutritional information on your own.
Loved this recipe? Let us know! Something didn't quite turn out right? Ask us in the comments below – we respond to comments every day and would love to hear from you and help you out! And check out all our low carb recipes to learn to make more delicious and healthy meals that take no time to prepare!
Have You Tried These Delicious Recipes?
LOW CARB
WEEKLY
MEAL PLANS
delivered straight to your inbox!
Easy & Delicious Low Carb Recipes
Shopping Lists
All Macros Calculated
Leftovers & Keto Snack Ideas
Missing anything? Get it on
Disclosure of Material Connection: The products above are linking to Amazon as "affiliate links" because we're affiliates! When you click on a product, it'll take you to its Amazon page where the price stays the same for you and Amazon pays us a small percentage. This helps us continue to provide quality recipes and pay for operating costs.