A Creative Combo!
Back in Thailand, when we were enjoying some of the world's best food, we were lucky enough to find these delicious Cheesy Spinach Rolls with Apple Slaw. They weren't entirely keto-friendly, but how can you refuse something so cheesy? We loved it so much we tried dissecting the recipe, writing it down in our notes to try at home. We're glad we did!
We swapped out the breading for a low carb version. We adapted a pizza crust recipe we know and love and rolled it out quite thin to wrap the rolls in. The filling was up to us entirely, but we tried to stay as close to the original taste as possible, so we chose cooked spinach and cream cheese. We decided to add a little Parmesan cheese because it's delicious, obviously.
The Cheesy Spinach Rolls in the restaurant were topped with apple cole slaw and some type of raspberry sauce. We thought the raspberry sauce was total sweetness overkill and opted for the simple apple cole slaw instead. Coincidentally, we have apple slaw a couple of times a week as a dinner side so we're experts at making it at this point!
Subscribe for a FREE copy of our
14-Day Keto Meal Plan
2 Full Weeks of Delicious Recipes!
Leftovers and Bulk Preps Included
Maximize Your Keto Diet's Success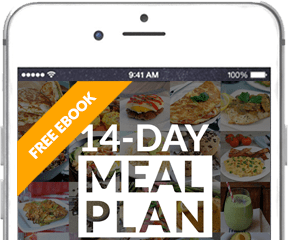 Enjoy this creative, low carb combination!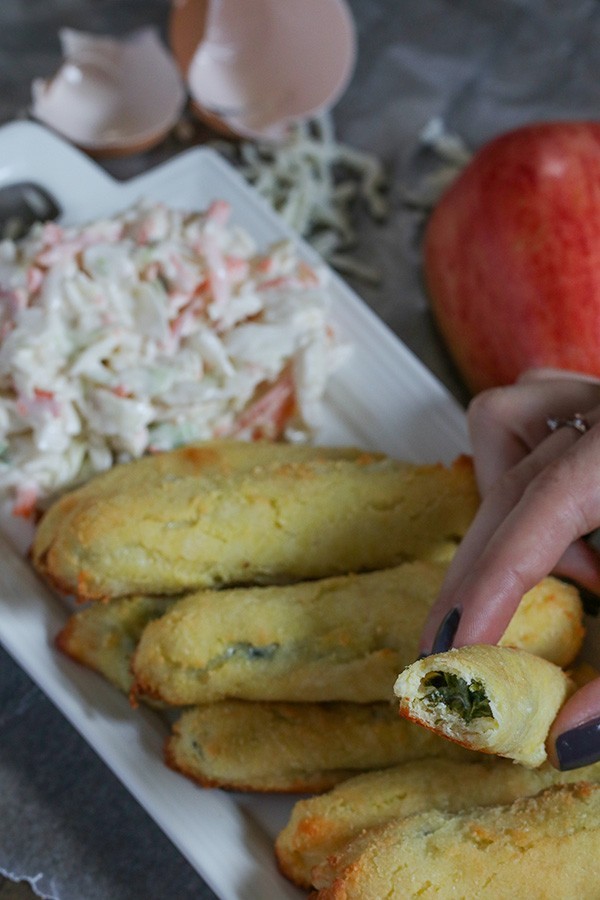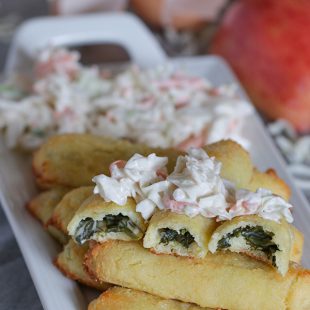 Cheesy Spinach Rolls with Apple Slaw
Macros per 5 rolls:
• 670 Calories
• 67g of Fat
• 32g of Protein
• 16g of Net Carbs

Cheesy Spinach Rolls with Apple Slaw

Macros per 5 rolls:
• 670 Calories
• 67g of Fat
• 32g of Protein
• 16g of Net Carbs

Preheat the oven to 350°F. In a large pan on medum-high heat, wilt the spinach leaves in a bit of olive or avocado oil. Once they've wilted, add the cream cheese and parmesan and stir until everything is melted and combined. Take off the heat and set aside while you prep the crust.

To make the crust, microwave the mozzarella cheese for 30 seconds, or until soft and pliable.

To it, add the almond flour, coconut flour and mix. Then add in the eggs and salt and mix well. This may take a few minutes of mixing.

Once it's one even consistency, lay the ball of cheese dough down on a sheet of parchment paper on your countertop. Lay another piece of parchment paper on top of that and flatten the dough with a rolling pin to about 1/8" thickness.

With a pizza cutter or sharp knife, cut the dough into 3" x 4" rectangles. You can choose to make larger rolls if you like but this is the size we made them. Add about 1/2 tsp (or more if making larger rolls) to one long side of the dough rectangle. Carefully fold the dough over, rolling it into a cigar shape.

Transfer the rolls over to a baking sheet lined with lightly greased parchment paper. Make sure they are laying seam down and pin the ends to create a seal. Add any leftover dough from the pinch to a pile, you may be able to make a few more rectangle from the spare dough! Bake the rolls for 16-18 minutes or until lightly golden brown. Then let them cool for about 10 minutes.

While the rolls are baking, make the apple slaw by grating 1 apple into a mixing bowl. Add the cole slaw salad mix to it, along with the mayonnaise and salt. Mix well and refrigerate until ready.

Once the rolls have cooled and set, top them with a bit of apple slaw mix and dig in! Enjoy!
We provide nutritional information for our recipes as a courtesy to our readers. The data is calculated using the MyFitnessPal app. We remove fiber and sugar alcohols, including erythritol, from the final carbohydrate count since they do not affect blood glucose levels in most individuals. We try to be as accurate as possible but we encourage you to calculate nutritional information on your own.
Loved this recipe? Let us know! Something didn't quite turn out right? Ask us in the comments below or contact us– we respond to comments every day and would love to hear from you and help you out! And check out all our low carb recipes to learn to make more delicious and healthy meals!
Have You Tried These Delicious Recipes?
LOW CARB
WEEKLY
MEAL PLANS
delivered straight to your inbox!
Easy & Delicious Low Carb Recipes
Shopping Lists
All Macros Calculated
Leftovers & Keto Snack Ideas
Disclosure of Material Connection: The products above are linking to Amazon as "affiliate links" because we're affiliates! When you click on a product, it'll take you to its Amazon page where the price stays the same for you and Amazon pays us a small percentage. This helps us continue to provide quality recipes and pay for operating costs.