Pumpkin Muffins for Pumpkin Season!
It's fall in NY and that means pumpkin everything. Pumpkin spice lattes, pumpkin cookies, pumpkin frosting, pumpkin pumpkins littering our home as fall inspired decor.
Multiple cans of pumpkin puree were bought to experiment with and while this is our first pumpkin recipe this season, it definitely isn't our last. We decided to make flaxseed muffins because our last batch, Currant Flaxseed Muffins, turned out a big hit! Not only were they popular among the low carb community but they tasted better than any muffin we've ever tried. They were the perfect mix of texture, moisture and flavor. Wouldn't you believe it, these Pumpkin Maple Flaxseed Muffins today turned out even more moist.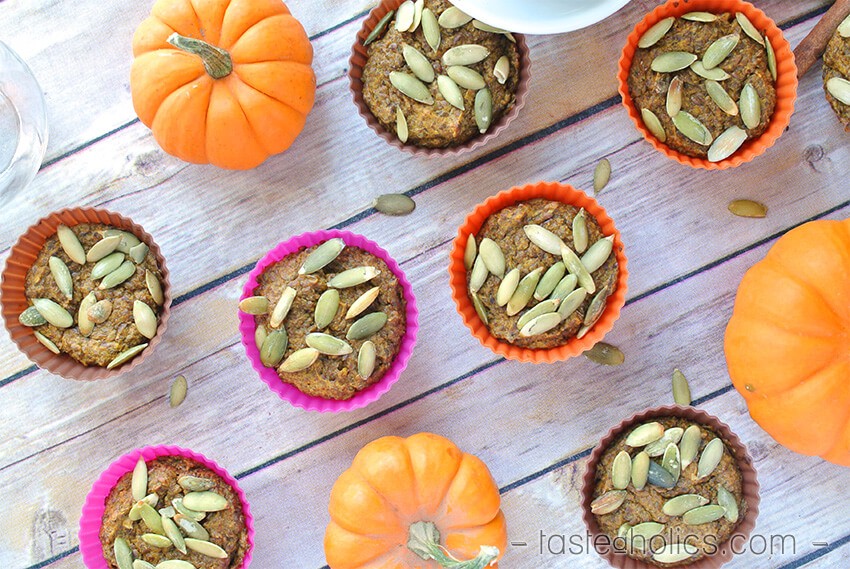 Subscribe for a FREE copy of our
14-Day Keto Meal Plan
2 Full Weeks of Delicious Recipes!
Leftovers and Bulk Preps Included
Maximize Your Keto Diet's Success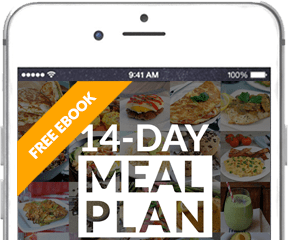 We cut down the egg in this recipe since we added a whole cup of pumpkin puree. It was this cup that contributed to the moisture of these amazing little bites. Flaxseed muffins are great to have on hand as a snack in the middle of the day or to grab on the go to work or school. They hold up very well in the fridge or even on the counter. If you're making a giant batch (like we plan to), they also freeze well!
The silicone baking cups we used can be found on Amazon.com and served two purposes. They lined our muffin tin for easy removal, like all muffin cups should, and they also served as mini bowls! We took a couple of these saran wrapped muffins to go with us on our trip to the Brooklyn Botanic Garden and had a nice lunch spooning out the muffins from their silicone cups. Quite handy!
A Few Notes on Maple!
One of the strong flavor profiles of these flaxseed muffins was maple syrup. Being sugar-free, you may want to explore some options here.
1. Real maple syrup – divided among 10 muffins, you're not adding too many extra carbs.
2. Sugar-free maple syrup – this is our preferred method! We like to add Walden Farms Pancake Syrup  when we want maple flavoring. It absolutely tastes like the real thing with no chemically aftertaste or side effects. Not only that, but Walden Farms adds a bit of thickness and moisture to your baked goods that maple extract just can't. Which brings us to options #3…
3. Maple extract – if your grocery store sells maple extract (in the baking aisle near the vanilla, rum, almond, etc. extracts) consider buying a small bottle and using it sparingly in place of the syrups above. If you decide to use the extract, considering using more erythritol, since the extract won't sweeten as much as the syrups will.
Let's Make Muffins!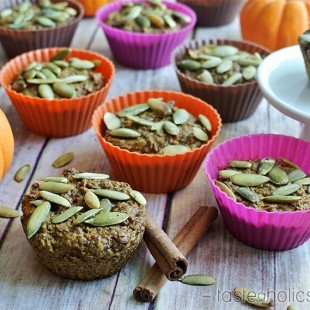 Pumpkin Maple Flaxseed Muffins
Macros per serving:
• 120 Calories
• 8.5g of Fat
• 5g of Protein
• 2g of Carbs

Pumpkin Maple Flaxseed Muffins

Macros per serving:
• 120 Calories
• 8.5g of Fat
• 5g of Protein
• 2g of Carbs

Take your flaxseeds and grind them for about a second in a Nutribullet. You don't want it to blend for too long as the flaxseeds contain oil and your "flour" may become damp.

Combine all the dry ingredients and stir to evenly disperse.

Then add your pumpkin puree and mix to combine.

Add the pumpkin spice and vanilla extracts. Here you can also choose to add maple extract (about 1/2 tsp), sugar free maple syrup or the real thing if you're okay with the carb count a little higher. We used Walden Farms here.

Add in an egg, coconut oil, and apple cider vinegar and mix very well.

In this step, you can add in any fold ins you like- nuts work wonderfully here but we wanted this recipe purely pumpkin maple.

Add a heaping tablespoon of batter to each muffin liner and top with some pumpkin seeds. Be aware that the muffins will rise a bit.

Bake for about 20 minutes.You should see the tops of the muffins brown slightly.

Let them cool a bit and enjoy with butter or more maple syrup!
We provide nutritional information for our recipes as a courtesy to our readers. The data is calculated using the MyFitnessPal app. We remove fiber and sugar alcohols, including erythritol, from the final carbohydrate count since they do not affect blood glucose levels in most individuals. We try to be as accurate as possible but we encourage you to calculate nutritional information on your own.
Loved this recipe? Let us know! Something didn't quite turn out right? Ask us in the comments below or contact us– we respond to comments every day and would love to hear from you and help you out! And check out all our low carb breakfast recipes to learn to make more delicious and healthy meals!
Have You Tried These Delicious Recipes?
LOW CARB
WEEKLY
MEAL PLANS
delivered straight to your inbox!
Easy & Delicious Low Carb Recipes
Shopping Lists
All Macros Calculated
Leftovers & Keto Snack Ideas
Disclosure of Material Connection: The products above are linking to Amazon as "affiliate links" because we're affiliates! When you click on a product, it'll take you to its Amazon page where the price stays the same for you and Amazon pays us a small percentage. This helps us continue to provide quality recipes and pay for operating costs.