Fun, Portable, Versatile!
When you start eating a keto diet, you may think that you have to say goodbye to sandwiches. After all, most bread and rolls are full of carbs thanks to that white, all purpose flour (that stuff has soooo many carbs!). However, that is not the case. There are actually lots of low carb sandwich recipes that you can enjoy! Sandwiches are fun, portable and versatile and no low carb dieter should be without sandwiches! They are perfect for breakfast, lunch and dinner- anytime is sandwich time! With these recipes on hand, you can have sandwiches anytime you'd like!
The best way to ensure you can have a keto sandwich anytime you'd like, is to have some good, trusty, low carb sandwich recipes up your sleeve, ready to go. The key to make of these recipes is in the bread (or the lack of bread). The bread part of the sandwich is where you will find most of the carbs. So, eliminating or changing the bread instantly will reduce the number of carbs.
There are some very interesting ways to work around all-purpose flour and make a keto-friendly bread. For example, the cauliflower bagel BLT recipe uses cauliflower, almond flour, and coconut flour to make a super tasty bagel that is perfect to use for any kind of sandwich. Other recipes rely solely on coconut flour and others still will skip the bread and use a lettuce leaf to wrap up the sandwich. The low carb crab melt is made with just a portobello mushroom instead of bread. When you start a keto diet, you have to get creative with your cooking and the creativity really shines through in these low carb sandwich recipes!
Subscribe for a FREE copy of our
4-Week Keto Meal Plan
4 Weeks of Delicious Keto Recipes!
Leftovers and Bulk Preps Included
Maximize Your Keto Diet's Success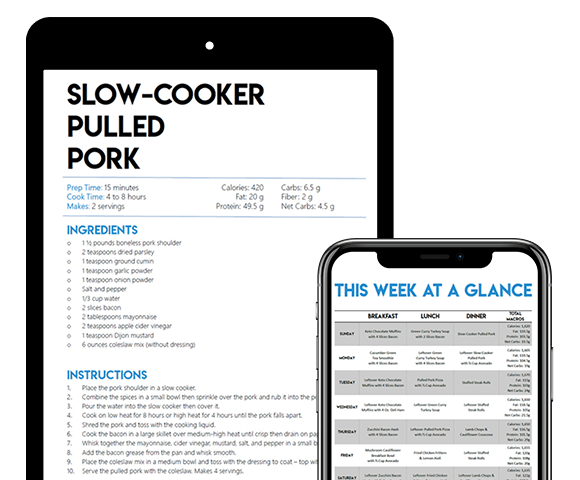 Of course, what you put in the middle of your sandwiches is important as well. That is, after all, where the bulk of the flavor comes from. With these recipes, you will never be short on flavor! The jalapeno burger will give you a spicy kick while the cucumber cream cheese sandwiches are nice and mild with a tasty, creamy filling. There really is something for everyone here!
We love packing some of these recipes away for a trip and they're absolutely perfect for eating for lunch at work. So plan to start your day off with a keto bacon and egg sandwich and maybe try the Philly Cheese Steak Lettuce wrap for dinner. Anytime is a good time for a low carb sandwich and it is definitely not a food that you need to forgo just because you are on a keto diet! Let us know which one is your favorite of these is your favorite….if you are able to pick just one!
Here we go, in no particular order of amazingness: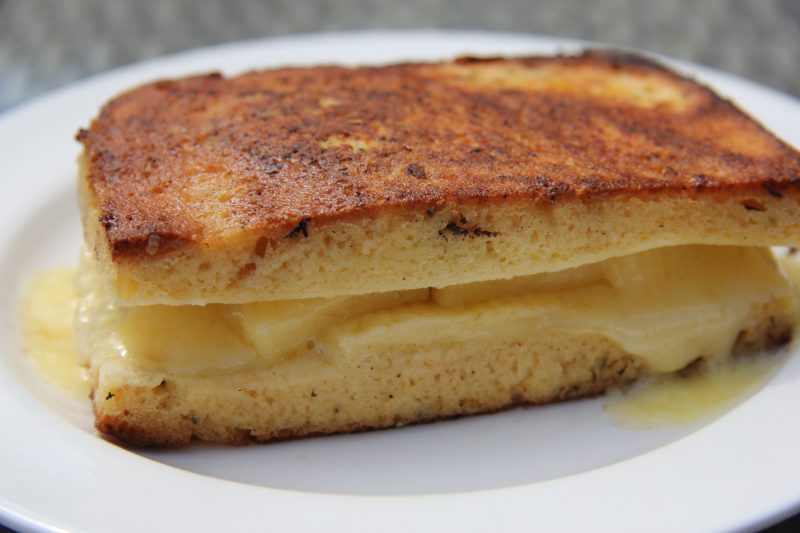 Grilled Cheese Sandwich

This is just so delicious and made out of coconut flour.  A low carb and Gluten Free tasty sandwich!  All of the taste and none of the guilt!  Huzzah!  The naming of the sandwich being grilled amuses me, being British, as for us it is fried.  To our friends across the pond, it is grilled.  I love the differences in a common language!   I don't care what it's is called, it is still a lovely low carb sandwich type meal that is fried in butter!

from Divalicious Recipes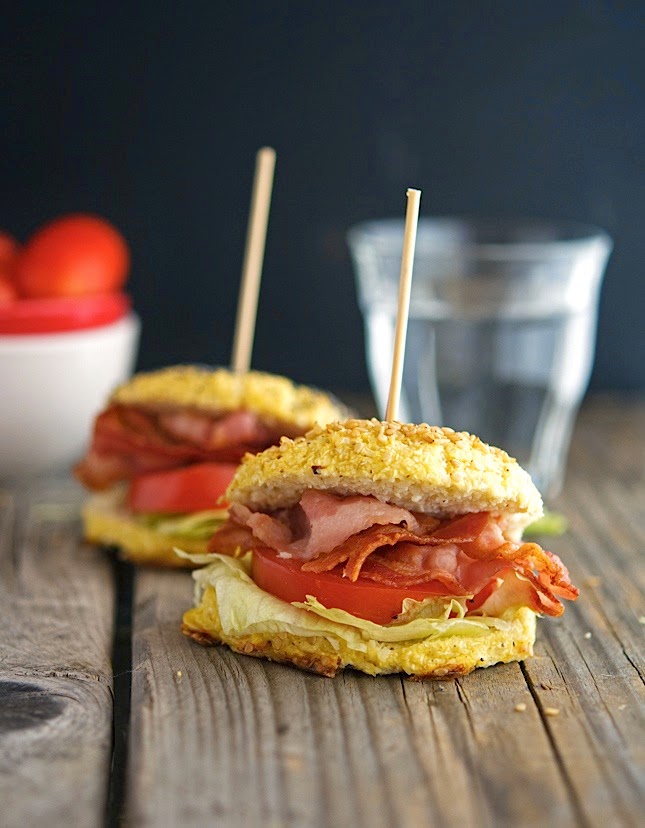 Cauliflower Bagel BLTs

Can we all agree that it's pretty hard to improve upon a BLT? I mean, the BLT is a classic combination that just works. Smoky bacon, sweet tomatoes, a nice crunch of lettuce, some really good bread, brought together with a little mayonnaise love. An awesome sandwich, really. That being said, I'm here to kick BLT into another dimension. Ready? First off, let me introduce you to my latest obsession. Cauliflower bagels.

from www.theironyou.com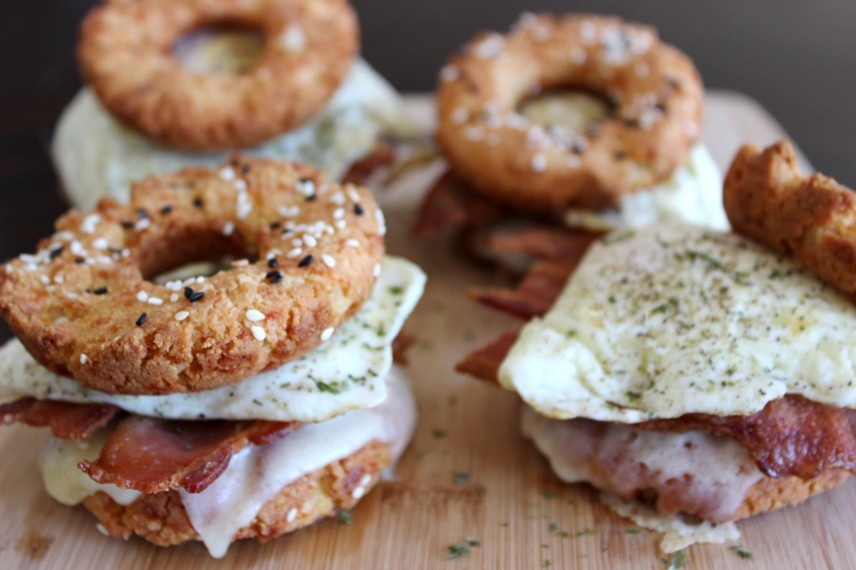 Breakfast Sandwiches

One of the reasons many people turn to fast food (aside from it being a quick, cheap meal) in the morning is for the breakfast sandwiches.  Obviously those quick meals are not low carb-friendly, but I am here to say you can still enjoy breakfast sandwiches while eating low carb foods.  It may not be as fast to make these and eat them fresh, but you could probably batch-cook several of the bread halves, store them in the fridge for a few days, and then put them together fresh each morning.  These are delicious and very versatile!

from www.butterisnotacarb.com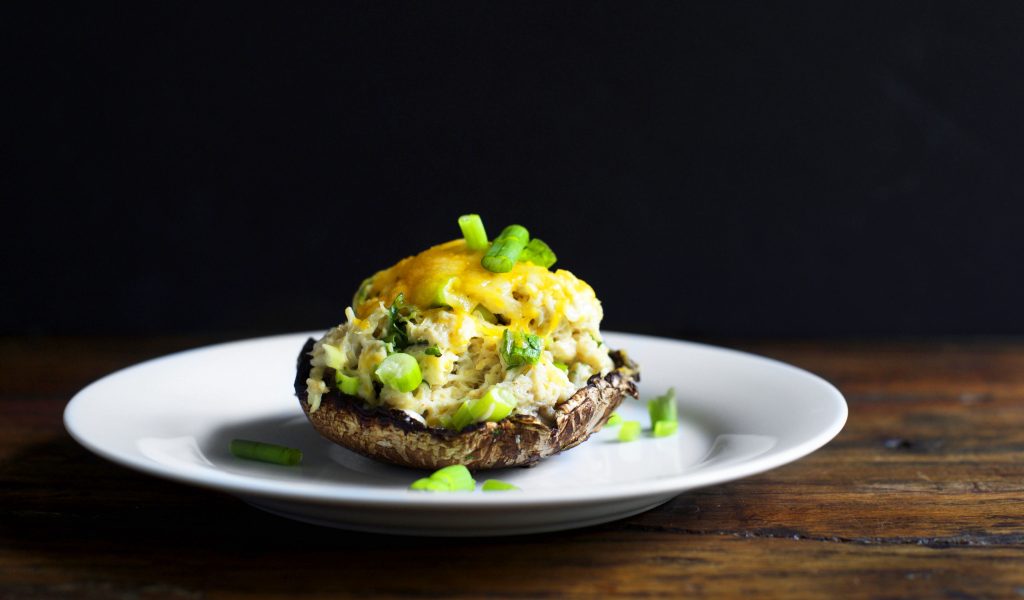 Low-Carb Crab Melt Sandwiches

This quick and easy, low-carb crab melt sandwich recipe combines creamy, flavorful crab salad and melted cheese on a base of a portobello mushroom. These melts make a satisfying lunch or dinner.

from Simply So Healthy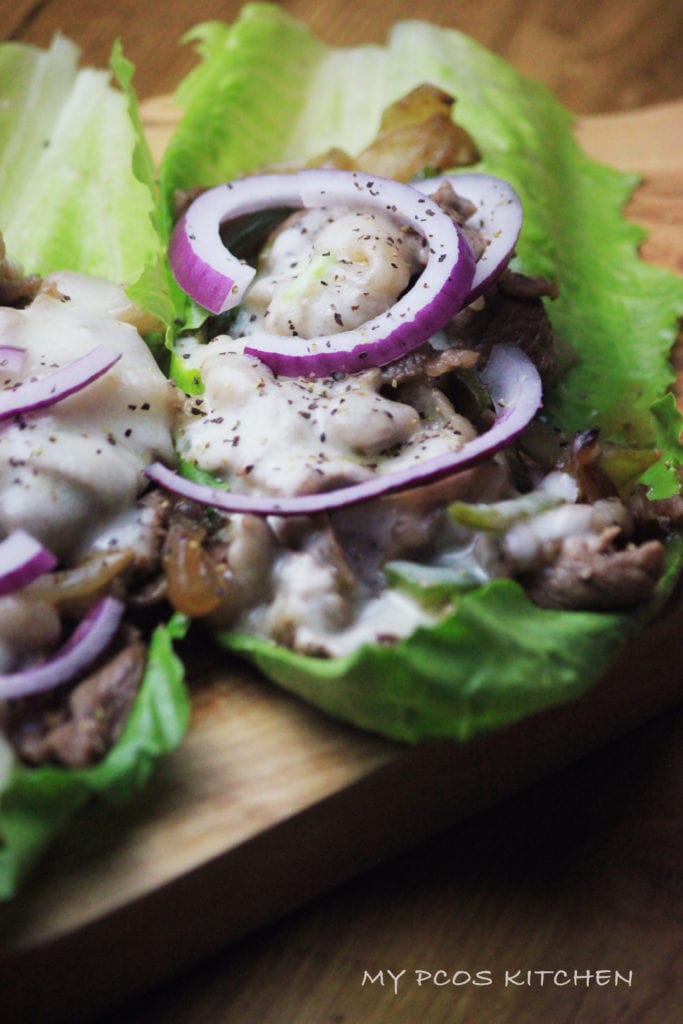 Philly Cheese Steak Lettuce Wrap

I have found myself craving a Philly cheese steak sandwich tonight and so I thought this would be the perfect opportunity to make a recipe for it! To be honest, I've never been to Philadelphia or eaten an authentic one because I'm Canadian, but I've eaten some in Canada, or at least their version of it so I just copied the taste that I'm familiar with!  Usually Philly cheese steaks are eaten in a submarine, but since I quit gluten, I decided to make it into a lettuce wrap!

from www.mypcoskitchen.com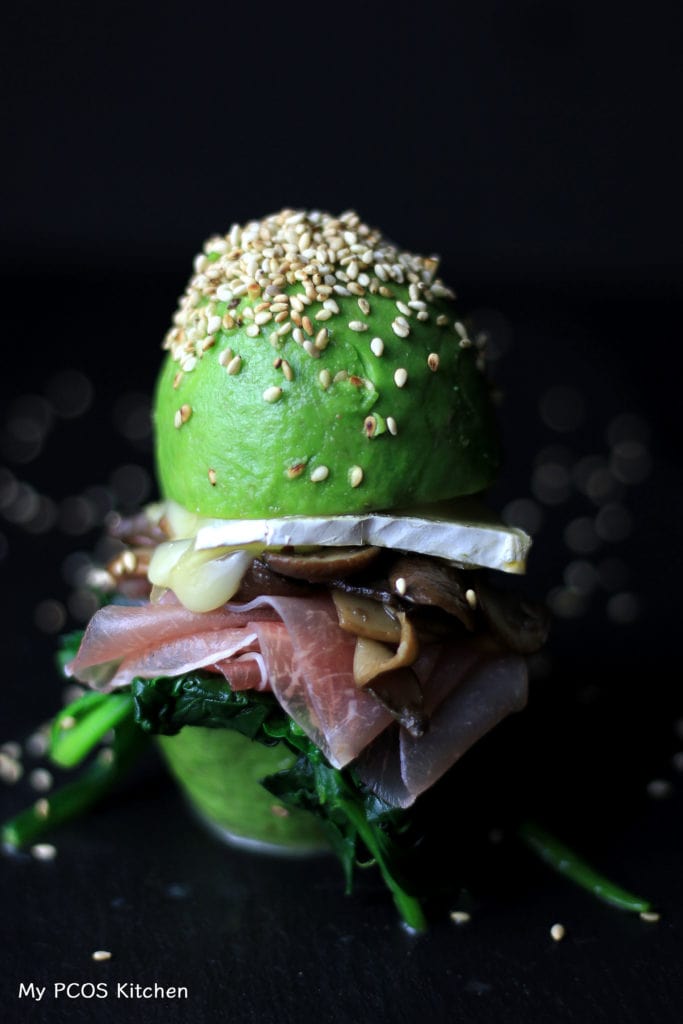 PROSCIUTTO & BRIE AVOCADO BUN

The latest trend on Instagram has all been about avocado bun burgers and you know what? It's a fabulous idea!!! I couldn't wait to try one out for myself as they're basically the perfect healthy fat bombs and are absolutely ideal for a low carb diet.  You can make so many different versions, either for breakfast, lunch or dinner!  These bad boys fill you right up so you don't need to worry about eating anything else.  The best part is that they don't take that much time to prepare!

from www.mypcoskitchen.com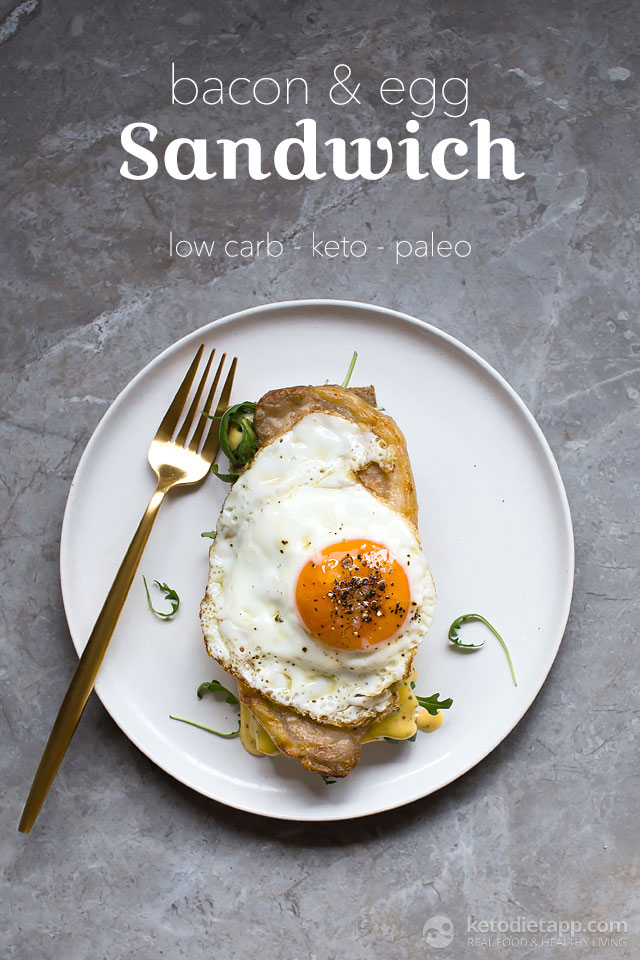 Keto Bacon & Egg Sandwich

A good bacon sandwich reminds me of growing up. Every Sunday morning, 10 am like clockwork, I'd smell the sweet notes of sizzling bacon wafting up the stairs. My nose would twitch and I'd stumble from my slumber all messy haired and sleepy eyed ready to take on dads infamous bacon sarnie. And whilst bread as I once knew it is now out, you can still totally enjoy this family favourite, in a new, more nutritious, low carb way.

from ketodietapp.com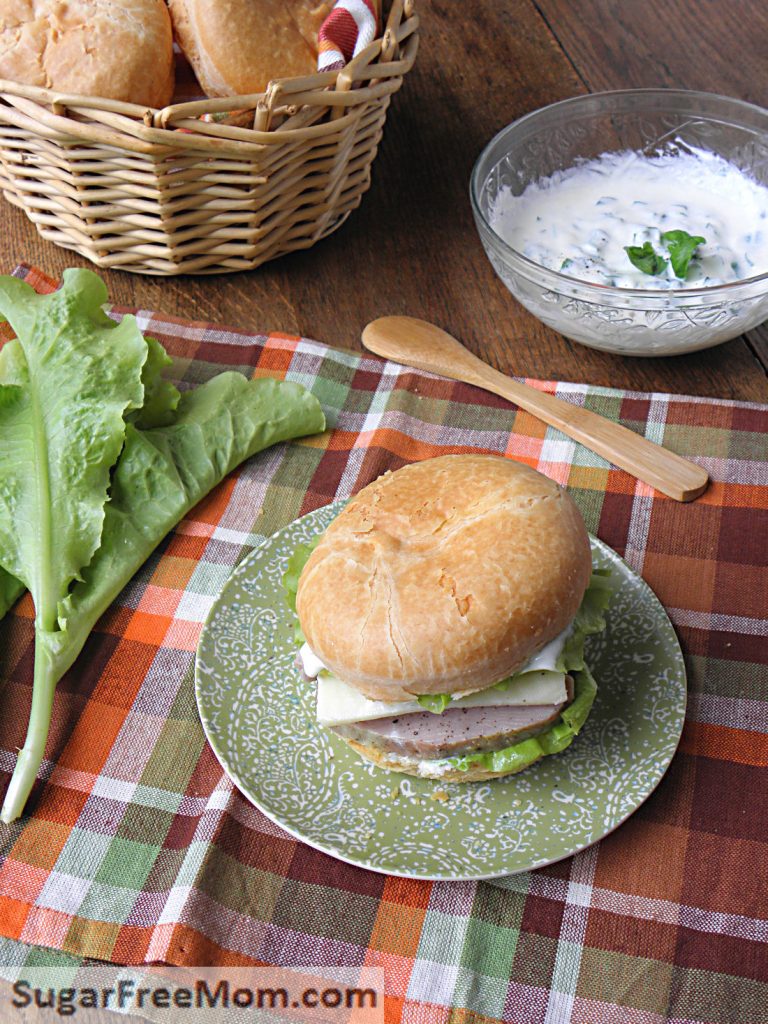 Pork Tenderloin Fontina Sandwich

This Pork Tenderloin Fontina Grain Free Sandwich with Basil Yogurt Spread is an easy dinner that the whole family will love! Add some Delicious Mayo Free Basil Yogurt Spread on this baby with some lettuce, lean pork tenderloin and creamy fontina cheese and it's a match made a heaven! No one will complain about sandwiches for dinner with this recipe!

from www.sugarfreemom.com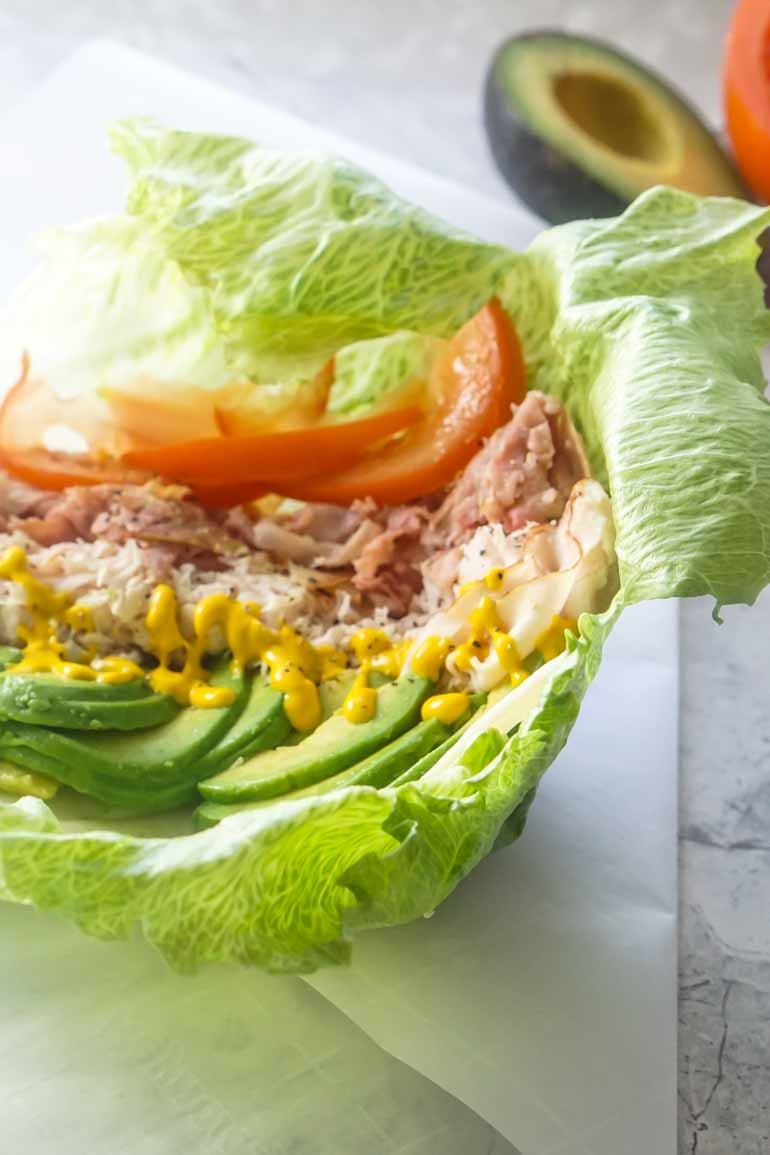 Homemade Unwich – Lettuce Wrap Sandwich

The Unwich from Jimmy John's is my absolute favorite keto friendly fast food. For those who have yet to experience an unwich, the sub shop will take any sandwich on their menu, nix the bread, and wrap all the fixings in an intricately constructed half-lettuce-half-parchment origami. Essentially, it's a lettuce wrap sandwich that doesn't fall apart while you eat it. I love them so much.

from KETOGASM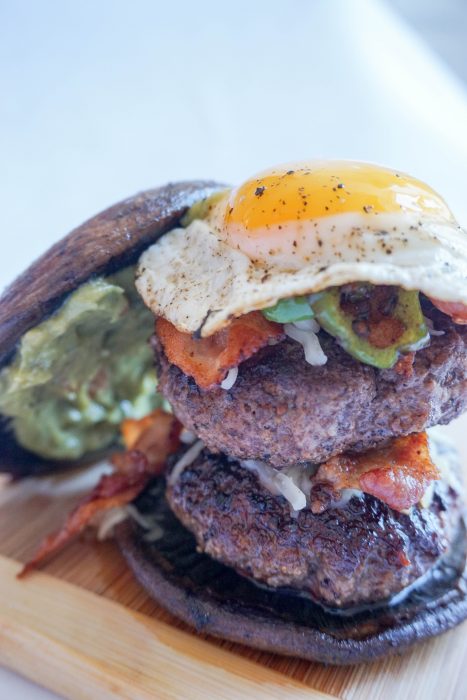 Loaded Jalapeño Burger

The times we do make burgers we DO NOT go easy on the toppings. It's kind of a slippery slope. You have the perfectly medium-rare patty, which naturally needs some cheese. Oh wait, but what about the bacon… and jalapeños for some kick! Ohhhh yes, fried egg is a must. And, of course you want a little cool down from the guacamole. And, don't forget to make it a double! That's exactly how it goes every time.

from www.ketoconnect.net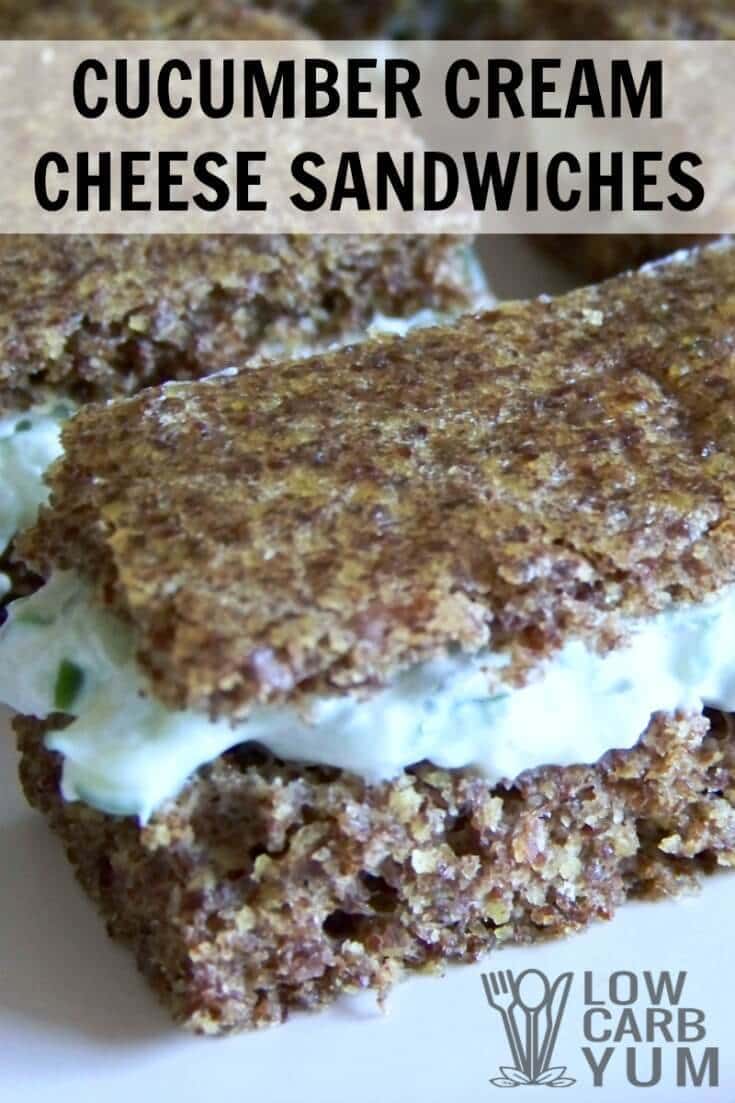 Cucumber Cream Cheese Sandwiches

My husband's great-aunt likes to invite the kids over every summer for a special tea party. My kids really love going for the food and snacks. One of the things that's usually made are finger sandwiches. I especially like the ones made with olive and cream cheese. But, this year, I decided to try making one with a creamy cucumber filling. For the bread in these cucumber cream cheese sandwiches, I used the Focaccia Style Flax Bread Recipe at About.com. It has a great video to go along with the recipe on how to make it. I was able to cut the bread into 10 squares.

from lowcarbyum.com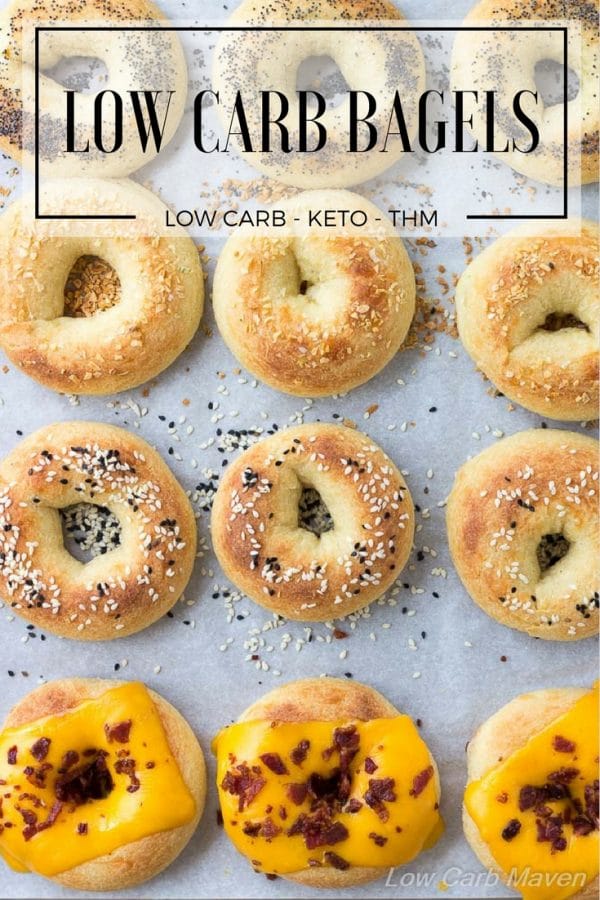 Low Carb Bagels

Do you miss having bagels as much as I do? I admit to being a former bread addict and bagels are a weakness of mine. Sesame bagels are a favorite, especially with bacon and scallion cream cheese like Bruegger's Bagels makes. Mmmm.

from www.lowcarbmaven.com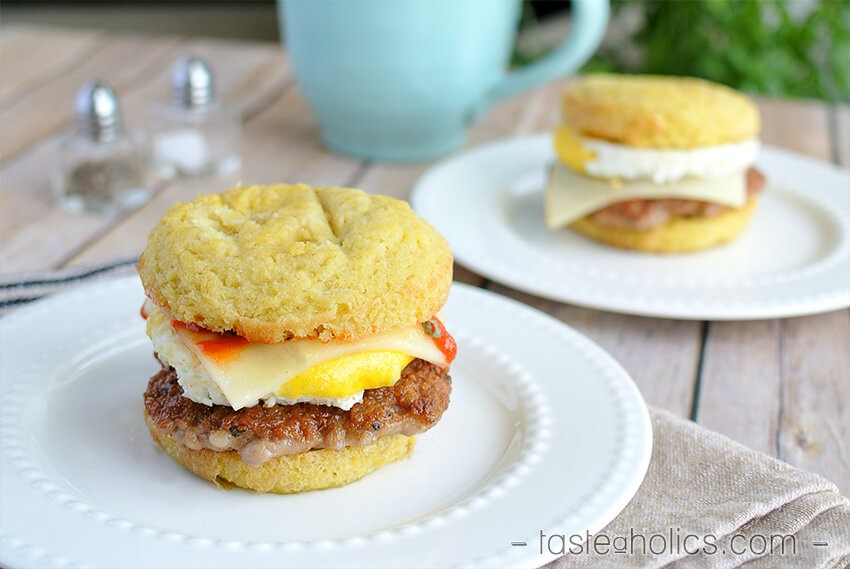 Sausage, Egg & Cheese Low Carb Sandwich

This recipe was inspired by Rami's love for breakfast sausage. We decided to make a low carb sandwich, breakfast style, on a low carb English muffin! We didn't have English muffins, nor did we have breakfast sausage, but when you've got a craving, you can't stop just because you're missing half the ingredients!

from www.tasteaholics.com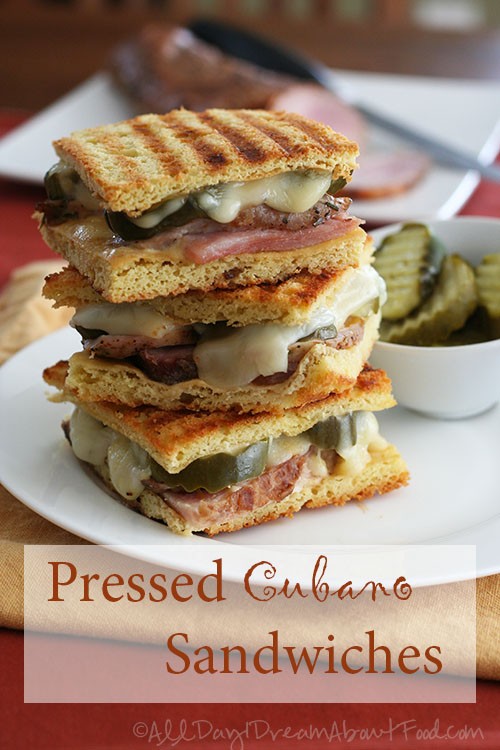 Pressed Cubano Sandwiches

Smoked ham and pork tenderloin together on low carb, gluten-free sandwich bread for a delicious, healthy Cubano sandwich.

from alldayidreamaboutfood.com
Loved this recipe? Let us know! Something didn't quite turn out right? Ask us in the comments below – we respond to comments every day and would love to hear from you and help you out! And check out all our low carb lunch recipes to learn to make more delicious and healthy meals that take no time to prepare!
NUTRITIONAL DISCLAIMER
The content on this website should not be taken as medical advice and you should ALWAYS consult with your doctor before starting any diet or exercise program. We provide nutritional data for our recipes as a courtesy to our readers. We use Total Keto Diet app software to calculate the nutrition and we remove fiber and sugar alcohols, like erythritol, from the total carbohydrate count to get to the net carb count, as they do not affect your blood glucose levels. You should independently calculate nutritional information on your own and not rely on our data. The website or content herein is not intended to cure, prevent, diagnose or treat any disease. This website shall not be liable for adverse reactions or any other outcome resulting from the use of recipes or recommendations on the Website or actions you take as a result. Any action you take is strictly at your own risk.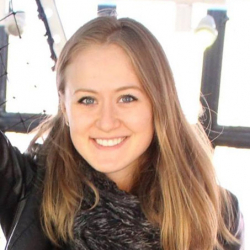 Latest posts by Vicky Abrams
(see all)
Check Out These Roundups: