Low Carb, Molten Lava Cake!
I hold the record for the world's largest sweet tooth. It's been measured! I could eat sweets for every meal of the day and go to bed happy. So when I started eating keto, I obviously cut out sugar altogether and needless to say, I was irritable. But that was to be expected- sugar is highly addictive and when you take it away after so many years, you get withdrawal symptoms. As with all addictions, it takes time and effort to heal the body. After a few grueling days, maybe a week, the sugar cravings started going away. At the peak of my keto dieting, I never even thought about dessert. My body was running perfectly fine without that brownie for dessert daily.
Soon though, I began missing the intricate processes that made up baking, and the warm, delicate textures it brought about. I started to research some keto desserts and came across what seemed like plenty of options to choose from. After experimenting with some low carb dessert recipes and quite a few failures, I decided to instead start with what was already a hit: non-keto desserts (loved by all!). I took a few different non-keto recipes and simply tweaked them to reduce their carb count and ended up with something magical.

A gluten-free, keto dessert is born
It's a lava cake! But that name doesn't do it justice. It's a warm, gooey, sweet, fluffy, molten cool lava cake. It's insanely simple to make and only has 4g of net carbs for the entire little cake. 4G OF CARBS! Considering this unheard of number, I added a scoop of vanilla Breyer's carb-smart ice cream (4g of carbs per ½ cup, which is about a large scoop – see nutrition label on the side) to create something like an icy cool lava cake. When you flip it onto a plate and crack it open, the slightly molten center and the melting ice cream underneath join together and create the king of keto desserts! The entire cake has a soft, fluffy and super moist texture- owing to the fact that it's flourless and gluten-free. It will definitely satisfy anyone's sweet tooth if it satisfied mine!
Subscribe for a FREE copy of our
4-Week Keto Meal Plan
4 Weeks of Delicious Keto Recipes!
Leftovers and Bulk Preps Included
Maximize Your Keto Diet's Success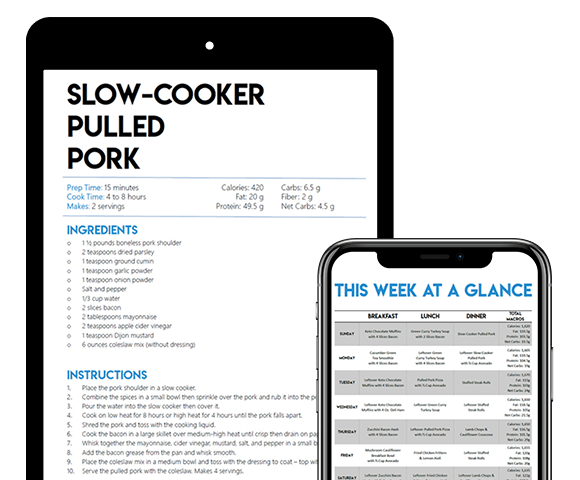 You can also try these amazing mini-cake desserts:
Microwave mug cakes are all the rage right now, but we don't own a microwave (voluntarily). We find that nuking your food dries it out completely and leaves parts of it uncooked. That being said though, many have microwaved their mug cakes and reported they've turned out delicious, so this isn't something to worry about. If you have the chance though, try doing what we did- toaster oven baking it. We think it preserves the moisture better and bakes it more evenly for a better taste.
Check out the end of the recipe for some paleo substitutions and other delicious desserts!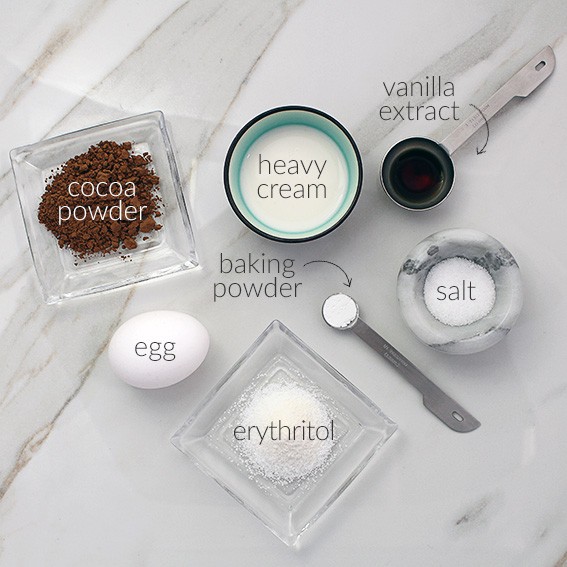 Preheat your oven, if you're using one, to 350°F. Combine your erythritol and cocoa powder and whisk to remove any clumps. This'll make the consistency of our cake much smoother.

In a different bowl, beat your egg until a little fluffy. Since your lava cake is flourless, you need the aeration of the beaten egg to help coax the cake to rise.

Then add your egg, heavy cream and vanilla extract to the erythritol and cocoa mixture. Add your salt and baking powder as well.

Spray a little cooking oil into the mug, pour your batter in (ours are ceramic, you can also use ramekins) and put it to bake for about 10-15 minutes at 350° F. Do not overcook the cake or it will not flow lava! The top of the cake should be set but pretty jiggly.

As an alternative, you can also microwave your mug cake for about a minute. All microwaves are different, so once the minute is up, check up on your cake and if it's still not solid but jiggly on top, put it back in for 10 second intervals until done.

Now it's up to you how to enjoy it. You can eat your lava cake straight out of the mug (let it cool until you can touch the mug without burning yourself!) or top it off with ice cream, whipped cream, or all kinds of goodies. We decided to make it a molten lava cake. While still hot and in the mug, add a scoop of ice cream to the top. Then wedge a knife along the sides of the mug to help the cake unstick and place a plate onto the mug.

Hold the plate and mug firmly together and flip it upside down so that the mug is now face down on the plate. Tap a few times on the bottom of the mug and the cake should slide off onto the plate without a problem.

Now your ice cream is smooshed underneath the warm lava cake and will melt just a little. When you break into the lava cake, it warm insides and the ice cream should ooze out beautifully. Don't delay, scoop it all up and eat it before someone gets to it first!
Tasteaholics, Inc. is a participant in the Amazon Services LLC Associates Program, an affiliate advertising program designed to provide a means for sites to earn advertising fees by advertising and linking to Amazon.com.
If you're interested in making this cake paleo style, there are just a few things to change. First, use raw cocoa powder if not already, and substitute the erythritol for honey! And if your local store sells vanilla beans in their raw form (see pictured on bottom right of the mug) use those!
There's also been some debate about whether or not you should eat dairy while on a paleo diet. I personally believe it's fine if you buy organic, grass fed, etc. dairy. But if you're being cautious, then use coconut milk instead of the heavy cream. Lastly, consider leaving out the baking powder as it has some corn starch it in and is not paleo friendly.
Loved this recipe? Let us know! Something didn't quite turn out right? Ask us in the comments below or contact us– we respond to comments every day and would love to hear from you and help you out! And check out all our low carb desserts to learn to make more delicious and healthy meals that take no time to prepare!
NUTRITIONAL DISCLAIMER
The content on this website should not be taken as medical advice and you should ALWAYS consult with your doctor before starting any diet or exercise program. We provide nutritional data for our recipes as a courtesy to our readers. We use Total Keto Diet app software to calculate the nutrition and we remove fiber and sugar alcohols, like erythritol, from the total carbohydrate count to get to the net carb count, as they do not affect your blood glucose levels. You should independently calculate nutritional information on your own and not rely on our data. The website or content herein is not intended to cure, prevent, diagnose or treat any disease. This website shall not be liable for adverse reactions or any other outcome resulting from the use of recipes or recommendations on the Website or actions you take as a result. Any action you take is strictly at your own risk.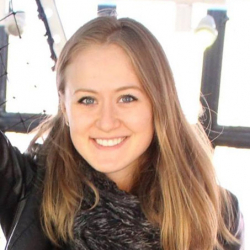 Latest posts by Vicky Abrams
(see all)
Have You Tried These Delicious Recipes?
This recipe was made with love by our amazing readers!