A Low Carb Cake as Light as Air!
Pink lemonade is a great flavor combination of strawberry and lemon, but not just as a drink, but as desserts too! It's also my feeble, desperate attempt at holding on to the last shreds of summer before the brutal winter season is upon us. (I operate on a 2 season calendar- if it's not summer, it's winter.)
The refreshing, sweet and tart flavor that is pink lemonade needs something subtle and light to help it stand out. What could be lighter than the famous oopsie rolls?
We've used oopsie rolls many times in the past as sandwich bases (Eggs Benedict, anyone?) but we've never made a sweet batch of them. This time last week, we decided to make a large batch of sweetened oopsie rolls to experiment with. Needless to say, we'e had a good week!
Subscribe for a FREE copy of our
14-Day Keto Meal Plan
2 Full Weeks of Delicious Recipes!
Leftovers and Bulk Preps Included
Maximize Your Keto Diet's Success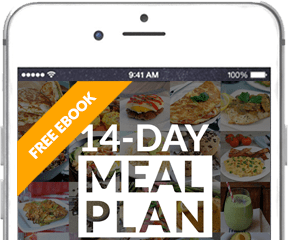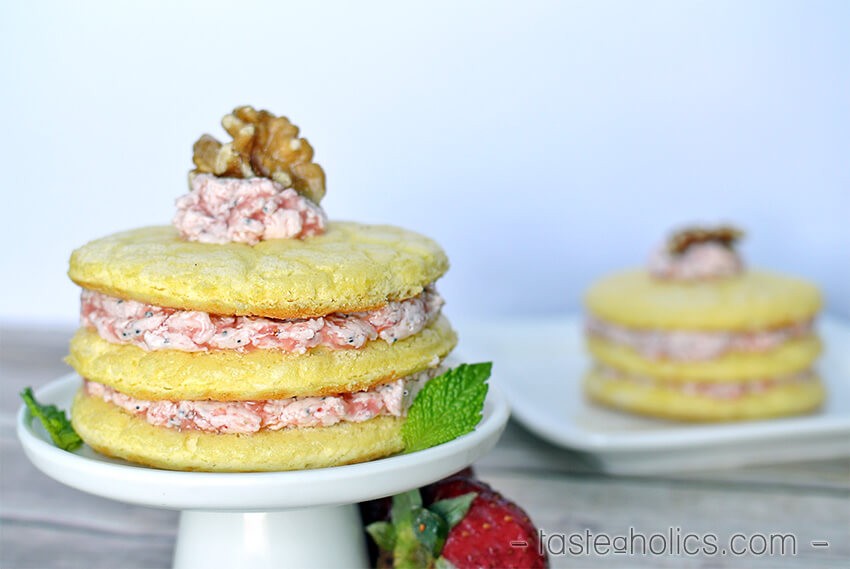 Strawberry & Lemon
The best combination we've discovered is pink lemonade and oopsie to create a sort of mini low carb cake, layers and all! This low carb dessert turned out adorable and would be perfect for an after brunch snack, a baby shower or a birthday! They're pretty simple to make and you can stack them as high as they'll go!
We made 2 low carb cakes and we named them Pink Lemonade Cloud Cakes- which is quite a mouthful for such a light and delicate dessert. Each of them had 3 oopsie rolls between layers of lemon buttercream frosting with chopped strawberries.
They didn't last long, so be prepared to make a bunch! One low carb cake is never enough.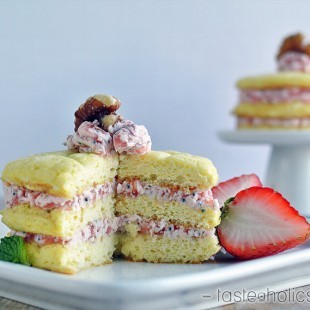 Pink Lemonade Cloud Cakes
Macros per serving:
• 430 Calories
• 42g of Fat
• 6.5g of Protein
• 3g of Carbs

Pink Lemonade Cloud Cakes

Macros per serving:
• 430 Calories
• 42g of Fat
• 6.5g of Protein
• 3g of Carbs

1/3

cup

butter

(softened)

2

tbsp

erythritol

1

tsp

lemon zest

1

tsp

fresh lemon juice

1/2

tsp

poppy seeds

1

tbsp

heavy cream

1

pinch

salt

2

strawberries
Prepare our oopsie rolls! To make these sweet layers, add some stevia (or erythritol) to the batter.

When they're out of the oven and cooled, use a large glass or mug to "stamp" out uniform circles out of the baked oopsie rolls.

Once you have your layers ready to go, make the butter cream frosting by beating your butter and erythritol until creamy. It's important that the butter be softened here, of else you'll have a chunky frosting.

Add in a tablespoon of cream and lemon zest and juice.

Add in poppy seeds and some finely chopped strawberries. We pureed our strawberries which didn't work as well as finely chopping them would. The pureed strawberries made our frosting a bit too watery.

When your frosting is ready, spoon it into a ziploc bag held open by a glass.

Twist the big so there's very little air inside and snip the top of the bag.

Lay one oopsie roll onto the plate you'll be serving your cloud cakes on and begin frosting the perimeter of the cake. Then fill in the middle.

Stack another oopsie roll onto your frosting, pressing gently, and repeating the previous step. Do this until you have 3 layers, or as many as you'd like. Give the cake a good press on top to make sure the frosting is evenly distributed and peaking out the sides.

Finally, garnish with a squeeze of frosting and a walnut!

Chill in the fridge for about an hour before eating so the butter cream frosting has a chance to solidify a bit. Enjoy!
We provide nutritional information for our recipes as a courtesy to our readers. The data is calculated using the MyFitnessPal app. We remove fiber and sugar alcohols, including erythritol, from the final carbohydrate count since they do not affect blood glucose levels in most individuals. We try to be as accurate as possible but we encourage you to calculate nutritional information on your own.
Loved this recipe? Let us know! Something didn't quite turn out right? Ask us in the comments below or contact us– we respond to comments every day and would love to hear from you and help you out! And check out all our low carb desserts to learn to make more delicious and healthy meals!
Have You Tried These Delicious Recipes?
LOW CARB
WEEKLY
MEAL PLANS
delivered straight to your inbox!
Easy & Delicious Low Carb Recipes
Shopping Lists
All Macros Calculated
Leftovers & Keto Snack Ideas
Disclosure of Material Connection: The products above are linking to Amazon as "affiliate links" because we're affiliates! When you click on a product, it'll take you to its Amazon page where the price stays the same for you and Amazon pays us a small percentage. This helps us continue to provide quality recipes and pay for operating costs.