Low Carb Velvety Heaven!
Just in time for Mother's Day, we've created a dessert to please anyone, low carb or not! Taking two American classics, red velvet cake and cheesecake, we combined the two to make a delectable little dessert with only 2g of carbs! We're really excited to give this two-layered dessert to our moms and hope you'll make a batch to gift too! (Or enjoy it alone, they're insanely delicious!)
These red velvet cheesecakes use erythritol, a sugar alcohol, and low carb almond flour. We love using our trusty Bob's Red Mill Almond Flour- it's available in lots of grocery stores and is super fine for baking!
This keto red velvet cheesecake makes for a perfect ketogenic treat because of the low carb count and high-fat content! Each one has 36g of fat! The cream cheese, butter and almond flour are all high-fat ingredients with lots of healthy nutrients to contribute. We also added cinnamon butter to this recipe to give it a unique twist and some spice. We made cinnamon butter for a Sunday breakfast to go with our almond flour pancakes and wanted to use it again! It added just the right sweetness to the cheesecake layer- not too much since cream cheese is sweet enough on its own!
Subscribe for a FREE copy of our
4-Week Keto Meal Plan
4 Weeks of Delicious Keto Recipes!
Leftovers and Bulk Preps Included
Maximize Your Keto Diet's Success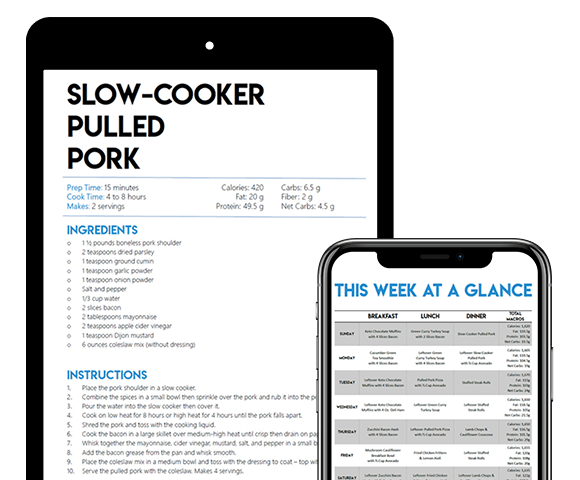 Here's some more info on erythritol if you're not familiar with it.
Tips & Tricks
The entire process took only about 40 minutes! Depending on your tastes, you can eat/serve these cheesecakes hot, warm or chilled for a few hours. When chilled, the cheesecake layer becomes denser since it "deflates" a little when cooling. We prefer eating these warm and think a combination of cooling overnight and then reheating in a toaster oven would create the perfect consistency. We haven't tried it yet though since taking a bite out of mom's dessert could be a dangerous thing to do 🙂
We would really recommend an electric hand mixer to beat the cream cheese and butter. You need that aerated batter to make some fluffy and non-clumpy cheesecake layers. We also used our ramekins for even and quick baking and beautiful presentation, but you can combine each layer of the batter and pour it into a small baking dish. The bake time will be a little higher though because of the volume of batter you're baking all at once.
Another variation, if you're baking for a crowd, is to make mini mini red velvet cheesecakes by using tiny 4 oz mason jars to cook your cakes. They're made of glass and will show off the layers of the red velvet cheesecake beautifully! However, if you choose this method, your cook time will likely be only 10-15 minutes because of the small amount of batter in each jar. You can also use your trusty muffin pan, but consider adding cupcake liners if you choose this route.
Happy baking!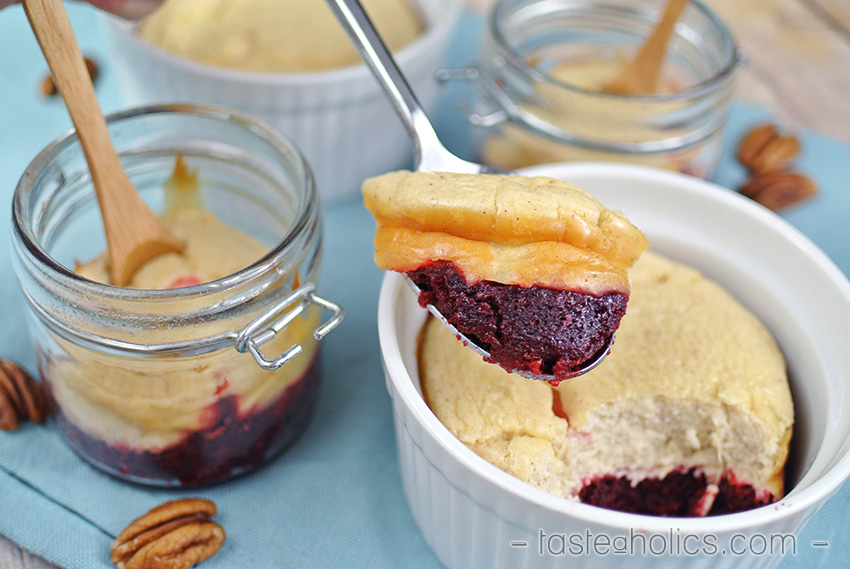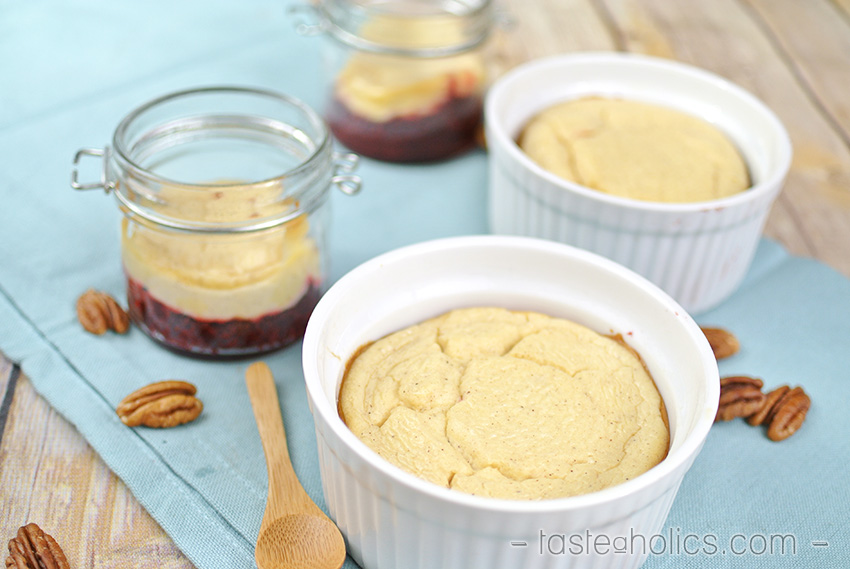 Looking for more red velvet recipes? Try these keto red velvet chaffles from Butter Together Kitchen! They're rich, flavorful and their cream cheese frosting is irresistible!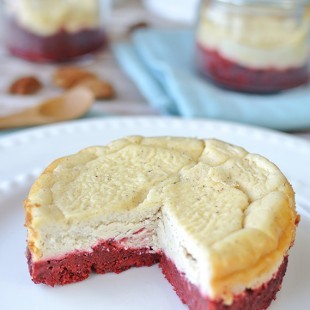 Red Velvet Cinnamon Cheesecakes
Macros per serving:
• 420 Calories
• 36g of Fat
• 17g of Protein
• 2g of Carbs

Red Velvet Cinnamon Cheesecakes

Macros per serving:
• 420 Calories
• 36g of Fat
• 17g of Protein
• 2g of Carbs

Melt butter in a small sauce pan and combine with erythritol. Keep on low heat until erythritol is dissolved.

In a mixing bowl, combine butter and erythritol with cocoa powder, vanilla and salt.

Add in an egg and mix until well combined.

Add your food coloring and apple cider vinegar.

Add 6 tablespoons (or 1/4 cup and 2 tbsp) of sifted almond flour and mix until fully combined.

Pour the mixture evenly among 4 greased ramekins and tap on a hard surface to flatten the batter out and remove any air bubbles. Place them on a cookie sheet and into the refrigerator while you make the cheesecake layer.

We used 3 ramekins and 2 small mason jars to show the layers.
Using an electric hand mixer, beat the softened cream cheese and butter together until light and fluffy.

Add in an egg, vanilla extract and cinnamon beat again.

If you don't have powdered erythritol, simply place 2 tablespoons in a Nutribullet and blend for a few seconds. Powdered in seconds! Add in 2 tablespoons of the now powdered erythritol and a pinch of salt and mix with the hand mixer one last time.
Take the ramekins out of the fridge and spoon about 2 heaping teaspoons onto each red velvet layer. They should not mix, but should definitely meet without any gaps between them.

Use the spoon to gently push the cheesecake layer to the edges of the ramekins. There should be no gaps between the ramekins and the cakes. Tap the ramekins again on a hard surface so that the top layer flattens out.

Bake in the oven for about 20 minutes. Check to see if the tops are set but still slightly jiggly- that means they're done!

When they're done, let them cool a little. You have the choice of digging in right away when they're warm or chilling them for a few hours. The textures differ greatly warm or cold. When chilled, they cake become more dense as they deflate a little. Although personally, we like the taste and texture better when warm. Try both!
Tasteaholics, Inc. is a participant in the Amazon Services LLC Associates Program, an affiliate advertising program designed to provide a means for sites to earn advertising fees by advertising and linking to Amazon.com.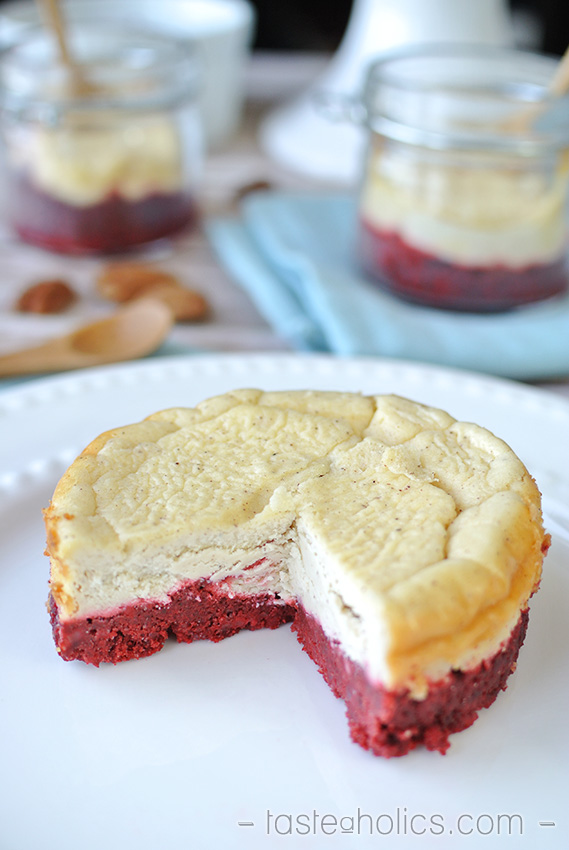 Loved this recipe? Let us know! Something didn't quite turn out right? Ask us in the comments below or contact us– we respond to comments every day and would love to hear from you and help you out! And check out all our desserts to learn to make more delicious and healthy meals!
NUTRITIONAL DISCLAIMER
The content on this website should not be taken as medical advice and you should ALWAYS consult with your doctor before starting any diet or exercise program. We provide nutritional data for our recipes as a courtesy to our readers. We use Total Keto Diet app software to calculate the nutrition and we remove fiber and sugar alcohols, like erythritol, from the total carbohydrate count to get to the net carb count, as they do not affect your blood glucose levels. You should independently calculate nutritional information on your own and not rely on our data. The website or content herein is not intended to cure, prevent, diagnose or treat any disease. This website shall not be liable for adverse reactions or any other outcome resulting from the use of recipes or recommendations on the Website or actions you take as a result. Any action you take is strictly at your own risk.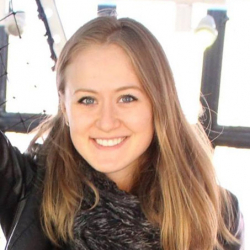 Latest posts by Vicky Abrams
(see all)
Have You Tried These Delicious Recipes?