The Holy Grail of Low Carb Brownies!
So many things went right in this recipe, it's a wonder people eat "normal" brownies at all! Cast iron skillet brownies are easy to make and will give you both crispy edges and a delicious softer center! We finally broke in our small cast iron skillet that's perfect for desserts like these. Our skillet is about 6 inches in diameter and can produce desserts to feed 4-8 people, depending on the sweet tooth ;). Read about how to season and clean your cast iron skillet so make it last forever.
To make this recipe even better, the TOTAL net carb count for a giant brownie is 12g of carbs! Split that between 4 hungry people and each would eat only 3g of carbs! Split it with even more friends and family and you're all staying in ketosis just fine.
Erythritol, a sugar alcohol that is not digested by human bodies, was a miracle for us, so we use it quite frequently in baking. It's low carb, low calorie and has a glycemic index of 0 so it does not spike blood sugar and does not cause an insulin response. It also doesn't cause tooth decay like sugar does! A sugar alcohol that doesn't sit well for us, however, is maltitol, so we try to avoid it. It's commonly found in sugar-free syrups and Atkins bars. Then again, some people report no problems so it all depends on the body eating it.
Subscribe for a FREE copy of our
14-Day Keto Meal Plan
2 Full Weeks of Delicious Recipes!
Leftovers and Bulk Preps Included
Maximize Your Keto Diet's Success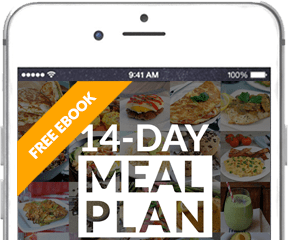 In this recipe, we used a smaller amount of erythritol than we would've sugar. And because it is only 70% as sweet as sugar, this seemed counter-intuitive; shouldn't we be adding more? We thought that after so long in ketosis, our tastebuds and bodies should be desensitized to very sweet foods. A normal recipe would call for ⅔ cup sugar for about 4 people. We only added ⅓ cup, and at 70% the sweetness, that's a lot less! We tested it, and the brownies turned out amazing. They were still sweet, but the rest of the flavors were able to shine through! The cocoa, the nuts, the peanut butter and vanilla were all noted!
The consistency was dense, moist and super filling. You can substitute walnuts for any nuts; chopped hazelnuts would make this recipe taste a little like Nutella! If you don't have a cast iron skillet, try doubling this recipe and pouring it into your regular brownie pan or baking dish.
Try this recipe, we guarantee they'll be the best low carb skillet brownies you've ever tasted! Check out those macros, they're unbelievable!
A note on safety: cast iron skillets get HOT! That includes their handles, which are the same material as the entire skillet. Use an oven mitt to handle this pan whenever it comes out of the oven. Use an oven mitt even after it's been cooling for a long time. They retain heat very well, and will take a long time to cool off. Safety first!
Let's make some skillet brownies!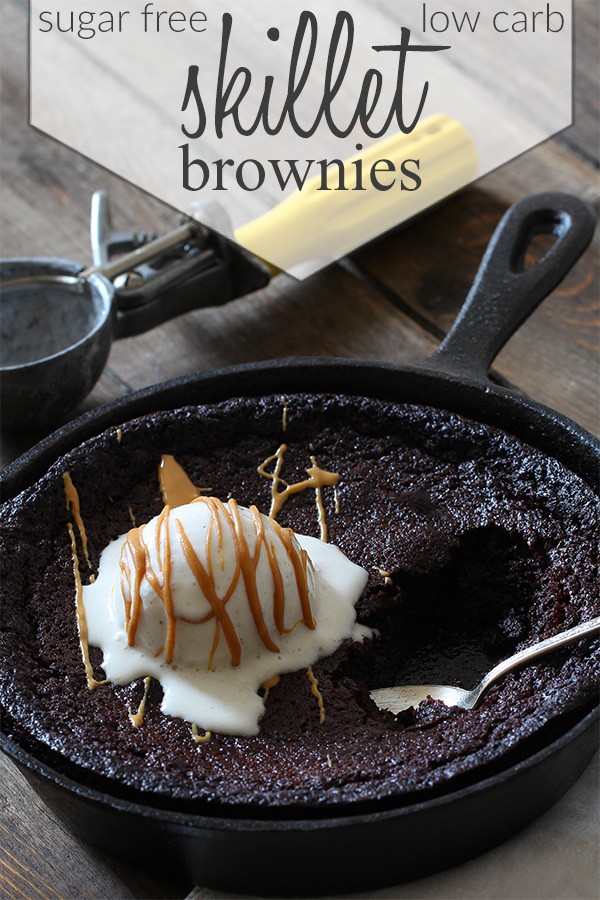 Preheat your oven to 350F.

Melt your butter on a small pan and let erythritol, or your choice of granulated sweetener dissolve it in. This takes a little longer than regular sugar, about 5 minutes.

Pour the butter and erythritol into a mixing bowl and add your cocoa powder, salt and vanilla extract.

Add in an egg and beat until thoroughly combined.

Add almond flour and baking powder to help the brownie rise a bit.

This step is optional: fold in your choice of nuts or add-ins. We added chopped walnuts for that classic brownie taste.

Pour your brownie batter into a 6 inch cast iron skillet.

Optional peanut butter drizzle: melt a tablespoon of butter and a tablespoon of peanut butter in the microwave or a small pan. You have a choice of baking the brownie with this drizzle, or adding it after baking. We added it before, but think it'll look a little better if added after.

Place the skillet brownie into the oven and bake for about 30 minutes. The top will be set but slightly jiggly. Do not over-bake, the brownie will continue cooking even out of the oven (cast iron skillets retain heat very well).

If you haven't already, add your peanut butter drizzle. You can also top it off with whipped cream or sugar-free chocolate syrup.
We provide nutritional information for our recipes as a courtesy to our readers. The data is calculated using the MyFitnessPal app. We remove fiber and sugar alcohols, including erythritol, from the final carbohydrate count since they do not affect blood glucose levels in most individuals. We try to be as accurate as possible but we encourage you to calculate nutritional information on your own.
Loved this recipe? Let us know! Something didn't quite turn out right? Ask us in the comments below or contact us– we respond to comments every day and would love to hear from you and help you out! And check out all our keto recipes to learn to make more delicious and healthy meals!
Have You Tried These Delicious Recipes?
LOW CARB
WEEKLY
MEAL PLANS
delivered straight to your inbox!
Easy & Delicious Low Carb Recipes
Shopping Lists
All Macros Calculated
Leftovers & Keto Snack Ideas
Missing anything? Get it on
Disclosure of Material Connection: The products above are linking to Amazon as "affiliate links" because we're affiliates! When you click on a product, it'll take you to its Amazon page where the price stays the same for you and Amazon pays us a small percentage. This helps us continue to provide quality recipes and pay for operating costs.
This recipe was made with love by our amazing readers!