Calm (and caffeinate) yourself!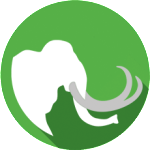 This may seem oxymoronic, but you can achieve calm, focused alertness by means of energy boosting matcha green tea powder. Buddhist monks drank matcha to aid in meditation as well as to remain alert and focused. The energy matcha powder gives you in a steady stream of sustained focus, instead of a loud burst of jitters a cup of coffee may give you (especially if you generally don't drink coffee). So while it may seem impossible to be calm and caffeinated, matcha powder has been used for centuries to achieve just that! Learn all about matcha powder and its amazing benefits!
By brewing tea, a lot of nutrients remain in the leaves; water can only extract so much. Matcha powder (ground up whole green tea leaves) delivers nutrients previously impossible to obtain. More powerful than your standard cup of green tea, matcha powder is an energy and metabolism booster, detoxifier, calorie burner and an antioxidant powerhouse. Sprinkle it in your smoothies, incorporate it in baked goods, or brew it up for a more powerful tea! It tastes mild and pleasant, and packs a powerful nutritional punch.
Today, we made a matcha latte! You may have seen similar versions a la iced green tea latte in popular coffee shops, but those are a nutritional death traps. Nothing sounds  suspicious about a "lightly sweetened matcha green tea with steamed milk" but a grande (16 oz.) delivers a whopping 57g of carbs! 55g of which are sugar. Let's tone it down a notch, shall we?
Subscribe for a FREE copy of our
14-Day Keto Meal Plan
2 Full Weeks of Delicious Recipes!
Leftovers and Bulk Preps Included
Maximize Your Keto Diet's Success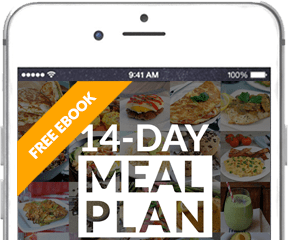 In our recipe, we used unsweetened cashew milk to mix it up a bit. Almond or coconut milk will work too! Or even a splash of heavy cream for added fat. We did notice that because this latte is cold, the coconut oil breaks down but solidifies. So you end up with little tiny beads of coconut oil in your latte. If you prefer a smoother consistency, leave out the coconut oil or try this recipe warm! Simply warm up some of your liquid base and coconut oil, then add in your matcha and vanilla and blend! You'll end up with a steaming cup of sustainable energy 🙂
If you find the slight bitterness of the matcha powder turns you off, add a teaspoon or so of honey- it will counteract the bitterness.
Combine all ingredients in a blender or Nutribullet and blend until ice cubes are broken down.

Sprinkle some extra matcha on top or even cocoa powder to garnish!
We provide nutritional information for our recipes as a courtesy to our readers. The data is calculated using the MyFitnessPal app. We remove fiber and sugar alcohols, including erythritol, from the final carbohydrate count since they do not affect blood glucose levels in most individuals. We try to be as accurate as possible but we encourage you to calculate nutritional information on your own.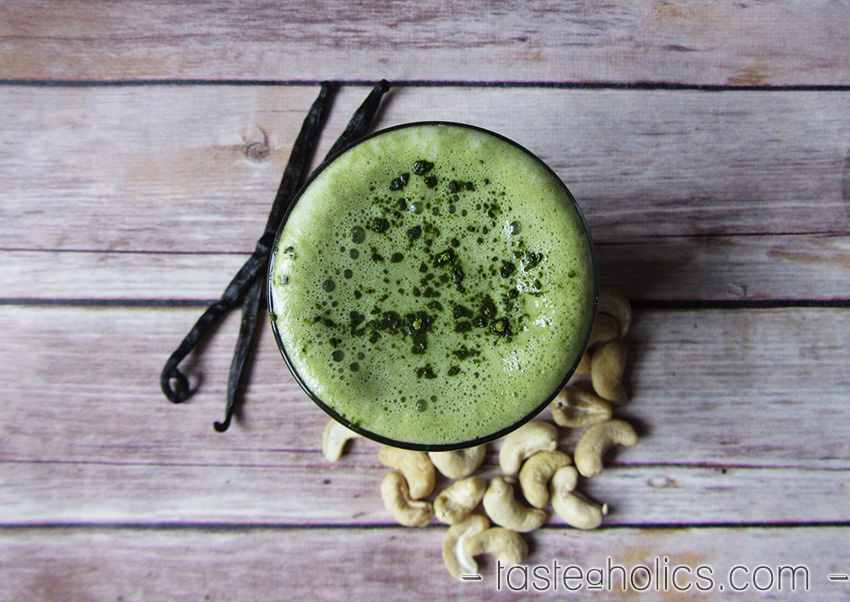 Loved this recipe? Let us know! Something didn't quite turn out right? Ask us in the comments below or contact us– we respond to comments every day and would love to hear from you and help you out! And check out all our drinks to learn to make more delicious and healthy recipes!
Have You Tried These Delicious Recipes?
LOW CARB
WEEKLY
MEAL PLANS
delivered straight to your inbox!
Easy & Delicious Low Carb Recipes
Shopping Lists
All Macros Calculated
Leftovers & Keto Snack Ideas
Missing anything? Get it on
Disclosure of Material Connection: The products above are linking to Amazon as "affiliate links" because we're affiliates! When you click on a product, it'll take you to its Amazon page where the price stays the same for you and Amazon pays us a small percentage. This helps us continue to provide quality recipes and pay for operating costs.