People Love Desserts!
But desserts don't always love people. Too much sugar and carbs will send anyone's health into a downward spiral. That's why when something so simple as a Caramel Nut Cluster can be made completely sugar-free and low carb, we make sure we perfect that recipe to enjoy it guilt-free! These little nuggets of joy are crunchy, creamy, sweet and salty. It's amazing how well these flavors and textures work together. You'll swear they're store bought.
For those of you who don't know, Rami and I are on the road right now! Blogging from Malta currently. We gotta say, it's a lot easier to keep low carb in Malta than it was in Italy. I mean, anyone could've told me that but I was optimistically naive. It's easy enough to order something low carb from a restaurant since Italians separate their first course (usually pasta/ravioli/risotto) from their main course (usually some yummy meat dish). The problem was, however, the main courses were always so tiny. After a giant course of pasta it's no wonder their main course would be minuscule – you're so full of carbs!
Here in Malta, we're finding the portion sizes to be massive. We learned quickly that an octopus salad is pretty much a giant plate of char-grilled octopus with fresh lemon. That's it. What else do you need, though? We were very pleased with the portions and endless options. We found Indian, Moroccan, Thai, Chinese, Japanese (all you can eat sushi, yes!), Italian and of course, traditional Maltese restaurants scattered all over our area. The entire country itself can be traveled coast-to-coast in about an hour so traveling between cities was incredibly fast and easy.
Subscribe for a FREE copy of our
14-Day Keto Meal Plan
2 Full Weeks of Delicious Recipes!
Leftovers and Bulk Preps Included
Maximize Your Keto Diet's Success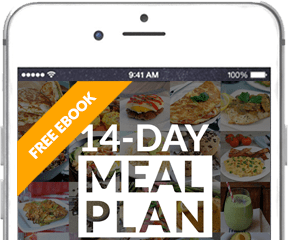 We stayed in the Qawra/Bugibba area in an Airbnb apartment with a gorgeous view! We enjoyed the modernness, cleanliness and relaxed atmosphere of the apartment, building, and neighborhood. Just down the block, we had scuba diving, water sports, cafes, swimming and more. If you haven't tried Airbnb yet, you have to! Connect with people, safely, all over the world and stay in their homes. Many rent our their entire apartments for travelers to enjoy short term (as short as a night or 2). It's the only way we travel – we haven't stayed at a hotel in years. We enjoy the independence and comfort of having an actual home for our vacations. Use our link and you'll instantly get $35 off your first booking 😀
You really can't beat having a full kitchen on vacation. You save money and know exactly what's going into your food. No hidden carbs here! That's not to say we didn't enjoy some of the restaurants Malta had to offer. Here are some of the fantastic dishes we loved during our stay! Follow us on Instagram to see more updates of our travels.
Unlike the States, Malta is pretty far behind on the sugarless trend. We found it pretty hard to find sugar-free desserts when we needed a little something sweet. So we decided to put together something super easy at home with the limited ingredients (and equipment) we had. Enter nut clusters.
We're suckers for recipes with few ingredients (could you tell by our ebooks, Breakfast in Five and Dinner in Five, where all recipes have only 5 ingredients?) so these Caramel Nut Clusters were right up our alley. They're just 7 ingredients and require no special equipment besides your stove/oven for a quick caramel and chocolate melt. Each one is under 2 grams of net carbs and can technically qualify as a fat bomb.
We found a brand that makes lots of different flavors of zero-calorie, zero-sugar candies that Rami fell in love with. One of the flavors was caramel, which inspired us to create these Caramel Nut Clusters. In the States, I know Werther's makes a good sugar-free caramel hard candy (you can buy it here on Amazon too!). The candies melt and cement the nuts together very nicely. And since they are no longer in their little candy shape, it's very easy to bite through them. They give the candies a nice crunch when cooled.  Here's the brand we used: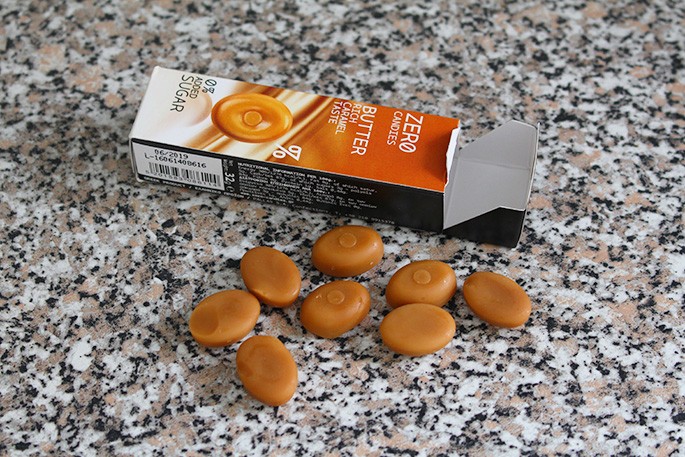 Hope you enjoy this super simple, low carb dessert recipe as much as we did!
Preheat the oven to 320°F. Line a baking sheet with parchment paper or aluminum foil. Arrange the pecans evenly and add a 2-3 macadamia nuts near them, overlapping slightly. It helps if you crack some macadamias in half so they have a flat side on which to lay.

Place a sugar-free caramel candy onto each pile of nuts and carefully transfer to the hot oven.

Bake for about 10 minutes, keeping an eye on the caramels. They should melt just to the point of touching each nut. Don't let them melt into a large puddle around the piles. Once the candies have melted, take the tray out of the oven and let cool completely. The caramel will harden, cementing the nuts together.

While the caramel is cooling, make the chocolate ganache. In a double boiler or small pot on low heat, heat the heavy cream until almost bubbling. Drop 40 grams of 85% dark chocolate (we used Lindt, which is 4 squares) and let it melt, stirring gently. Add the vanilla extract and stir to combine.

Once smooth and silky, add about 1/2 to 1 teaspoon of chocolate to each pile of nuts, letting it drape across the candies entirely or leaving some nuts and caramel peeking through.

Sprinkle a bit of coarse sea salt onto each candy while the chocolate is still wet. Refrigerate for about an hour and enjoy!
We provide nutritional information for our recipes as a courtesy to our readers. The data is calculated using the MyFitnessPal app. We remove fiber and sugar alcohols, including erythritol, from the final carbohydrate count since they do not affect blood glucose levels in most individuals. We try to be as accurate as possible but we encourage you to calculate nutritional information on your own.
Loved this recipe? Let us know! Something didn't quite turn out right? Ask us in the comments below or contact us– we respond to comments every day and would love to hear from you and help you out! And check out all our low carb dessert recipes to learn to make more delicious and healthy meals!
Have You Tried These Delicious Recipes?
LOW CARB
WEEKLY
MEAL PLANS
delivered straight to your inbox!
Easy & Delicious Low Carb Recipes
Shopping Lists
All Macros Calculated
Leftovers & Keto Snack Ideas
Disclosure of Material Connection: The products above are linking to Amazon as "affiliate links" because we're affiliates! When you click on a product, it'll take you to its Amazon page where the price stays the same for you and Amazon pays us a small percentage. This helps us continue to provide quality recipes and pay for operating costs.