25 Days of Cookies!
During the holidays, many of us like to indulge. It's the end of the year and your will may be wavering. Fear not! We've collected 25 Christmas/Holiday cookie recipes from all around the internet and, more importantly, from our favorite, most trusted low carb bloggers. Use these amazing recipes to be inspired – make a batch for your friends, family, coworkers or just yourself. Indulge in these sugar-free sweets guilt-free.
Cookies make a sweet Christmas gift, and they can be packaged up in so many different and cute ways. Don't forget to leave some out for Santa!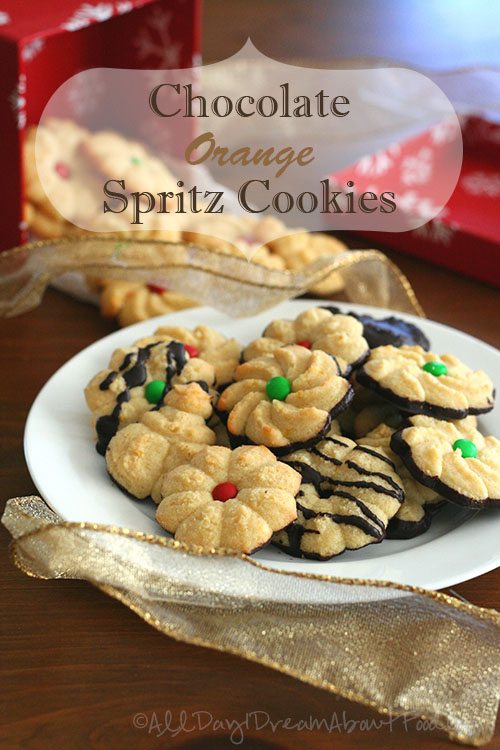 CHOCOLATE ORANGE SPRITZ COOKIES

Buttery sweet spritz cookies get a low carb, gluten-free makeover. These keto cookies are perfect for your healthy holidays, and you can make them ahead and freeze them. This makes a ton of cookies, so it's an ideal recipe for gift-giving. Or just make a half batch of these wonderful low carb spritz cookies and save them all for yourself!

from alldayidreamaboutfood.com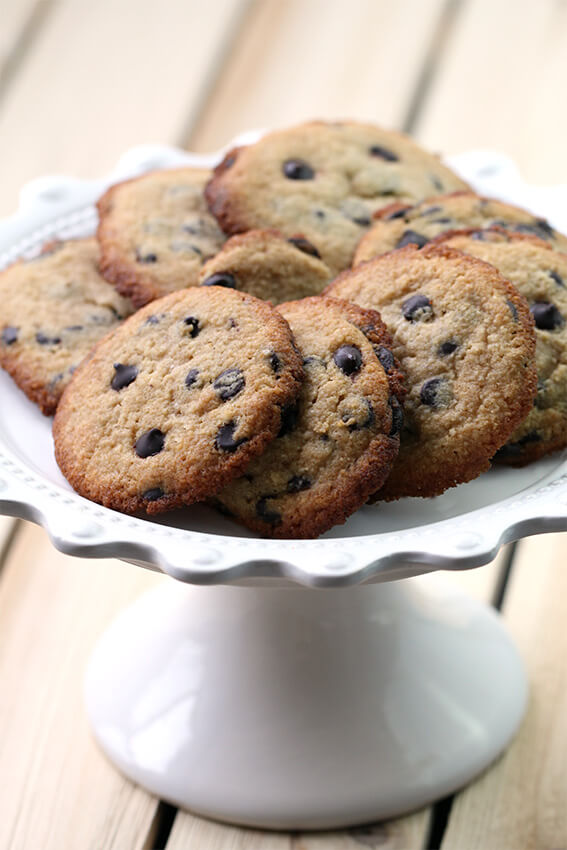 Low Carb Chocolate Chip Cookies

Chocolate chip cookies are a national treasure. The combination of butter, golden brown sugar and rich chocolate chips creates the perfect cookie – sweet and chewy with pops of creamy chocolate goodness. It's no wonder it's America's favorite cookie! It seems to transport anyone back to their childhood and reminds them that life can be so delicious.

from www.tasteaholics.com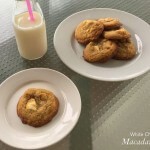 White Chocolate Chunk Macadamia Cookies

In my house, I make both low carb and high carb baked goods. The 'regular' baked goods are few and far between, but their existence always makes my husband ask, "Are these low carb?" I know a recipe for a low carb treat is a good when the hubby has to ask if they're low carb.

from Cut The Wheat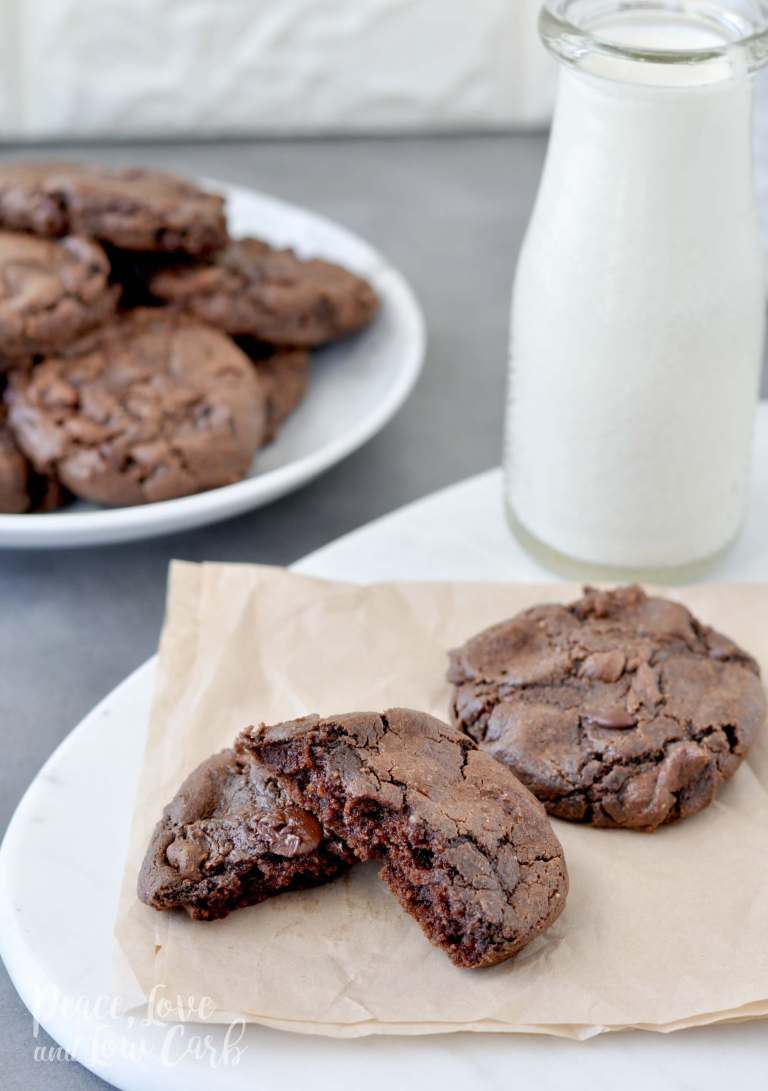 KETO FLOURLESS CHEWY DOUBLE CHOCOLATE CHIP COOKIES

I'm pretty sure these will become your all time favorite low carb cookie. Think low carb brownie meets perfect keto cookie. It's a marriage made in chocolate heaven. Keto Flourless Chewy Double Chocolate Chip Cookies. My favorite thing about flourless low carb cookies is that it takes away the grittiness found in most low carb baked goods. I have no doubt that these will be in heavy rotation.

from peaceloveandlowcarb.com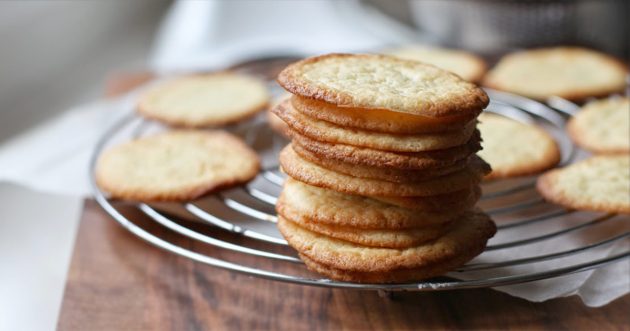 Jello Cheesecake Cookies

Crispy, crunchy almost zero carb cookies. High in healthy fats, full of protein. Chocolate, lemon, raspberry, maple-pecan.

from Low Carbe Diem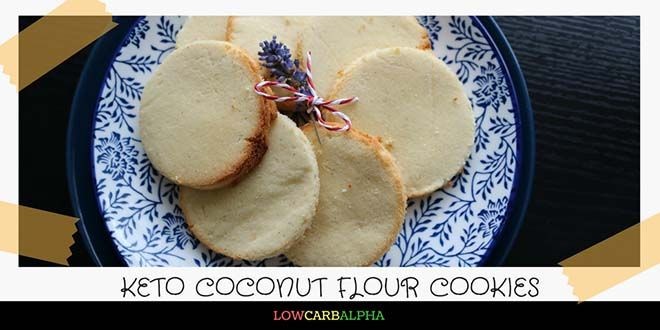 Keto Coconut Flour Cookies

If ready to eat high carb foods are laying around the house, then having ready-made mini keto snacks to munch on is of particular importance. These coconut flour cookies do just the job. I have plenty of keto and protein bars around and tuck in when feeling peckish or just as a treat. Making your own is surely a lot cheaper, and you'll know precisely what you're eating.

from lowcarbalpha.com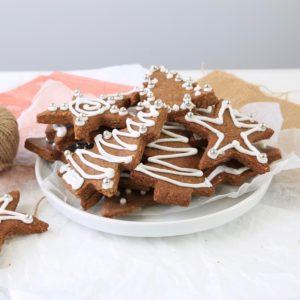 Sugar Free Christmas Cinnamon Spice Cookies

These Sugar free Christmas Cinnamon Spice Cookies are perfect as homemade gift for friends and family, or lovely to serve when you have guests pop over during silly season.

from annaslowcarbkitchen.com.au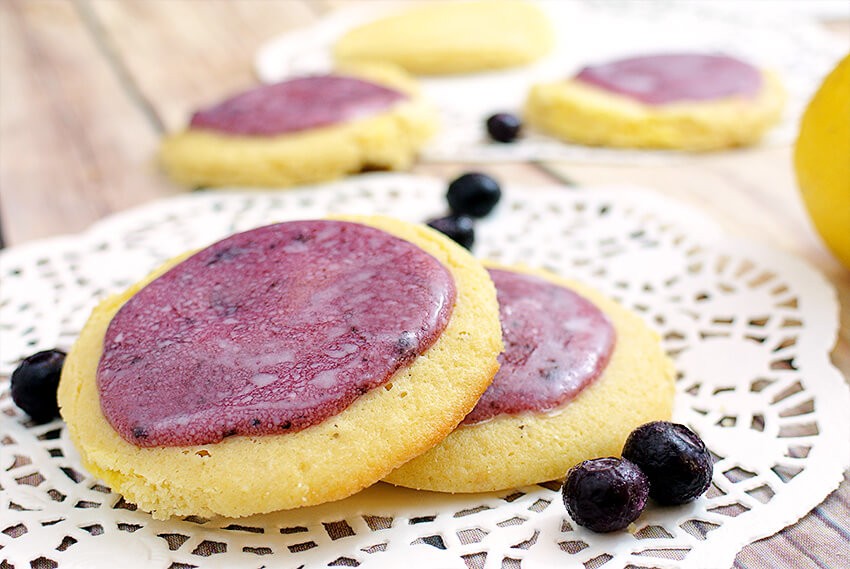 Blueberry Lemon Shortbread Cookies

It took us a few times to get the recipe just right, but we're glad we did because these blueberry lemon shortbread cookies are amazing! They are the perfect combination of sweet, light, crumbly and moist – what else could you ask for in a cookie? We chose to make these shortbread cookies in a basic vanilla flavor and then kicked it up a notch by adding fresh lemon juice that absolutely brought them to life.

from www.tasteaholics.com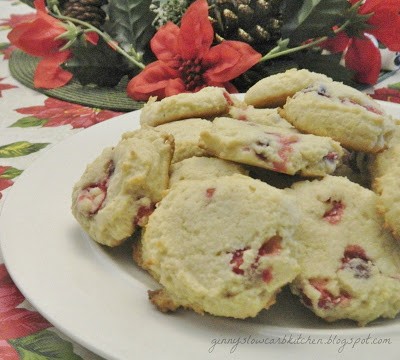 CRANBERRY COOKIES

A nice Christmas cookie, with flavors of vanilla and cranberries, I'm happy with how these turned out. They have a nice texture - just the right chewiness for my liking. Make sure not to overbake. I actually started from my Mint Chocolate Chip Cookie recipe and adjusted it here and there to make cranberry cookies.

from ginnyslowcarbkitchen.blogspot.com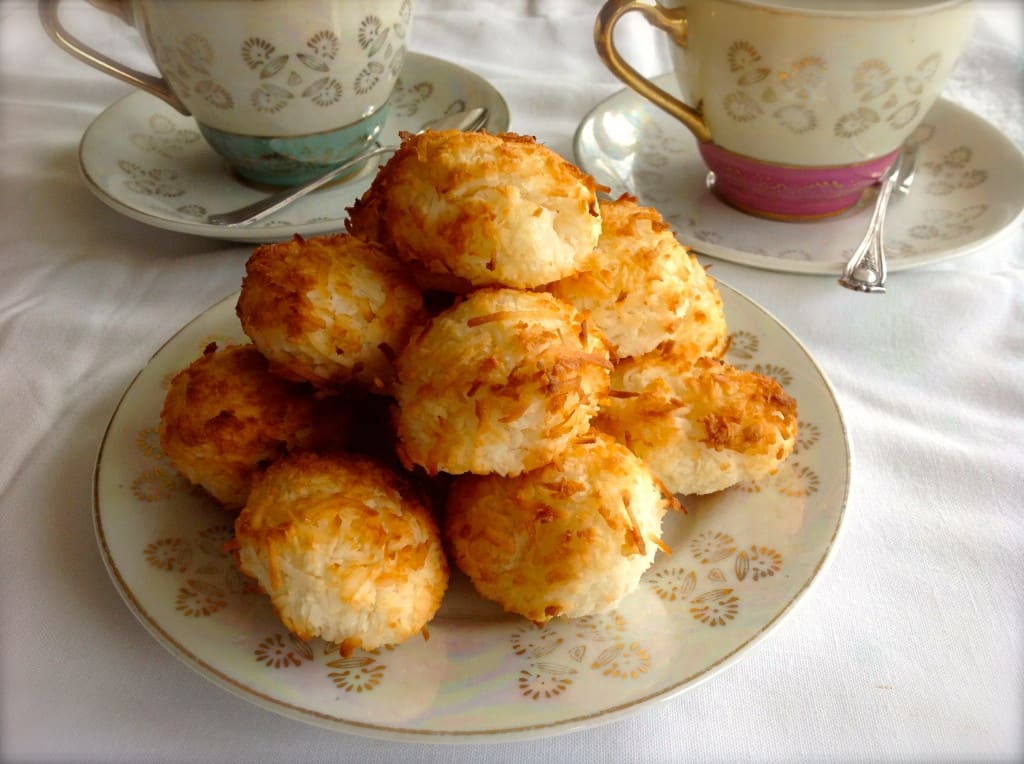 SUGAR FREE MACAROONS

Sugar free macaroons are the perfect way to use up and egg whites you might have left after a recipe. Why not dip these in dark chocolate or even add some orange zest to the mixture before baking?

from www.ditchthecarbs.com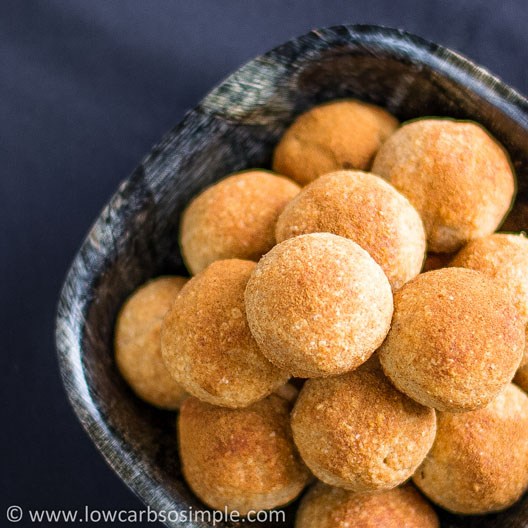 Celestial Cinnamon Bites (Egg-Free)

Soon, when the fall bites, it's time to bite back with these warmth-exuding cinnamon bites. Crunchy outside, chewy inside, cinnamon, vanilla… pure bliss!

from Low Carb, So Simple!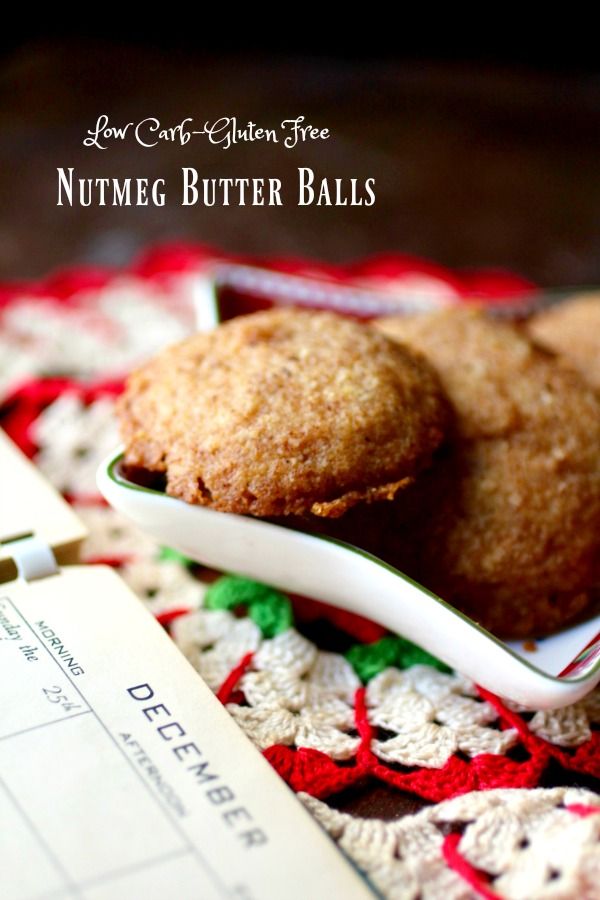 LOW CARB CHRISTMAS COOKIES: NUTMEG BUTTER BALLS

Nutmeg butter balls cookies is an old fashioned, holiday cookie recipe that I've adapted for the low carb lifestyle. Sweet and crumbly, these little low carb Christmas cookies are full of the flavor of the season. Be sure to use freshly grated, whole nutmeg for the best flavor!

from www.lowcarb-ology.com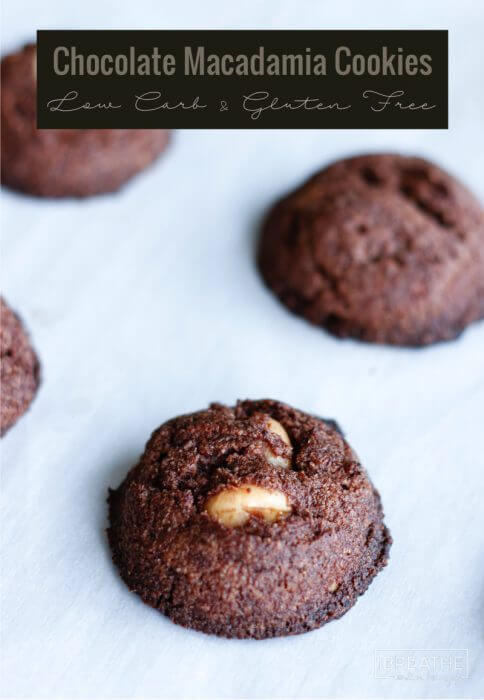 Easy Chocolate Macadamia Nut Cookies

Rich and fudgy, these keto friendly Chocolate Macadamia Nut Cookies will remind you of the crisp and chewy edges of your favorite brownies! One of my favorite low carb cookie recipes so far!

from www.ibreatheimhungry.com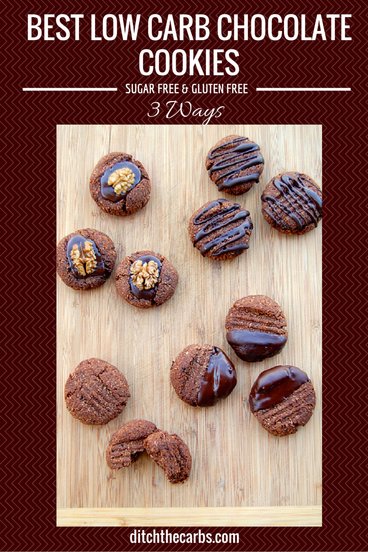 BEST LOW CARB CHOCOLATE COOKIES

These really are the easiest little low carb cookies to make and are just the right size to help satisfy that sweet craving we sometimes have. They have no added sugar, gluten free, and grain free with only 2.7 net carbs. The addition of some 90% dark chocolate really lifts them up and makes them look like a regular biscuit but without the sugar, bad fats and horrendous carbs. And with these little babies, you really can stop at just 1, not watch as the entire batch used to disappear before your eyes.

from www.ditchthecarbs.com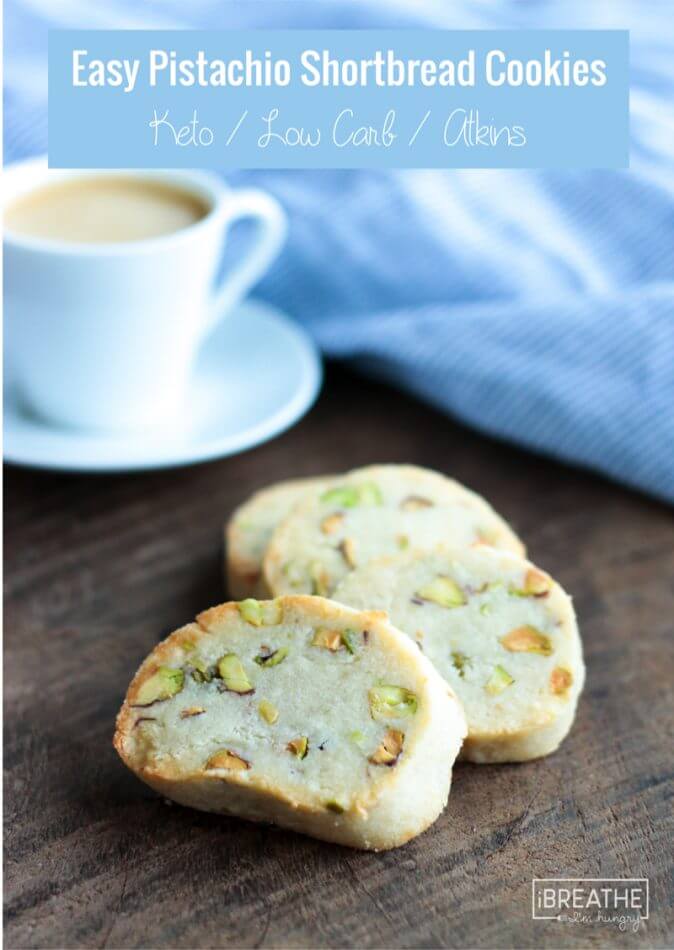 Easy Keto Pistachio Shortbread Cookies

Rich and buttery shortbread, studded with sweet, nutty pistachios, these easy keto Pistachio Shortbread Cookies are coffee's new BFF! Low carb and gluten free too – but nobody has to know these keto shortbread cookies aren't loaded with sugar and carbs! Shhhh…

from www.ibreatheimhungry.com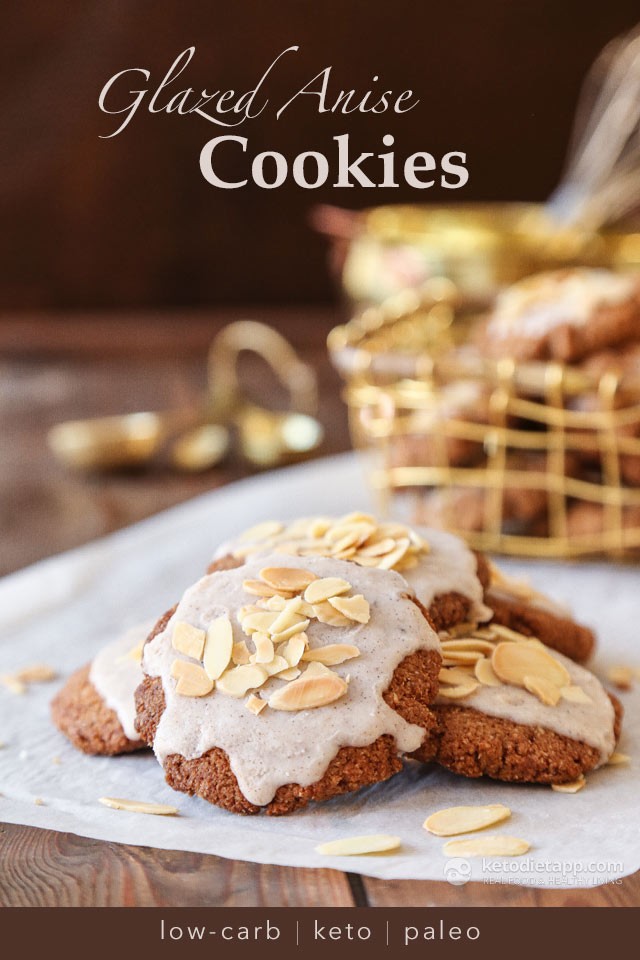 Keto Glazed Anise Holiday Cookies

These keto cookies are inspired by one of my favourite Italian recipes. Traditional Italian anisette cookies are sweet with a distinct flavour and a soft cake-like texture. My low-carb version is slightly sweet, crunchy, and has a pleasant anise flavour that is not overpowering. I also added some ground cinnamon, nutmeg and cloves. Just like most of my keto cookies, they are easy to make and can be prepared months in advance.

from ketodietapp.com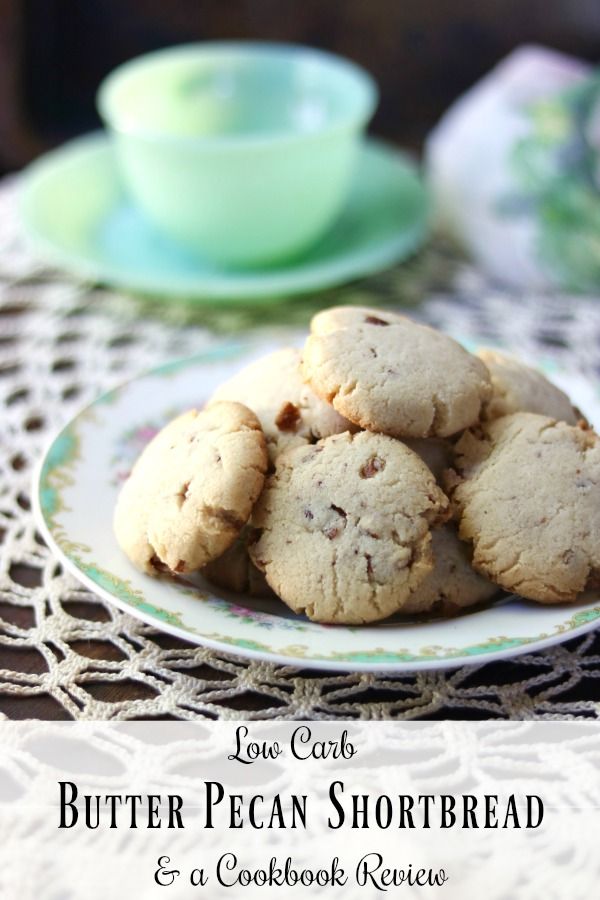 BUTTER PECAN SHORTBREAD COOKIES

These quick and easy pecan shortbread cookies are low carb and gluten free but you'd never know it from the rich, buttery flavor and perfectly crumbly texture! With just 1.1 net carbs for each cookie (2 cookies to a serving) this is a recipe you're going to want to keep handy!

from www.lowcarb-ology.com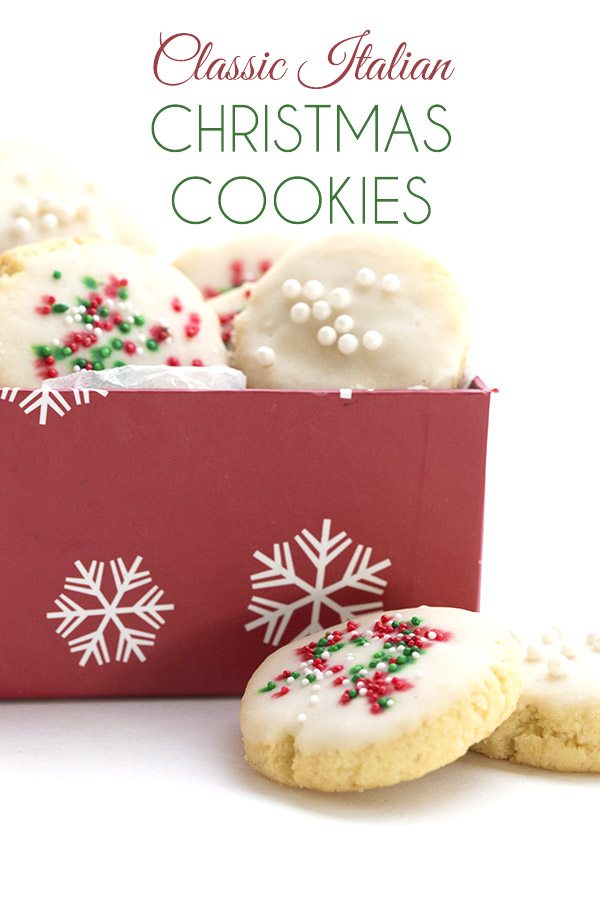 CLASSIC ITALIAN CHRISTMAS COOKIES

It's the holidays and I come bearing gifts! And pretty awesome gifts they are, if I do say so myself. The first are my new favourite Christmas cookies. Yes, yes, I say this about all my cookies because I fall fast and hard for whatever new creation I've just made. But really, these are startlingly good.

from alldayidreamaboutfood.com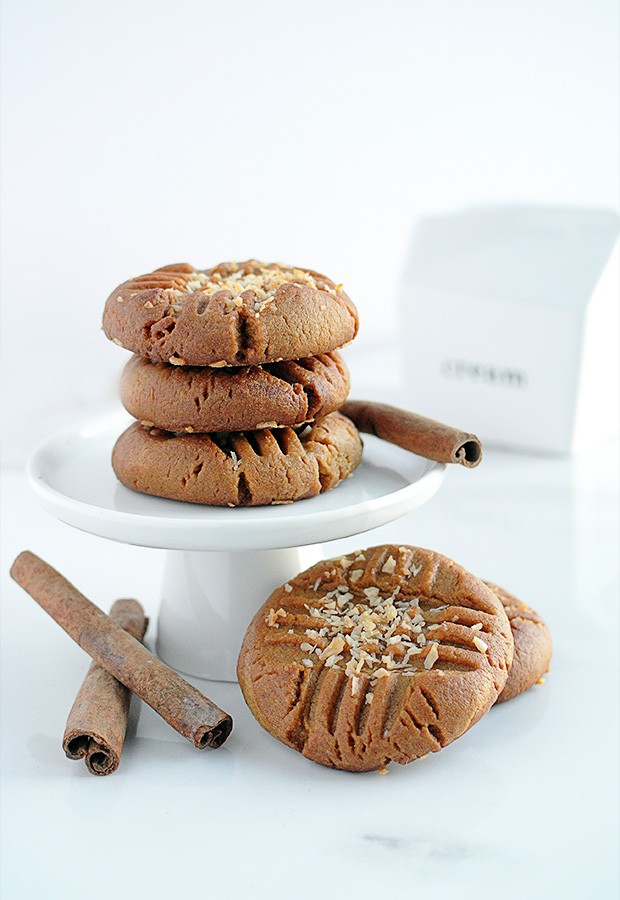 Cinnamon Coconut Peanut Butter Cookies

As with most peanut butter cookies, this recipe is flourless and quite simple. If you've run out of almond flour and are looking for something delicious to satisfy your sweet tooth, look no further! You can go the route of our basic peanut butter cookies, or you can add in some of the ingredients we've included to help perfect the consistency and flavor of this recipe.

from www.tasteaholics.com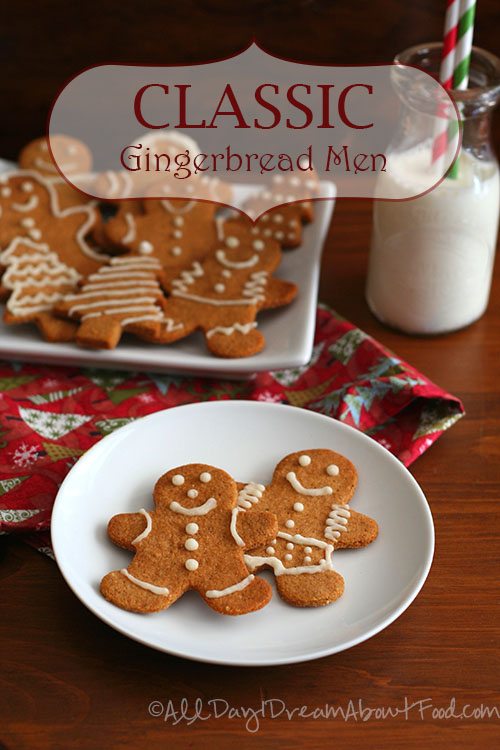 CLASSIC GINGERBREAD MEN

Classic Gingerbread Men cookies made low carb and gluten-free. The perfect keto cookie for decorating with your kids and giving as a healthy holiday gift.

from alldayidreamaboutfood.com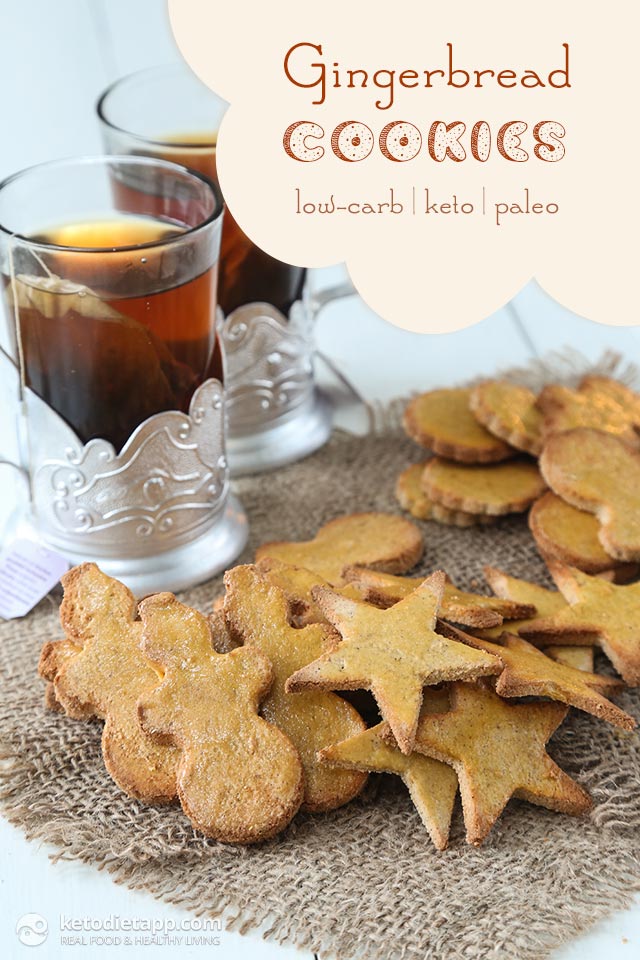 Nut-Free Keto Gingerbread Cookies

Following several requests, I have been working on a gingerbread cookie recipe that is also nut-free. Compared to almond flour, which is the most common ingredient in low-carb cookies, coconut flour has a few advantages. Firstly, it's suitable for those who can't eat nuts. Also, due to it's fat profile (mostly saturated fats), it's heat-stable and perfect for baking.

from ketodietapp.com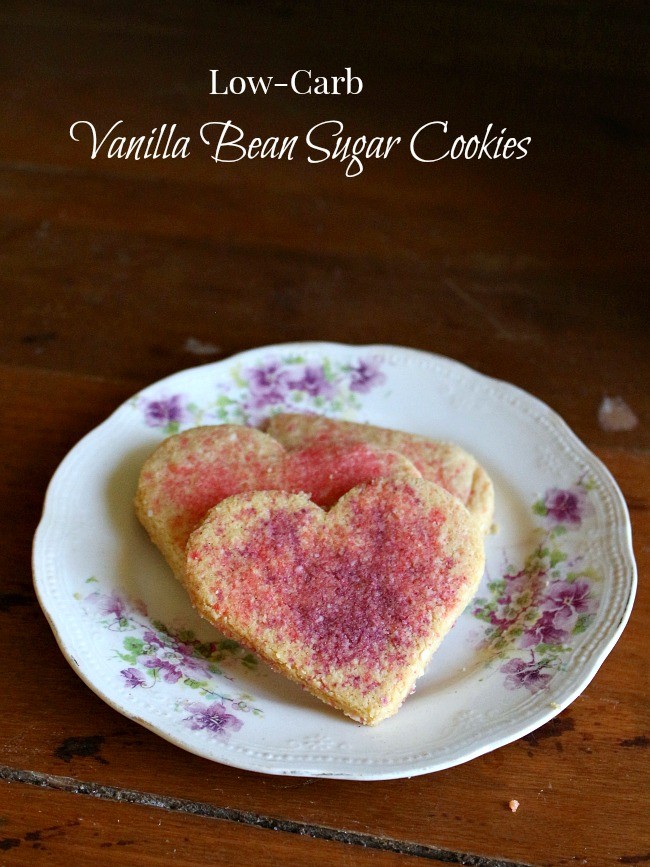 LOW-CARB VANILLA BEAN SUGAR COOKIES

Low-carb vanilla bean sugar cookies are buttery and sweet and they make perfect cut out cookies for any occasion. Plus, learn how to make low-carb colored "sugar".

from www.lowcarb-ology.com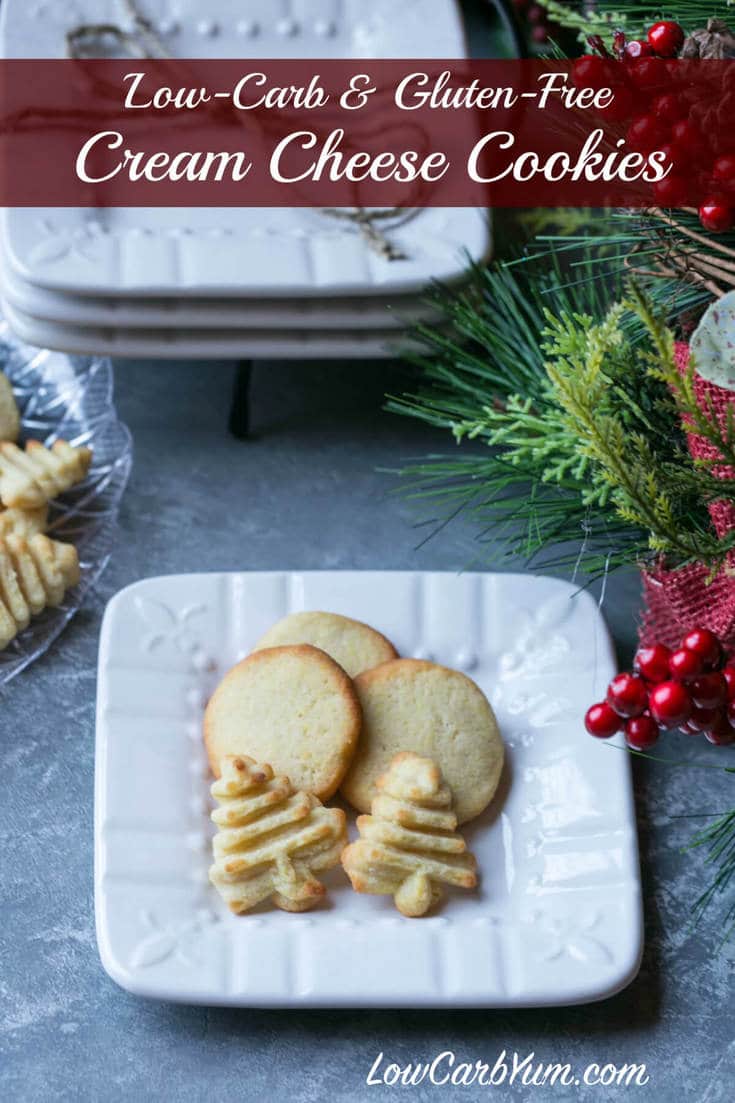 CREAM CHEESE COOKIES

Do you have a regular holiday cookie that you make every year? My family doesn't have one, but I think it's about time we start a tradition with a holiday cookie that is low carb and gluten free. We used to get together with my husband's family and make his grandmother's traditional sugar cookie. It was a really crisp cookie made with regular flour and lard.

from lowcarbyum.com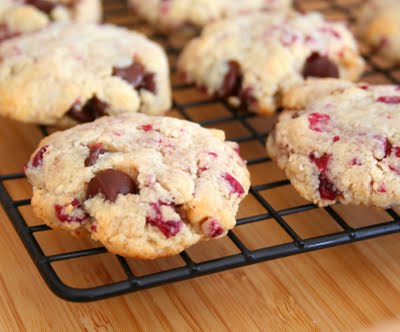 CRANBERRY WALNUT CHOCOLATE CHIP COOKIES

These cookies are phenomonal (or were phenomenal, because they didn't last long). I would be lying if I said they were just like conventional flour-and-sugar chocolate chip cookies. They don't have the same texture at all, and they don't spread and get all crispy/chewy.

from alldayidreamaboutfood.com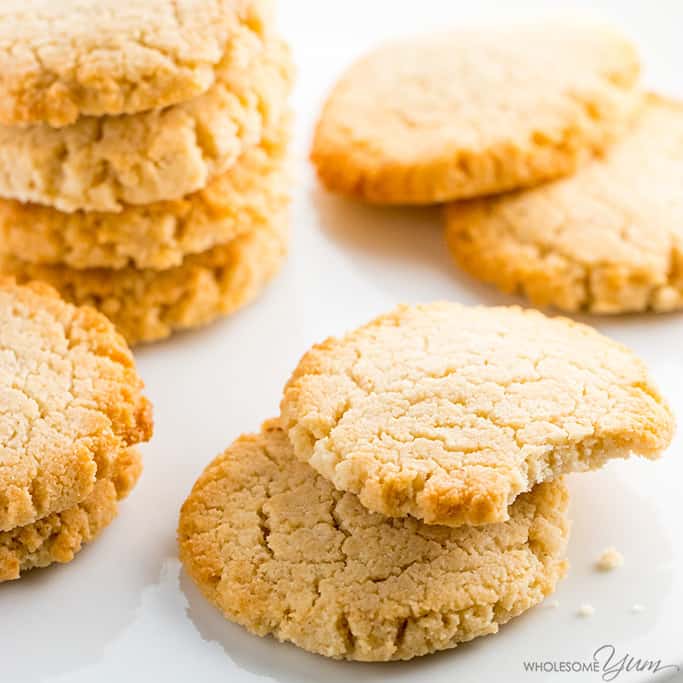 Low Carb Keto Cream Cheese Cookies

Ultimately, if I had to pick just one keto cookies recipe from this week, it would have to be this one. They are quick and easy, and just perfect for dipping in hot tea or even coffee. They also happen to be a classic kind of cookie that people like to make around the holidays!

from www.wholesomeyum.com
Subscribe for a FREE copy of our
4-Week Keto Meal Plan
4 Weeks of Delicious Keto Recipes!
Leftovers and Bulk Preps Included
Maximize Your Keto Diet's Success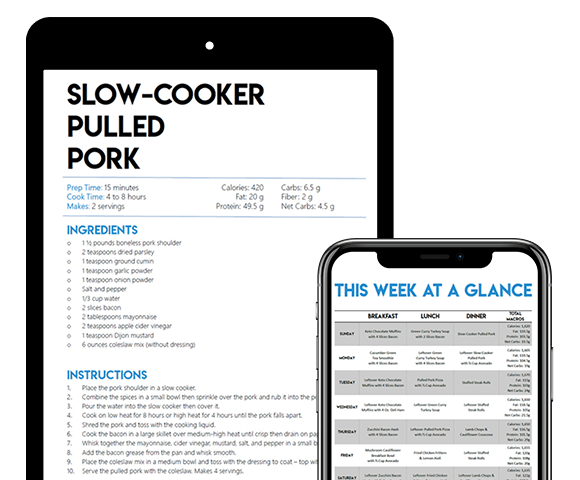 Loved this recipe? Let us know! Something didn't quite turn out right? Ask us in the comments below or contact us– we respond to comments every day and would love to hear from you and help you out! And check out all our low carb desserts to learn to make more delicious and healthy meals!
NUTRITIONAL DISCLAIMER
The content on this website should not be taken as medical advice and you should ALWAYS consult with your doctor before starting any diet or exercise program. We provide nutritional data for our recipes as a courtesy to our readers. We use Total Keto Diet app software to calculate the nutrition and we remove fiber and sugar alcohols, like erythritol, from the total carbohydrate count to get to the net carb count, as they do not affect your blood glucose levels. You should independently calculate nutritional information on your own and not rely on our data. The website or content herein is not intended to cure, prevent, diagnose or treat any disease. This website shall not be liable for adverse reactions or any other outcome resulting from the use of recipes or recommendations on the Website or actions you take as a result. Any action you take is strictly at your own risk.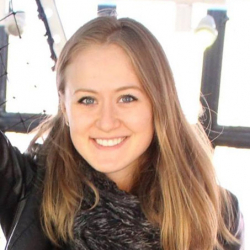 Latest posts by Vicky Abrams
(see all)
Check Out These Roundups: