Eating on Cloud Nine!
Beating egg whites is awesome! They turn from a soppy liquid into stiff, foamy peaks! When we first whisked egg whites, we were skeptical, but the change happened so quick we couldn't believe it. The egg whites make a fluffy cloud-like creation that's simply beautiful and fun to shape. Just for the sake of experiencing this if you haven't, you should make this recipe and let your inner kid out :).
In addition to the egg whites, which brown on the outside but stay just as fluffy inside after baking, we weaved bacon as the base for additional flavor, fat and protein. These are usually made with a slice of bread underneath, but who needs those extra carbs when you have bacon?!
Whip up these egg clouds for friends or family for brunch and they'll be blown away by just how unique and beautiful the dish is!
Subscribe for a FREE copy of our
14-Day Keto Meal Plan
2 Full Weeks of Delicious Recipes!
Leftovers and Bulk Preps Included
Maximize Your Keto Diet's Success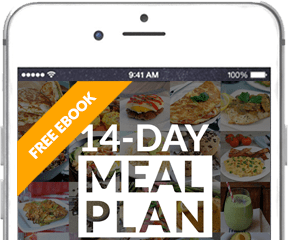 Here's how to make them: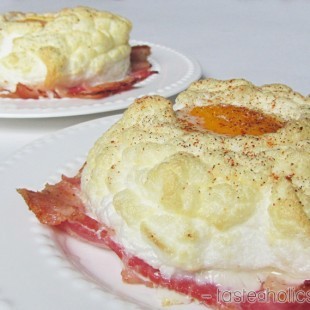 Egg Clouds
Macros per cloud & bacon:
• 172 Calories
• 12g of Fat
• 14g of Protein
• 0g of Carbs

Egg Clouds

Macros per cloud & bacon:
• 172 Calories
• 12g of Fat
• 14g of Protein
• 0g of Carbs

Preheat your oven to 350 F.

First, take 3 strips of bacon per cloud you're preparing and fold them in half lengthwise. Cut along the fold to ensure both halves are the same length for a perfect square bed.

Lay 3 half length strips of bacon parallel to each other on a baking sheet and fold the middle strip over.

Place a strip perpendicular to the 3 and fold back over. Take the two outer strips and fold over.

Place another strip of bacon in the center perpendicularly. Flip the middle strip over on the weave.

Lastly, place the final strip and fold back over! Do this as many times as you will be making egg clouds. If you like your bacon crispy, make sure to prebake the strips for about 5 minutes before adding the egg whites.

Next, separate 2 eggs and save the yolks in a bowl. Be gentle and do not break the yolks. It'll look better if the yolks are intact. Place the egg whites in a deep mixing bowl so that no egg splashes out as you're beating.

Whisk the egg whites with an electric hand mixer for about 5 minutes. You will notice the egg white transform into a thick, white foam that's more solid than liquid. This stage is commonly referred to as "stiff peaks" forming in the mixture.

It's at this point you want to add salt and garlic powder and whisk it in. If you added it earlier, the eggs would have taken much longer to form their cloudiness.

Spoon your seasoned egg whites onto the bacon weave to create a little cloud. Then make a little dip in each cloud to house the egg yolk that you will gently drop in.

Season the tops of the clouds with cayenne or paprika and pepper.

Place in the oven for about 10 minutes or until your bacon is sizzling and the clouds have become golden.

Plate them and sprinkle with some coarse salt and dig in!
We provide nutritional information for our recipes as a courtesy to our readers. The data is calculated using the MyFitnessPal app. We remove fiber and sugar alcohols, including erythritol, from the final carbohydrate count since they do not affect blood glucose levels in most individuals. We try to be as accurate as possible but we encourage you to calculate nutritional information on your own.
Loved this recipe? Let us know! Something didn't quite turn out right? Ask us in the comments below or contact us– we respond to comments every day and would love to hear from you and help you out! And check out all our keto recipes to learn to make more delicious and healthy meals!
Have You Tried These Delicious Recipes?
LOW CARB
WEEKLY
MEAL PLANS
delivered straight to your inbox!
Easy & Delicious Low Carb Recipes
Shopping Lists
All Macros Calculated
Leftovers & Keto Snack Ideas
Missing anything? Get it on
Disclosure of Material Connection: The products above are linking to Amazon as "affiliate links" because we're affiliates! When you click on a product, it'll take you to its Amazon page where the price stays the same for you and Amazon pays us a small percentage. This helps us continue to provide quality recipes and pay for operating costs.