You Gotta Love Eggs Benedict!
Low carb style! Eggs are one of the most versatile foods on Earth! Fried, poached, boiled, emulsified, beaten, whipped, baked, separated, souffled or eaten raw- eggs are a must! They're full of fat and protein, with very little carbs, which makes them perfect for anyone on a ketogenic diet. The average large egg contains 5g of fat, 7g of protein and about 0.4g of carbs. Most nutrition labels round down on the carb count as it's minimal, but it's good to note. They are also good sources of choline and lutein, both important nutrients for brain and eye health.
When buying eggs, it's important to know where they're coming from (as much as you can infer from the package). Egg cartons these days are full of labels and certifications claiming their chickens are well taken care of. Some of those claims are simple marketing tactics and mean nothing; it's important to recognize them. Learn how to know where your eggs are coming from in our Egg Label Guide!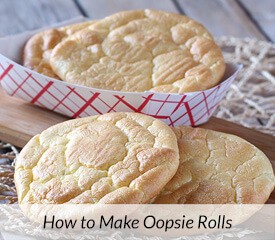 And if you don't have any oopsie rolls on hand, here's the recipe! You can make a big batch of them and used them for savory and even sweet dishes. They're a keto staple!
Subscribe for a FREE copy of our
4-Week Keto Meal Plan
4 Weeks of Delicious Keto Recipes!
Leftovers and Bulk Preps Included
Maximize Your Keto Diet's Success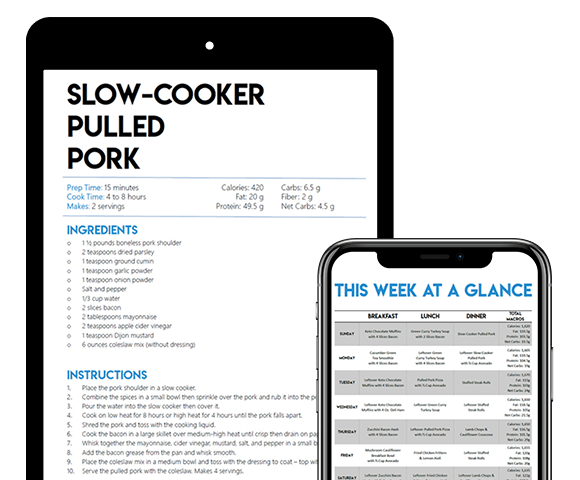 Once you've got a dozen eggs that came from a good source, you're ready to make some delicious and healthy low carb Eggs Benedict. If you're on an Egg Fast, this recipe is perfect! Perhaps the Canadian bacon doesn't follow the rules entirely, but that can easily be omitted.
Enjoy!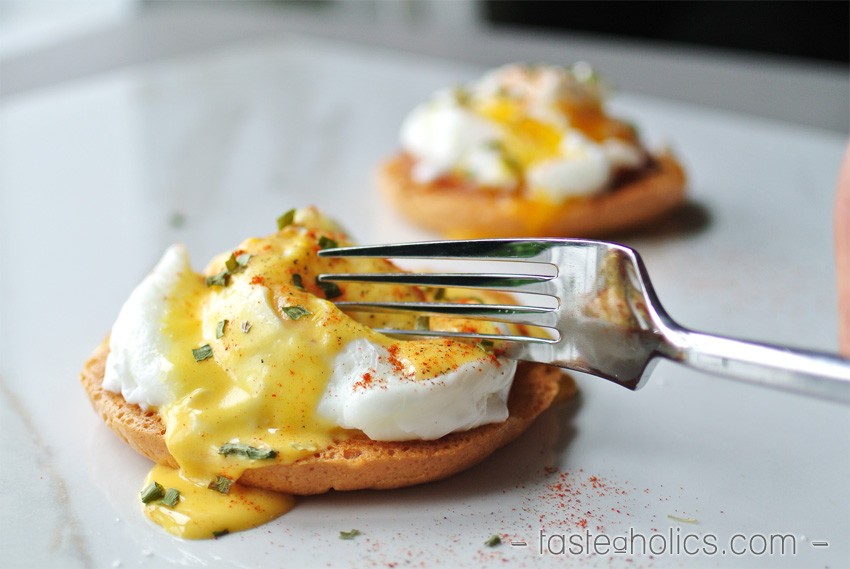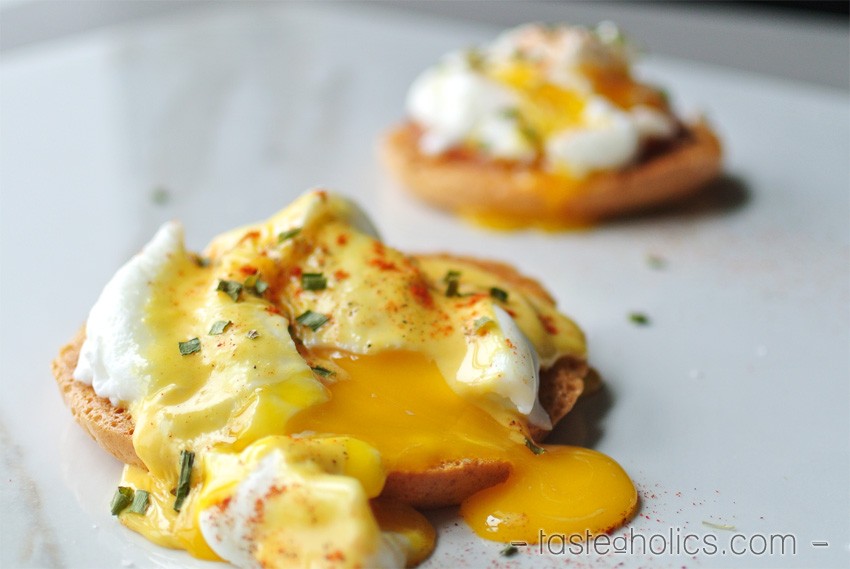 Start off making a quick hollandaise sauce. Separate 2 eggs and whisk the yolks in a glass bowl until they've doubled in volume. Add a squish of lemon juice.

Set a pot of water to boil. You need only about an inch of water set to simmer.

Begin melting some butter to later add to the sauce to emulsify.

Using a double boiler (or the glass bowl set on top of the simmering water) start to whisk the lemony egg yolks rapidly. You will see they will become thicker the more you whisk and gently heat.

Pour in the melted butter slowly all while still whisking, Be careful not to heat so much the eggs begin to cook too quick and turn into scrambled eggs!

The hollandaise sauce should be thick enough to coat the back of a spoon when lifted out.

When the hollandaise sauce is done, take it away from the heat and leave aside. Season with salt and paprika. If it cools and thickens too much, simply add a teaspoon of water and whisk to make it spoonable again.

Onto the eggs! To poach your eggs, set a pot of water to boil. About 3 inches of water here.

Once the water comes to a boil, reduce it to simmer and add some salt and a tablespoon on white vinegar.

Create a whirlpool in the water with a wooden spoon by stirring around a few times in one direction.

Crack an egg into a teacup and gently lower into the whirlpool you've created. Don't drop the egg in, rather lower the cup into the water and let it out.

Let the egg cook for about 2-4 minutes. You want these eggs to be pretty runny.

Lift the egg gently with a spatula and let it rest on a paper towel lined plate. Do the same with the rest of the eggs.

Fry up the Canadian bacon if you'd like. We like it a little crispy and warm.

Top 4 oopsie rolls with the Canadian bacon and gently place a poached egg onto each slice of bacon.

Spoon about a tablespoon of hollandaise sauce onto each poached eggs and top with some salt and pepper and chopped chives. Enjoy right away!
Tasteaholics, Inc. is a participant in the Amazon Services LLC Associates Program, an affiliate advertising program designed to provide a means for sites to earn advertising fees by advertising and linking to Amazon.com.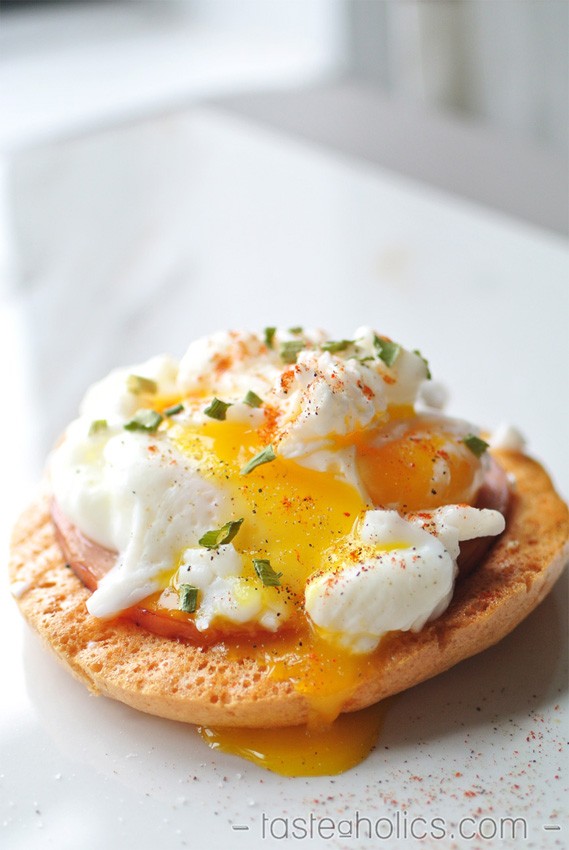 Loved this recipe? Let us know! Something didn't quite turn out right? Ask us in the comments below or contact us– we respond to comments every day and would love to hear from you and help you out! And check out all our keto recipes to learn to make more delicious and healthy meals!
NUTRITIONAL DISCLAIMER
The content on this website should not be taken as medical advice and you should ALWAYS consult with your doctor before starting any diet or exercise program. We provide nutritional data for our recipes as a courtesy to our readers. We use Total Keto Diet app software to calculate the nutrition and we remove fiber and sugar alcohols, like erythritol, from the total carbohydrate count to get to the net carb count, as they do not affect your blood glucose levels. You should independently calculate nutritional information on your own and not rely on our data. The website or content herein is not intended to cure, prevent, diagnose or treat any disease. This website shall not be liable for adverse reactions or any other outcome resulting from the use of recipes or recommendations on the Website or actions you take as a result. Any action you take is strictly at your own risk.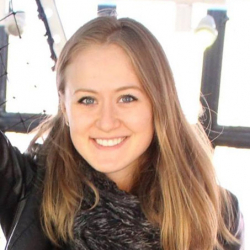 Latest posts by Vicky Abrams
(see all)
Have You Tried These Delicious Recipes?