Snackpot!
One of the most difficult things to do when starting a low carb diet is finding good products! A trip to your grocery store can be frustrating as you start to pay attention to nutrition labels. Even the most inconspicuous of deli meats can be packed with added sugar! Everything seems to be claiming its health benefits through its lack of fat or gluten. Not what we care about. Show us the low carbs goodies!
Fortunately for us, there's a great team that is working hard to get low carb products into the spotlight. In fact, they're delivering these products right to your door!
Enter Keto Krate!
Keto Krate is a subscription service that sends a box of low carb products to your door every month! And we're not talking samples here- we're talking full-sized food, people. Each month, you get 6-8 unique, new products delivered right to your door. You can cancel at any time, by the way.
Subscribe for a FREE copy of our
4-Week Keto Meal Plan
4 Weeks of Delicious Keto Recipes!
Leftovers and Bulk Preps Included
Maximize Your Keto Diet's Success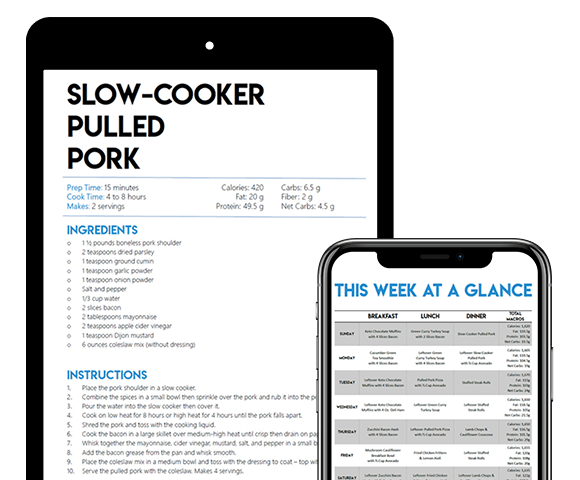 They've got 2 rules we love: each product is low carb and no maltitol!
From a previous post:

"A sugar alcohol that's gotten a bad rep for causing digestive issues is maltitol, found in many Atkins and popular sugar-free treats. Maltitol has a high glycemic index (GI), despite being a sugar alcohol, and many have reported stomach discomfort."
Maltitol is hard to avoid. Many widely available sugar-free snacks are mostly made of maltitol. It's commonly the very first ingredient and causes some pretty bad… laxative effects. Better to avoid it completely. A huge thanks to Keto Krate for providing snacks with quality ingredients. The more we refuse to purchase products with maltitol, the faster manufacturers will get the message!
Check out some of the awesome products Keto Krate has been sending all their loyal customers!
The guys were kind enough to send us our very own Keto Krate so we could see what keto treats they have in store.
Have you been eyeing Keto Krate but haven't given it a chance? Use the code "

TASTEAHOLICS

" at checkout to get $10 off your first box! Try it out and see what you've been missing!
Here's What We Got!
1. Grandpa's Beef Jerky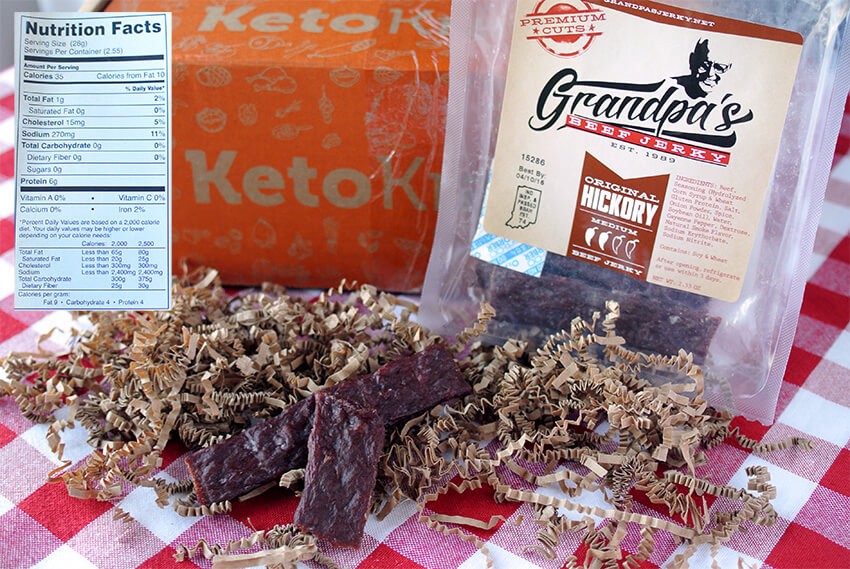 Jerky was always an indulgence and a Godsend on long drives. Stop at a gas station, get some jerky, eat jerky for 15 minutes, jaw stops working. Since going low carb, most jerkies have been off the table due to the amount of sugar in them. We were pleasantly surprised to find a hickory smoked beef jerky in the Keto Krate. It had a solid, traditional jerky flavor that you'll thoroughly enjoy. A great snack option!
2. Chef's Cut Real Buffalo Chicken Jerky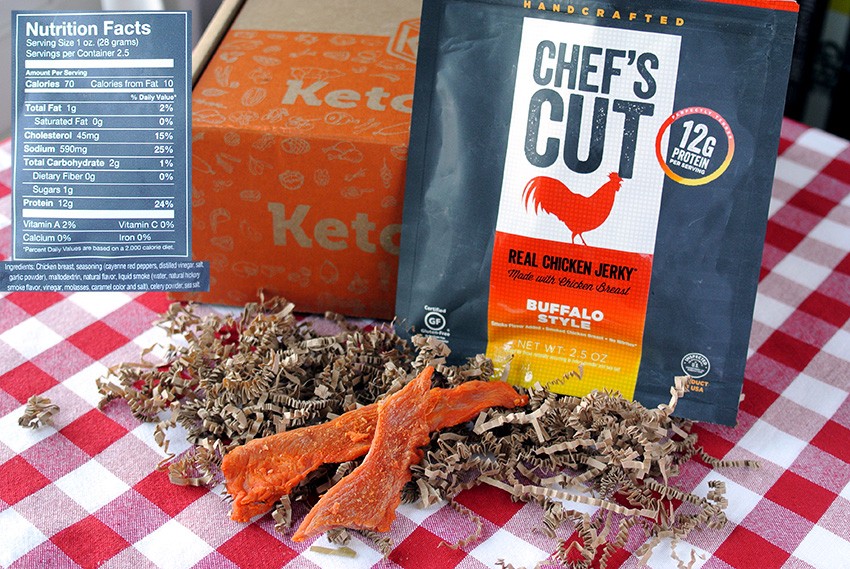 We love buffalo wings so when we saw this package, we crossed our fingers in hopes of a great buffalo jerky. Oh boy, did Chef's Cut deliver! This jerky is a total success! When you're eating it, you almost think you're biting into a buffalo wing. The jerky was not overly dry (probably due to the sauce) and quite meaty. Each piece was a delight to eat. 10/10 would eat again.
3. Krunchy Melts Strawberry Meringues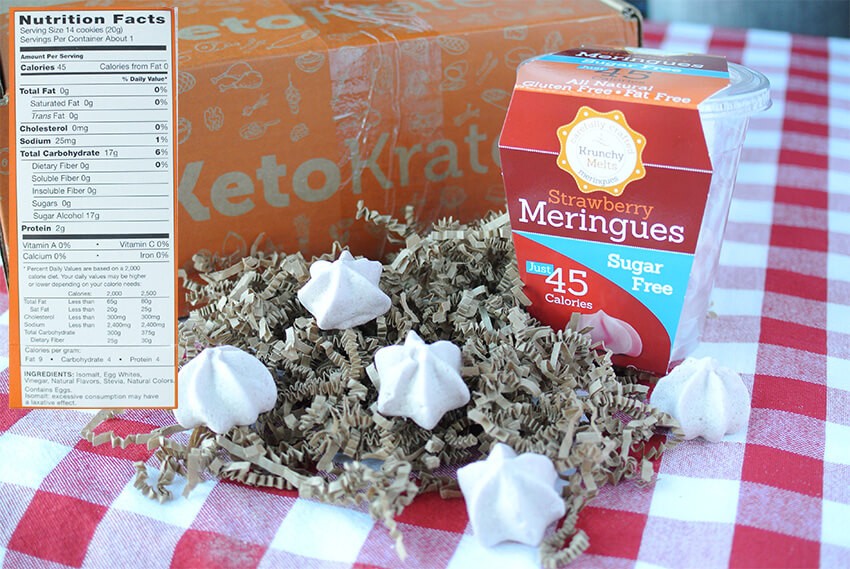 These little babies were heavenly. The entire package is 0 carbs and a measly 45 calories! The texture of these little cookies is similar to a meringue cookie, light as a feather and crumbly. What we loved about these were the lingering sweetness and gooey finish. We got these in strawberry, but they're available in lots of different flavors! We'll definitely be repurchasing these online. Hopefully we see these in stores around us sometime soon!
4. Chocoperfection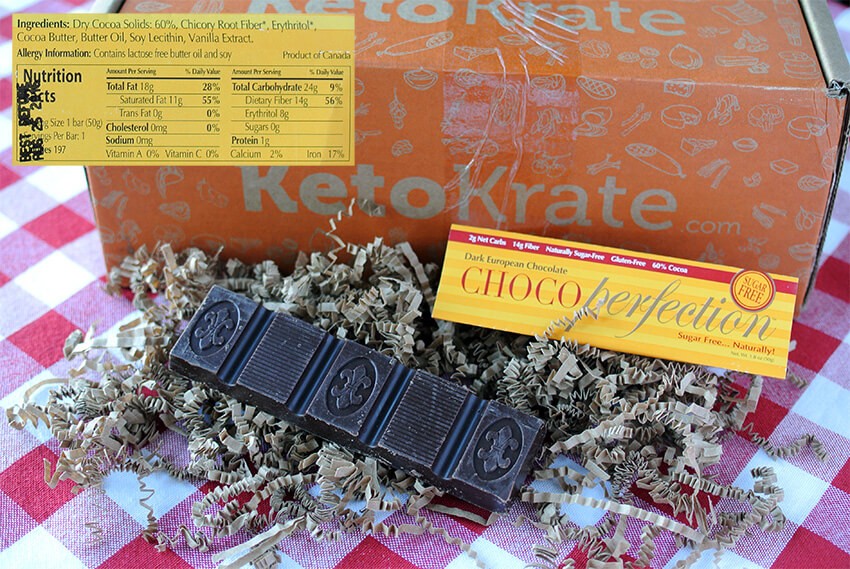 One of the most popular sugar-free chocolate bars out there is none other than Chocoperfection! We've been waiting to try these bars for quite some time now. This is gourmet European chocolate sweetened with trusted erythritol and stevia to create a light, velvety chocolate bar that's perfect for us keto-ers. We got a dark chocolate Chocoperfection bar which sits at just 2 net carbs. Yes!
5. Keto Bars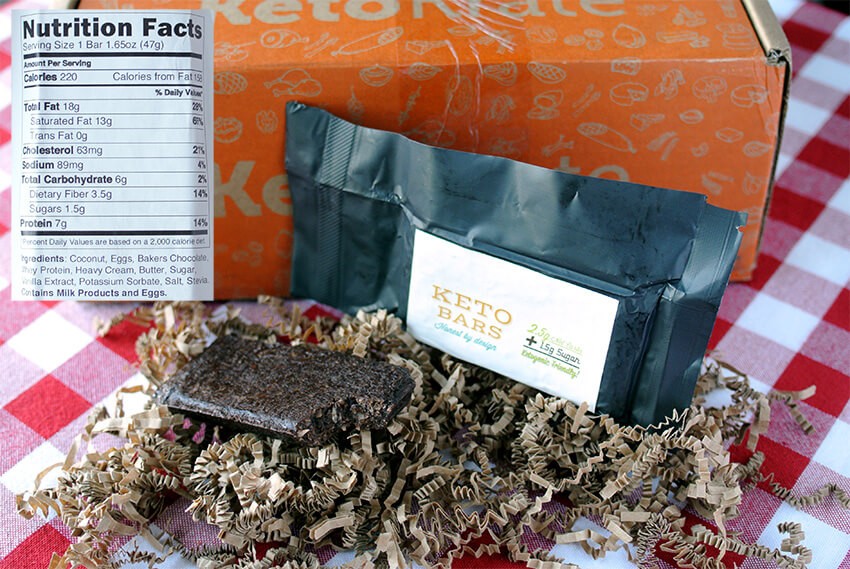 These guys really know how to pick products! Included in our Keto Krate was a Keto Bar! It tasted like a chocolate coconut dream. And at 2.5 net carbs, we could eat these all day. They're full of fats, protein and quality ingredients. (Psst! They also have low carb shake mixes… maybe Keto Krate will throw some of those in one month!)
6. Sarayo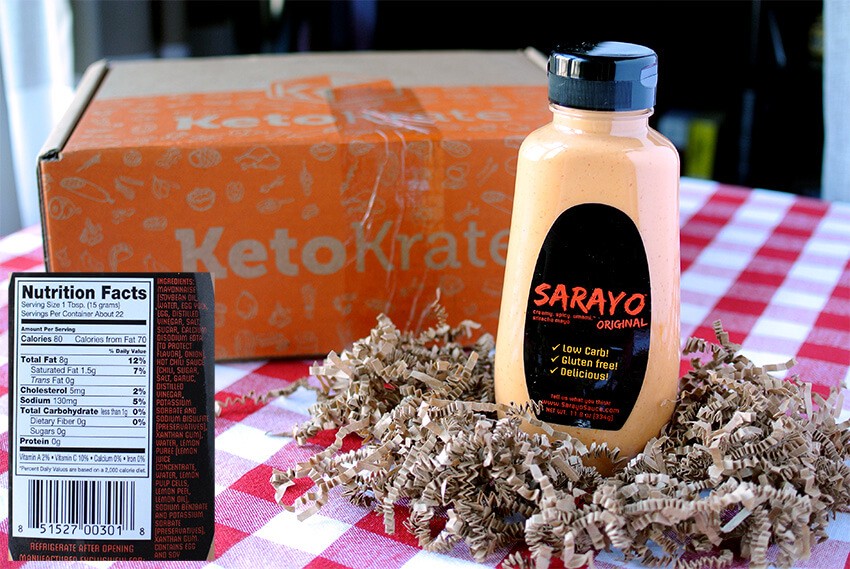 If you've eaten sushi, then you've most likely had this a thousand times: spicy mayo! Now you can enjoy it at home with Sarayo. It's made from similar ingredients found in sriracha and mayo and has a flavor that you'll want to use with just about everything. The best part is Sarayo is extremely low carb so you can use it gratuitously. If you love spicy mayo, this is the product for you! We're running dangerously low on Sarayo and we've only have it for a few days. Time to restock!
7. Pork Clouds – Fried Pork Skins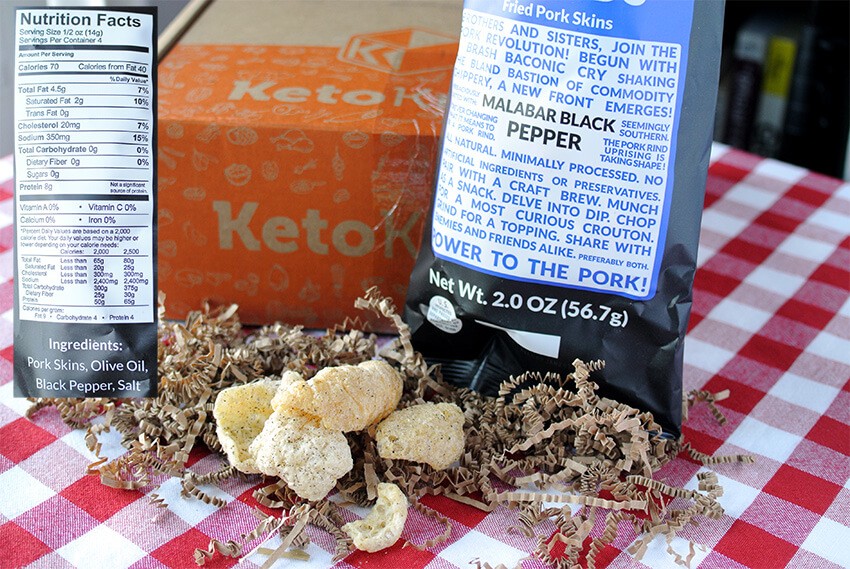 We all know and love pork rinds. They're versatile, low carb and absolutely addictive. Our favorite way to use them is in the form of breading! Just crush them up and press onto chicken breast to create an easy, Low Carb Chicken Parmesan. Keto Krate included Pork Clouds' yummy Malabar Black Pepper Pork Rinds in this month's box. The packaging was hilariously passionate about pork (as are we!) They tasted great, salty with a slight heat from the black pepper. Best of all, no hard bits you usually come across in some grocery brand bags. Each pork rind was light, fluffy, crunchy yet crumbly. Perfect pork rinds!
8. Flax Crackers (aka Flackers!)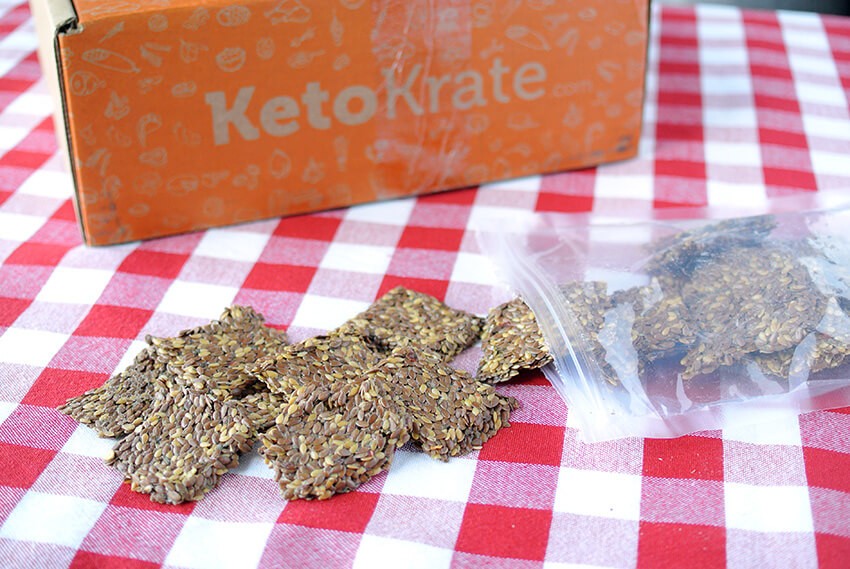 Keto-friendly crackers! Hard to find crackers we can eat on a low carb diet so we were very excited to get these in the Keto Krate. They're hearty and crunchy and have some added spices to give them a unique flavor. Each one was low carb and full of fat and Omega 3's. Great with spicy hummus, cream cheese, and other spreads!
Our Verdict
Their service is unique and convenient because it saves tons of time on researching products and separately purchasing each one. The box comes right to your door once a month and has a lot of different low carb foods waiting to be discovered. You're bound to fall in love with something new and delicious with each box.
You can enjoy these and many more products every month by signing up to Keto Krate on their website.
Have you been eyeing Keto Krate but haven't given it a chance? Use the code "

TASTEAHOLICS

" at checkout to get $10 off your first box! Try it out and see what you've been missing!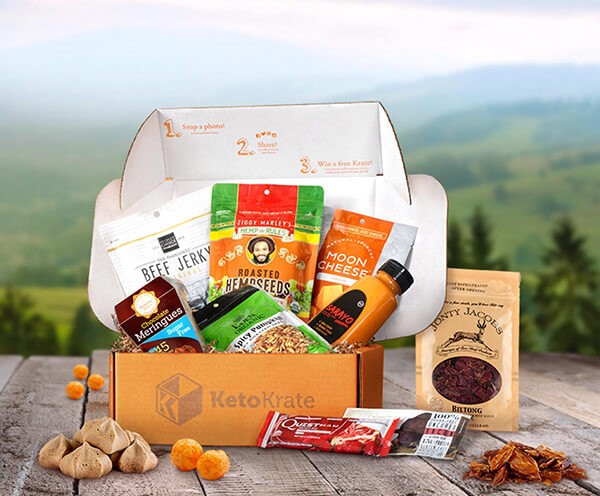 Thank you Keto Krate!
Disclosure: Keto Krate was kind enough to send the products mentioned above in the hope that we would enjoy them and share it with you all on Tasteaholics.com. All opinions are our own and we only recommend products we use personally and believe will be a good fit for our readers.
NUTRITIONAL DISCLAIMER
The content on this website should not be taken as medical advice and you should ALWAYS consult with your doctor before starting any diet or exercise program. We provide nutritional data for our recipes as a courtesy to our readers. We use Total Keto Diet app software to calculate the nutrition and we remove fiber and sugar alcohols, like erythritol, from the total carbohydrate count to get to the net carb count, as they do not affect your blood glucose levels. You should independently calculate nutritional information on your own and not rely on our data. The website or content herein is not intended to cure, prevent, diagnose or treat any disease. This website shall not be liable for adverse reactions or any other outcome resulting from the use of recipes or recommendations on the Website or actions you take as a result. Any action you take is strictly at your own risk.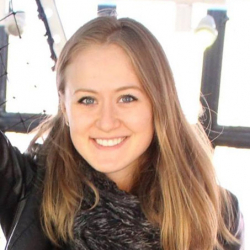 Latest posts by Vicky Abrams
(see all)
Check Out More Product Reviews: