Do You Have Your Keto Basics?
Ketone Test Strips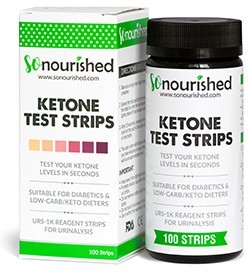 Want to know if you're in ketosis? Use a ketone strip!
Digital Food Scale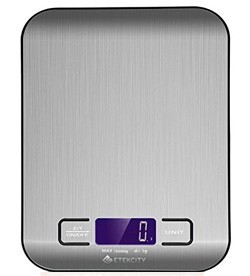 Track what you eat and lose weight faster!
Erythritol Sweetener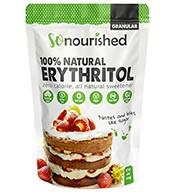 Cooks & bakes just like sugar! All the good without the bad.
The Secret's in the Breading!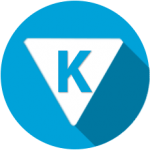 Everyone loves Chicken Parmesan! Whether it's on a sub or on a plate of spaghetti, it's delicious in every way! Unfortunately for us keto-ers, an order or chicken parm from our local pizzeria or Italian restaurant usually means trouble. From the sub or spaghetti, to the breading and even the tomato sauce, you'll find carbs all over this dish.
The hidden carbs in the breading and tomato sauce are what we need to watch out for. Tomatoes are fruits that are high in sugar (not as high as, say, bananas, but nevertheless high). Their sauces are often full of added sugar as well, sometimes upwards of 10 grams of carbs per 1/4 cup, depending on the brand. Ketchup alone is usually cut out of a low carb diet because of all the sugar that it can add to meals. A tablespoon of ketchup alone has 5 grams of carbs!
We love using Rao's Homemade Marinara Sauce in most of our Italian/pizza/tomato sauce dishes. It's low in sugar, has real, pronounceable ingredients and tastes great. It is on the expensive side, but we've found it more affordable to buy in bulk at BJ's!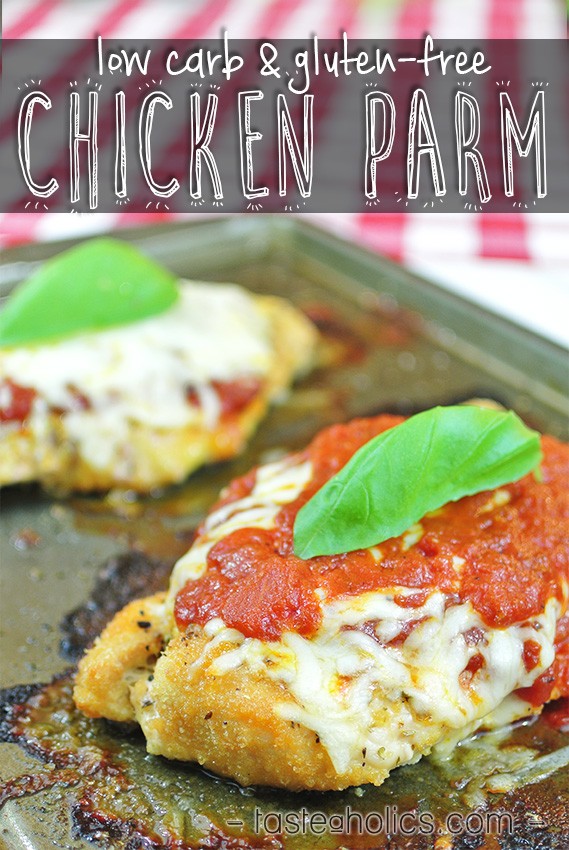 Subscribe for a FREE copy of our
14-Day Keto Meal Plan
2 Full Weeks of Delicious Recipes!
Leftovers and Bulk Preps Included
Maximize Your Keto Diet's Success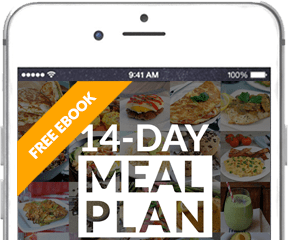 The Secret to the Breading
Now onto the breading! Traditional chicken parm is covered in a crispy outer breading. This alone can add 20-30 grams of carbs to your day, and that's not including the pasta or bread that may come with it! We've got a way to fix that 🙂
We've experimented in the past with ways of breading chicken and fish to add a bit of different texture to it. We've used almond flour, coconut flour, Parmesan cheese and other forms of "crumbs" to achieve the texture of traditional breading. They were all close but had their downfalls. For example, almond flour peeled right off our baked chicken time and time again.
Enter: pork rinds.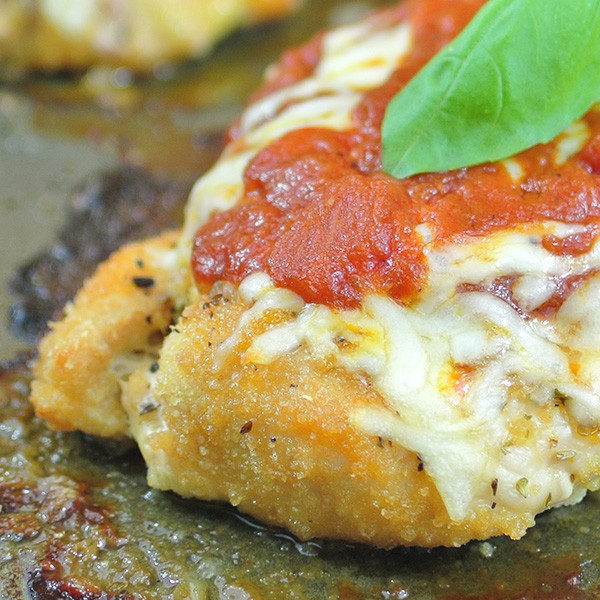 Crushed up pork rinds make for an amazing breading! They add the much needed crunch and texture we were looking for! We figured about a 1/2 oz of pork rinds per chicken breast as well as a tablespoon of Parmesan cheese crushed up in a NutriBullet would work well. And it did!
Our "breading" baked up into a lovely, crispy, golden brown crust and stayed put- we were able to cut the chicken breast as any normal breading would allow. It could've fooled anyone!
Make this even more authentic by cooking up some spaghetti squash to go with your low carb chicken parmesan!
Crush up pork rinds and Parmesan cheese in a food processor or Magic Bullet. Pour out your "breading" into a shallow dish for later. Don't blend for too long, the mixture will become wet, you want it coarsely crumbed/ground.

Lay some cling wrap over the chicken breasts (to avoid splatter) and pound them until they are an even 1/2 inch.

This is to ensure the chicken is cooked evenly, without the edges being too dry and the middles being under-cooked.

Beat an egg in a bowl and set it next to the "breading". Submerge one chicken breast at a time into the egg wash.

Then press it firmly onto the breading dish, covering all sides well.

Place the chicken breasts onto an oiled baking sheet and season the tops with salt, pepper, oregano and garlic powder.

Bake in the oven for about 25 minutes. You should see a golden brown crust forming.

Take the chicken breasts out of the oven and pour marinara sauce over each one.

Top with a sprinkling of mozzarella cheese and place back in the oven for 15 more minutes so that the chicken finishes cooking and the cheese melts nicely.

Once time's up, serve immediately with some spaghetti squash, zoodles or a bed of spinach! Enjoy!
We provide nutritional information for our recipes as a courtesy to our readers. The data is calculated using the MyFitnessPal app. We remove fiber and sugar alcohols, including erythritol, from the final carbohydrate count since they do not affect blood glucose levels in most individuals. We try to be as accurate as possible but we encourage you to calculate nutritional information on your own.
Loved this recipe? Let us know! Something didn't quite turn out right? Ask us in the comments below or contact us– we respond to comments every day and would love to hear from you and help you out! And check out all our low carb dinner recipes to learn to make more delicious and healthy meals!
Have You Tried These Delicious Recipes?
LOW CARB
WEEKLY
MEAL PLANS
delivered straight to your inbox!
Easy & Delicious Low Carb Recipes
Shopping Lists
All Macros Calculated
Leftovers & Keto Snack Ideas
Disclosure of Material Connection: The products above are linking to Amazon as "affiliate links" because we're affiliates! When you click on a product, it'll take you to its Amazon page where the price stays the same for you and Amazon pays us a small percentage. This helps us continue to provide quality recipes and pay for operating costs.
This recipe was made with love by our amazing readers!