Sugar & Sugar Alcohol-Free!
We like to take long, leisurely strolls down the candy aisle in the supermarket and gaze at all the candy we can't have. Until we get to the Lindt section and grab a variety of 80-90% dark chocolate bars to squirrel away for later use. We're always missing the convenience of being able to carry any old snack in your bag ready to kill a hunger strike. Lindt makes some adorable, individually packaged squares of chocolate we're always on the hunt for. They're not sugar-free, but they're close!
You know what is sugar-free, though? ChocZero. And we scored a whole bunch of them!
ChocZero is a true, sugar-free company that's helping turn the world right. We were approached by them to help spread the word about their range of sugar-free chocolate and we tried to contain our excitement but it didn't work – we emailed them back immediately with every detail of our whereabouts and impatiently waited for our chocolate delivery.
Subscribe for a FREE copy of our
14-Day Keto Meal Plan
2 Full Weeks of Delicious Recipes!
Leftovers and Bulk Preps Included
Maximize Your Keto Diet's Success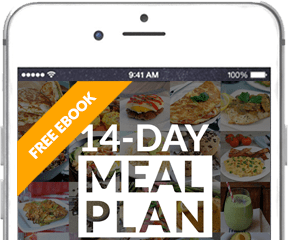 We got to sample 4 of their chocolate squares varieties – 50%, 70%, 85% and 92% dark chocolate. (They've got some chocolate bark, hot cocoa and chocolate covered almonds coming out really soon so we'll keep you posted on how those are, too.)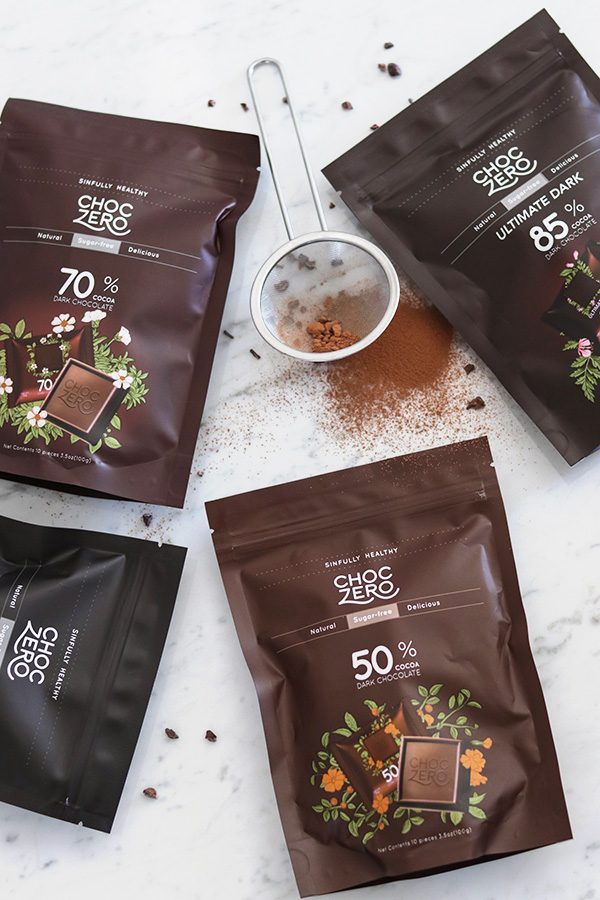 Let's start with the ingredients & nutrition…
The matte, silky packaging ChocZero was sent in felt great in our hands and reminded us of something we'd find in Whole Foods. Inside each bag is 10 pieces of individually wrapped chocolate squares (10 grams each). Their ingredients were identical in each of the varieties, though the quantities of each differed, of course.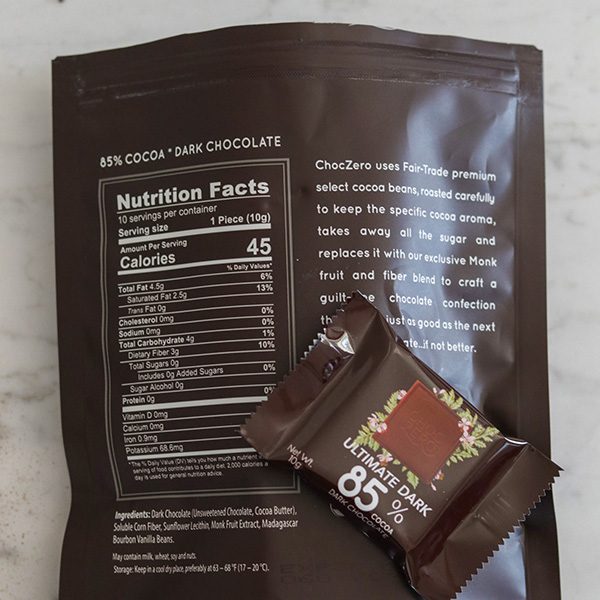 Here's what you'll find in each square of ChocZero:
Dark chocolate (unsweetened chocolate, cocoa butter)
soluble corn fiber (what Quest Bars used to use as their main ingredient!)
sunflower lecithin

monk fruit extract

and Madagascar bourbon vanilla beans.
That's all! Each chocolate square ranges from 40-45 calories and contains only 1 net carb.
The ingredients are comparable to what you'd find in Lindt chocolate bars minus the added sugar. What stands out about these ingredients is the lack of sugar alcohols.
We're no strangers to sugar alcohols. We prefer them over any added sugar in our desserts. However, we get a lot of feedback running Tasteaholics and it's clear that some people would prefer to avoid sugar alcohols. Some sugar alcohols (we're looking at you, maltitol) can cause gastric discomfort. Other sugar alcohols, like erythritol and xylitol, are much gentler, which is why you'll find them in most of our low carb dessert recipes.
ChocZero uses no sugar alcohols in their products and instead, uses monk fruit extract. We've heard of this sweetener but haven't had a chance to play with it just yet. We've got a bag in our pantry for future experiments, stay tuned for that.
Monk fruit extract is derived from dried monk fruit skins and is 100-200 times sweeter than sugar so it should be used sparingly. It's similar to stevia in that it's naturally derived, not man-made like aspartame and sucralose. Its taste is slightly fruity but very similar to sugar! So far, monk fruit has the green light from us!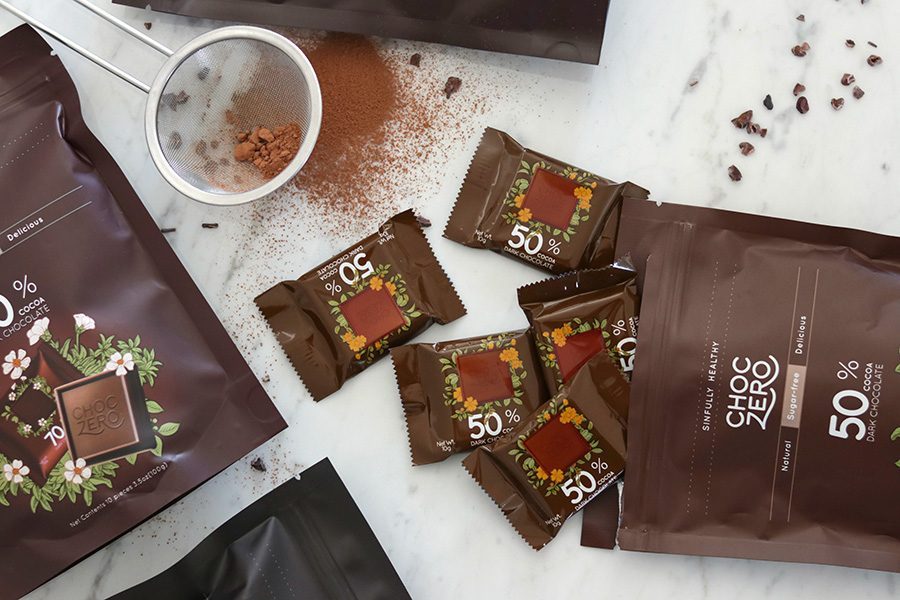 Let's talk ChocZero's taste and texture:
Tastes like chocolate because it is chocolate. There's nothing artificial about this sugar-free brand. Texture-wise, it's quite creamy! Some sugar-free (and conventional!) brands fall short in creaminess and instead remind us of a watery, brown concoction. We really liked the way ChocZero melted on our tongues and left a delicious coating like real chocolate should. The 50% cocoa contained just the right amount of sweetness, while the 92% had a robust, bitter flavor with just a hint of sweetness – perfect for real chocoholics.
Our chocolate bags are running out quickly so we've already got a sampler pack in our Amazon shopping carts ready to ship out whenever we feel we're running low!
Our verdict?
Totally recommending these chocolates to everyone. If you'd like to try them for yourself, make sure to order on Amazon.com!
Loved this review? Let us know! Have more questions? Ask us in the comments below or contact us– we respond to comments every day and would love to hear from you and help you out! And check out all our low carb dessert recipes to learn to make delicious and healthy meals!
Check Out More Product Reviews:
LOW CARB
WEEKLY
MEAL PLANS
delivered straight to your inbox!
Easy & Delicious Low Carb Recipes
Shopping Lists
All Macros Calculated
Leftovers & Keto Snack Ideas
Missing anything? Get it on
Disclosure of Material Connection: The products above are linking to Amazon as "affiliate links" because we're affiliates! When you click on a product, it'll take you to its Amazon page where the price stays the same for you and Amazon pays us a small percentage. This helps us continue to provide quality recipes and pay for operating costs.