Perfect for Meatless Mondays!
One of the first concerns we hear from people learning about our "radical" way of eating is whether or not it's healthy to be eating so much meat. Well, there are two schools of thought to the slightly carnivorous diet that is keto. Some people believe that eating meat is in no way dangerous and that we've developed ways of enjoying it even though our bodies weren't technically built for it. What I mean by that is: we learned how to cook! Our bodies and teeth weren't designed to eat meat. We don't have sharp fangs or claws to rip apart meat, nor can we break it down as easily as a lion can. But with the discovery of fire and cooking on that fire, we as humans figured out a way to enjoy eating meat. Done and done.
The other school of thought believes meat should be limited, especially because excess protein can kick you out of ketosis. Let's be clear: an excess of protein can kick you out of ketosis, but as long as you're eating ample amounts of fat for your body to use for energy, it's not going to go through the laborious process of gluconeogenesis to obtain glucose so readily. Don't fear protein!
Tip

: Use our Keto Calculator to know exactly how much fat and protein you should be eating every day!

Today's culture definitely puts too much of an emphasis on meat-centric meals, allowing veggies to take the backseat as the boring necessary component of a meal, rather than the star. Too often do we, in the Tasteaholics house, discover we haven't defrosted any meat for the night and begin to panic. With recipes like this one under our belts, we can rest easy knowing there's an exciting and delicious dinner to be had, sans meat.

Subscribe for a FREE copy of our

14-Day Keto Meal Plan
2 Full Weeks of Delicious Recipes!
Leftovers and Bulk Preps Included
Maximize Your Keto Diet's Success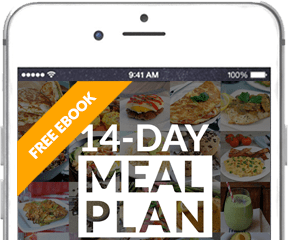 We've got nothing against eating meat – but rather the meat industry in the United States. The rising amount of hormones, antibiotics, and pesticides in our farms is cause for concern. A long time ago, we started buying our meat exclusively organic. Soon we shifted our dairy to organic as well, and now, our fruits and veggies too! Buying organic (or from sources you personally know don't use harsh chemicals in the raising of their produce) can make a profound difference in your well-being. It's more expensive and some of your favorite foods may become hard to find, but we think it's well worth it.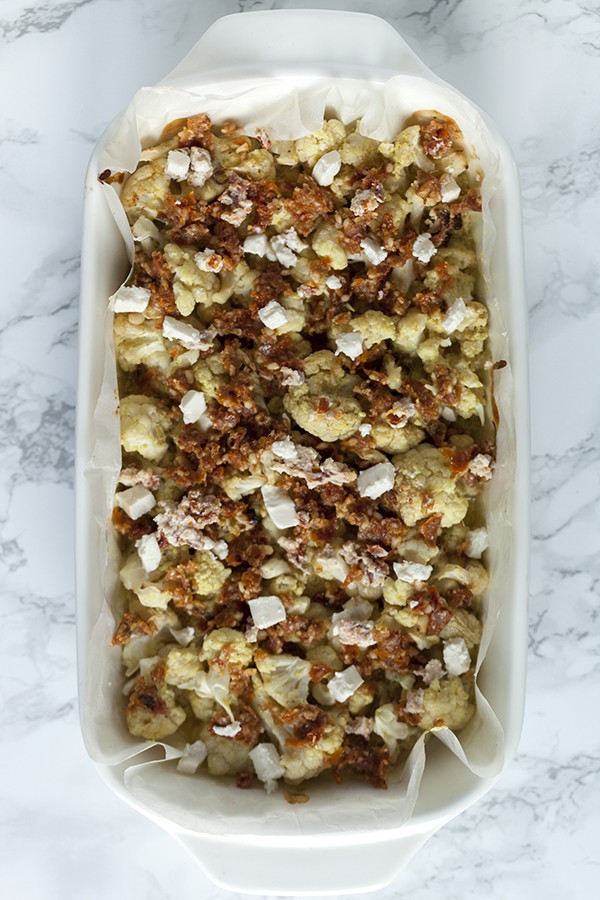 I digress! The point of this blog post was to showcase the delicious and unique spin on roasted cauliflower. It's super zesty and flavorful – your family will enjoy this side dish so much they might forget the meat on their plates. Better yet, serve this up as the star of the show to really wow them. The flavors of this dish work in such harmony together, you'll wonder why you hadn't thought of them sooner!
We think this would make the perfect pack-away lunch, ready for reheating whenever you are.
We used full-fat Greek yogurt as a way to add some moisture to the cauliflower, but you can also use sour cream or mayonnaise instead. Just know, that'll affect the overall macros of the dish. You can also leave out any of the spicy ingredients, but we really do recommend just having them since they work so well with the creamy yogurt and zesty lime juice.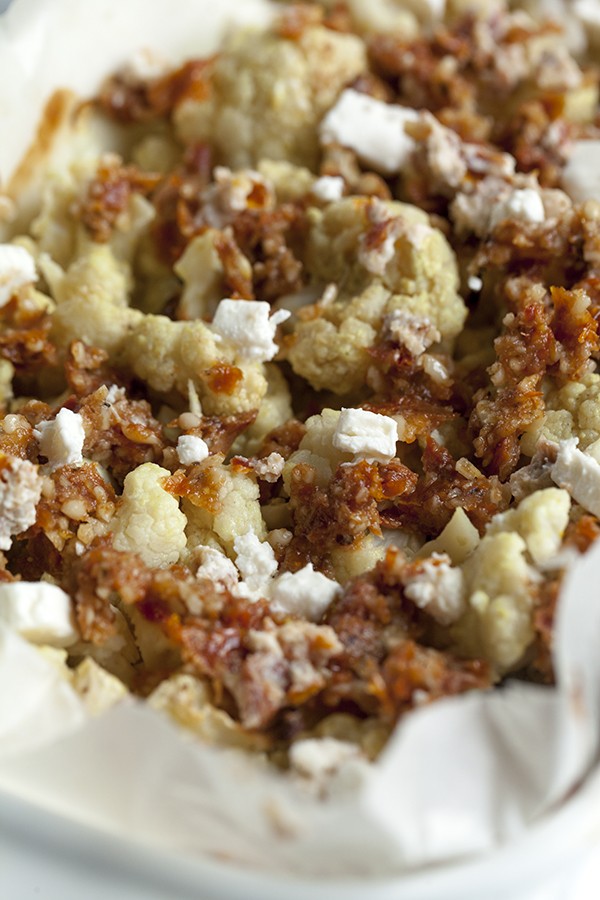 1

medium

head of cauliflower

1

tsp

cayenne pepper

1

tsp

smoked paprika

1.5

cups

full fat Greek yogurt

2

tbsp

yellow curry powder

1

lime

(juiced)

2

tsp

lime zest

1

tsp

sea salt

1/2

tsp

black pepper
Preheat the oven to 375ºF and line a baking sheet with parchment paper.

In a bowl, mix together yogurt and remaining ingredients and rub all over outside of the head of cauliflower.

Place the head on the middle rack and bake for 40–50 minutes until golden and crispy. When it's done, let it cool while preparing the toppings.

Using a food processor, pulse garlic, half the pine nuts and sun-dried tomatoes until chunky.

Move mixture to a small bowl and add remaining topping ingredients. Mix gently.

When the cauliflower has had a chance to cool, break it up into bite-sized florets and place them into a serving dish. Drizzle the topping over the roasted cauliflower florets and serve warm.
We provide nutritional information for our recipes as a courtesy to our readers. The data is calculated using the MyFitnessPal app. We remove fiber and sugar alcohols, including erythritol, from the final carbohydrate count since they do not affect blood glucose levels in most individuals. We try to be as accurate as possible but we encourage you to calculate nutritional information on your own.
Loved this recipe? Let us know! Something didn't quite turn out right? Ask us in the comments below – we respond to comments every day and would love to hear from you and help you out! And check out all our low carb recipes to learn to make more delicious and healthy meals that take no time to prepare!
Have You Tried These Delicious Recipes?
LOW CARB
WEEKLY
MEAL PLANS
delivered straight to your inbox!
Easy & Delicious Low Carb Recipes
Shopping Lists
All Macros Calculated
Leftovers & Keto Snack Ideas
Disclosure of Material Connection: The products above are linking to Amazon as "affiliate links" because we're affiliates! When you click on a product, it'll take you to its Amazon page where the price stays the same for you and Amazon pays us a small percentage. This helps us continue to provide quality recipes and pay for operating costs.