Stay warm!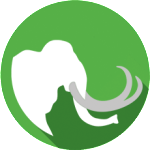 Keto tomato basil soup is a favorite among many. You may be wondering how a tomato soup could be made keto since tomatoes are naturally high in sugar. Don't worry, we have made sure to keep it low carb! A few tomatoes are completely fine on a keto diet, but yes, you do want to watch how many you eat- don't have too many in one day! Our balances keto tomato basil soup is perfectly fine to enjoy while on a low carb diet!
Our soup is a bisque which means it has little to no chunks and is very creamy. The soup is pureed to perfection to make this soup super smooth. Blending the soup also makes all of the ingredients blend together really well, giving you a mouthful of flavor in every single bite. That basil and tomato just makes such an amazing, classic combination!
We've made a few tomato basil soups in the past and it seems as though each one just gets spicier. Maybe I have a heavy hand with the chili powder or perhaps its because sometimes I like to add in some garlic cloves at the last minute. Either way, we eventually decided to make a soup that is meant to be spicy, warming your entire body and leaving a fire in your mouth! Of course, this soup is not so spicy that it would be inedible- what would be the point in that?! Instead, it is a perfect balance of spice, sweetness from the tomatoes and herby flavors from the basil. It is the ideal amount of spice!
Subscribe for a FREE copy of our
4-Week Keto Meal Plan
4 Weeks of Delicious Keto Recipes!
Leftovers and Bulk Preps Included
Maximize Your Keto Diet's Success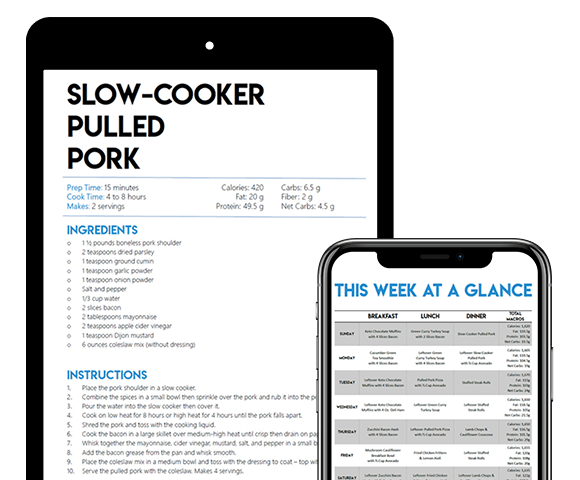 Of course, you can scale back on the spice by cutting the amount of crushed red pepper or omitting the sriracha. Start with a little bit of these two ingredients, give the soup a taste and then add more as desired. Of course, you can always add more than suggested in the recipe as well. All of the spices in our recipe have zero or very few carbs so feel free to spice it up even more!
You can make a lot of this tomato basil soup on a Sunday night and enjoy it for the rest of the week. Unless you decide to share it, hard as you may find that to be! Check out some meal planning tips and how they might help you lose weight or just save some time during the week!
It also freezes really well so feel free to double the batch and store some in the freezer for later. When you thaw the soup, I do recommend tossing it back in the blender to mix it back to perfection. That creamy texture tends to disappear in the freezer but is easily brought back with a quick mix.
A little tip: if you've got an immersion blender (also called a hand blender), that would be perfect for this recipe! By using one, you wouldn't have to ladle soup into any container and could blend it right in the pot you cooked it in!
Here's how to make our spicy tomato basil soup!
Divide your 3 pounds of tomatoes (we had roughly 14 plum tomatoes in total) into thirds. One third will be saved as fresh tomatoes, two thirds (or 8-9 tomatoes) we will roast!

Wash and thoroughly dry 8 plum tomatoes. Cut them in half lengthwise and lay them on a greased cookie sheet, cut side up. Sprinkle the tomatoes with olive oil and salt and put them in the oven at 400°F for about 40 minutes. The tomatoes will become slightly darker and wrinkly, as the water begins to leave them.

While most of your tomatoes are roasting, cut up your sweet onion, and squeeze the garlic through a garlic press. Add a tablespoon of olive oil to a large soup pot and cook your onion and garlic until fragrant and translucent.

Cut your fresh tomatoes into smaller pieces (about thirds) and throw them into the onion and garlic. Then pour your chicken or vegetable broth into the pot and allow that to come to a boil.

At this point, you can add your fresh basil leaves, chopped up roughly. We're going to blend the entire soup anyway so don't worry about some pieces being too chunky. In this step, also add some butter to the mix (will help make the soup creamier after it blends) and the tomato paste (for added thickness).

Decide which spices you'd like to use. If you don't like spicy foods, stick to salt, pepper and thyme. We like things hot! To our soup we also added crushed red pepper, cayenne pepper, sriracha salt, paprika and a salt/red pepper mixture. Boil this spicy mixture on a medium flame while the rest of your tomatoes are roasting.

Once the tomatoes in the oven are roasted, take them out and add them (and any of their liquid that leaked) into the spicy mixture. Lower the flame to low and let simmer for as long as you like, We left it simmering for about 40 minutes.

After your soup has simmered a while, it'll look significantly less chunky. But we're not done here! Ladle a good amount of your spicy tomato basil soup into a blender or Nutribullet.

Give your soup a good blend for a few seconds. The contents should be cooked well enough to break apart very easily in the blender. The longer you blend however, the creamier the soup will become. Don't blend too long though, the hot steam may cause a lot of pressure to build up. For this reason, the next step is very important:

If using the Nutribullet, open the blending cap very slowly to allow the steam to slowly be released. If you open it too fast, the scalding hot soup will shoot out and could burn you.

Pour out that spicy tomato basil soup and you're done! Top it off with some shredded cheese, green onion, crispy tortilla strips, sour cream or anything else you'd like.
Tasteaholics, Inc. is a participant in the Amazon Services LLC Associates Program, an affiliate advertising program designed to provide a means for sites to earn advertising fees by advertising and linking to Amazon.com.
Loved this recipe? Let us know! Something didn't quite turn out right? Ask us in the comments below or contact us– we respond to comments every day and would love to hear from you and help you out! And check out all our dinner recipes to learn to make more delicious and healthy meals!
NUTRITIONAL DISCLAIMER
The content on this website should not be taken as medical advice and you should ALWAYS consult with your doctor before starting any diet or exercise program. We provide nutritional data for our recipes as a courtesy to our readers. We use Total Keto Diet app software to calculate the nutrition and we remove fiber and sugar alcohols, like erythritol, from the total carbohydrate count to get to the net carb count, as they do not affect your blood glucose levels. You should independently calculate nutritional information on your own and not rely on our data. The website or content herein is not intended to cure, prevent, diagnose or treat any disease. This website shall not be liable for adverse reactions or any other outcome resulting from the use of recipes or recommendations on the Website or actions you take as a result. Any action you take is strictly at your own risk.
Latest posts by Vicky Abrams
(see all)
Have You Tried These Delicious Recipes?
Missing anything? Get it on