Keto Meatballs With a Twist!
We love eating new foods, but it's more challenging to make new foods! When you think of meatballs, you probably think of classic Italian meatballs in marinara sauce and a pile of spaghetti. Not to mention, those meatballs are full of milk and bread crumbs! We discovered a new way of preparing meatballs- paleo, low carb, and gluten-free!
Instead of filling the meatballs with milk and breadcrumbs, like Gordon Ramsay, we subbed almond milk and almond flour! You can use any kind of nut milk and nut meal/flour, as long as when you combine those two ingredients, you can create a paste-like consistency. This helps bind the meatballs. You may notice we don't use egg in this recipe, it doesn't need it!
Not only are these low carb meatballs, but they were a first for us- we used a lot of new spices for the first time. The low carb meatballs gave us an Indian/Thai vibe- something that we've never experienced at home! Thanks to the combination of these spices:
Subscribe for a FREE copy of our
4-Week Keto Meal Plan
4 Weeks of Delicious Keto Recipes!
Leftovers and Bulk Preps Included
Maximize Your Keto Diet's Success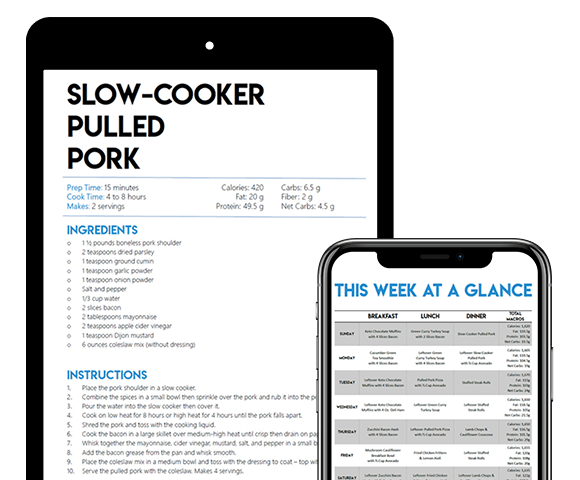 Coriander Seeds – are sweet and earthy, with hints of lemon. They actually produce cilantro when planted, but taste quite different. Coriander seeds are used in Latino, Middle Eastern and Indian cuisines. They are commonly heated so that they break down slightly, releasing more flavor into dishes.
Turmeric – is highly considered one of the world's great super-foods. It's a root, usually sold ground and dried, similar to ginger. By itself, its taste is bitter; but when cooked with oils and other spices, it adds spice to dishes. Chinese and Indian cultures use turmeric for its medicinal benefits, it aids in many different medical conditions including jaundice, menstrual difficulties, bloody urine, hemorrhage, toothache, bruises, chest pain, and colic.
Pro tip: because Turmeric has low bioavailability (it's not easily absorbed in its natural state) heating the spice in oil (like coconut) and adding black pepper will help our bodies absorb it.
Lemongrass – is a popular herb in Asian and Indian cuisine. It's citrus notes add freshness to any dish. To use lemongrass, make sure its flavors (which are inside the stalk) can be freed into your food. To do this, whack the stalks with the blunt side of a knife so the stalks can release their aromatic oils.
Cinnamon – is not a new spice for us, but we've definitely never added it to such a meaty, hearty dish! The moment we added cinnamon to our broth, the entire kitchen smelled of cinnamon and it just worked! Some dishes just pop with the addition of sweet to their heartiness.
Let's add these spices to our low carb meatballs in coconut broth!
Looking for another meatball recipe? Try these meal prep low carb meatballs with cauliflower rice from Real Balanced. They're full of protein, full of flavor, and can be ready in 30 minutes!
On an oiled pan, cook garlic and onions until fragrant and translucent.

Meanwhile, combine almond flour and almond milk to create a paste.

Take your ground beef and add salt and your almond paste.

When your onions and garlic are done cooking, add them to the ground beef and using your hands, mix and squeeze to combine.

Begin creating your meatballs by taking a small handful of ground beef and giving it a good squeeze to eliminate air bubbles. Roll them in your hands gently creating uniformly sized balls about 2 inches in diameter. The smaller the meatballs, the faster they'll cook. Keep that in mind so they don't overcook and dry out.

Once your meatballs are assembled, use the same pan to brown the meatballs on both sides. Arrange the meatballs along the edge of the pan leaving the center empty.

While the meatballs are browning, add your spices into the empty center of the pan. The spices will begin to heat and denature, releasing their flavor into the pan. You'll see a sort of paste form in the oily center of the pan.

After the meatballs are browned on both sides, you can pour in the coconut milk and broth. Give it a good shake to disperse the spices.

Add in your lemongrass stalk (whacked with the blunt end of a knife to release its oils) and fresh ginger and let simmer for about 15 minutes.

Take one of the meatballs out and cut it in half to see if it's cooked throughout. If it is, you're set! If it's not, check on another again in about 3-5 minutes.

Serve with some coconut broth in a bowl and your favorite side dish!
Tasteaholics, Inc. is a participant in the Amazon Services LLC Associates Program, an affiliate advertising program designed to provide a means for sites to earn advertising fees by advertising and linking to Amazon.com.
Loved this recipe? Let us know! Something didn't quite turn out right? Ask us in the comments below or contact us– we respond to comments every day and would love to hear from you and help you out! And check out all our keto recipes to learn to make more delicious and healthy meals!
NUTRITIONAL DISCLAIMER
The content on this website should not be taken as medical advice and you should ALWAYS consult with your doctor before starting any diet or exercise program. We provide nutritional data for our recipes as a courtesy to our readers. We use Total Keto Diet app software to calculate the nutrition and we remove fiber and sugar alcohols, like erythritol, from the total carbohydrate count to get to the net carb count, as they do not affect your blood glucose levels. You should independently calculate nutritional information on your own and not rely on our data. The website or content herein is not intended to cure, prevent, diagnose or treat any disease. This website shall not be liable for adverse reactions or any other outcome resulting from the use of recipes or recommendations on the Website or actions you take as a result. Any action you take is strictly at your own risk.
Latest posts by Vicky Abrams
(see all)
Have You Tried These Delicious Recipes?
Missing anything? Get it on