Gluten-free and low carb chowder!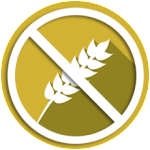 Clam chowder is a potato and cream-based soup, so making one without potatoes may send some people into a frenzy. But making a low carb and gluten-free version of this soup is easy and sneaky! Aside from the fact that there will be no potato chunks, this clam chowder recipe will result in a thick, flavorful and very keto-friendly dish!
To thicken the soup, there are several options. The easiest option would be to add flour. While wheat flour is full of gluten and isn't exactly low carb, adding a few tablespoons to the broth wouldn't be too terrible (each one would be about 5 ½ g of carbs each). But if you're on a keto or gluten-free diet, you should try to steer clear of wheat flour. An alternative is using almond flour or skipping the carbs altogether and doing what we did- pureeing some cauliflower! It does the job of adding some thickness to the soup well and adds some excellent nutritional content.
We added some xanthan gum to our soup because we enjoy a very thick broth; this ingredient is optional but has 0g of carbs and is gluten-free! If you've got to have those potato chunks in a clam chowder recipe, go for it! Potatoes are gluten-free as well, but a little high in carbs (about 35g). But remember, you're not eating this soup alone! Divide that potato by 6 servings and you'd only be eating about 6 extra grams of carbs. Everything in moderation!
Subscribe for a FREE copy of our
4-Week Keto Meal Plan
4 Weeks of Delicious Keto Recipes!
Leftovers and Bulk Preps Included
Maximize Your Keto Diet's Success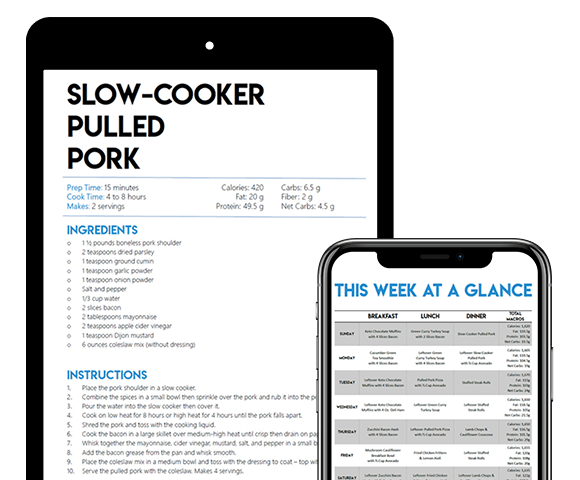 Here's our low carb clam chowder recipe!
Set a pot of water to boil.

Take half a head of cauliflower and cut it into medium sized florets. When the water starts to boil, simply throw the cauliflower in and let boil for about 10 minutes or until a forks piercing the biggest one comes out easily. They should be really soft!

While the cauliflower is boiling, start chopping up your soup ingredients. The bacon should be cubed into about ½ inch pieces. The onion and carrot should be minced (cut up really small!). The celery should be cut into about ¼ inch slices. See the pictures below for a visual.

Throw the bacon into a large soup pot on a medium flame and cook until almost crispy. When the bacon is cooked, throw in the onion, carrot and celery. Sprinkle with some salt to help release their tasty juices and cook until they start to break down a little and the onion begins to turn translucent.

Add some squeezed garlic and butter and allow it to melt.

Open up your canned clams and separate the juice from the clams by putting a strainer into a large bowl and pouring everything in. The juice will drain into the bowl, while the tasty clams will remain in the strainer. Save the juice and save the clams!

At this point, the cauliflower should be done! Drain the water from them and put them into a blender or Nutribullet with a little bit of water. Blend until creamy.

Add your blended cauliflower, heavy cream, water and clam juice to your veggies and bacon. Lower the flame to low and allow everything to come to a simmer (about 20 minutes).

Spice time! Spice your chowder with salt, pepper and celery salt. Save the thyme for last.

At this point, you can add a teaspoon of xanthan gum or flour if you choose to use it. You can also opt to add some potato, just peel and cube it up and boil until a fork pierces the biggest one and comes out cleanly. Tip: you should see the potatoes start turning whiter from their slightly yellow color. When all the potatoes are white, they're ready to be put into the soup.

The last step is to add the clams! Throw the clams in and keep the fire going just until the clams have warmed up. 5 minutes at most. If you overcook the clams, they tend to get tough and chewy.

Turn the fire off and ladle yourself some clam chowder! Sprinkle some thyme on top and enjoy!
Tasteaholics, Inc. is a participant in the Amazon Services LLC Associates Program, an affiliate advertising program designed to provide a means for sites to earn advertising fees by advertising and linking to Amazon.com.
Loved this recipe? Let us know! Something didn't quite turn out right? Ask us in the comments below or contact us– we respond to comments every day and would love to hear from you and help you out! And check out all our keto recipes to learn to make more delicious and healthy meals!
NUTRITIONAL DISCLAIMER
The content on this website should not be taken as medical advice and you should ALWAYS consult with your doctor before starting any diet or exercise program. We provide nutritional data for our recipes as a courtesy to our readers. We use Total Keto Diet app software to calculate the nutrition and we remove fiber and sugar alcohols, like erythritol, from the total carbohydrate count to get to the net carb count, as they do not affect your blood glucose levels. You should independently calculate nutritional information on your own and not rely on our data. The website or content herein is not intended to cure, prevent, diagnose or treat any disease. This website shall not be liable for adverse reactions or any other outcome resulting from the use of recipes or recommendations on the Website or actions you take as a result. Any action you take is strictly at your own risk.
Latest posts by Vicky Abrams
(see all)
Have You Tried These Delicious Recipes?
Missing anything? Get it on