A Favorite Made Low Carb!
To the untrained eye, the lobster bisque at your favorite seafood spot may seem like a safe bet compared to a lobster roll or some breaded calamari. When you break it down though, a bowl of lobster bisque can add up to a whole lot of carbs, not to mention calories!
Besides the obvious (and low carb) ingredient of lobster chunks, you've probably got several high carb foods blended in that soup! Let's start with veggies: most lobster bisques will have tomatoes, carrots, onions, and garlic – all high carb veggies unfortunately. Who knew that one clove of garlic had so many hidden carbs! It is those sneaky added carbs that you always have to look out for when on a keto diet.
Moving on to the broth, that is actually where you'll find the majority of the hidden carbs: many chefs will thicken their bisques with roux (a mixture of butter and flour), cornstarch or potatoes! This instantly makes most lobster bisque completely off the list of keto recipes. We need to fix that! We want keto, low carb lobster biqsue and we want it now!
Subscribe for a FREE copy of our
4-Week Keto Meal Plan
4 Weeks of Delicious Keto Recipes!
Leftovers and Bulk Preps Included
Maximize Your Keto Diet's Success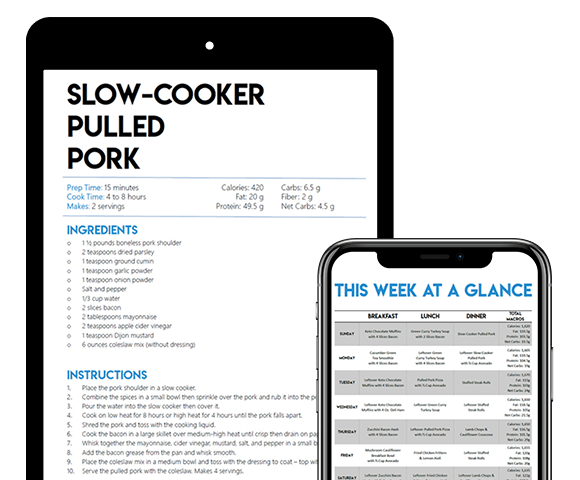 Lobster bisque is a delicious option for anyone who loves lobster meat, but all the ingredients together make a ketogenic dieter's downfall. Fortunately, knowing all the ingredients helps us lower that carb count so that we can enjoy our lobster bisques again! In our easy and low carb lobster bisque, we upped the fat count, adding a good amount of cream, found a low sugar tomato paste, as well as limited the high carb vegetables. We also thickened the bisque using xanthan gum!
A little xanthan gum goes a long way, especially when you're cooking a dish. The heat helps "activate" the xanthan gum and will continue to do so while you cook. We find it best to add the xanthan gum at the end, little by little until the lobster bisque is to your liking.
Feel free to make any changes to the bisque to lower the carbs even further! We found a good balance at 8 grams of carbs per serving. That way, it's low enough to keep us under our limit, as well as allows all the vegetables' flavors to still shine through. If you prefer, you can purchase fresh lobsters and use their carcasses to flavor the bisque more, but what makes this an easy lobster bisque recipe is the packaged lobster chunks from Trader Joe's. Using these already cooked and cut chunks, you can have this dinner ready in about an hour! Just whip up the broth and add the lobster chunks.
Tip: Considering using a seafood broth if you're not using the lobster carcasses. It'll help bring some more seafood flavor to the lobster bisque.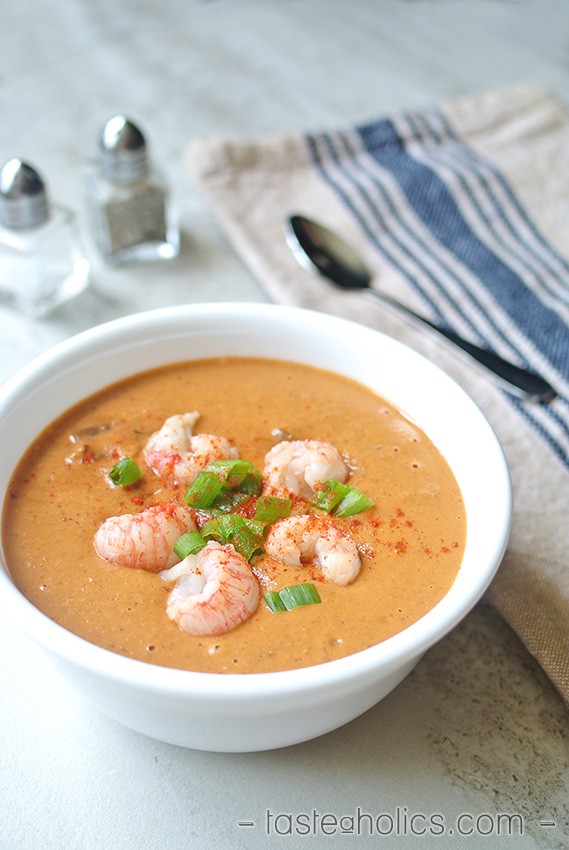 Start by chopping your garlic, onion, celery and carrots pretty finely. The end result will be blended so don't worry too much about sizes.

Cook onion in olive oil in a soup pot until fragrant, then add garlic and cook until the pan starts looking a little blackened and crusty at the bottom.

Deglaze the pot using the white wine and then add the celery and carrot.

Pour in your broth, brandy and tomato paste, stir to incorporate.

Add in your spices and let the soup simmer for an hour.

Once the soup has cooked and the spices have let out their flavors, remove and discard the bay leaves.

Add your cream and allow to come to a simmer again.

Then add in a small amount of xanthan gum at a time while stirring the soup. You should see it start to thicken.

You want to blend the soup BEFORE adding the chunks of lobster. Lobster bisque is a creamy consistent soup with chunks of lobster. If you'd like a chunkier bisque, feel free to not blend at all, but for the authentic feeling, blend first, add lobster last.

Pour the soup into a large blender and blend until creamy.

If your lobster is uncooked, simply cut it into chunks and saute it in some butter or olive oil in a pan. If your lobster is frozen, feel free to saute it in butter anyway!

Pour your bisque into a bowl and add your lobster chunks, stir until combined.

Dress the lobster bisque with lemon juice, green onion, chives or parsley and enjoy!
Tasteaholics, Inc. is a participant in the Amazon Services LLC Associates Program, an affiliate advertising program designed to provide a means for sites to earn advertising fees by advertising and linking to Amazon.com.
Loved this recipe? Let us know! Something didn't quite turn out right? Ask us in the comments below or contact us– we respond to comments every day and would love to hear from you and help you out! And check out all our low carb dinner recipes to learn to make more delicious and healthy meals!
NUTRITIONAL DISCLAIMER
The content on this website should not be taken as medical advice and you should ALWAYS consult with your doctor before starting any diet or exercise program. We provide nutritional data for our recipes as a courtesy to our readers. We use Total Keto Diet app software to calculate the nutrition and we remove fiber and sugar alcohols, like erythritol, from the total carbohydrate count to get to the net carb count, as they do not affect your blood glucose levels. You should independently calculate nutritional information on your own and not rely on our data. The website or content herein is not intended to cure, prevent, diagnose or treat any disease. This website shall not be liable for adverse reactions or any other outcome resulting from the use of recipes or recommendations on the Website or actions you take as a result. Any action you take is strictly at your own risk.
Latest posts by Vicky Abrams
(see all)
Have You Tried These Delicious Recipes?
Missing anything? Get it on