Crispy Pork Belly Bites!
Could this be the ultimate keto dinner idea? We think so.
Bacon is a way of life for us keto folks. The best way to know you're getting a quality piece of bacon is to make it yourself.. but that can take quite a bit of work and that's a recipe for a different day. A much simpler and still delicious route to take is roasting some good old-fashioned pork belly.
Pork belly is sold in most supermarkets in the meat aisle and looks a lot like bacon. However, it hasn't been cured yet. You can cure it yourself or you can enjoy it as is. We prefer roasting pork belly and then cranking up the temperature in the oven to give it that irresistible crunch we love.
Subscribe for a FREE copy of our
14-Day Keto Meal Plan
2 Full Weeks of Delicious Recipes!
Leftovers and Bulk Preps Included
Maximize Your Keto Diet's Success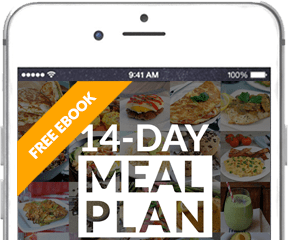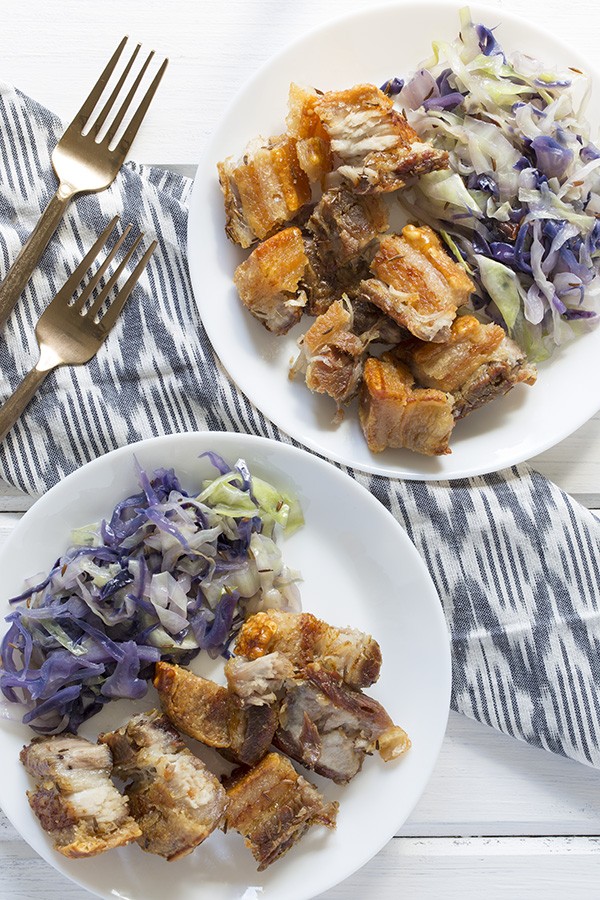 Roasting pork belly is incredibly simple and brings out a ton of flavor. We took it a step further and rubbed the pork belly with a good amount of olive oil, salt, and other spices to bring out the smokey, umami flavors within. We decided to jazz up the cabbage in this way too! Cabbage is pretty mild in flavor and its texture completely changes when cooked. Before braising our cabbage to wilt it down, we tossed it in a warm, spice concoction we thought would go well with the roasted pork belly. The result was a match made in heaven we think anyone would enjoy!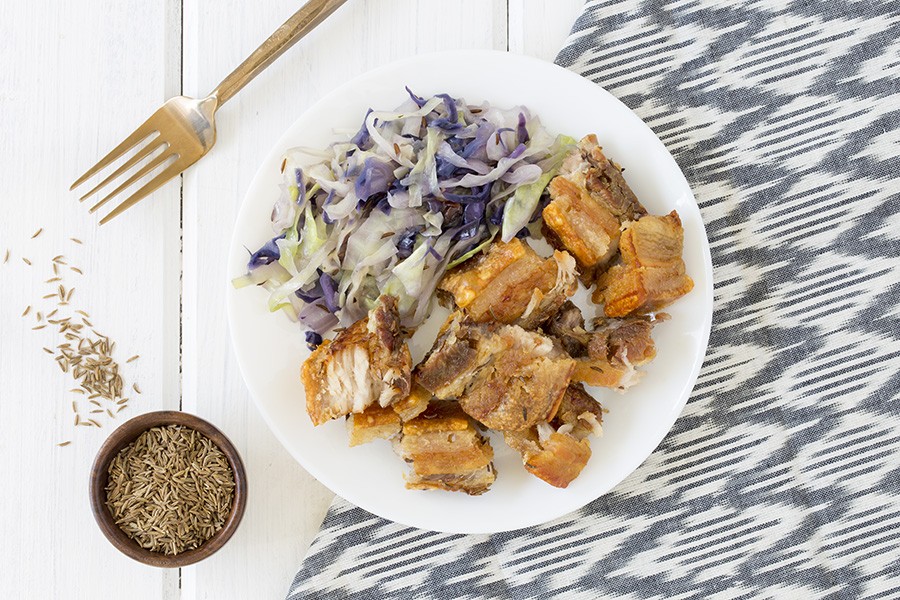 One thing we would like to note: this dinner is quite heavy in calories! If 900 calories per serving are too much for you, feel free to reduce the servings to fit your needs. Don't know how much to eat every day? We got you covered – try our Keto Calculator, it'll tell you the calories, fat, protein and carbs you should be eating!
Using a very sharp knife, score the pork belly skin into 1-inch strips, taking care not to cut into the meat. Rub the pork belly all over with the oil, fennel seeds, salt, and pepper, taking care to rub the seasonings into the skin well.

Place the pork belly onto a baking tray and cook for about 20 minutes or until the skin is just starting to crisp up.

Reduce the heat to 325°F and cook for a further 1.5 - 2 hours until the pork is tender.

Meanwhile, heat the oil in a large sauté pan over medium heat and add the olive oil, cloves, star anise and caraway and cook until popping gently.

Then add the shredded cabbage and a large pinch of salt. Stir to coat and cook gently for about 5 minutes until the cabbage has softened slightly.

Crank the heat back up to 425°F and cook for a final 20 minutes until the skin is crispy and crackling. Remove from the oven and allow to rest for 10 – 15 minutes.

Add the stock and simmer for about 10 minutes until the cabbage is cooked to your liking.

Remove from the heat and drain any excess stock, then stir in the vinegar.

Cut the pork belly into chunks and serve with the braised cabbage on the side. Enjoy!
We provide nutritional information for our recipes as a courtesy to our readers. The data is calculated using the MyFitnessPal app. We remove fiber and sugar alcohols, including erythritol, from the final carbohydrate count since they do not affect blood glucose levels in most individuals. We try to be as accurate as possible but we encourage you to calculate nutritional information on your own.
Loved this recipe? Let us know! Something didn't quite turn out right? Ask us in the comments below – we respond to comments every day and would love to hear from you and help you out! And check out all our low carb recipes to learn to make more delicious and healthy meals that take no time to prepare!
Have You Tried These Delicious Recipes?
LOW CARB
WEEKLY
MEAL PLANS
delivered straight to your inbox!
Easy & Delicious Low Carb Recipes
Shopping Lists
All Macros Calculated
Leftovers & Keto Snack Ideas
Disclosure of Material Connection: The products above are linking to Amazon as "affiliate links" because we're affiliates! When you click on a product, it'll take you to its Amazon page where the price stays the same for you and Amazon pays us a small percentage. This helps us continue to provide quality recipes and pay for operating costs.