Fall Favorites!
This heat wave's finally over! NYC was seeing temperatures in the 90's this last week in September. I don't know about you, but I've got a stockpile of new sweaters I was dying to wear, so this cooler weather is very welcome.
Autumn also means everyone's favorite squash is in season. Pumpkin is here full force whether you like it or not! You can't walk into a grocery store without being greeted with a festive holiday cart full of pumpkins. So grab a couple and choose your favorite festive dessert to make for your holiday party, your family dinner or just for yourself. 🙂
These 20 recipes are all ketogenic, low carb, sugar-free & gluten-free so easy, healthy baking this fall. Enjoy!
Subscribe for a FREE copy of our
4-Week Keto Meal Plan
4 Weeks of Delicious Keto Recipes!
Leftovers and Bulk Preps Included
Maximize Your Keto Diet's Success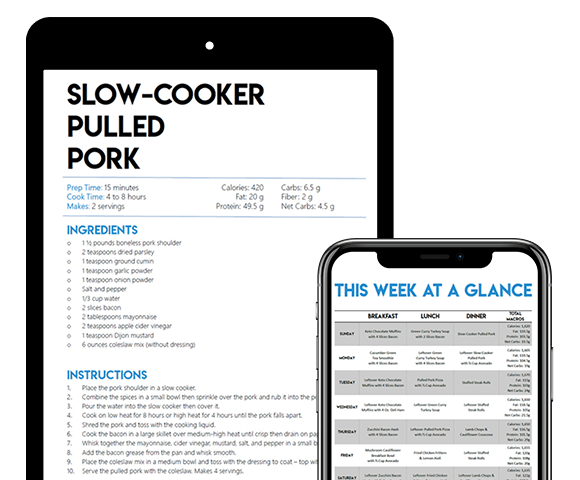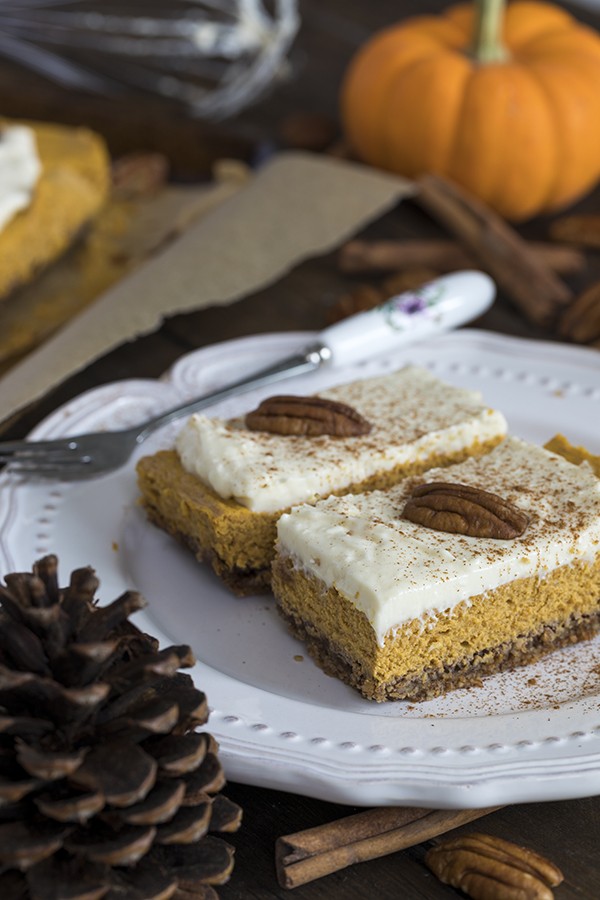 Pumpkin Cheesecake Bars

A simple recipe for low carb & sugar-free Pumpkin Cheesecake Bars with cream cheese frosting that'll blow your friends and family away. They're appropriate for school bake sales, Halloween, an after-dinner family treat or as a Thanksgiving dessert.

from www.tasteaholics.com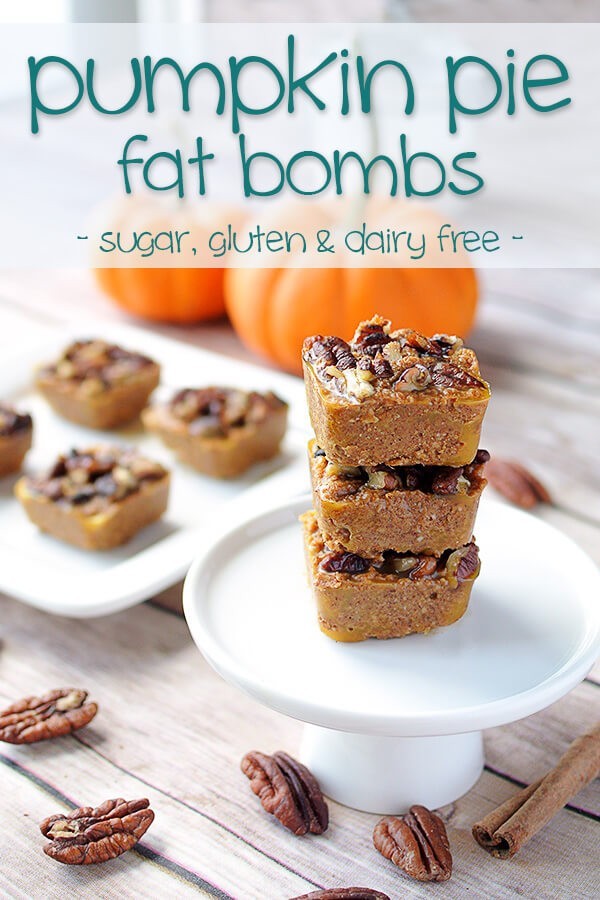 Pumpkin Pie Fat Bombs

Since we didn't make the classic pumpkin pie this year, we decided to channel its flavors and create a fat bomb recipe. These little pumpkin pie bites will allow you to pretend it's October all year 'round. Who doesn't love the crisp fall weather and the colorful leaves on the ground? Enjoy a few pumpkin pie bites in the middle of summer, who cares? They'll cool you down and remind you of fresh breezes and new beginnings.

from www.tasteaholics.com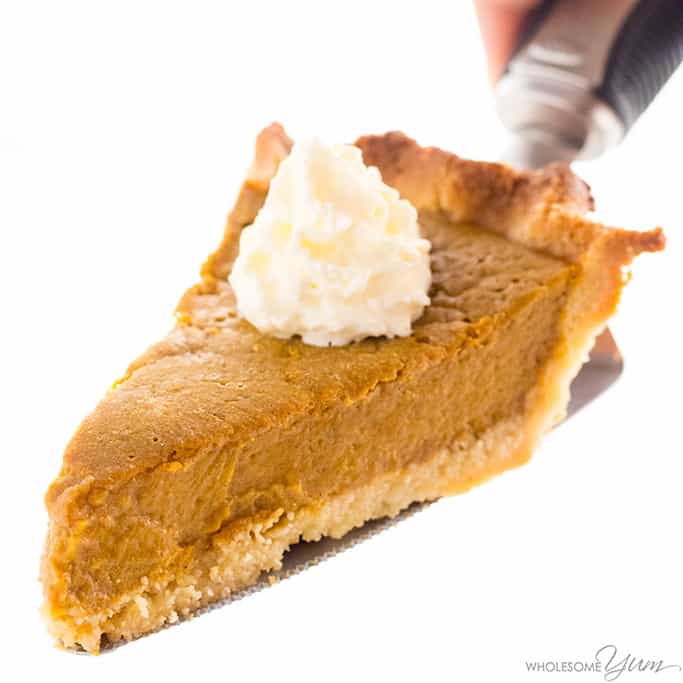 Easy Keto Low Carb Pumpkin Pie Recipe (Sugar-Free, Gluten-Free)

With the holidays coming up, you'll need a good sugar-free pumpkin pie recipe! The nice thing about this one is, it tastes like a regular pumpkin pie, so the whole family will eat it. I served pumpkin pie cupcakes last year, but this time I think I'll try a real, full sized pie.

from www.wholesomeyum.com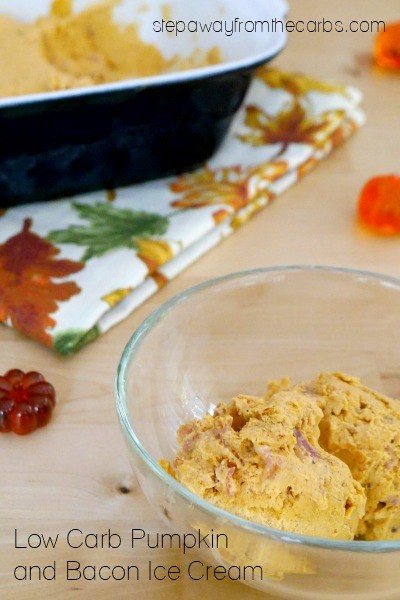 Low Carb Pumpkin and Bacon Ice Cream

This pumpkin and bacon ice cream is a wonderful blend of sweet and salty! Low carb / keto / LCHF / sugar free recipe. I've used an ice cream maker in this recipe but you can still make it if you don't have one – just follow step one from the recipe card below, place it in the freezer, then churn it by hand every hour or so. Setting a timer is useful if you do this!

from Step Away From The Carbs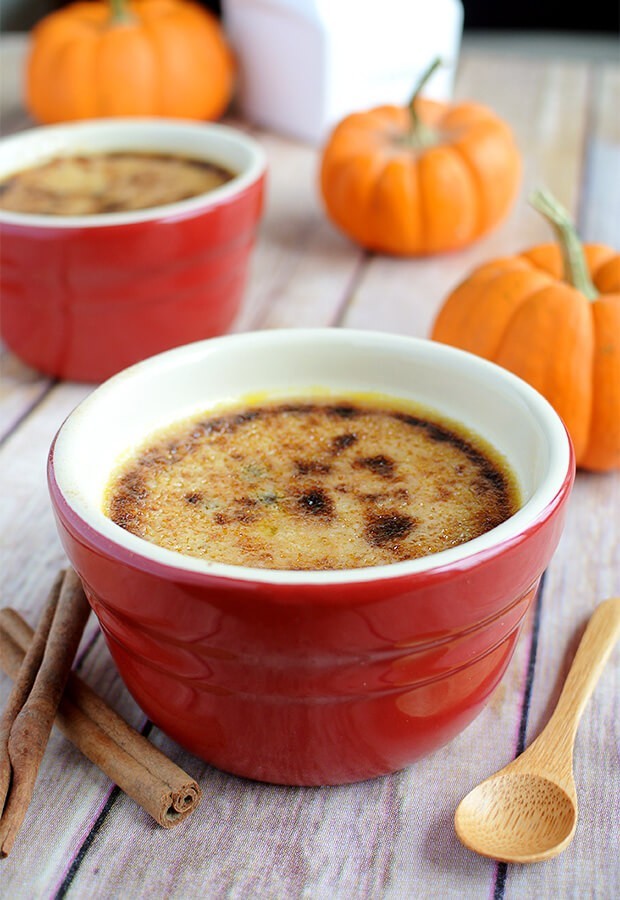 Pumpkin Spice Crème Brûlée

The first time we made crème brûlée, we made the basic, vanilla bean flavor. This time, we had to add some pumpkin. It is October, after all. The result was an amazing, creamy, Fall inspired dessert. We ended up sharing the two little desserts we made among 4 people and it easily filled us all up. And no wonder, each little pot is over 450 calories, most of which is coming from fat!

from www.tasteaholics.com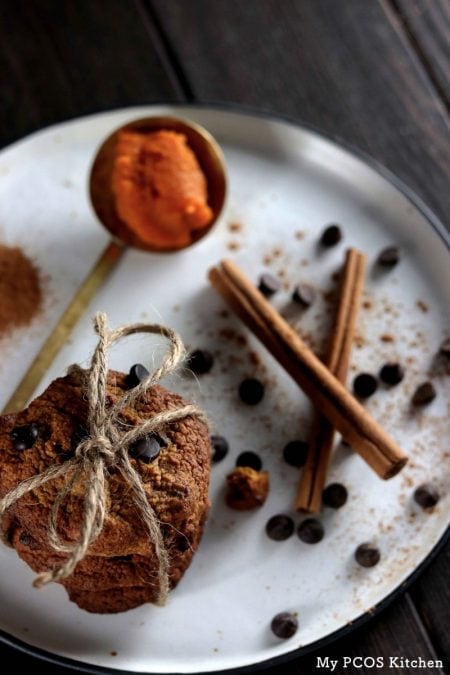 KETO PUMPKIN CHOCOLATE CHIP COOKIES

A couple of weeks ago, since I decided to upload a bunch of different pumpkin recipes for this season, I have had a surplus of pumpkin puree that I have had to use. I'm slowly thinking of new recipes that I can make, but for today's recipe, I decided to make some keto pumpkin chocolate chip cookies!

from www.mypcoskitchen.com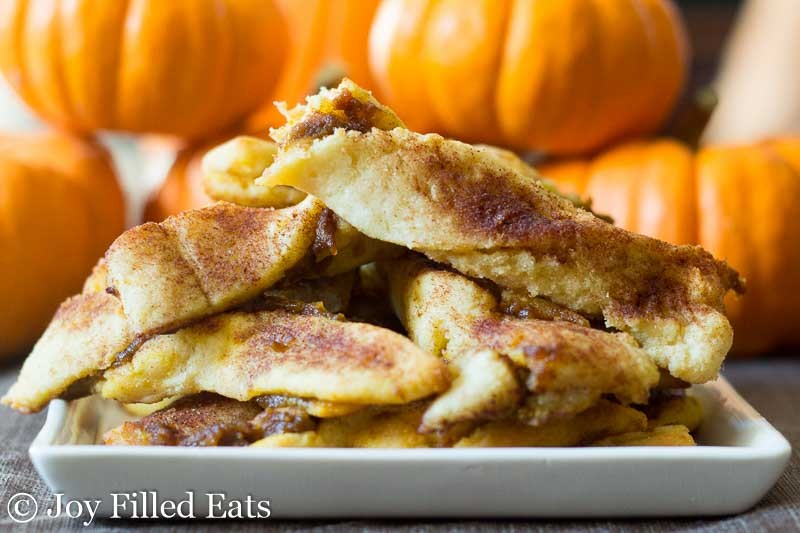 Pumpkin Pie Twists – Low Carb, Grain & Sugar Free, THM S

The flavors of fall with a twist. Perfect for parties or just an afternoon snack. My Pumpkin Pie Twists are low carb, grain/gluten/sugar free, & a THM S. The pumpkin flavor is subtle which is perfect for me. If you want to these to taste more pumpkiny you can cut back on the cinnamon and other spices.

from Joy Filled Eats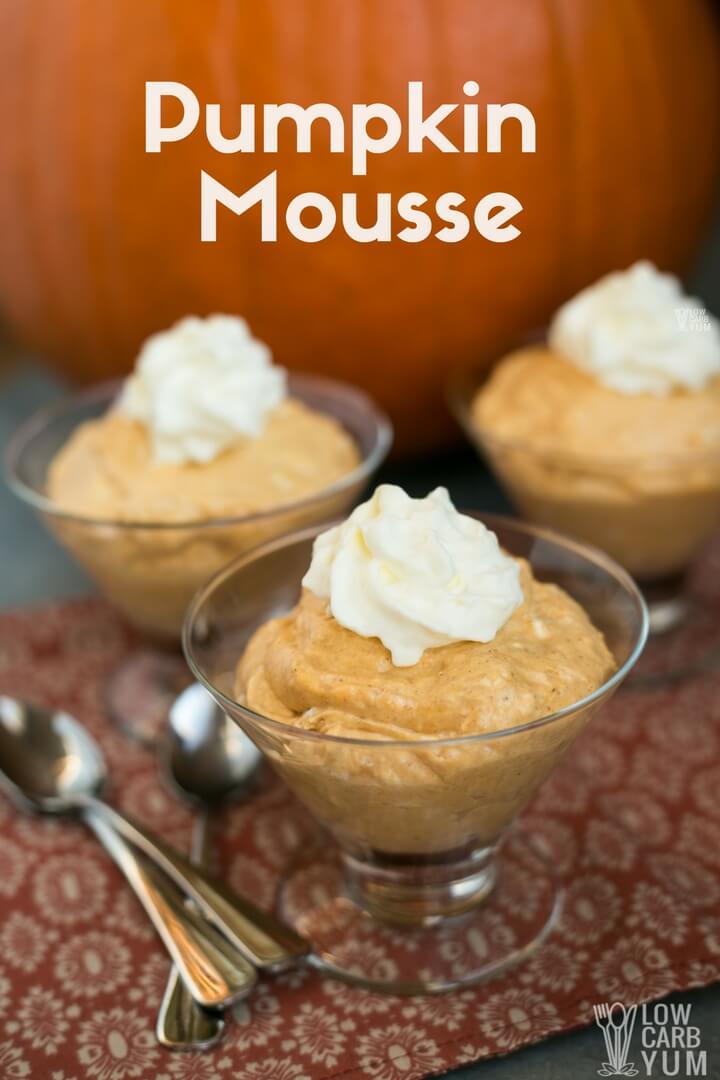 PUMPKIN MOUSSE RECIPE – LOW CARB, SUGAR FREE

Because it's such an easy recipe, it didn't take long to make this low carb dessert. Like most mousse, it's non-bake and whips up with an electric mixer. You can easily make this treat from start to finish in less than five minutes. For the sweetener, you can use any low carb sugar replacement that you prefer. You could use this low carb pumpkin mousse recipe for making a pie as well. Just spread it out into your favorite low carb pie crust.

from lowcarbyum.com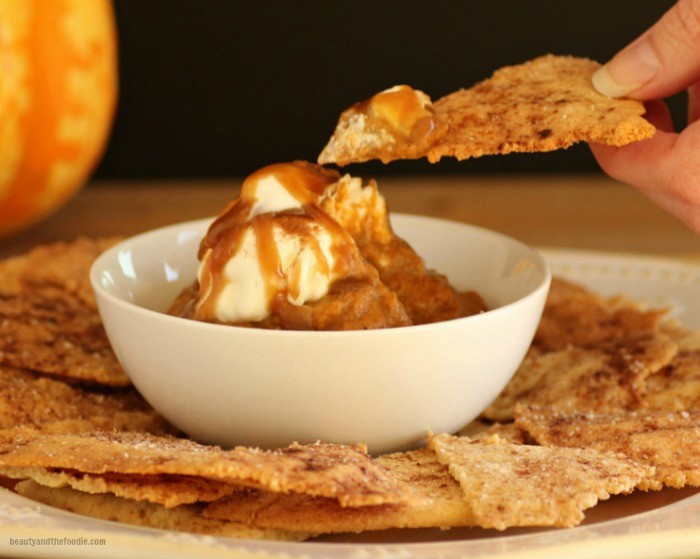 PALEO PUMPKIN PIE DESSERT NACHOS

Paleo Pumpkin Pie Dessert Nachos are sweet cinnamon pie crust chips that are dipped into a creamy pumpkin pie dip. The dip is topped with caramel sauce and whipped cream, or coconut cream. These were easier to make than they look, so don't be intimidated. Don't you love an ooey, gooey, creamy dessert that is also a finger food?

from beautyandthefoodie.com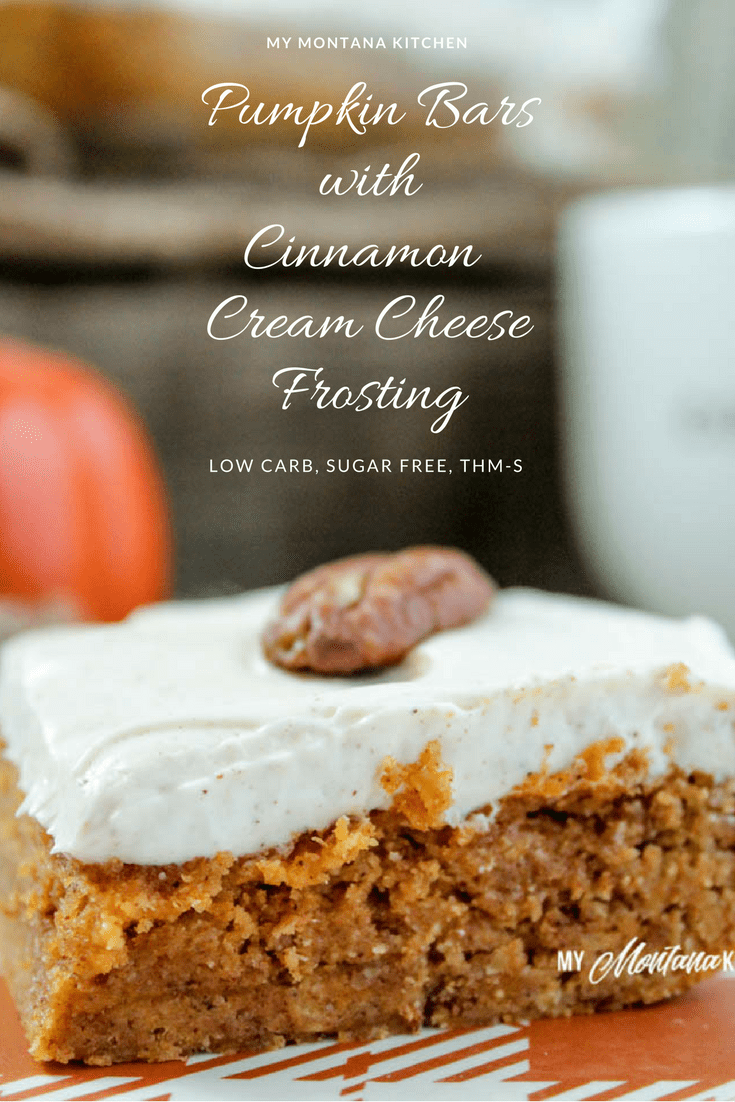 Pumpkin Bars with Cinnamon Cream Cheese Frosting (Low Carb, Sugar Free, THM-S) – My Montana Kitchen

Ah, pumpkin spice. I am one of those people that loves pumpkin enough to eat it all year long. But for some reason many people have relegated pumpkin to the Autumn season. I'm sure it is because that is when pumpkins are harvested. But, thanks to canned pumpkin, I can still enjoy my pumpkin treats all year long.

from My Montana Kitchen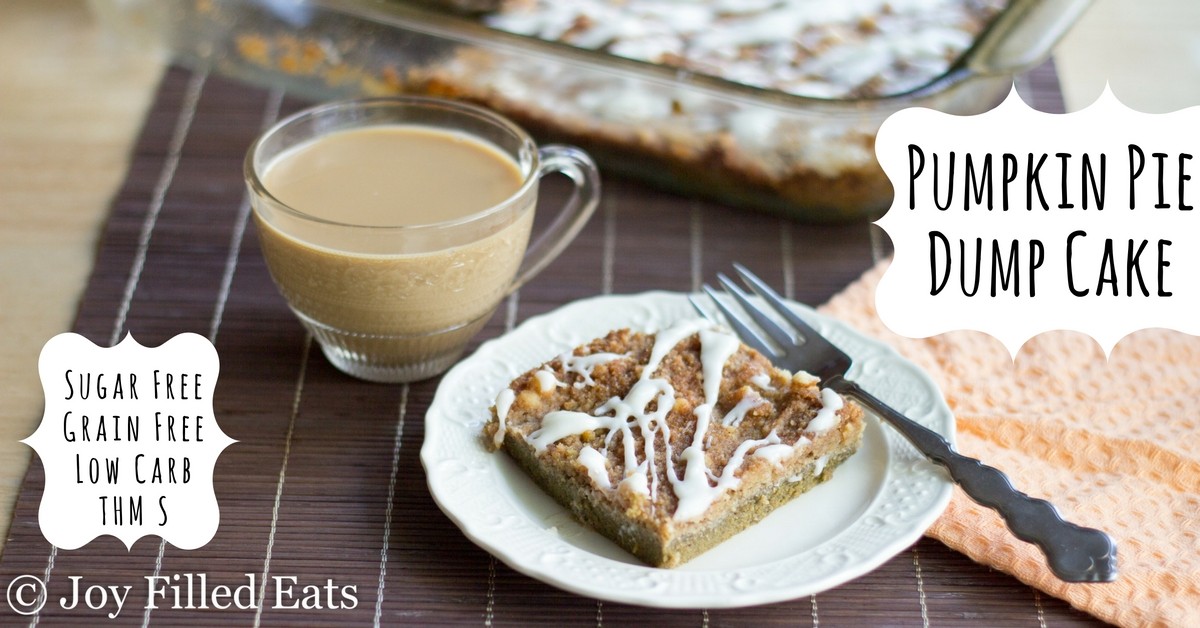 Pumpkin Pie Dump Cake – Low Carb, Sugar Free, THM S

My Pumpkin Pie Dump Cake is like a pumpkin pie & a crumb cake got married & had a baby. It is more cakey than a custard but more custardy than a cake. Yum.

from Joy Filled Eats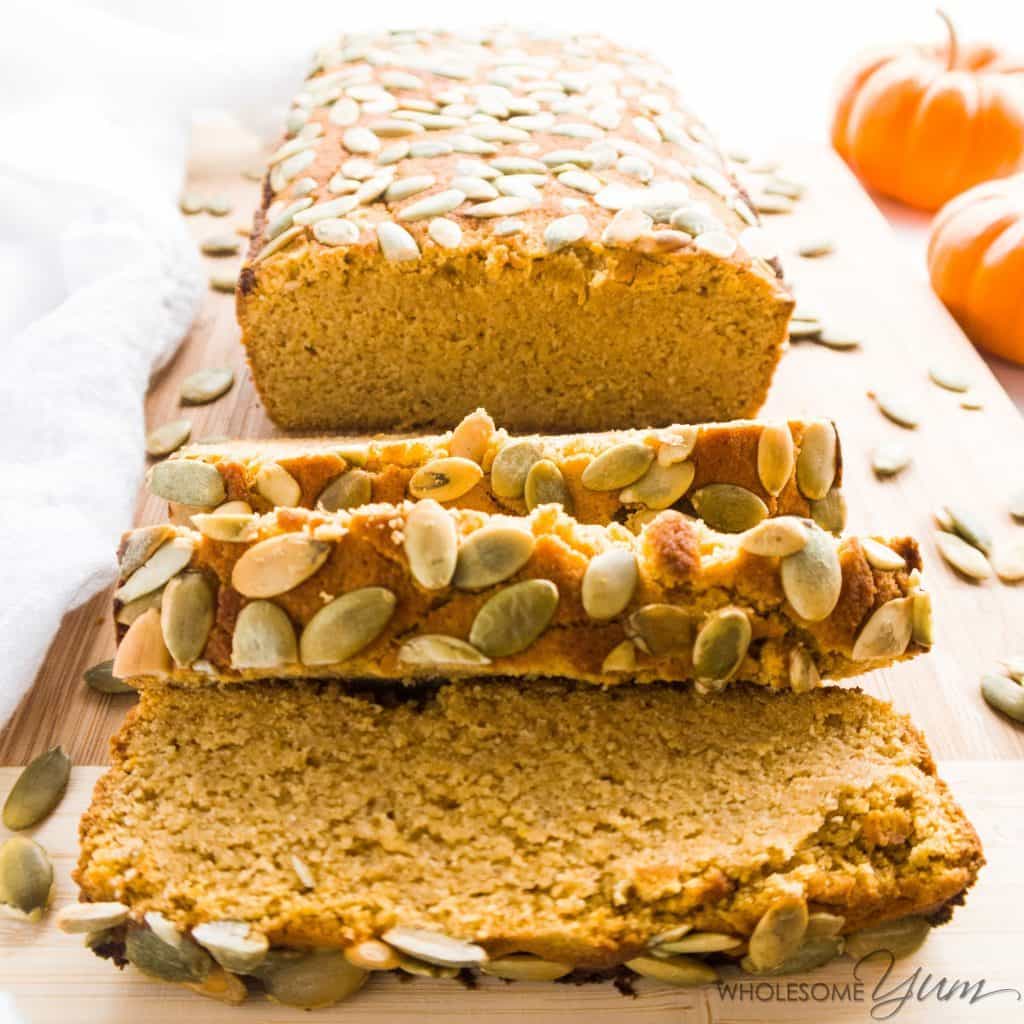 Sugar-Free Pumpkin Bread (Low Carb, Paleo)

I've got sugar-free pumpkin bread on my mind. As the end of the month approaches, all the local stores are brimming with carving pumpkins and Halloween costumes. A cool breeze rustles the huge maple tree in my front yard, its leaves ablaze in deep reds and rich yellows. A chill expands through the crisp air left in the wake of the wind as it passes. We've had a long, drawn-out autumn with an abundance of warm, almost summer-like days, but now it's starting to feel truly like fall.

from www.wholesomeyum.com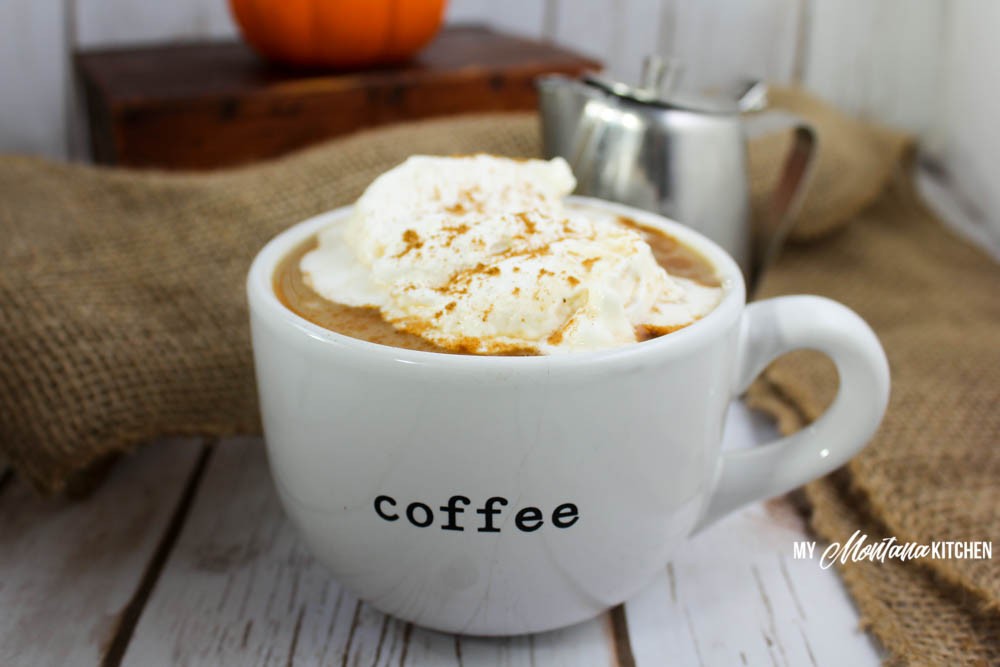 Pumpkin Spice Latte

A delicious pumpkin spice latte filled to the brim with health-promoting benefits! A good dose of MCT oil and coconut oil, plus all the flavors of fall!

from My Montana Kitchen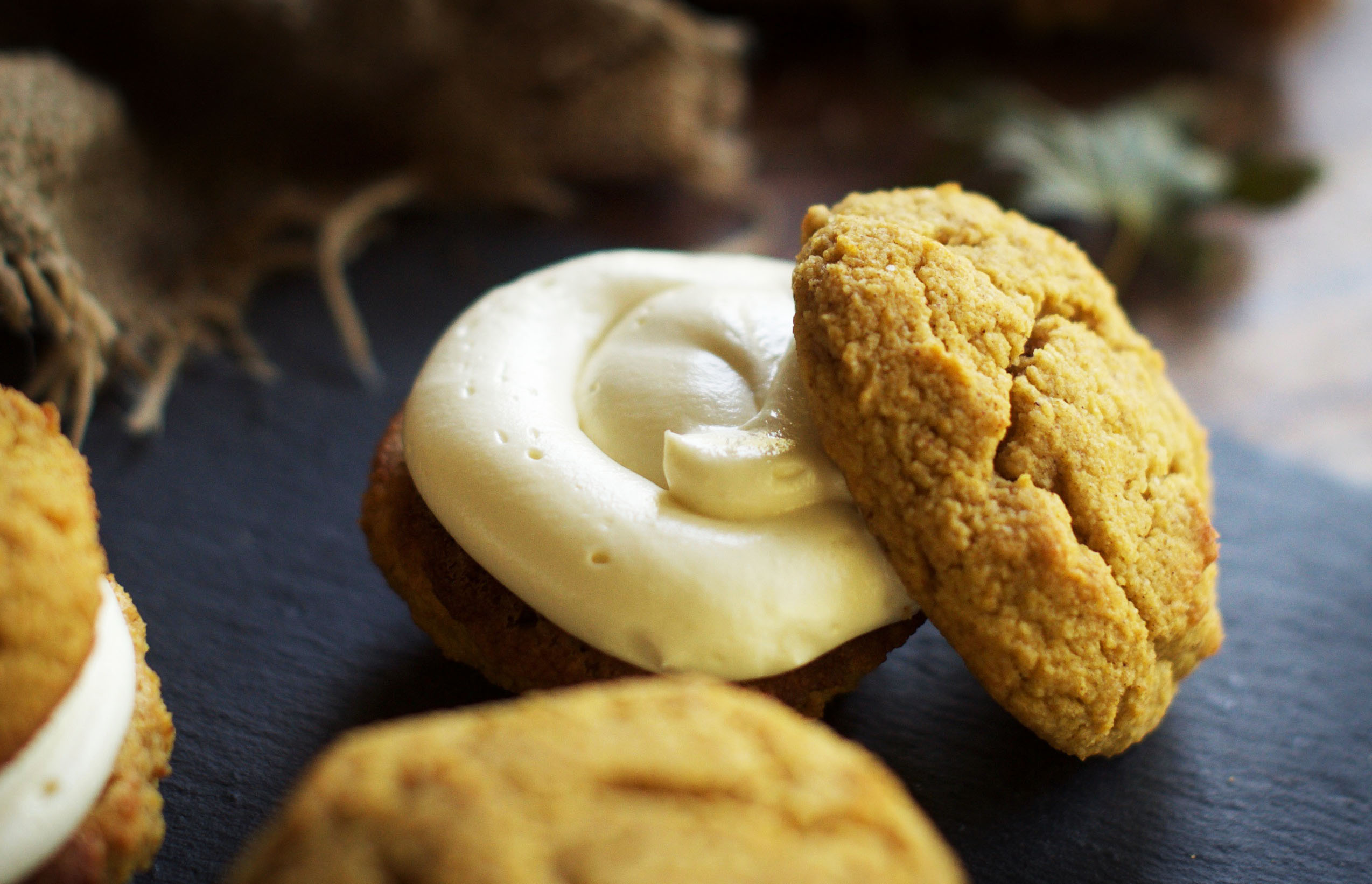 Low-Carb Pumpkin Whoopie Pies

These pumpkin whoopie pies melt in your mouth and taste like fall.  Pumpkin and warm autumn spices flavor these soft cookie sandwiches.  Nestled between the cookies rests a voluptuous, vanilla cream cheese filling.  This combination of cookie and filling makes a fall treat you won't believe is low-carb and grain-free.

from Simply So Healthy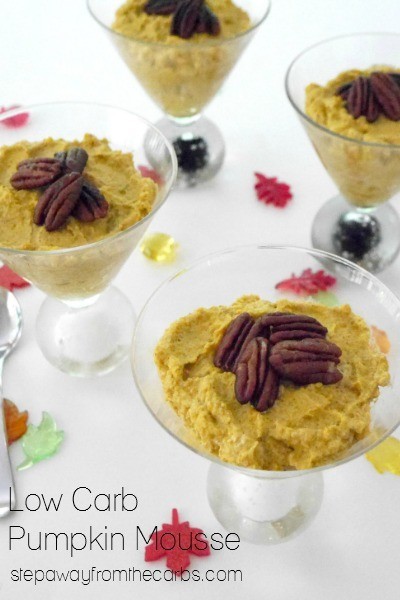 Low Carb Pumpkin Mousse

This low carb pumpkin mousse dessert is served with caramelized pecans. The perfect end to a fall meal! My husband isn't much of a fan of any of the spices that regularly get paired with pumpkin, and it can taste rather bland without. So I knew I had to make something with individual portions rather than a big pie or similar. These pumpkin mousses were the answer, and the caramelized pecans go so well with them. 

from Step Away From The Carbs

Low-Carb Pumpkin Mousse Pie

This Low-Carb Pumpkin Mousse Pie recipe works for low-carb, ketogenic, lc/hf, diabetic, Atkins, gluten-free, grain-free, or Banting diets. Delicious!

from Simply So Healthy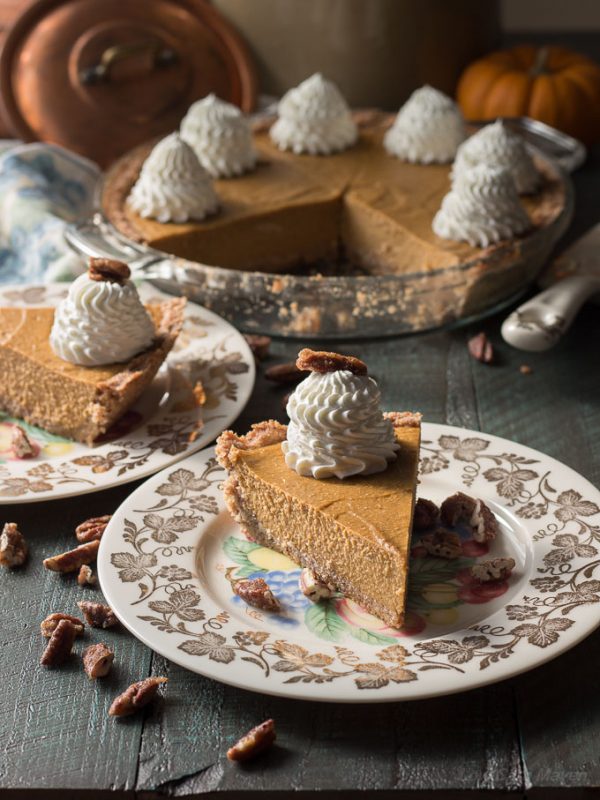 SUGAR-FREE LOW CARB PUMPKIN PIE (NO-BAKE)

Pumpkin pie is a favorite of mine and I eagerly anticipate making it every Fall. I love its firm, custardy texture and the mixture of spices that mingle with the pureed pumpkin – taking it to an entirely new level. Since I only make pumpkin pie twice a year, once for Thanksgiving and once for Christmas, I consider it a must for my holiday table.

from www.lowcarbmaven.com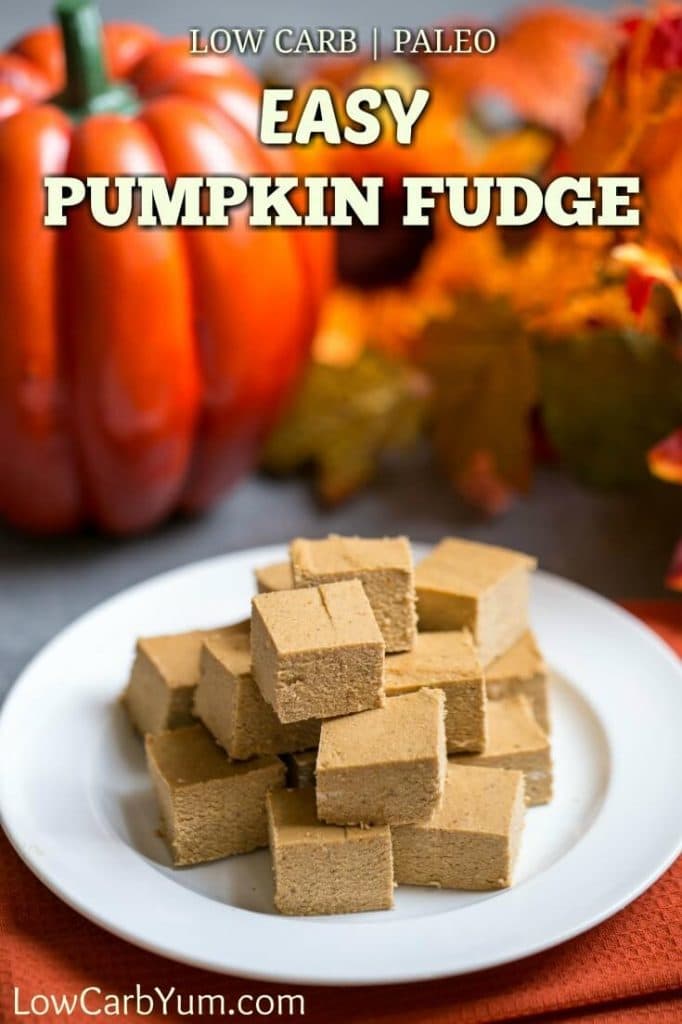 EASY PUMPKIN FUDGE RECIPE – SUGAR FREE AND PALEO

Since we are in the middle of the official pumpkin season, I thought it would be a great time to work on an easy pumpkin fudge recipe. My only requirement was that it be paleo diet friendly. This means it had to be dairy-free as well as not use any sugar alcohols.

from lowcarbyum.com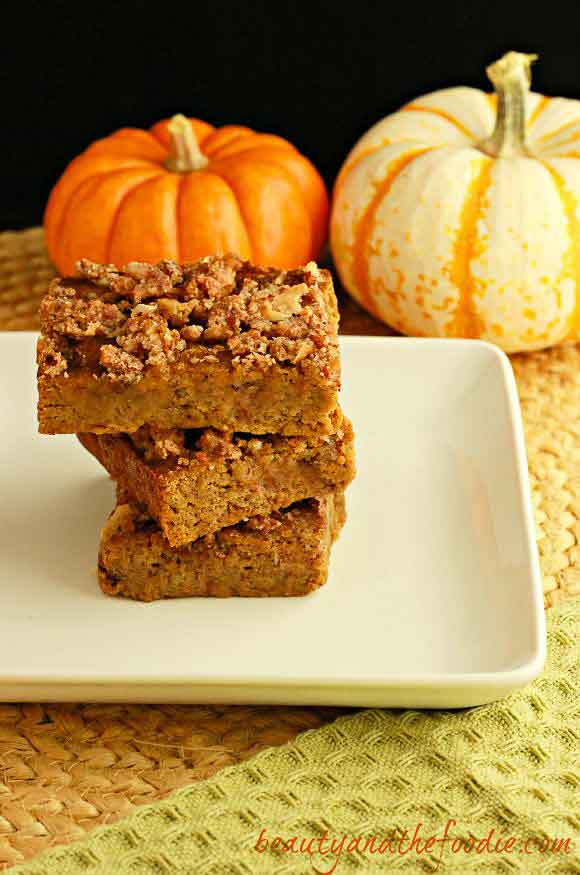 MAGICAL PALEO PUMPKIN CRUMBLE BARS

Fall is here, and hopefully you are not tired of pumpkin just yet. This Paleo Pumpkin Crumble Bar recipe is definitely a keeper, though. I wish there were still some of these left at my house. They magically disappeared very quickly from my kitchen! The kids asked if I could make these for Thanksgiving dessert. I believe the word "magical" was uttered in between bites.

from beautyandthefoodie.com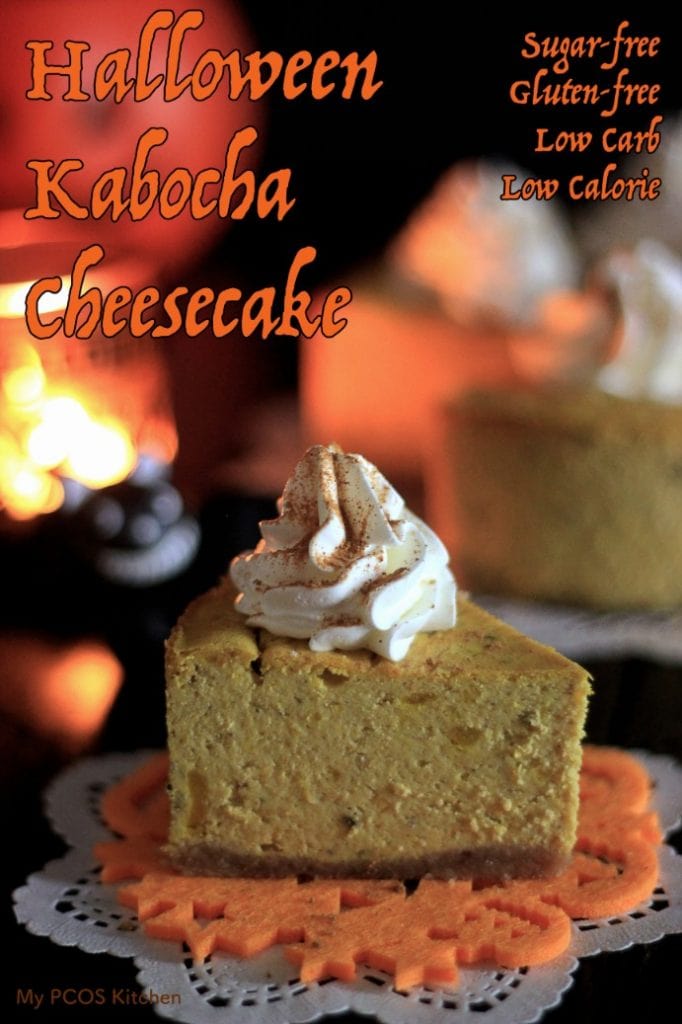 HALLOWEEN KABOCHA CHEESECAKE

I've been looking in different grocery stores for the past few weeks, but haven't been able to find a pumpkin. It might still be early, or pumpkins in general aren't a common thing here. I have found a can of pumpkin puree, but I decided to go with a kabocha squash for this recipe because I already had it on hand. October has started and so this is the perfect time to make Halloween-themed recipes!

from www.mypcoskitchen.com
Loved these recipes? Let us know! Something didn't quite turn out right? Ask us in the comments below – we respond to comments every day and would love to hear from you and help you out! And check out all our low carb desserts to learn to make more delicious and healthy meals that take no time to prepare!
NUTRITIONAL DISCLAIMER
The content on this website should not be taken as medical advice and you should ALWAYS consult with your doctor before starting any diet or exercise program. We provide nutritional data for our recipes as a courtesy to our readers. We use Total Keto Diet app software to calculate the nutrition and we remove fiber and sugar alcohols, like erythritol, from the total carbohydrate count to get to the net carb count, as they do not affect your blood glucose levels. You should independently calculate nutritional information on your own and not rely on our data. The website or content herein is not intended to cure, prevent, diagnose or treat any disease. This website shall not be liable for adverse reactions or any other outcome resulting from the use of recipes or recommendations on the Website or actions you take as a result. Any action you take is strictly at your own risk.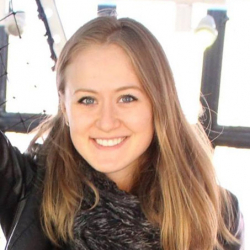 Latest posts by Vicky Abrams
(see all)
Check Out These Roundups: