Fall-off-the-bone, low carb goodness!
Lamb stew is hearty, thick and full of amazing nutrients! After visiting an amazing Greek Restaurant in Brooklyn, NY, Elia, we were inspired to create a keto braised lamb recipe of our own! Taking a leaf out of the ancient Celtics' cookbook, we used our dutch oven, which is similar to the cauldrons they used in the seventh century! Dutch ovens are extremely expensive, but for good reason! They are ideal for using on slow roasting recipes such as stews and casseroles. We invested in our dutch oven but there are several budget friendly options. It's a piece of cookware that you will have for years; they're made with such quality materials for the most difficult of recipes and can outlast many of your usual pots and pans. My mother has scary looking one all the way from Russia from about 20 years ago! And, of course, she still uses it today.
Braising is a form of cooking that utilizes dry and wet cooking. First, you sear the lamb in oil on a hot pan and then you submerge it to slow cook in broth and wine! This will ensure the outside of the meat is crispy and brown while the inside just falls off the bone. If you skip searing, you'll still have a tasty lamb stew, but you'll be missing the crisp outer shell that you get from searing it first.
To start, remember to always buy your meat from a reliable source! Check out our Filet Mignon recipe for some more info on meats and different cuts! Make sure to add dry red wine to the broth – it really adds a deeper flavor. Using dry wine as opposed to sweet wine will help ensure less sugar content and a more natural wine product. The driest red wines include Pinot Noir, Cabernet Sauvignon, and Merlot; the driest whites are Sauvignon Blanc and Albarino. For this recipe, we used our favorite Cabernet Sauvignon, Woodbridge.
Subscribe for a FREE copy of our
4-Week Keto Meal Plan
4 Weeks of Delicious Keto Recipes!
Leftovers and Bulk Preps Included
Maximize Your Keto Diet's Success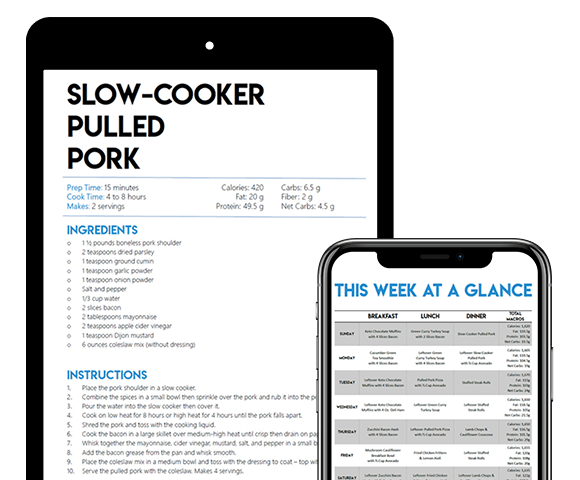 Consider making some home-made tzaziki sauce too! It's a refreshing pairing to the hearty lamb stew!
Let's make some braised lamb stew!
Put your dutch oven on a high flame to warm up. The dutch oven is made of a very thick material and takes longer to warm up that your regular pot or pan. Give it about 5-10 minutes before putting anything in there.

While your dutch oven is heating, take your legs of lamb and rub them with olive oil, salt and pepper. When the dutch oven is hot, put the lamb legs in and let them get nice and brown on each side (flipping once).

While your legs are browning, chop up your veggies very roughly. This is a chunky stew if there ever was one!

When both sides of the lamb legs are brown, set them aside on a plate and throw in your veggies. Let them cook until the onions become translucent and they start to take some of the browning that was left behind by the lamb you just took off.

When the veggies are tender, pour in your bone broth and wine and add the rosemary. As the mixture heats up a bit, start to gently scrape some of the browning that was left behind and incorporate it into your broth. Tasty stuff can't go to waste!

Submerge your resting lamb legs into the mixture and... you can pretty much take a break for about 4 hours! Clean your house, work out, have a snack... you want to let this lamb really simmer on a low flame for as long as you can. The longer you let it simmer, the softer it'll be.

While you're waiting, consider making some home-made tzaziki sauce! It's the perfect, fresh and cooling, Greek pairing to a zesty lamb stew!

After about 3-4 hours, you should notice the lamb becoming very soft in your broth. Remove the meat from the broth carefully (if it's as soft as it should be, using a fork will break it all apart. Try using a spatula or tongs at least).

Place the lamb on a plate and scoop up some veggies. Pour some of that tasty broth on too! Pair it with some tzatziki sauce and dig in!
Tasteaholics, Inc. is a participant in the Amazon Services LLC Associates Program, an affiliate advertising program designed to provide a means for sites to earn advertising fees by advertising and linking to Amazon.com.
Loved this recipe? Let us know! Something didn't quite turn out right? Ask us in the comments below or contact us– we respond to comments every day and would love to hear from you and help you out! And check out all our low carb dinners to learn to make more delicious and healthy meals!
NUTRITIONAL DISCLAIMER
The content on this website should not be taken as medical advice and you should ALWAYS consult with your doctor before starting any diet or exercise program. We provide nutritional data for our recipes as a courtesy to our readers. We use Total Keto Diet app software to calculate the nutrition and we remove fiber and sugar alcohols, like erythritol, from the total carbohydrate count to get to the net carb count, as they do not affect your blood glucose levels. You should independently calculate nutritional information on your own and not rely on our data. The website or content herein is not intended to cure, prevent, diagnose or treat any disease. This website shall not be liable for adverse reactions or any other outcome resulting from the use of recipes or recommendations on the Website or actions you take as a result. Any action you take is strictly at your own risk.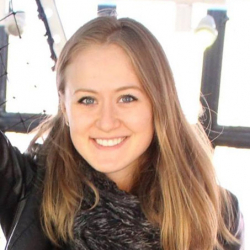 Latest posts by Vicky Abrams
(see all)
Have You Tried These Delicious Recipes?
Missing anything? Get it on