15 Minute Low-Carb Cucumber Bites
We'd like to introduce everyone to Abbie, who blogs over at www.appetiteforenergy.com, a website chockfull of low carb, sugar-free and gluten-free recipes. She's got helpful guides, books and resources to help anyone getting started in a keto or low carb diet. Abbie wanted to submit an original recipe of her's for the readers of Tasteaholics and we're happy to say, it's a good one! She knew our readers love simple and delicious recipes that can be staples in a healthy diet – these 15-Minute Low Carb Cucumber Bites are the perfect example. We know we'll be making them for our next dinner party. Enjoy!
Who doesn't love the holiday season with parties, festive gatherings and special times connecting with our friends and loved ones? While there's lots of fun to be had, this time of year can be a challenge when you are following a low-carb eating style. 15 Minute Low-Carb Cucumber Bites are the perfect hors-d'oeuvre to whip up in less time than it takes to polish the martini glasses.
At appetiteforenergy.com we love easy, low-carb recipes that can be made in 30 minutes or less. We focus on fresh, whole ingredients and this recipe is no exception. It uses only 4 ingredients – cucumber, avocado, smoked salmon and sesame seeds. Try it next time you are faced with the dilemma of which keto-friendly dish to serve your guests.
Subscribe for a FREE copy of our
4-Week Keto Meal Plan
4 Weeks of Delicious Keto Recipes!
Leftovers and Bulk Preps Included
Maximize Your Keto Diet's Success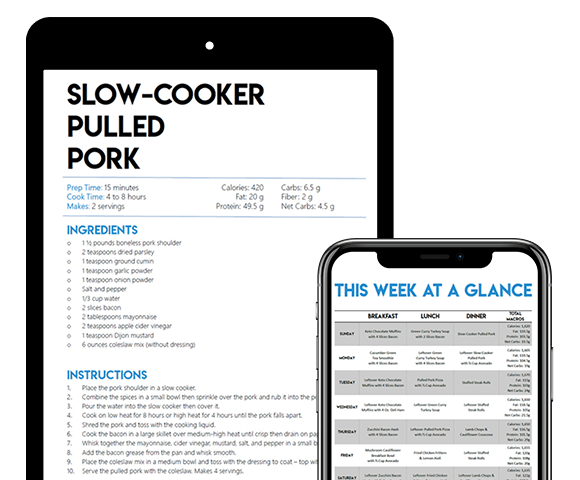 Have you ever found yourself taking your own food to parties so you'll have something to eat?
Life would be a lot easier if a low-carb diet was the mainstream way of eating. Low-carb food though, seems to be becoming more and more common. Articles, news stories and social media posts are frequently popping up in mainstream media. In fact, Google searches for low-carb diets are now 4 times greater than searches for low-fat diets!
However, despite so much interest in diets such as the low-carb, ketogenic and paleo diet, we are typically surrounded by people eating a standard American diet. As we know, this means 60% comes from carbohydrates!
In the meantime, plan ahead so that you can enjoy having fun with friends and family without getting sidetracked by food. This means having a few easy, low-carb party recipes in your repertoire. I find that you can often avoid carbs like potato chips at parties but it's not easy to get enough fat to keep you full.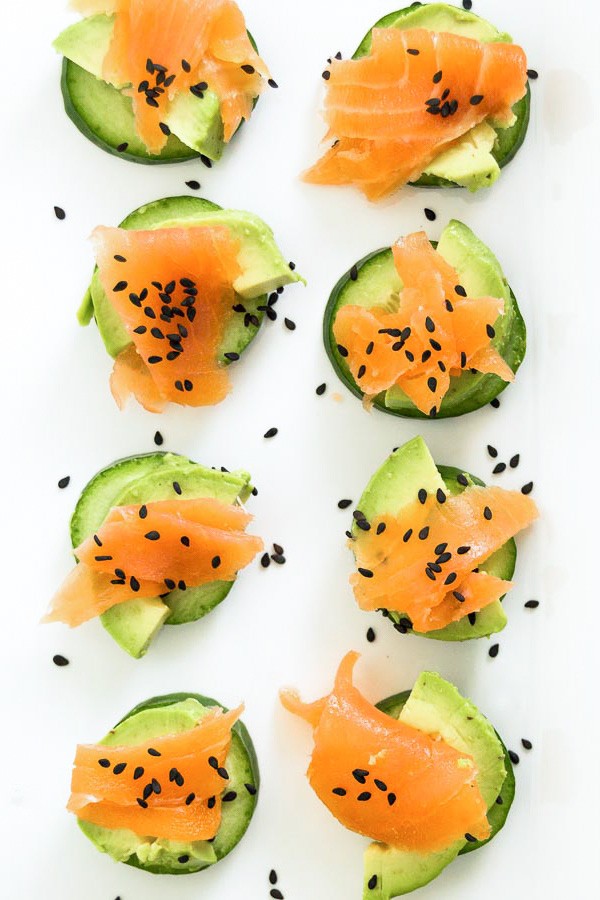 Low-carb combined with low-fat is not a winning combination. You've probably experienced that starving feeling you get when you haven't eaten enough fat. We need that all important fat component to feel truly satiated. Look out for nuts, cheese and olives next time you are wondering what to eat at a party.
If you are entertaining at home, you have control over the food, so life is a lot easier. These 15 Minute Low-Carb Cucumber Bites are the perfect no-cook hors-d'oeuvre and your guests will love them. You don't even need to cook them, just a bit of slicing, stacking and sprinkling. Nobody will have an inkling that they are even low-carb.
When you are going to someone else's home, the best thing to do is offer to bring a plate of food. You will be guaranteed at least one low-carb option! Another way to impress your host is to offer to bring an antipasto/cheese board and load it up with all your low-carb favorites like charcuterie, cheeses and olives.
Try to make 15 Minute Low-Carb Cucumber Bites as close as possible to serving, but you could make them a few hours ahead and squeeze a little lemon juice over the avocado. This will ensure that the avocado stays fresh.
Chill your champagne glasses and pop the cork on a bottle of bubbly! Hand around 15 Minute Low-Carb Cucumber Bites and enjoy every fresh, keto-friendly bite.
If you enjoyed this recipe and are looking for another quick appetizer, try these spicy keto tuna cucumber boats with cream cheese or chive and onion cream cheese cucumber boats from Real Balanced. These unique snacks are something you shouldn't pass up!
1

large

cucumber

1

small

avocado

3-4

oz.

smoked salmon

(about 100 grams)

1/2

tsp

black sesame seeds

(or white)
Slice the cucumbers into rounds about 1/4 inch thick.

Slice the avocado and cut it into small slices, about the size of the cucumber.

Place the avocado slices on the cucumber rounds. Note: if you are making these ahead of time, squeeze a little lemon juice over the avocado to avoid browning.

Cut the smoked salmon into small pieces about twice as long as the cucumber. Fold the smoked salmon over and place on top of the avocado.

Sprinkle the black sesame seeds over the top. Serve and enjoy!
Tasteaholics, Inc. is a participant in the Amazon Services LLC Associates Program, an affiliate advertising program designed to provide a means for sites to earn advertising fees by advertising and linking to Amazon.com.
About the Author

Hi, I'm Abbie from Appetite For Energy, where we share simple low-carb recipes that can be made in 30 minutes or less. We love helping busy people start and maintain a low-carb diet, especially families where not everyone eats a low-carb diet! Hop on over and visit us at appetiteforenergy.com.
NUTRITIONAL DISCLAIMER
The content on this website should not be taken as medical advice and you should ALWAYS consult with your doctor before starting any diet or exercise program. We provide nutritional data for our recipes as a courtesy to our readers. We use Total Keto Diet app software to calculate the nutrition and we remove fiber and sugar alcohols, like erythritol, from the total carbohydrate count to get to the net carb count, as they do not affect your blood glucose levels. You should independently calculate nutritional information on your own and not rely on our data. The website or content herein is not intended to cure, prevent, diagnose or treat any disease. This website shall not be liable for adverse reactions or any other outcome resulting from the use of recipes or recommendations on the Website or actions you take as a result. Any action you take is strictly at your own risk.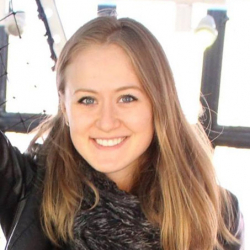 Latest posts by Vicky Abrams
(see all)
Have You Tried These Delicious Recipes?