Subscribe for a FREE copy of our
14-Day Keto Meal Plan
2 Full Weeks of Delicious Recipes!
Leftovers and Bulk Preps Included
Maximize Your Keto Diet's Success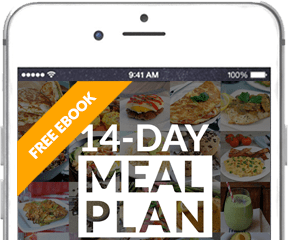 A Simple, Italian Feast!
Why Italian on this particular day? It's exactly 2 weeks until we leave for our Italian adventure! Rami and I have been planning a sort of Eurotrip for a few months now and it's finally upon us. We're officially going to Italy and a few other countries over the next couple of months and we're so excited to blog about the entire trip and all the yummy food we'll be experiencing. We think our Instagram and Youtube will thank us!
How did this come about? We've been dreaming of a life beyond New York ever since we first met. The destination was never set in stone but we always knew we wanted to travel as much as we could. Italy was naturally the first choice. I took a few years of Italian in high school and fell in love with it, continuing to study it on my own whenever I could. When we realized travel was in our near future, Rami quickly caught up thanks to some tutoring and audio lessons. After weeks of scouring for good airline deals and countless Airbnb inquiries, we finally booked our first few stays!
Note: If you don't have an Airbnb account yet, use our affiliate link to get $35 off your first booking!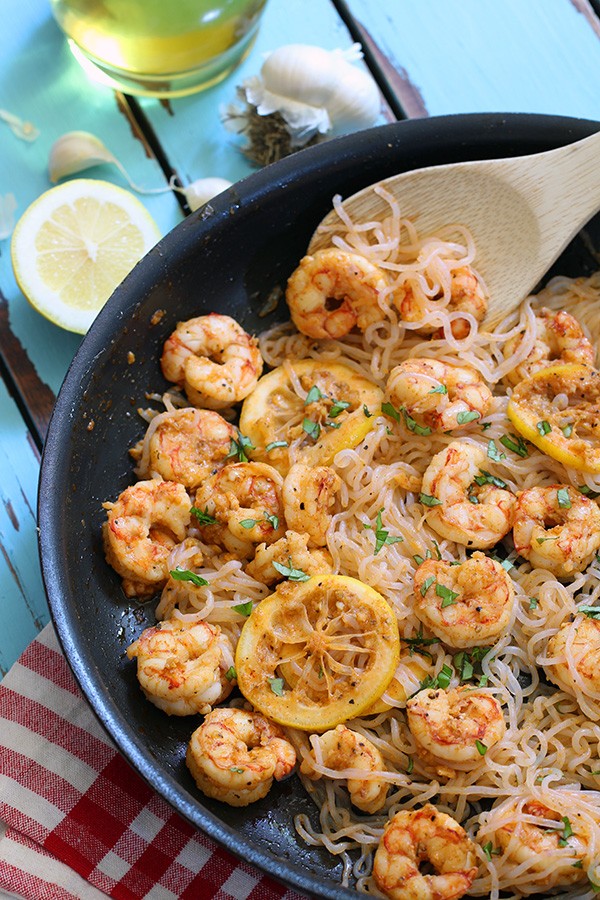 We're going to be living in Rome and Florence for the first few weeks of our adventure. During this time, we'll be sampling all the local, delicious cuisine and, not to mention, relaxing a bit. We can't think of a better place to start our travels than picturesque Tuscany. To celebrate this milestone in our lives, we've decided to announce it alongside a classic Italian recipe with a low carb spin, of course.
Our Low Carb Lemon Garlic Shrimp Pasta was done before we could even get hungry! This easy, low carb dinner has just a few ingredients and can be ready in only 20 minutes. This recipe is also the third in our Miracle Noodle series. We bought a variety pack on Amazon and have been working our way through it, experimenting with lots of different recipes. If you want to check out the two previous ones, have a look!
Love Miracle Noodles? Give these a try!
For this recipe, we threw in some fresh shrimp (always better than frozen!) and lemon slices for a really fresh, light meal that can be made for lunch or dinner. At only 3.5 grams of net carbs per serving, anyone can enjoy this pasta any day of the week!
If you're a fan of easy, low carb dinner recipes that only take a few common ingredients to make, you should definitely take a look at our latest ecookbook – Dinner in Five. It's full of dinner recipes that use only 5 ingredients each. Every recipe in the book is 5 grams of net carbs or fewer – that means staying in keto just got easier. Take a look at what others are saying about Dinner in Five before you try it for yourself!
In the meantime, enjoy this super simple dinner recipe and stay tuned for many more Italian inspired dishes!
Set a pot of water to boil. Drain the water from your Miracle Noodle Angel Hair bag and rinse the noodles for a few minutes in cool water. Then, boil them for 2 minutes.

Add them to a dry, hot pan on medium heat and dry roast them to evaporate most of the excess water. This will help the noodles absorb more flavors while cooking. Once they're dry, set them aside while you prepare the rest of the recipe.

In the same pan, add the butter and olive oil and let them heat up. Crush the garlic cloves and add them to the butter and oil. Cook until fragrant but not brown.

Slice the lemon into rounds. Add the lemon slices and shrimp to the garlic. Cook for about 3 minutes on each of the shrimps' sides.

When the shrimp are cooked and opaque, add the noodles to the pan and season with salt, pepper and paprika.

Toss everything to coat the noodles in the flavors.

Serve with a sprinkle of fresh basil and enjoy!
We provide nutritional information for our recipes as a courtesy to our readers. The data is calculated using the MyFitnessPal app. We remove fiber and sugar alcohols, including erythritol, from the final carbohydrate count since they do not affect blood glucose levels in most individuals. We try to be as accurate as possible but we encourage you to calculate nutritional information on your own.
Loved this recipe? Let us know! Something didn't quite turn out right? Ask us in the comments below or contact us– we respond to comments every day and would love to hear from you and help you out! And check out all our low carb dinners to learn to make more delicious and healthy meals!
Have you tried these delicious recipes?
Missing anything? Get it on
Disclosure of Material Connection: The products above are linking to Amazon as "affiliate links" because we're affiliates! When you click on a product, it'll take you to its Amazon page where the price stays the same for you and Amazon pays us a small percentage. This helps us continue to provide quality recipes and pay for operating costs.