Beef Stew Made Easy.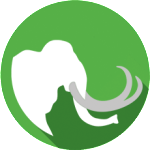 So many times, after a dinner of a roasted whole chicken or a t-bone steak, we've made the mistake of throwing out the animal bones, when we could have made some delicious bone broth! Not to mention the delicious treat that is sucking some marrow out of a giant bone after cooking it. If you have never done this, you are really missing out! Go grab yourself a piece of meat with the bone still inside right now!
Eating bone marrow has so many benefits:
Aids in joint health – bones are full of protein in the form collagen. Collagen is also found in tendons, ligaments and other connective tissue. It's broken down while cooking into another protein called gelatin. The same gelatin that's found Jell-O! When cooled, will give foods like bone broth and gelatinous consistency.
Gelatin has benefits of its own! Many people have reported that it aids in weight loss and plateaus, brain function, digestion, joint pain, bone health, sleep, appetite suppression. When boiled, gelatin can also help reduce joint inflammation and pain
Full of essential omega-3 fatty acids, vitamins, minerals (calcium, iron, phosphorus, zinc, selenium, magnesium, manganese)
Helps promote a healthy digestive tract by sealing liquids to help absorption and fighting inflammation
Read more about bone marrow and why drinking bone broth could be beneficial for you!
Subscribe for a FREE copy of our
4-Week Keto Meal Plan
4 Weeks of Delicious Keto Recipes!
Leftovers and Bulk Preps Included
Maximize Your Keto Diet's Success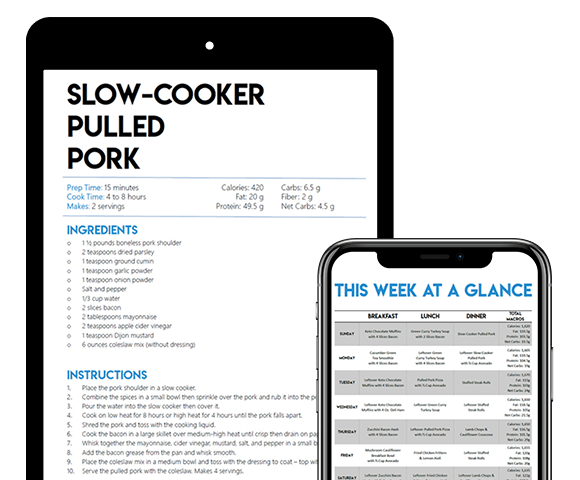 The easiest way to get these amazing benefits is to eat that bone marrow! Don't throw away those bones, you can do two of our favorite things: make bone broth or beef stew! To make bone broth, we suggest using small bones with bone marrow too small to see or savor. You can extract that marrow, small as it may be, and some of the nutrients inside the bones themselves by boiling them in a delicious broth with vegetables and spices. If done right, you'll notice that, when chilled overnight in the refrigerator, the top of the broth will actually turn to jelly!
The gelatin extracted from the bones solidifies and turns solid to the touch, just like Jell-O. This is a sign of a good bone broth! You can then use this broth as a starter for other soups, like our beef stew. Some people enjoy a cup of warm bone broth as a treat on its own and we don't blame them, it is really tasty. It's also full of electrolytes and great for helping that nasty keto flu some people suffer through. Think of bone broth as the new and improved chicken soup- the soup that will solve all your ailments.
Or, if you prefer a more hearty meal that will satisfy for days, you can make some of our easy beef stew! All you need is some organic beef shank; that means bone-in, leg cuts of beef. The easiest method we have is to simmer those shanks with veggies and spices for at least 3 hours and enjoy for days! It won't take long to throw everything for the stew into a pot and then sit back and enjoy the smell of the stew as it cooks all day. You will be craving a big bowl for sure by the time it is done!
Place a cast iron skillet on a medium flame to heat up while you chop your carrots, tomatoes, onion and garlic into very chunky pieces.

Place the onions, garlic and carrots into an oiled soup pot, or Dutch oven, to cook a little until translucent.

In the hot cast iron skillet, sear both sides of each beef shank until a deep brown crust forms. We're not cooking the beef here, just letting it develop a crust that boiling could not achieve.

Pour a quart of beef, chicken or bone broth over the onions, garlic and carrots. Add two cups of water and the apple cider vinegar to this as well. The apple cider vinegar adds some acidity to the broth which helps extract the vitamins and minerals from the bones during cooking. You can also use some lemon juice, but ACV tastes a bit milder and you won't notice it in your stew.

To this, add in your tomatoes, tomato sauce, and spices to taste. Stir well.

When all the beef shanks are seared, submerge each one into your broth and let it come to a boil.

After your beef stew comes to a boil, reduce the heat to a simmer. Let simmer slightly uncovered for at least 3 hours.

When the beef stew has simmered for a while, you'll notice most of the ingredients have broken down and the meat is tender and cooked throughout. You'll also notice the bone marrow within the bones has turned gray and very soft.

Remove the bay leaves and serve! Enjoy that delicious bone marrow!
Tasteaholics, Inc. is a participant in the Amazon Services LLC Associates Program, an affiliate advertising program designed to provide a means for sites to earn advertising fees by advertising and linking to Amazon.com.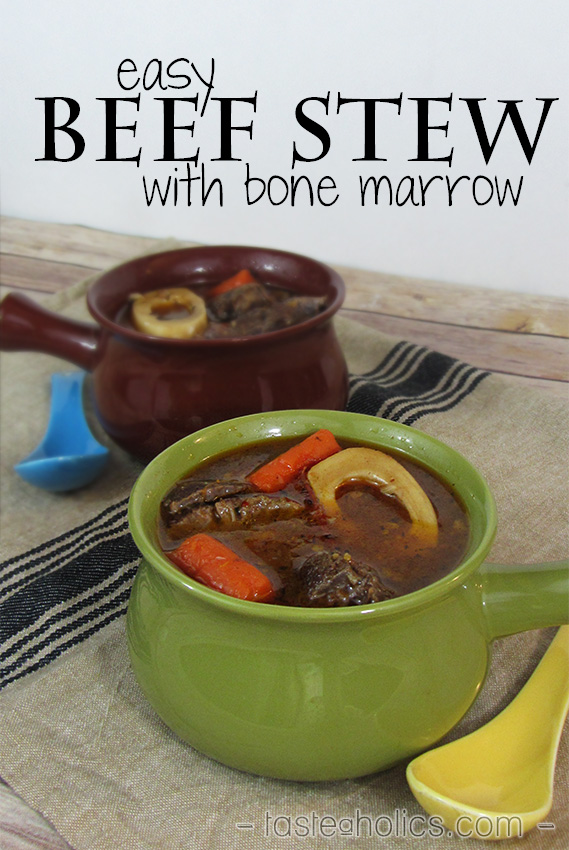 NUTRITIONAL DISCLAIMER
The content on this website should not be taken as medical advice and you should ALWAYS consult with your doctor before starting any diet or exercise program. We provide nutritional data for our recipes as a courtesy to our readers. We use Total Keto Diet app software to calculate the nutrition and we remove fiber and sugar alcohols, like erythritol, from the total carbohydrate count to get to the net carb count, as they do not affect your blood glucose levels. You should independently calculate nutritional information on your own and not rely on our data. The website or content herein is not intended to cure, prevent, diagnose or treat any disease. This website shall not be liable for adverse reactions or any other outcome resulting from the use of recipes or recommendations on the Website or actions you take as a result. Any action you take is strictly at your own risk.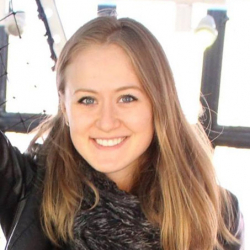 Latest posts by Vicky Abrams
(see all)
Have You Tried These Delicious Recipes?
Missing anything? Get it on