Keto Scrambled Eggs – A Love Rekindled!
Not everybody gets excited about scrambled eggs. They're unfortunately considered the lazy man's breakfast- they're easy and quick to make. When cooked improperly, you're left with dry, spongy bits of curdled egg. But, when cooked slowly using Gordon Ramsay's technique, you get creamy and evenly cooked, perfect scrambled eggs that are moist and full of flavor. Dry eggs can be underwhelming, but scrambled eggs don't have to be that way! We've been using Ramsay's method and have honestly had these perfect keto scrambled eggs for breakfast (and sometimes dinner) days in a row! They're addicting and super versatile- you can add anything you want into the scramble and eat something different each time.
We stick to our basic recipe- eggs, green onions and spices. It's light and simple, a perfect accompaniment to some robust and salty bacon, cooked to a crisp. Give this technique a try, you will not be disappointed and never look at scrambled eggs the same way again.
We used sour cream in this recipe to cool the eggs off to stop the cooking process and add some more moisture (again, to prevent dry spongy eggs) but if you've got some crème fraîche on hand, that would work better! Crème fraîche is simply sour cream with way more fat, about 30-45% butterfat. Awesome for any keto breakfast!
Subscribe for a FREE copy of our
4-Week Keto Meal Plan
4 Weeks of Delicious Keto Recipes!
Leftovers and Bulk Preps Included
Maximize Your Keto Diet's Success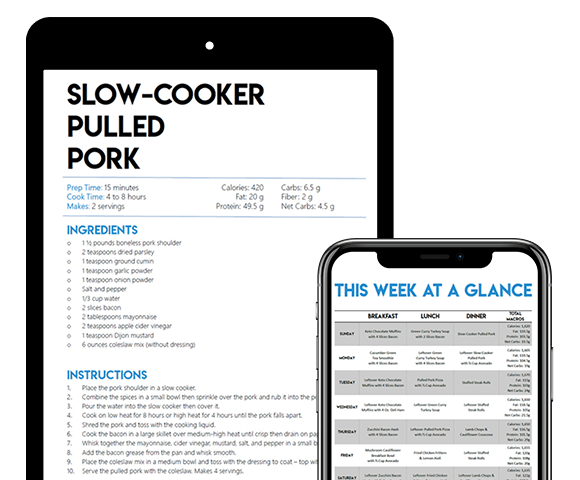 Eggs are also such a great keto ingredient. One egg has 6 grams of protein and 5 grams of healthy fats. They also have no carbs which means you can eat as many eggs as you please! Eggs are also full of lots of other nutrients like calcium, selenium and lots of vitamins (vitamin A, B12, D, E K….the list goes on!). If you are able to buy eggs that have extra omega-3 fatty acids, definitely grab them! These eggs come from "happy chickens" who have a balanced diet of grass and other natural feed. The result of feeding chickens well is eggs that are higher in omega 3's. Omega-3 fatty acids have been linked to many health benefits and promote a healthier heart. Seems like a good choice!
Scrambled eggs are perfect when eaten on their own but feel free to serve them on top of keto cloud bread, next to a sweet chaffle or inside a keto wrap with some sauteed spinach. There really is no wrong way to eat scrambled eggs. While they may be considered the lazy mans breakfast, we know that they are actually a keto winners breakfast! Make eggs any day, every day and you will be starting your day off the right way! Maybe even scrambled eggs for dinner? Breakfast for dinner is always a fun switch. Enjoy!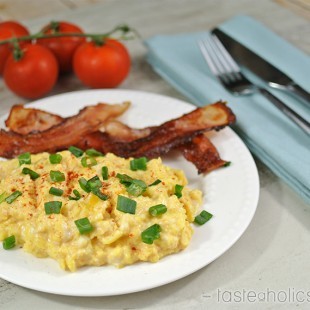 The Perfect Scramble
Macros per serving:
• 444 Calories
• 35g of Fat
• 25g of Protein
• 2g of Carbs

The Perfect Scramble

Macros per serving:
• 444 Calories
• 35g of Fat
• 25g of Protein
• 2g of Carbs

Crack the eggs into a cold, ungreased pan and add the butter. Only start mixing the eggs once they're on the heat. This ensures no areas of the egg starts to cook before the others. We are saving the seasoning for after the eggs are cooked. Adding salt will only break the eggs down and create a watery finish; we want creamy!

Place the pan on a medium-high heat and begin stirring the eggs and butter together with a silicone spatula. As the butter melts slowly, it'll give the eggs extra creaminess and will also prevent the eggs from sticking to the pan.

While stirring the eggs, let some bacon strips cook to your desired crispiness in another pan (or bake them!).

Alternate stirring the eggs on the heat and off the heat. If you see the eggs starting to cook in a thin, dry layer at the bottom of the pan, take it off the heat! Scrape it with your silicone spatula and that layer should integrate back with the rest of the eggs and regain some creaminess.

Never stop stirring the eggs! Keep alternating stirring them on and off the flame. A few seconds on the flame, a few seconds off.

The eggs should start coming together slowly. When they're almost done cooking to your liking, turn the flame off. The eggs will continue cooking a little more from the residual heat from the pan.

Now, you can add 2 tablespoons of sour cream or crème fraîche. You can also season now! We used salt, pepper, garlic powder, onion powder and paprika. If you were to only use 2 spices, we recommend salt and paprika. Eggs love paprika.

To add some contrasting flavor, add in two stalks of green onion, chopped. They work so well in scrambled eggs!

When the eggs are cooked and seasoned and the bacon is ready, dig in!
Tasteaholics, Inc. is a participant in the Amazon Services LLC Associates Program, an affiliate advertising program designed to provide a means for sites to earn advertising fees by advertising and linking to Amazon.com.
Loved this recipe? Let us know! Something didn't quite turn out right? Ask us in the comments below or contact us– we respond to comments every day and would love to hear from you and help you out! And check out all our keto recipes to learn to make more delicious and healthy meals that take no time to prepare!
NUTRITIONAL DISCLAIMER
The content on this website should not be taken as medical advice and you should ALWAYS consult with your doctor before starting any diet or exercise program. We provide nutritional data for our recipes as a courtesy to our readers. We use Total Keto Diet app software to calculate the nutrition and we remove fiber and sugar alcohols, like erythritol, from the total carbohydrate count to get to the net carb count, as they do not affect your blood glucose levels. You should independently calculate nutritional information on your own and not rely on our data. The website or content herein is not intended to cure, prevent, diagnose or treat any disease. This website shall not be liable for adverse reactions or any other outcome resulting from the use of recipes or recommendations on the Website or actions you take as a result. Any action you take is strictly at your own risk.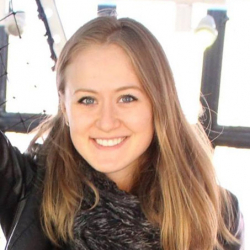 Latest posts by Vicky Abrams
(see all)
Have You Tried These Delicious Recipes?
Missing anything? Get it on