All weekday breakfasts should be quick and healthy!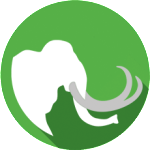 This quick and healthy breakfast idea came to us when our extra shrimp from the night before were laying sadly in a container just waiting to be eaten! Our omelette was in the works already but we threw those shrimps in before the eggs and we were very pleased with the results! Add as much spices as you like; shrimp love cayenne and paprika!
The night before, we made Spicy Shrimp Scampi which was delicious! Check out the recipe for a quick and keto friendly dinner.
Here's a quick healthy breakfast idea: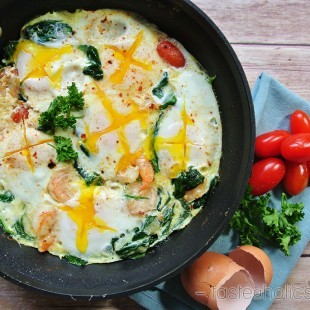 Spicy Shrimp Omelette
Macros per serving:
• 329 Calories
• 17g of Fat
• 36g of Protein
• 4g of Carbs

Spicy Shrimp Omelette

Macros per serving:
• 329 Calories
• 17g of Fat
• 36g of Protein
• 4g of Carbs

Chop up some onion and slice the grape tomatoes in half lengthwise.

Fire up a pan to medium heat and throw on the onions and some salt to cook. At the same time, place the grape tomatoes cut side down to roast a little.

When the onions are translucent throw in your spinach and let it wilt and shrink enough for some shrimp to fit in.

Throw in the shrimp and move on to the eggs!

Here you have some flexibility: you can make a scramble (on low heat and stirring very often), or you can whisk the eggs in the bowl and pour it over to make a regular omelette. We decided to make a sunny side up omelette. You can also choose to crack the yolks after they're on the shrimp and spinach so you've got two layers of egg, making a nice marbled omelette.

To make the eggs our way, crack each one leaving room for all 6, or however many you're using. Then take a wooden spoon and jiggle the whites around so they grab everything underneath them a little better.

Put a lid on your pan so the top of your omelette cooks as well. We left ours on the fire for about 6-8 minutes. Watch you eggs, once a thin film of white is covering the yolks, it's ready. If you like your eggs less runny, cook it for a little longer than that.

When the omelette is done, run a knife across each yolk and let it ooze onto the entire omelette, adding new, yummy textures! Garnish with some parsley and enjoy!
We provide nutritional information for our recipes as a courtesy to our readers. The data is calculated using the MyFitnessPal app. We remove fiber and sugar alcohols, including erythritol, from the final carbohydrate count since they do not affect blood glucose levels in most individuals. We try to be as accurate as possible but we encourage you to calculate nutritional information on your own.
Loved this recipe? Let us know! Something didn't quite turn out right? Ask us in the comments below or contact us– we respond to comments every day and would love to hear from you and help you out! And check out all our breakfast recipes to learn to make more delicious and healthy meals!
Have You Tried These Delicious Recipes?
LOW CARB
WEEKLY
MEAL PLANS
delivered straight to your inbox!
Easy & Delicious Low Carb Recipes
Shopping Lists
All Macros Calculated
Leftovers & Keto Snack Ideas