#EatEnlightened
While we're big believers in homemade… anything, and we love our low carb ice cream recipes, when Enlightened Ice Cream contacted us to send a couple of new flavors, could we refuse? We fell in love with Enlightened over a year ago as soon as we bit into their Sea Salt Caramel ice cream bars. We couldn't believe it was a low sugar ice cream! "What a jackpot," we thought.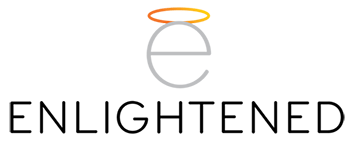 A few weeks later, a suspiciously freezing package came for us with a warning to handle with gloves! We knew it had to be ice cream. We ripped it open, with just enough care to not get dry ice burns, and marveled in the glory of 7 new pints of Enlightened ice cream in some seriously delicious sounding flavors! The dry ice it came packaged with was quickly forgotten and left to evaporate.
Subscribe for a FREE copy of our
14-Day Keto Meal Plan
2 Full Weeks of Delicious Recipes!
Leftovers and Bulk Preps Included
Maximize Your Keto Diet's Success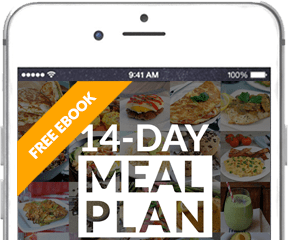 Here's what we got in our little care package from Enlightened!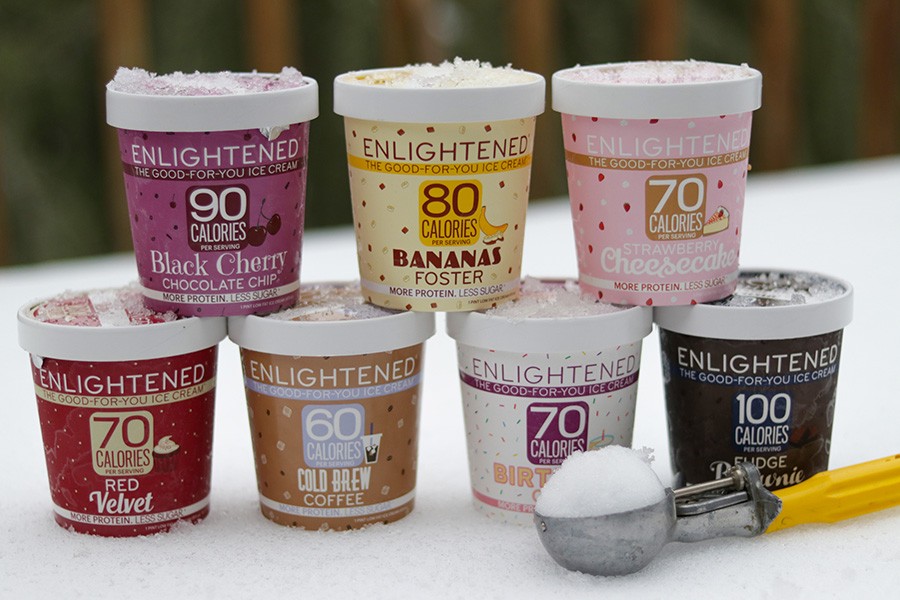 Pictured here are their Black Cherry, Bananas Foster, Strawberry Cheesecake, Red Velvet, Cold Brew Coffee, Birthday Cake and Fudge Brownie flavors. We were lucky to have had a snow storm hit us in NYC so we got some really nice looking photos in the snow. We love that each pint has the calories listed right on the front of the packaging, ranging from 60 calories to 100. They're all low carb, low in sugar and sweetened with a blend of erythritol (yay!) and monk fruit extract. The Birthday Cake did contain maltodextrin but the rest didn't!
If we had to pick our top 3 flavors, which would be a hard task, we'd probably choose the Birthday Cake, Strawberry Cheesecake, and Bananas Foster.
Pro tip: Allow the ice cream to thaw a bit before scooping. The flavors really develop when it's had a little time to soften.
Birthday Cake ice cream is such a hard flavor to replicate so it's great to have it available in our local store. The Strawberry Cheesecake and Bananas Foster flavors are really complex and chunky, making for quite a special treat.
The other flavors are in no way less delicious! We loved the simplicity of Cold Bew Coffee and the chunkiness of the Fudge Brownie and Red Velvet. Our non-low carb friends were wild about the flavors too. It was hilarious watching their faces consider the light ice cream as somehow more delicious than the typical brands they had in their freezers.
Something we noticed sets Enlightened apart from other "diet" or "light" ice creams is that they are allowed to call themselves "ice cream". Many light ice cream brands can, legally, only call themselves "frozen dairy dessert" because they contain no heavy cream! Enlightened does, in fact, contain heavy cream as one of its ingredients. While they brand themselves as a low-fat ice cream, which isn't exactly what we're going for on a low carb diet, they do have minimal ingredients and aren't as highly processed as some other light ice cream brands. Most importantly, Enlightened is low in sugar, high in fiber and has no shortage of flavors.
Conclusion? We love Enlightened even more now. It's amazing to see a brand we agree with achieving such success. They seem to roll out new flavors every week (stay up to date by following them on Instagram) – we can't wait to try them all!
Disclosure: Enlightened was kind enough to send the products mentioned above in the hope that we would enjoy them and create something delicious on Tasteaholics.com. All opinions are our own and we only recommend products we use personally and believe will be a good fit for our readers.
Loved this post? Let us know! Something didn't quite turn out right? Ask us in the comments below or contact us– we respond to comments every day and would love to hear from you and help you out! And check out all our low carb desserts to learn to make more delicious and healthy meals!
Check Out More Product Reviews:
LOW CARB
WEEKLY
MEAL PLANS
delivered straight to your inbox!
Easy & Delicious Low Carb Recipes
Shopping Lists
All Macros Calculated
Leftovers & Keto Snack Ideas