Feeding Your Coffee Addiction!
It's a given that everyone has different tastes in coffee. Some people prefer a dark roast served pure black, while others will pour everything imaginable into their cup, from sugar to cream to cocoa or even peanut butter, also known by some as keto coffee or
keto-friendly coffee, as this is a common keto coffee recipe. The varieties are endless when it comes to that perfect cup o' Joe. But what's even more interesting are all the variations that come with actually brewing the coffee, to begin with!
We're probably all familiar with the standard "drip" method. Most coffee makers use this method to brew up some quick coffee using only ground coffee, some water, and coffee filters. These are most commonly found in homes and offices, and while they're quick and handy, the stuff that comes out can be bitter and bland. Perhaps that's why most people prefer their coffee with sugar and cream. Keto-friendly coffee incorporates ingredients such as cocoa or heavy cream.
The problem with this drip method is that water is pushed through the coffee grounds quickly and doesn't have a chance to actually brew! Think of how you make tea: pour boiling water over tea leaves and leave it to mingle for some time! We leave our tea leaves in our cup until we're done drinking. Compare this to the 20 seconds or so it takes to get some coffee from a coffee maker; it's no comparison.
Subscribe for a FREE copy of our
4-Week Keto Meal Plan
4 Weeks of Delicious Keto Recipes!
Leftovers and Bulk Preps Included
Maximize Your Keto Diet's Success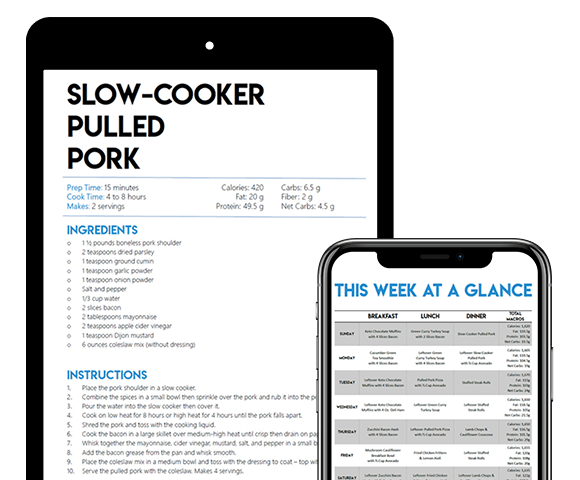 Coffee Needs to Brew!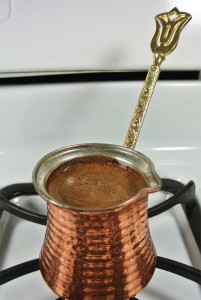 It takes a little bit of time, yes, but the results are worth it. You get stronger coffee from less product and the taste is more flavorful and aromatic. We like to brew our keto-friendly coffee, also known as Butter coffee using a Turkish coffee pot and, of course, coconut oil and butter, as we're not sure there's any better keto coffee recipe. We let the coffee brew in the pot until boiling and then about 2 minutes longer on low heat. This lets the coffee grinds steep with the boiling water to develop flavor and strength. The unique shape of the pot, by the way, lets the coffee grounds remain in the pot while the liquid pours out over them. Pretty nifty.
Read all about butter coffee in our keto coffee recipe.
Recently, however, we've been reading up on a new method (well, new for us) called cold brew coffee. In short, you let coffee sit in cold water overnight instead of boiling it for a short amount of time. The same logic applies here as the argument against the drip method: slow and steady results in better coffee. By allowing the coffee to "brew" in water for a very long time, you start to see a different and delicate flavor emerge, not to mention the strength of the coffee definitely increases! Why the different taste though? Not to mention, is this keto-friendly? Can you brew keto coffee cold?
The Science
The answer is yes, keto coffee is often brewed and served cold. Brewing coffee in boiling water in a short burst degenerates a lot of the protective oils surrounding the coffee beans and grinds. This degeneration attributes to the bitterness of some coffees as it releases more ketones, esters and amids- giving us the same bitterness that drives a lot of people to pile on mounds of added sugar. During cold brewing, you are applying time instead of heat, a much gentler brew. Many more interesting flavors are able to be tasted when the bitterness is taken away! Some beans taste fruiter, nuttier and milder. What have we been missing out on??
We decided to try this method for ourselves. We've stuck to our favorite keto-friendly Butter coffee method for quite some time but recently began intermittent fasting, meaning our first meal starts around 2 pm (and last meal ends at 10 pm). Sadly our morning cup of coffee full of coconut oil, butter, cinnamon, and cream couldn't be had until much later in the day. Our next option to keep hunger at bay was black coffee (no calories, no carbs). We tolerated it for 2 days until we started looking for keto-friendly solutions.
Enter, Cold Brew Coffee!
Using the same beans as we used for traditional, keto-friendly, brewing, our results were very different! The coffee we began enjoying every morning was mild, fruity, and (obviously) cold. The change was very welcome. One thing we did notice: we needed a lot less coffee to feel the same alertness as before, much like with keto coffee in general, where we need much less to feel full and satisfied. Cold brew coffee is more concentrated than regular brew- as it should be, we steep it in cold water in the fridge overnight! The ice we pour the coffee over helps dilute the drink perfectly and allows us to sip it for much longer than a hot brew.
The way in which we make the cold brew coffee is a little different than the ways we researched. Instead of buying some fancy equipment (we wouldn't have the patience for it to be delivered anyway) we used what we had. Here's our easy method for cold brewing coffee!
You will need 3 things for our simple method:
Ground coffee
A container that can be closed. It could be a mason jar, a blender bottle, Tupperware, or even a glass that you'll cover in plastic wrap. We've used all four with success.
Some form of filter. Coffee filters work great, or even a small strainer that fits over the top of the glass you'll be drinking out of. Cheese cloths or nut milk bags work too, but not everyone has those lying around.
Once you've tried it and loved it, you can always upgrade your set up by purchasing a cold brew Toddy System, or an individual pot with a built-in screen, by Hario.
How to make it:
4

tbsp

ground coffee

(coarse grind)

1 1/2

cups

water
To make two cups of cold brew coffee to enjoy throughout the day, start with about 4 tablespoons of ground coffee. Place these in the container you'll be leaving in the fridge over night.

Pour 1.5 cups of water over the coffee and stir.

Depending on your container, cover the coffee to steep overnight. We use a blender bottle and just screw the top on and give a good shake.

Let this coffee mix sit in the refrigerator for as long as you'd like. We usually leave it for about 12-16 hours. The longer the better.

When it's all nice and dark, place about 4-5 ice cubes in a glass and place a filter on top of it. We use a small strainer used for tea to help keep the coffee grounds out of our glass. Pour the coffee carefully over the strainer and into your glass.

This coffee is strong! We recommend diluting it with water and seeing how you like it. We skipped this step, thinking we could handle it, and let's just say we had a jittery few hours running around doing everything imaginable on hyperdrive. Easy does it.

At this point, you can enjoy the cold brew coffee nice and cold, or add some cream, almond or coconut milk, Stevia, cinnamon or cocoa powder. We sip it black, as the flavor is mild and actually enjoyable!
Tasteaholics, Inc. is a participant in the Amazon Services LLC Associates Program, an affiliate advertising program designed to provide a means for sites to earn advertising fees by advertising and linking to Amazon.com.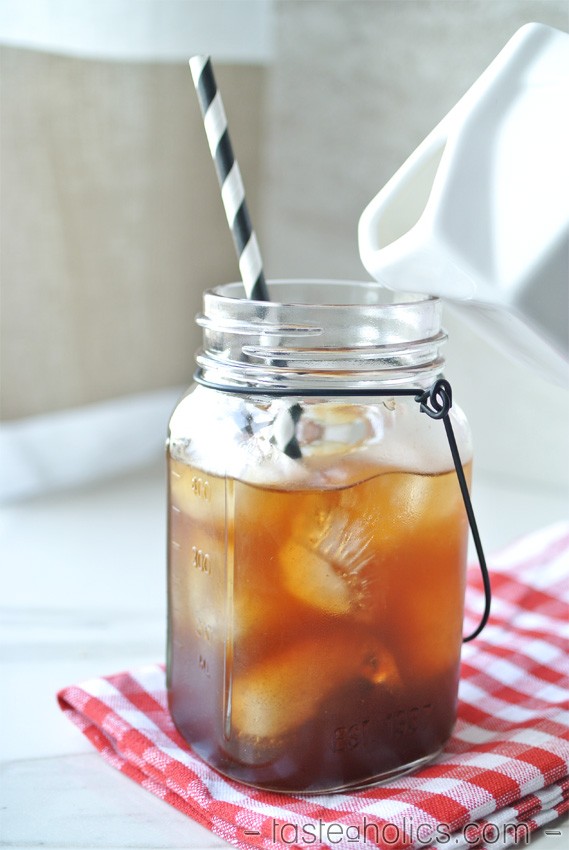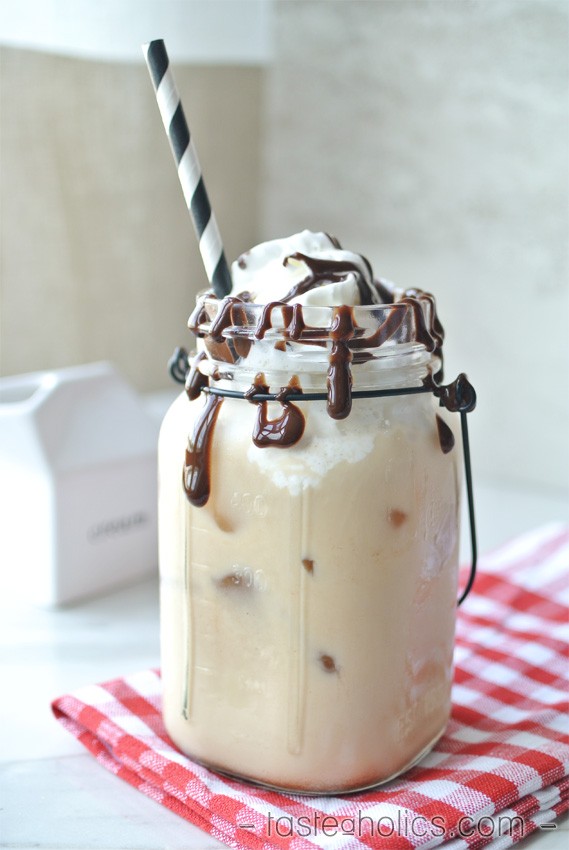 Loved this recipe? Let us know! Something didn't quite turn out right? Ask us in the comments below or contact us– we respond to comments every day and would love to hear from you and help you out! And check out all our low carb drinks!
NUTRITIONAL DISCLAIMER
The content on this website should not be taken as medical advice and you should ALWAYS consult with your doctor before starting any diet or exercise program. We provide nutritional data for our recipes as a courtesy to our readers. We use Total Keto Diet app software to calculate the nutrition and we remove fiber and sugar alcohols, like erythritol, from the total carbohydrate count to get to the net carb count, as they do not affect your blood glucose levels. You should independently calculate nutritional information on your own and not rely on our data. The website or content herein is not intended to cure, prevent, diagnose or treat any disease. This website shall not be liable for adverse reactions or any other outcome resulting from the use of recipes or recommendations on the Website or actions you take as a result. Any action you take is strictly at your own risk.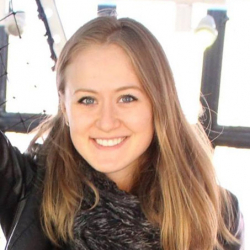 Latest posts by Vicky Abrams
(see all)
Have You Tried These Delicious Recipes?