Chicken Curry Done Right!
We've been in Bali, Indonesia for a few weeks now and have been vigorously taste-testing the local foods in various warungs (small restaurants or cafés, usually family-owned). Something we've been eating plenty of and loving has been their curries. From chicken to beef to shrimp to pork curry, each one has been more delicious than the last.
Being the tasteaholics that we are, we decided to learn how to make these delicious curries, among other foods we fell in love with, by taking a Balinese cooking class! The experience was amazing, to say the least, and took place at a farm in the mountainous region of Klungkung. In the morning, our host, Jiro, walked us through his farm to pick the vegetables we'd be using for cooking various dishes. We tried hot peppers, tapioca root, soya beans, peanuts and more straight out of the earth – it was truly an eye-opening experience. As cooks, we rarely get to see our ingredients growing in front of us in their rawest form. Jiro then took us to his outdoor, wood-fired kitchen, where he explained a little about the Balinese dishes we'd be making.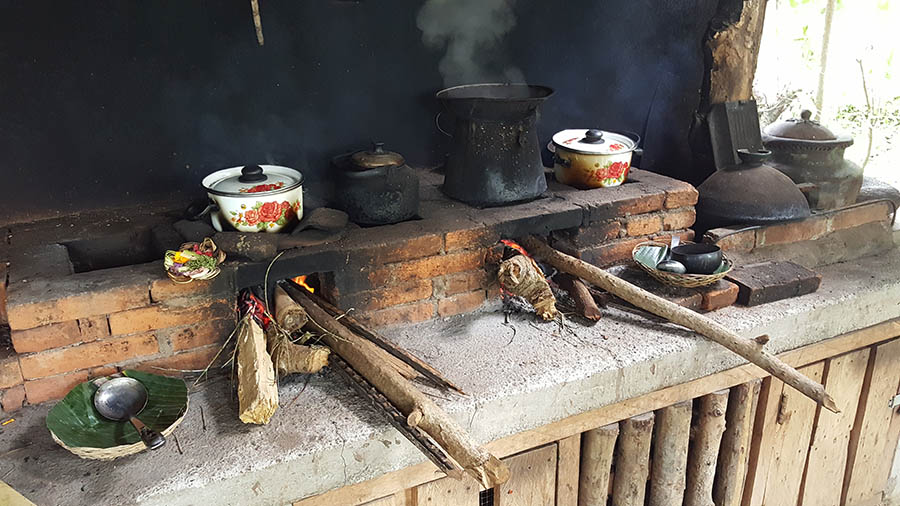 Subscribe for a FREE copy of our
14-Day Keto Meal Plan
2 Full Weeks of Delicious Recipes!
Leftovers and Bulk Preps Included
Maximize Your Keto Diet's Success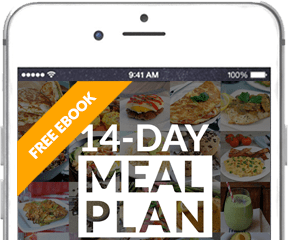 Over the next few hours, we cooked up a storm. Some things were pretty standard, like chopping onions, garlic and lemongrass, while other things were completely different from what we were used to, like mashing raw tuna inside of a giant rock with a wooden bat (essentially a jumbo-sized mortar and pestle).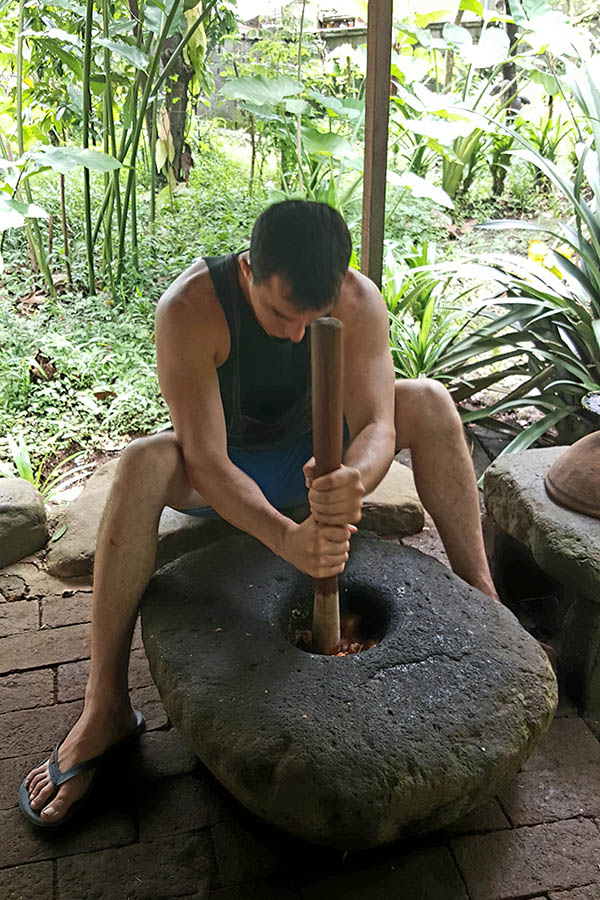 Jiro had done this many times before, it was clear to see. He timed 8 completely different recipes perfectly with a class of 5 asking questions left and right. The finale was amazing. We got to sit down and feast on every dish we'd worked on for the last 2 hours.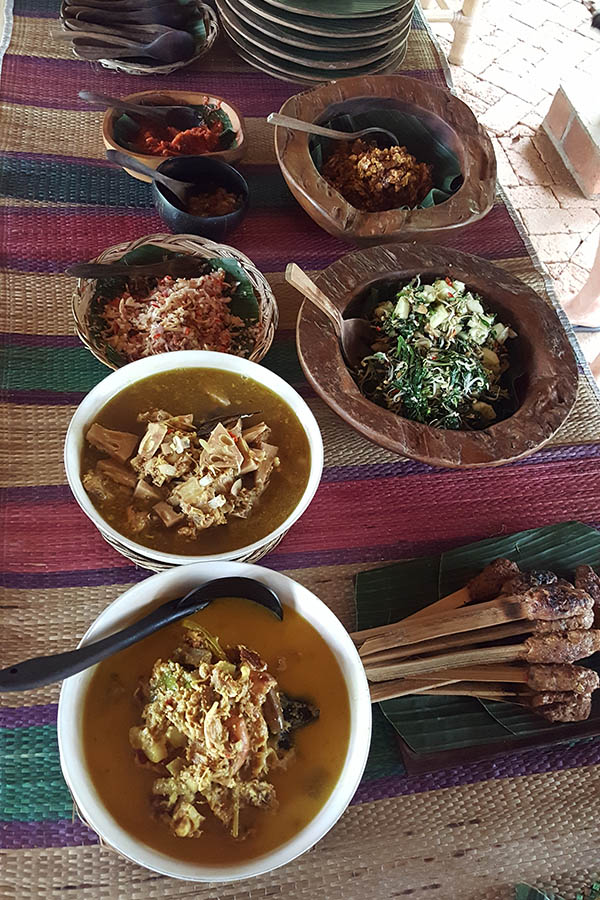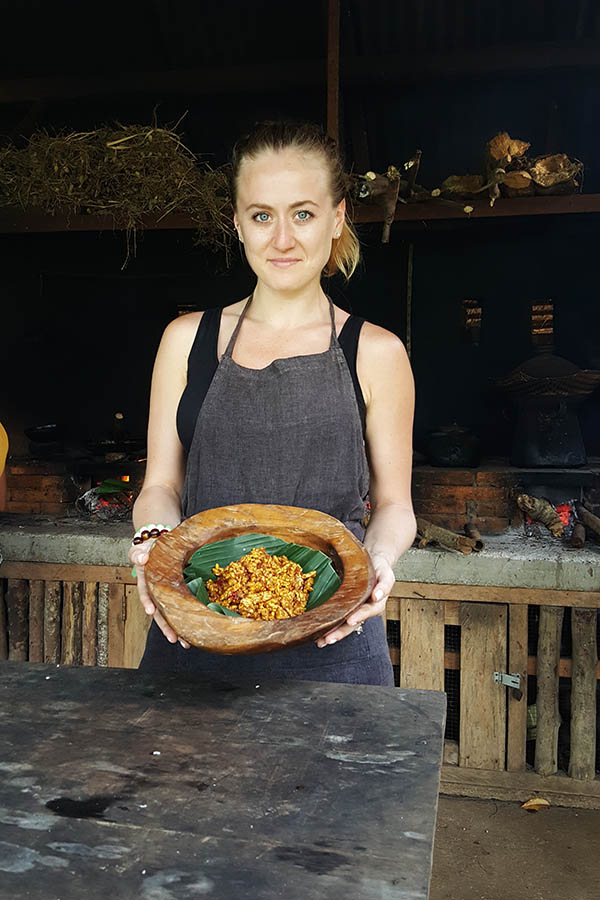 The food was to die for! It was hard to believe we made it with our own hands. Vicky even made coconut milk from scratch which she won't soon forget. Though we tried to finish everything (we couldn't stop eating!), we didn't even come close because Jiro made sure there was more than enough food to go around. Everyone in the class was stuffed so we all got to take home goodies bags full of the leftovers. It was one of the warmest, most welcoming classes we'd ever taken.
Overall, we had a blast and learned a great deal about Balinese cooking and farming! If you're ever in Bali, be sure to reserve half a day for this class (be sure to grab some breakfast before you go, as you won't get to eat until late lunch). It's an experience you'll never forget.
Now, onto the amazing Balinese Chicken Curry recipe you've been waiting for!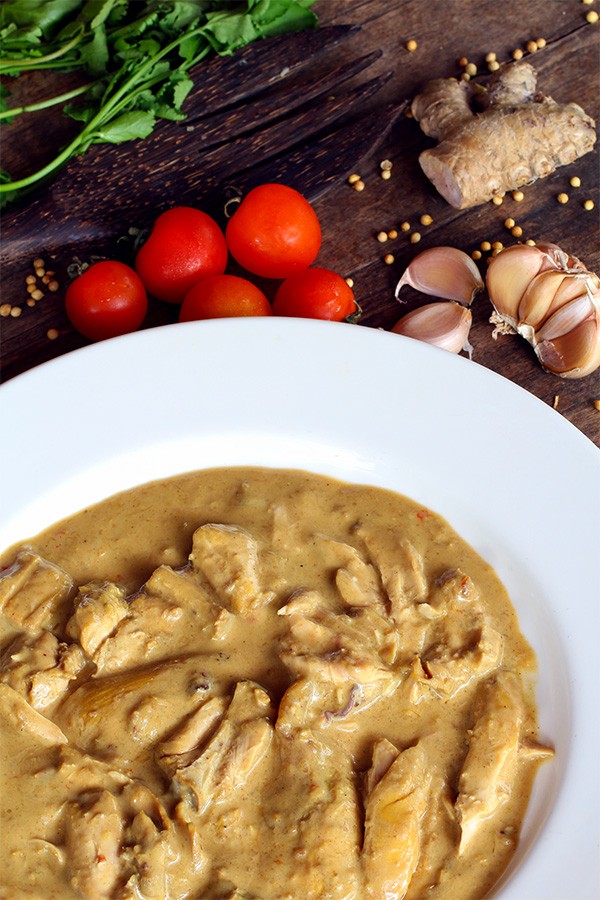 1

cup

white onion

(chopped)

2

cloves

garlic

(chopped)

1

oz

peanuts

(toasted)

3

small red chilies

(chopped)

1

tbsp

ginger

(grated)

1

tbsp

water

2

tsp

ground coriander

1

tsp

ground turmeric

1

tsp

ground cinnamon

1

tsp

ground cumin

1

tsp

ground fennel seed

1/2

tsp

black pepper
For the spice paste, place all the ingredients into a food processor or blender and blend until you get a smooth paste.
Cube the chicken thighs into 2 inch pieces.

In a large pan or wok on high heat, cook the spice paste in the olive oil for 3-4 minutes, stirring continuously. Add the cubed chicken and continue to cook for another 2 minutes.

Then, add the chopped tomatoes and chicken stock and stir.

Once at a simmer, reduce the heat to low and cook for 30 minutes.

Add the coconut milk and cook an additional 20 minutes, stirring occasionally.

Add the lime juice, salt and pepper (to taste).
We provide nutritional information for our recipes as a courtesy to our readers. The data is calculated using the MyFitnessPal app. We remove fiber and sugar alcohols, including erythritol, from the final carbohydrate count since they do not affect blood glucose levels in most individuals. We try to be as accurate as possible but we encourage you to calculate nutritional information on your own.
Loved this recipe? Let us know! Something didn't quite turn out right? Ask us in the comments below or contact us– we respond to comments every day and would love to hear from you and help you out! And check out all our low carb dinners to learn to make more delicious and healthy meals!
Have You Tried These Delicious Recipes?
LOW CARB
WEEKLY
MEAL PLANS
delivered straight to your inbox!
Easy & Delicious Low Carb Recipes
Shopping Lists
All Macros Calculated
Leftovers & Keto Snack Ideas
Disclosure of Material Connection: The products above are linking to Amazon as "affiliate links" because we're affiliates! When you click on a product, it'll take you to its Amazon page where the price stays the same for you and Amazon pays us a small percentage. This helps us continue to provide quality recipes and pay for operating costs.