Please welcome Aaron of FatForWeightloss.com.au! He's our very first guest poster and we're super excited to present to you his delicious, low carb Affogato recipe! Getting used to American coffee will be hard after enjoying fresh espressos every day during our time in Florence, Italy. After hearing Aaron's idea for Affogato, we were thrilled. We haven't had a dessert on the blog in a while, so this is a welcome treat for all of us!
An Italian Classic!
Close your eyes. Stay with me for just a moment. Close your eyes, and visualize the first thing that comes to your mind when you think about Italy.
Was it the food? Was it the people? The comfort of a large glass of red wine? Or maybe… It was the strong robust espresso coffee!
Subscribe for a FREE copy of our
14-Day Keto Meal Plan
2 Full Weeks of Delicious Recipes!
Leftovers and Bulk Preps Included
Maximize Your Keto Diet's Success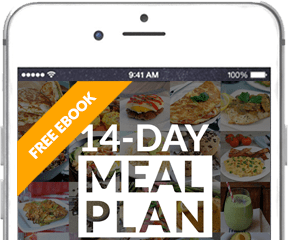 The smell of coffee usually follows with a warm feeling of comfort. Many people wake up to their best friend, coffee, and visit it a few times a day in order to stay focused.
Picture a hot summer's evening in Florence, Tuscany. You have been invited you into the local pizza restaurant for an authentic Italian masterpiece.
Across the road, you spot a shop selling Gelato. The large glass windows glisten with the crisp, cool frost from a vanilla bean cream sensation.
The aromas of freshly ground coffee being worked to the drop cross your path as you begin to wonder if there is any room for dessert?
As the dessert stomach reminds you that the night is not over, you decide to go for it! It's going to be the best Affogato of your life!
Drowning In Flavor
The Italian word Affogato literally means "drowned" in English. Traditionally, it's a scoop or two of a creamy smooth vanilla ice cream drowned in a strong, robust shot of coffee. It is the epitome of dessert simplicity.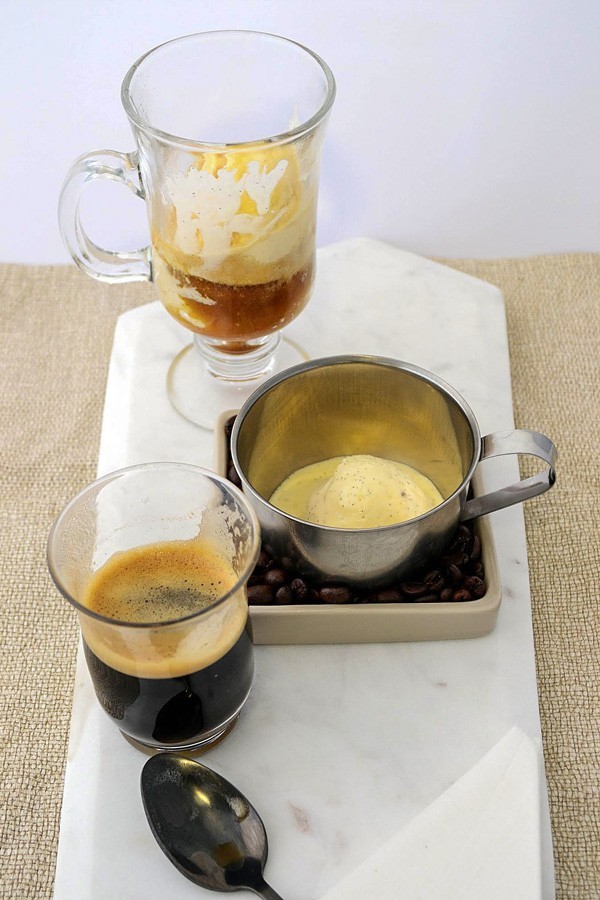 As humans, we are meant to bend the rules. This recipe lives somewhere between creativity and tradition, keeping the individual items traditional, but served separated, filling the desire that two simple ingredients can create.
Since the coffee holds a strong, robust role to the vanilla ice cream protagonist, it leaves a desire that can easily be filled by something nutty and bittersweet. These flavors fit perfectly with an Italian liqueur known as Amaretto.
Amaretto was discovered in 1525 by Bernardino Luini, one of Leonardo da Vinci's pupils. Originally it was bitter apricot kernels soaked in brandy, and more recently has introduced almonds. It's the ideal addition to complete this keto affogato recipe.
I hope you enjoy making and eating this sugar-free, low carb version of the traditional Affogato as much as I did. Ciao!
32

grams

ground coffee

80

ml

hot water
Separate the eggs, putting the whites into a whisking bowl. Start whisking with an electric beater until the eggs have become completely white and thick enough to form peaks. Slowly add the sweetener in whilst mixing until the egg whites no longer feel gritty between your fingers.

Add the cream of tartar and mix for another minute. This should start to form a slightly stiffer texture to the mix.

In a separate bowl, whisk the cream until it becomes slightly thicker than when originally added to the bowl. If you over whisk the cream, it will turn to butter. We do not want that!

In another bowl, add the egg yolks and beat with a fork together with the vanilla bean seeds. Add in the MCT oil and fold into the whipped cream from Step 3. The MCT oil keeps the mixture light and fluffy and prevents it from freezing solid.

Gently fold the whipped cream, egg yolks and vanilla seed mixture into the egg whites. This will eventually make a light, fluffy mixture. Transfer this into a container that is lined with baking paper and place into the freezer for 4+ hours.
Mix all ingredients until the Natvia dissolves. Place in a container and place in the fridge for 3 hours.
Make a double shot espresso with a strong, rich bean roast. Dark roasts work very well with this recipe as it contrasts well with the light, vanilla ice cream.

Take 1 ½ scoops of the ice cream and place into a glass. Pour the Amaretto over the ice cream.

Pour the hot coffee over the ice cream and liquor. Affogatto in Italian means to be "drowned," so make sure you do a good job! Enjoy!
We provide nutritional information for our recipes as a courtesy to our readers. The data is calculated using the MyFitnessPal app. We remove fiber and sugar alcohols, including erythritol, from the final carbohydrate count since they do not affect blood glucose levels in most individuals. We try to be as accurate as possible but we encourage you to calculate nutritional information on your own.
Loved this recipe? Let us know! Something didn't quite turn out right? Ask us in the comments below or contact us– we respond to comments every day and would love to hear from you and help you out! And check out all our low carb desserts to learn to make more delicious and healthy meals that take no time to prepare!
Have You Tried These Delicious Recipes?
LOW CARB
WEEKLY
MEAL PLANS
delivered straight to your inbox!
Easy & Delicious Low Carb Recipes
Shopping Lists
All Macros Calculated
Leftovers & Keto Snack Ideas
Disclosure of Material Connection: The products above are linking to Amazon as "affiliate links" because we're affiliates! When you click on a product, it'll take you to its Amazon page where the price stays the same for you and Amazon pays us a small percentage. This helps us continue to provide quality recipes and pay for operating costs.