The Best Low Carb Sweetener Options
Most of us love a little bit of sweetness in the things that we eat and drink, but when you're trying to keep your carbs low, that can be a challenge for obvious reasons. One of the things that people who work with us have had to give up is sweeteners. That's usually because (a) folks assume there's no such thing as a low carb sweetener or (b) the low carb sweeteners they've tried taste terrible, thereby leading them to forego them altogether.
We're here to tell you that there's no reason to do that, as there are low carb sweeteners out there that will give you the flavor you need without all the carbs you don't. Part of our mission at Tasteaholics is to provide you with as much information as possible so you can follow your diet properly without having to make unnecessary sacrifices. After all, we do the same thing with our low carb dessert options, so we're going to present you with a brief overview of the low carb sweetener issue below in hopes that you'll find something you like.
What Are Low Carb Sweetener Options?
Low carb sweeteners are those that we have seen to have shown a negligible impact on weight gain, blood sugar or insulin levels. That's the key to following your consumption discipline, and yes, there are options out there for you. However, beware of some of those "big brands" you see that advertise as "low carb options" or "zero calories" or anything along those lines and make sure that these are accurate statements before consuming anything.
Subscribe for a FREE copy of our
4-Week Keto Meal Plan
4 Weeks of Delicious Keto Recipes!
Leftovers and Bulk Preps Included
Maximize Your Keto Diet's Success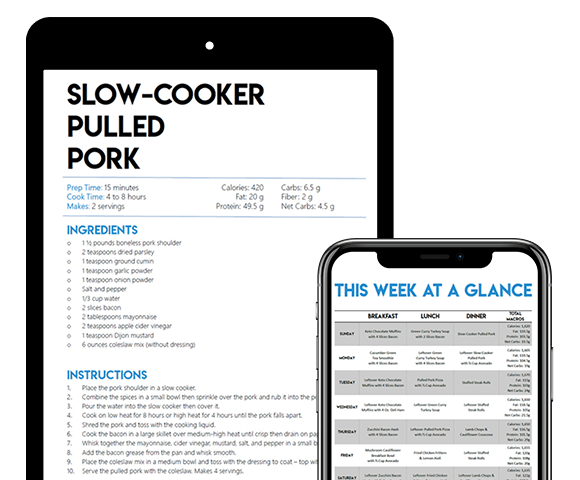 A few examples of low carb sweeteners include:
Stevia drops
Erythritol
Monk fruit extract
Truvia
Truvia is basically stevia and erythritol combined, and it's sold in packets for the most part. These low carb sweeteners come in powder, granulated powder, and of course liquid form, which means you can make use of them in a lot of different things, including your coffee.
Why Use Low Carb Sweeteners?
The reason to use low carb sweeteners is the same as why we make sure to keep our carb intake low overall: It allows us the opportunity to keep our weight down and other important health measurements in check. The challenge with any sweetener is that it never really seems like you're consuming a lot of it. After all, how much bad stuff can actually exist inside of a tiny little packet?
However, that's definitely not the case. Sugars and the like can pack these little envelopes or droplets and add an enormous amount of carbs to your diet, especially if you're someone who likes to drink several cups of coffee per day, for instance. All those little non-low carb sweetener packets you add to each cup will add up quickly and put you in a difficult position to maintain your current weight or lose more of it.
NUTRITIONAL DISCLAIMER
The content on this website should not be taken as medical advice and you should ALWAYS consult with your doctor before starting any diet or exercise program. We provide nutritional data for our recipes as a courtesy to our readers. We use Total Keto Diet app software to calculate the nutrition and we remove fiber and sugar alcohols, like erythritol, from the total carbohydrate count to get to the net carb count, as they do not affect your blood glucose levels. You should independently calculate nutritional information on your own and not rely on our data. The website or content herein is not intended to cure, prevent, diagnose or treat any disease. This website shall not be liable for adverse reactions or any other outcome resulting from the use of recipes or recommendations on the Website or actions you take as a result. Any action you take is strictly at your own risk.
Latest posts by Rami Abrams
(see all)
Check Out More Articles: