Homemade Low Carb Chocolate Ice Cream
Raise your hand if you eat ice cream every night. My hand is way up! I feel like my day is not complete until I have a nice bowl of ice cream. It's a total habit and one that I do not plan on giving up. Instead of quitting my ice cream addiction, I just find healthier ways to meet my frozen dessert needs.
While it is true that I eat my fair share of ice cream, I always make sure to pick low-carb, keto friendly ice creams. I'm not willing to get thrown out of ketosis just for ice cream. Luckily, there are a lot of keto ice creams in the grocery stores these days. Many brands are pretty good but I have yet to find one that is perfect. So, I just had to create my own!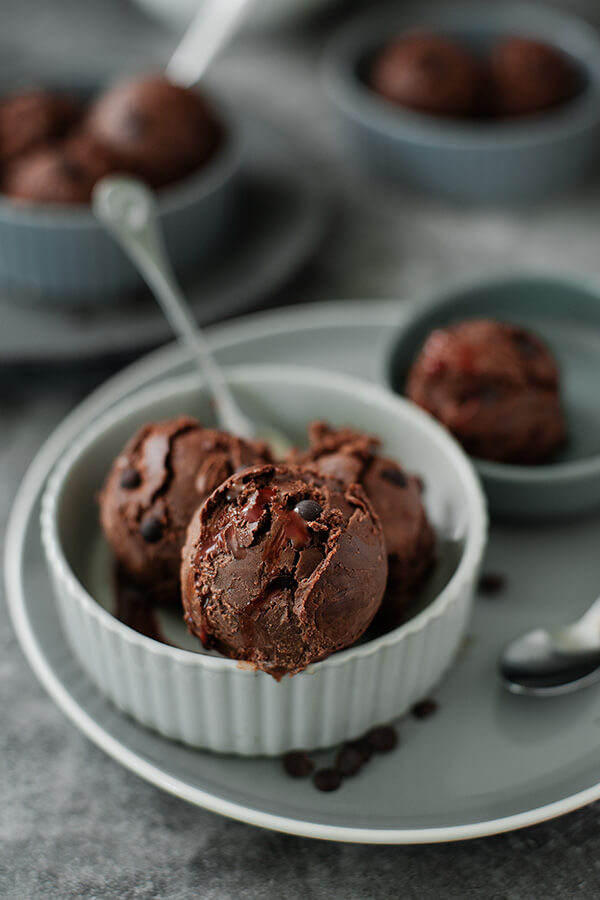 Subscribe for a FREE copy of our
4-Week Keto Meal Plan
4 Weeks of Delicious Keto Recipes!
Leftovers and Bulk Preps Included
Maximize Your Keto Diet's Success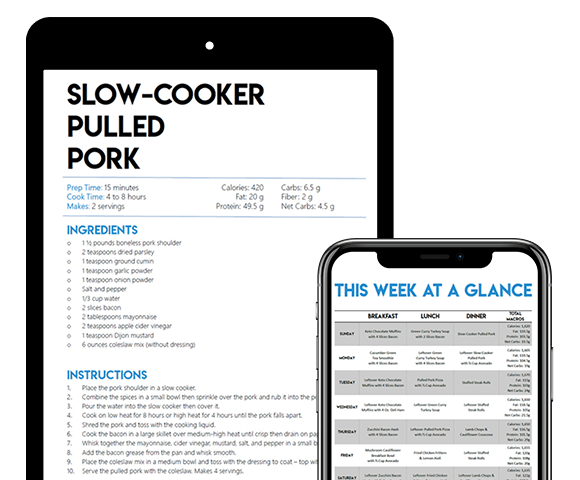 One thing you do need to make this ice cream recipe at home is an ice cream maker. There are lots of different kinds of ice cream makers out there in a whole different range of prices. If you plan on making a lot of ice cream, you may want to invest in a higher-end model that is self-freezing and completely automated. If you want to make just a batch or two of ice cream in the summer, there are some very good, cheap options out there. Look around and see which ice cream machine fits your ice cream needs and grab it! I promise you that it will pay for itself when you are enjoying homemade keto ice cream.
There are a few steps involved in making keto ice cream. First, you need to bloom the gelatin in water. Gelatin will help the ice cream stay smooth and creamy after freezing. Coconut milk and heavy cream are boiled together and then the erythritol and cocoa powder are added to the hot milk mixture. The milk is whisked into egg yolks and then reheated. This step requires a lot of whisking and stirring to prevent cooking the eggs. Be sure that you are ready to stir!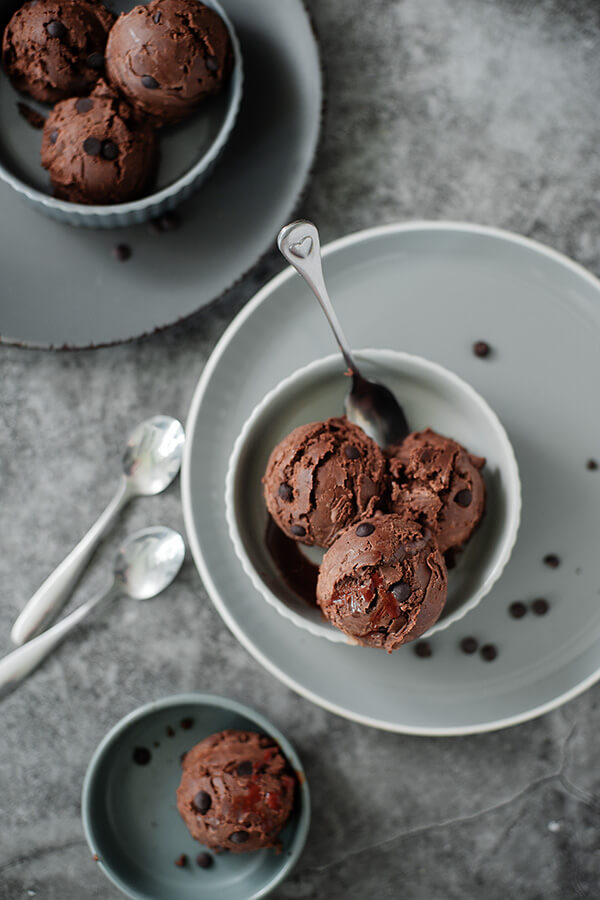 After the ice cream mixture begins to thicken, the vodka, salt, and vanilla are added in and the ice cream base chills. If you are wondering about the vodka, yes, it is pretty important to the recipe. Vodka prevents the ice cream from freezing into a solid ice pop rather than a soft ice cream. Straight liquor doesn't freeze so the vodka in the ice cream mix won't freeze either, keeping the ice cream soft. Be sure to get unflavored vodka which you will not be able to taste in the ice cream at all.
Once the ice cream base has chilled, take out your ice cream machine and follow the manufacturer's directions to freeze your low carb chocolate ice cream. Once the mix is cold and thick, I like to mix in some Lily's chocolate chips. Extra chocolate is always a good idea! If you prefer plain, smooth ice cream, just leave out the chips at the end. Pop the ice cream back in the freezer to let it firm a little more. The ice cream will be ready to scoop and serve soon!
Keep the chocolate keto ice cream in an airtight container in your freezer for up to a month. Anytime you need a perfect, low carb dessert, serve yourself a scoop! Knowing this incredible ice cream is in your freezer will help you get through the day. A big bowl of homemade keto ice cream is waiting for you! Enjoy.
Mix the gelatin and water in a small bowl and set aside.

Add the coconut milk and ½ cups of the heavy cream to a small pot.

Stir in the erythritol and cocoa powder then bring to a boil over medium heat. Stir occasionally to make sure the cocoa and erythritol are well blended into the milk.

Once the mix boils, turn the heat to low.

While the milk is heating, whisk the egg yolks and remaining ½ cup of heavy cream and a small bowl.

Pour about one cup of the hot chocolate milk mix into the bowl with the egg yolks. Whisk constantly while you add the hot milk to the eggs so that the eggs do not cook.

Pour the egg mix into the small saucepan with the rest of the milk and then return the pot to the stovetop.

Stir the milk mix constantly over low heat. When the liquid begins to thicken, remove the pot from the stove and stir in the gelatin.

Stir in the vodka, salt and vanilla extract.

Pour the chocolate ice cream mix into a new bowl or container, cover and place in the fridge to cool. Let the mix cool completely, overnight if possible.

Pour the cooled ice cream mix into the bowl of your ice cream maker and churn using the manufacturer's directions. Once the ice cream is chilled and thick, scoop it into a new freezer safe container with a lid. Mix in the chocolate chips, stirring them in only once or twice to prevent the newly frozen ice cream from melting.

Cover the ice cream and place it in the freezer to chill and harden for at least two hours.
Tasteaholics, Inc. is a participant in the Amazon Services LLC Associates Program, an affiliate advertising program designed to provide a means for sites to earn advertising fees by advertising and linking to Amazon.com.
NUTRITIONAL DISCLAIMER
The content on this website should not be taken as medical advice and you should ALWAYS consult with your doctor before starting any diet or exercise program. We provide nutritional data for our recipes as a courtesy to our readers. We use Total Keto Diet app software to calculate the nutrition and we remove fiber and sugar alcohols, like erythritol, from the total carbohydrate count to get to the net carb count, as they do not affect your blood glucose levels. You should independently calculate nutritional information on your own and not rely on our data. The website or content herein is not intended to cure, prevent, diagnose or treat any disease. This website shall not be liable for adverse reactions or any other outcome resulting from the use of recipes or recommendations on the Website or actions you take as a result. Any action you take is strictly at your own risk.
Latest posts by Amanda Bochain
(see all)
Have You Tried These Delicious Recipes?