Why People Use Erythritol For A Keto Diet
Just because you're on a keto diet, it doesn't mean that you have to give up all sweet tastes. One of the many benefits of this type of dietary approach is that there is flexibility involved and there are options available. Sweeteners do exist that can be added to your food to add to the flavor and your overall enjoyment of meals and proper snacks. One popular sweetener is known as erythritol. It's not a common name, but it is a popular choice for Keto dieters who have a bit of a sweet tooth.
People often ask, "Is erythritol Keto-friendly?" The short answer to that question is yes, it is, but like all things related to nutrition and diet, that answer requires a bit of expounding in order to provide a clear picture. Tasteaholics works tirelessly to provide people with the information you need regarding the Keto diet, and below we'll provide an analysis of erythritol so you can decide whether or not to start using it.
What Is Erythritol?
Erythritol is a naturally occurring, low-calorie sugar alcohol that's found in fruits, plants and other types of food. Examples of food that contains erythritol include:
Subscribe for a FREE copy of our
4-Week Keto Meal Plan
4 Weeks of Delicious Keto Recipes!
Leftovers and Bulk Preps Included
Maximize Your Keto Diet's Success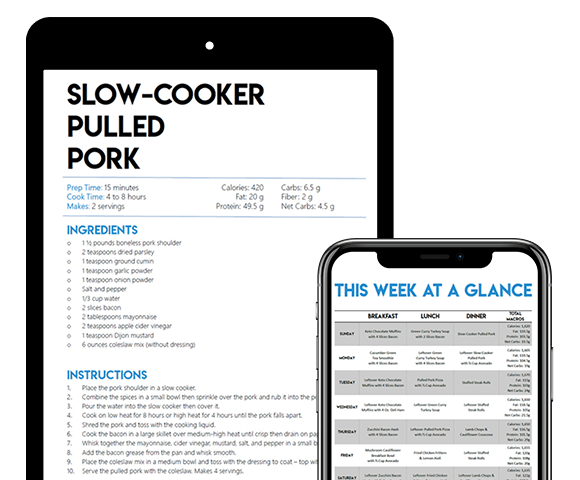 Grapes
Melons
Mushrooms
Wine
Beer
Cheese
Soy Sauce
Erythritol is found in trace amounts in the fruits mentioned above and in the fermented foods listed below them. In terms of its form, it's naturally granulated like regular sugar, but you can also find it in powdered form if you want to use it for baking.
How Does Erythritol Taste?
People use sweeteners because they want their food to taste sweeter. Erythritol does the trick, as it has the same effect on food as sugar does. It's not as sweet as sugar, but most brands provide about 70 percent of sugar's sweetness. One of the benefits of erythritol is that it doesn't have the aftertaste of some other types of sweeteners that are used in the Keto diet. Those who want more than 70 percent of the sweetness will often mix erythritol with another sweetener like Stevia. That provides even more sweetness but still minimizes the aftertaste.
Is Erythritol Keto-friendly?
Is erythritol keto-friendly? Yes, even though it contains four grams of carbohydrates per teaspoon. However, for someone on a Keto diet, the net carb ingestion is zero because humans do not possess the enzyme necessary to digest and process erythritol. Therefore, when people use it as an ingredient, they tend to simply pass it through the urine unprocessed. That means that it's a workable sweetener for those following this dietary plan. The only potential negative that's been reported is that consuming large amounts of erythritol can lead to digestive discomfort given our inability to process it internally. Otherwise, it'll work just fine with whatever you want to sweeten.
If you'd like to see a full breakdown of erythritol and other sweeteners, take a look at our Guide to Natural & Artificial Sweeteners. You'll be able to get the lowdown on several different products and substances. If you'd like to learn more about what the keto diet can do for you, check out our custom keto meal plans service! Our app makes it simple to figure out what you need to eat on a daily basis to meet your goals as quickly and easily as possible.
NUTRITIONAL DISCLAIMER
The content on this website should not be taken as medical advice and you should ALWAYS consult with your doctor before starting any diet or exercise program. We provide nutritional data for our recipes as a courtesy to our readers. We use Total Keto Diet app software to calculate the nutrition and we remove fiber and sugar alcohols, like erythritol, from the total carbohydrate count to get to the net carb count, as they do not affect your blood glucose levels. You should independently calculate nutritional information on your own and not rely on our data. The website or content herein is not intended to cure, prevent, diagnose or treat any disease. This website shall not be liable for adverse reactions or any other outcome resulting from the use of recipes or recommendations on the Website or actions you take as a result. Any action you take is strictly at your own risk.
Latest posts by Rami Abrams
(see all)
Check Out More Articles: