The Best Lifestyle Change You'll Ever Make
When we first started our low carb diet, everybody looked at us like we were crazy. Not only were we cutting carbs but we were adding tons of fat! We never thought we'd be able to keep it up it with all the overly tempting sugar-filled foods out there. Eating out? It was almost impossible. Hidden sugar was lurking everywhere we looked.
Everybody who starts eating low carb goes through this. Here are 5 tips to help change or improve your perspective and make your low carb diet into a way of life!
1. Don't Limit Yourself
Diet foods don't have to taste bad.
Subscribe for a FREE copy of our
4-Week Keto Meal Plan
4 Weeks of Delicious Keto Recipes!
Leftovers and Bulk Preps Included
Maximize Your Keto Diet's Success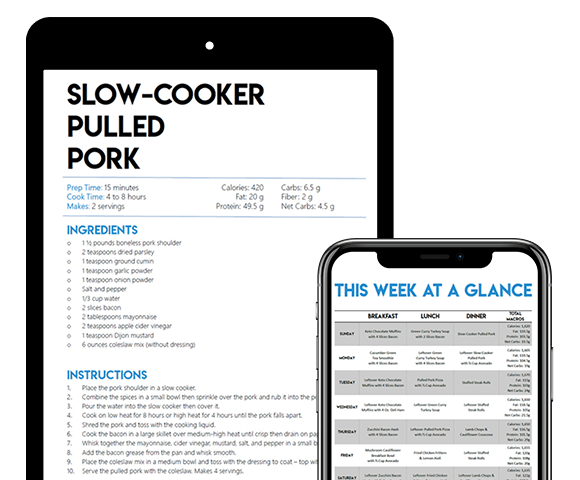 This is one of the most common misconceptions with diets – people think that diet foods have to taste bad. It's simply not true! We've been low carb for over 2 years so far and we're eating more deliciously than we ever have before. Our hundreds of blog recipes are a testament to that. Creating low carb recipes has challenged us creatively and expanded our tastes beyond the standard American diet.
Explore your options and discover all the delicious foods you can make a daily part of your life (bacon, anyone?).
2. Don't Starve Yourself
Another major misconception is that you have to starve yourself to see results. This is simply not true and actually damaging to your long-term health.
Use our keto calculator (low carb macro calculator) to calculate how much you should be eating based on your body, daily activity levels and goals. It will help you determine how many calories, fat, protein and carbs you should be consuming daily.
You can use MyFitnessPal to track what you eat every day or simply keep track yourself. It takes a few moments and will help you achieve your goals faster while reaching your healthiest state.
3. Track Progress The Right Way
Most people step on a scale every morning and hope to see a difference. Our bodies don't exactly work like that. Don't rely on numbers alone!
We recommend using a tape measure to track progress using the same points on your body week by week. For example, take the measurement of your waist once a week and track your progress in that way. Our preferred method is simply taking pictures. Over time, you'll see a huge difference. Focus on the long term and remember, progress is slow and steady.
Tracking progress is critical because it acts as an anchor and shows you just how well you're doing. It'll motivate you to succeed too!
4. Think of This as a Lifestyle, Not a Diet
Most diets are not successful because they stay just that – diets. Short term solutions for long term problems. Low carb is a lifestyle change which has been proven by indisputable evidence to be the healthiest way to live. Make a commitment to this way of life and try to make your biggest and most common meals fast, simple and delicious. If you've got a game plan, you'll more likely stay on track.
We created Dinner in Five and Breakfast in Five, our series of ecookbooks with 30 low carb dinners and breakfasts, to show that you can eat delicious and nutritious meals with only 5 ingredients and 5 carbs or less!
Check out our full list of low carb friendly foods to make new staple items in your life. Make sure you've got low carb snacks covered too!
5. Lead by Example
You may have people around you who will try to tear you down. Not everyone is very receptive to this diet. After all, following the low fat, high carb diet their wholes lives has understandably clouded their judgement. We found the best way to stop that behavior is to lead by example.
Focus on yourself and your progress. Once they see your health improving and weight falling off your body, they'll get curious.
Try some recipes out of our collection, AllDayIDreamAboutFood, KetoDietApp, LowCarbMaven or other great low carb blogs. Once they see what you're eating every day, they'll be blown away and maybe even try eating low carb too.
If you're fairly new to the low carb lifestyle, what issues have you been running into? If you're a seasoned low carber, what tips do you have to newcomers? Make sure to leave a comment below
NUTRITIONAL DISCLAIMER
The content on this website should not be taken as medical advice and you should ALWAYS consult with your doctor before starting any diet or exercise program. We provide nutritional data for our recipes as a courtesy to our readers. We use Total Keto Diet app software to calculate the nutrition and we remove fiber and sugar alcohols, like erythritol, from the total carbohydrate count to get to the net carb count, as they do not affect your blood glucose levels. You should independently calculate nutritional information on your own and not rely on our data. The website or content herein is not intended to cure, prevent, diagnose or treat any disease. This website shall not be liable for adverse reactions or any other outcome resulting from the use of recipes or recommendations on the Website or actions you take as a result. Any action you take is strictly at your own risk.
Latest posts by Rami Abrams
(see all)
Check Out More Articles: